Bunnies are always so adorable and dressed like one, you become adorable too. There are really easy costumes that you can use for your party costumes and there are pretty easy steps to make them.
After in-depth research, I was able to find a couple of DIY bunny costume projects that you can make for kids and adults.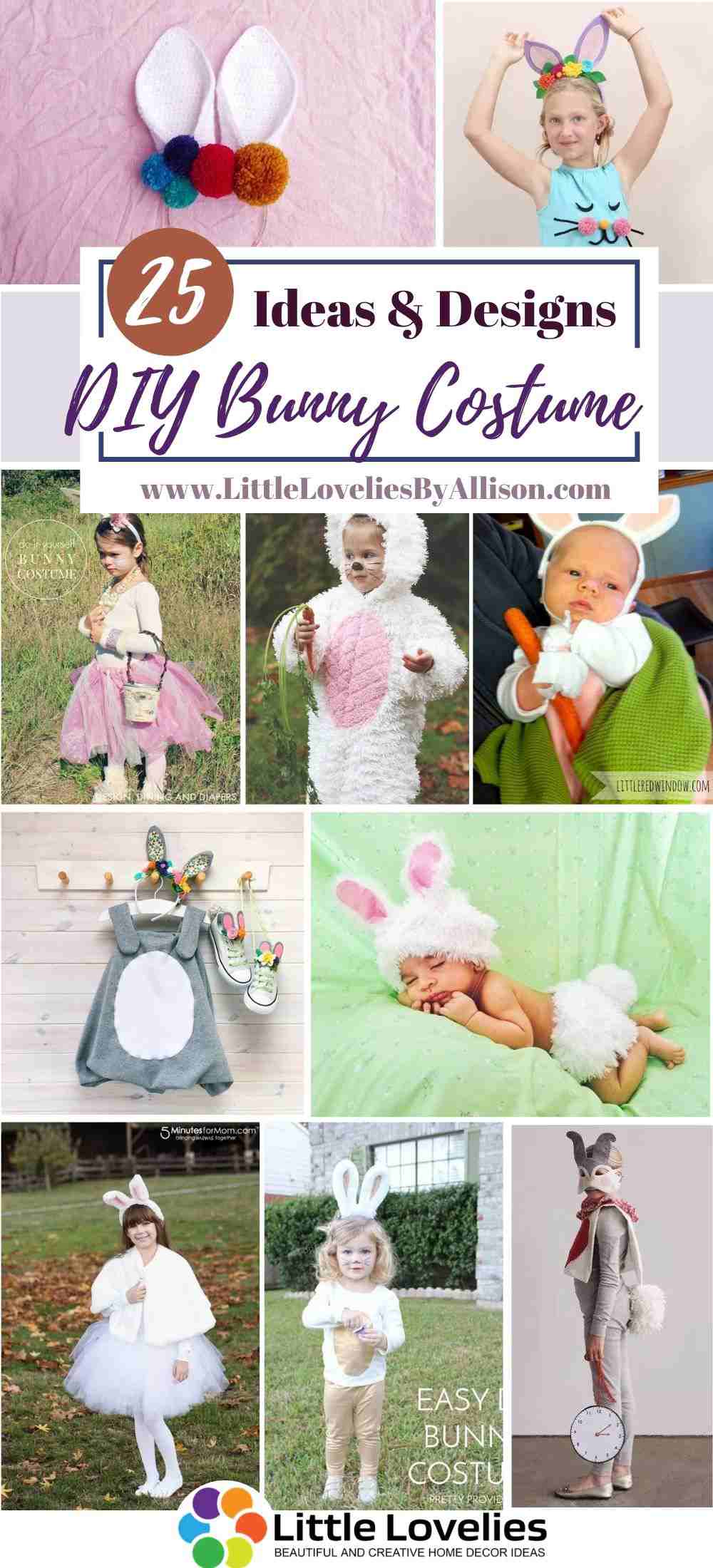 1. DIY No Sew Bunny Costume
If you want to look like a full bunny then this is an opportunity for you. You get to rock the head, the tail, and the neckpiece made of felt. You will need an ash Kids PJ top and pants.  For the mask and bib, carve the design on felt and glue the pieces together. For the tail, make a large pom pom from white yarn.
2. DIY Sexy Bunny Costume
You don't have to look all bunny for an all-girls party. This sexy bunny costume will surely make a difference for you. You will need a t-shirt, shirt, ribbon, black leggings, headband, bow tie, buttons, furry cloth, and cardboard. Form a bodysuit with a shirt then make the tail out of furry fabric. Carve the ears on cardboard and attach it to a headband.
3. DIY Christmas Story Bunny Costume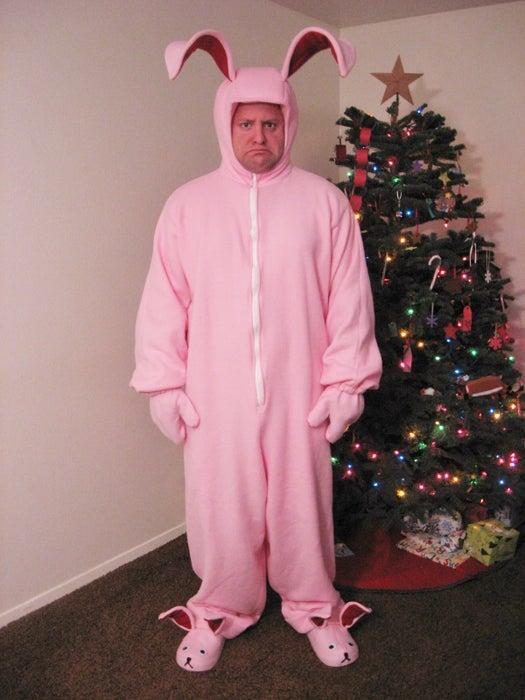 This overall bunny in pink costume is grand for Christmas celebration. Pattern your jumpsuit on a piece of fabric, cut, and sew. The ears are made from two pieces of fabric joined together then wired. Attach the ears to a hood and pad it. For the shoes, take a croc-type shoe and attach ears to it.
4. Easy Bunny Costume For Kids
Your kids can also sit in a pretty DIY bunny costume. You will need a white top and gold leggings with a bunny tail and some ears. Cut an oval from the gold leggings and attach it to the front of the shirt. Shape jumbo pipe cleaners and attach them to the headband.
5. DIY Bunny Ears
You can create bunny ears for your kids as well. It can be done at the last minute. You will need large chenille stems in white and pink, a white padded headband, and tulle which is optional. Fold the stems into shape and fold together.
6. DIY Bunny Costume For Girls
This DIY costume is totally white and a little bit of pink for the ears. The bunny ears and caplet is made out of faux fur. Sew a long tube to cover the headband and then crafting wire to mold ear shapes to insert the ears. You can use a pre-made pom pom for the tail.
7. DIY Easter Bunny Costume
Celebrate Easter with a cool DIY bunny costume for your kids. This is made of marl sweatshirt material. You will have to make both an inner and outer dress. Take the right measurements for the child and cut accordingly. Use the same measurements for both the inner and outer dress. Make a strap and use velcro fabric for the tail.
8. DIY Bunny Costume For Toddler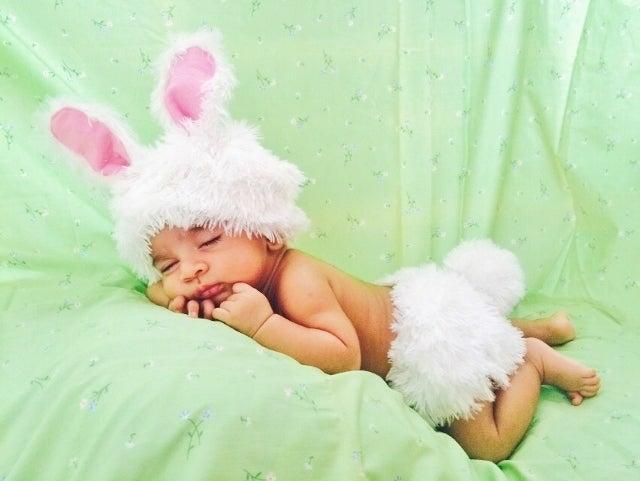 This is pretty much easy to make for your toddler. This is made of white feathery fleece for the cap and pants then felt material for the ears. For the ears, cut a curve from a rectangle material of fleece. Do the same for the pink felt and attach together to the cap. Use a saucer as a pattern for the tail and attach it to the pant.
9. DIY Bunny Ears Headband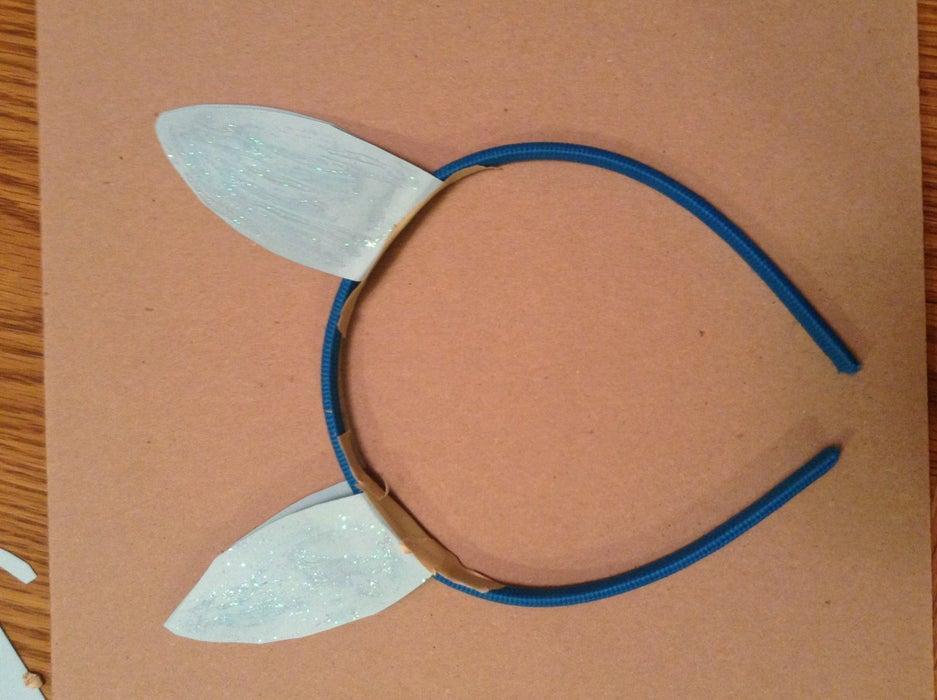 Making a DIY bunny costume for the head should not cost you so much. This is a simple bunny ear made of paper with a wrapped headband. Fold your piece of paper into half, draw and cut out your bunny ears. Attach them to the band.
10. DIY No-Sew Bunny Ears
If you need a flowery headband then you can easily do one by yourself with different colors of felt material. Cover the headband with felt material then cut the pieces for the ears. You can make your flowers by yourself and attach them.
11. Cute Easter Bunny Costume
This doesn't require you to sew. To make a tutu, wrap your material over cardboard then cut out the edges. Use an elastic headband as the band for the skirt. You can also use the tulle to make the ears by making a firm edge and wrapping it around.
12. Last Minute Bunny Costume
Here's a black bunny costume that would be ideal for Halloween. After applying your makeup, brush your hair and fit on your bunny ears and a black choker.
13. DIY Lace Bunny Ears
To make a lace bunny ear, you can twist your wire to the shape of ears and cover your lace over it. Sew up the edges with a black thread. Spray the entire ear with a black spray.
14. How To Make A DIY Bunny Tail
I found a cool tutorial that shows you how to make a DIY bunny tail. It is pretty simple! Get a giant pom pom and attach a piece of felt to the tip and fit your ribbon then another piece above it before you add a clip.
15. DIY Rabbit Costume
This costume is made of a beautiful white dress with a pink belt and tail, rabbit ears, a perfect choker, and black shoes you can get at home. For the ears, you will need a pink and white EVA foam sheet. Cut the shape and glue to the band. You can also make the bow and tummy the same.
16. How To Make A Rabbit Costume
Making a rabbit costume is quite easy. This rabbit onesie costume can be made from scratch with a piece of fleece fabric. Get the measurements of the child and begin cutting the fabric. Make your onesie, add the hood and a chest piece, bunny ears, and tail. There are other patterns you can use.
17. How To Make Bunny Ears
These bunny ears are made of gold material. You can choose artificial roses from a bunch to attach to your metallic band. Cover it first with fabric. Bend a wire the shape of the ears and fit into the lace to form the ears.
18.Bioshock Splicer Bunny Mask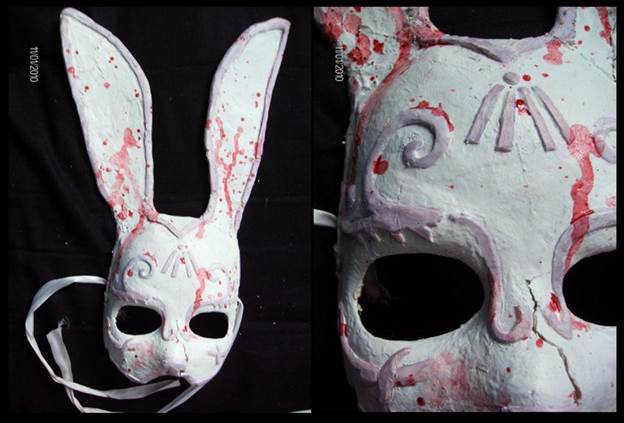 You can always make a scary bunny mask for Halloween. This is a Splicer mask from the game BioShock. Get a mask and shape the eye holes and do the same with the mouth. Use sandpaper to make the surface rough then apply the clay. The tutorial shows you everything you need to know.
19. DIY Easter Bunny Headband
These DIY bunny ears have different colors of pom-poms attached to the ears on a headband. The first step is to crochet the ears and attach the pipe cleaners. Make the pom-poms and assemble.
20. How To Make A Gangster Bunny Costume
These bunny ears glow in the dark as a result of the led lights. And you can paint your makeshift gun to whatever color you want then fit in your led light into the ears.
21. DIY Bunny Costume
This black bunny is made using a black dress and lace. Cut the length of the dress to suit your taste. Make a bunny ear band from a piece of lace then cut the back of the gown and attach the same lace to it.
22. DIY Bunny Mask
This is a masked bunny. It looks perfect for Halloween. You can simply purchase a mask from the store then cut off the ears and attach to your own band so it sits easily. You can use this bunny mask with any attire that would go with it.
23. New Born Baby Bunny Costume
Your toddler also deserves to be dressed up for Halloween. Most parents don't fancy giving their toddlers a scary look. Here's a great newborn baby bunny costume that you can consider making for your bundle of joy. Pink felt is used for the belly and white yarn pom pom is used for the tail. Putting this costume together is fun.
24. DIY Bunny Costume
This is a pretty fluffy bunny made from a DIY bunny costume. Cut out your fabric from velcros, faux fur, afterward sew up the pattern neatly. You will need to have sewing skills to make this DIY bunny costume.
25. DIY Kids Bunny Costume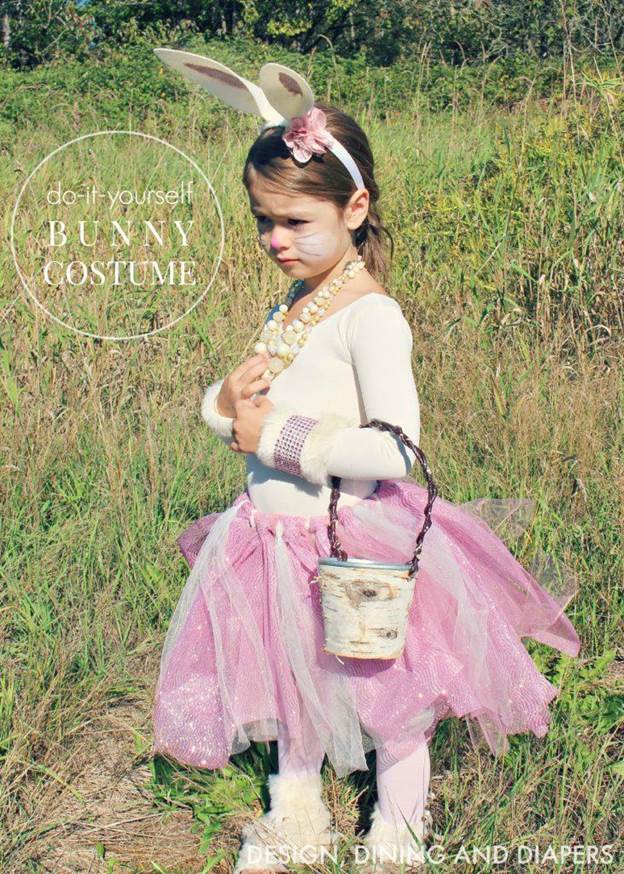 This DIY bunny costume is colorful and it is made of tulle, faux fur and ivory felt. You will have a lot of gluing to do. You can get all the materials to begin with. The tutorial will show you all you need to know in the making process.