There are a good number of easy, assessable, and fun creations of tie racks that are available for you. Instead of having to keep folding up and ironing your ties when you want to use it, you can have a rich display of your ties in a rack.
In this article, I have put together a list of DIY tie rack projects that you can make from the comfort of your home. Trust me, you will find the perfect rack for your ties.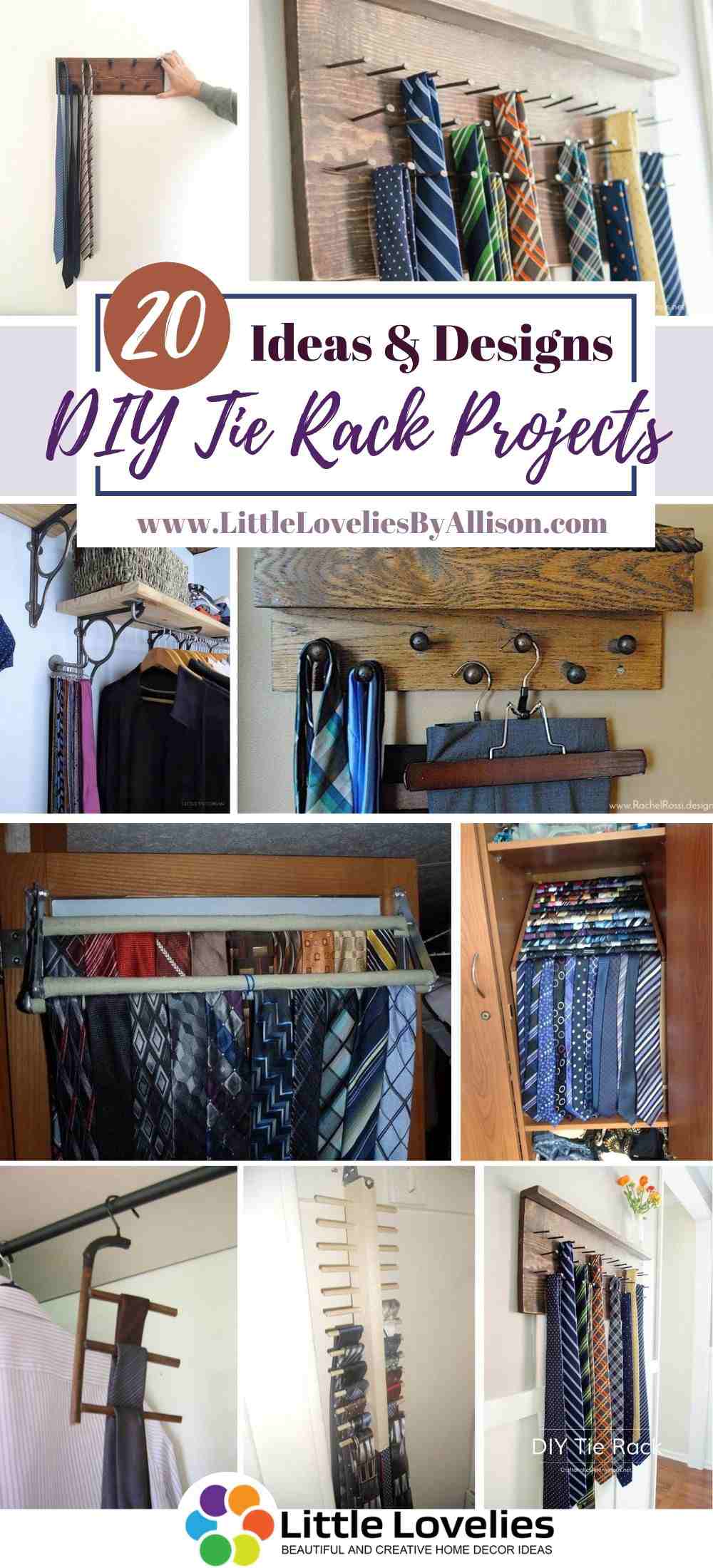 1. DIY Space Saving Tie Rack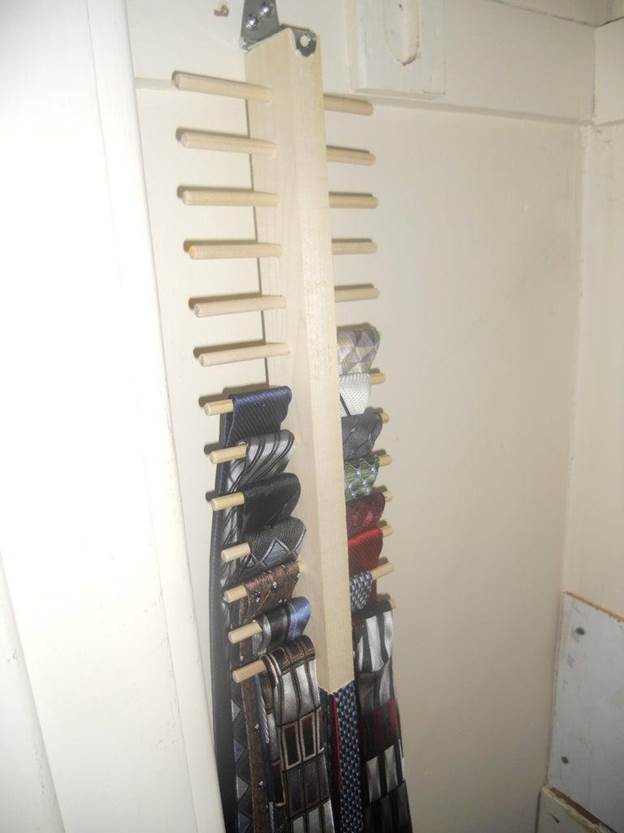 This DIY tie rack is a space saver. It is structured such that there are poles that the ties can comfortably hang on so the rest on the back of the next hung tie. This is a wooden arm with pegs on it that swing down. Cut and measure the arm then go-ahead to create the pegs. Assemble all together and install.
2. How To Make A DIY Tie Rack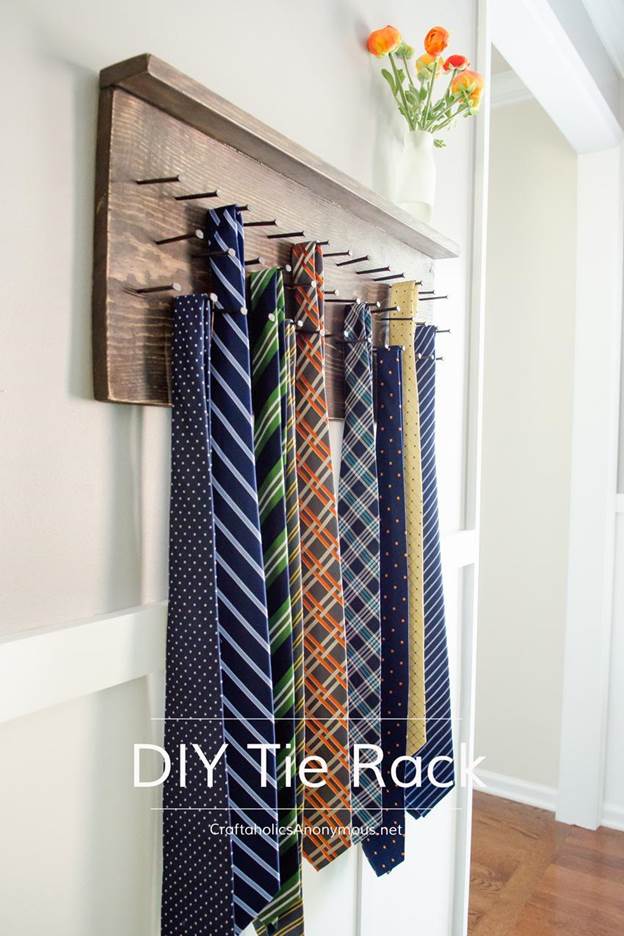 This is a lot easier to work with. Here, you can easily see all the colors, shapes, and sizes of the ties so you can easily make your pick. If you want a beginner project, then this is your sure bet. To make this, cut your board to shape then apply wood stain. Use a pegboard to mark out the holes to insert your nails. As soon as you fit in your nails, you are good to go.
3. DIY Tie Rack And Hanger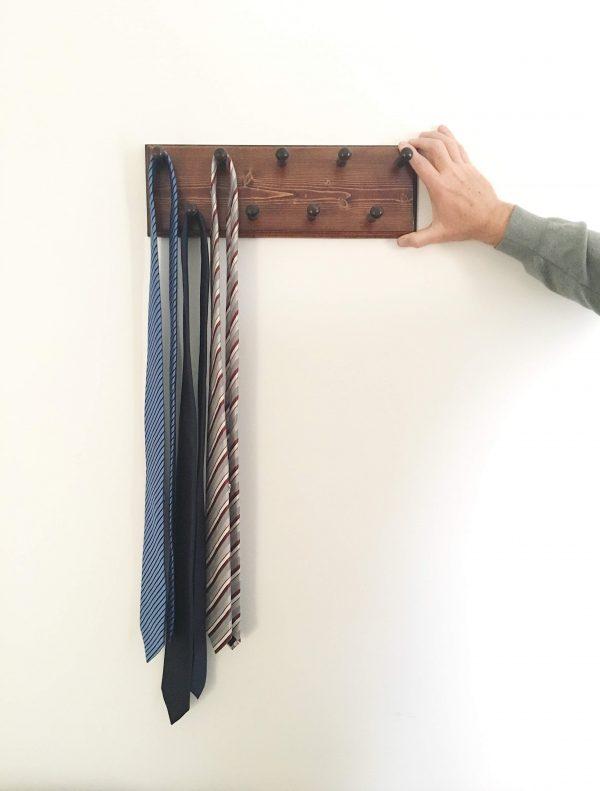 An easy and affordable means to display a small collection of ties. Cut your pine board to the desired shaper. Route the edges and drill holes. Try fitting in the pegs, they should stay in well. Finally, glue the pegs after painting.
4. Low Budget Tie Rack
This is a really classic way to display your ties. These hangers are miniature hangers made by paWoods. As you can see they are nice and sturdy, without sharp edges that will snag. I will highly recommend this low budget tie rack for people who do not want to spend a lot to have a beautiful tie rack.
5. DIY Bamboo Tie Rack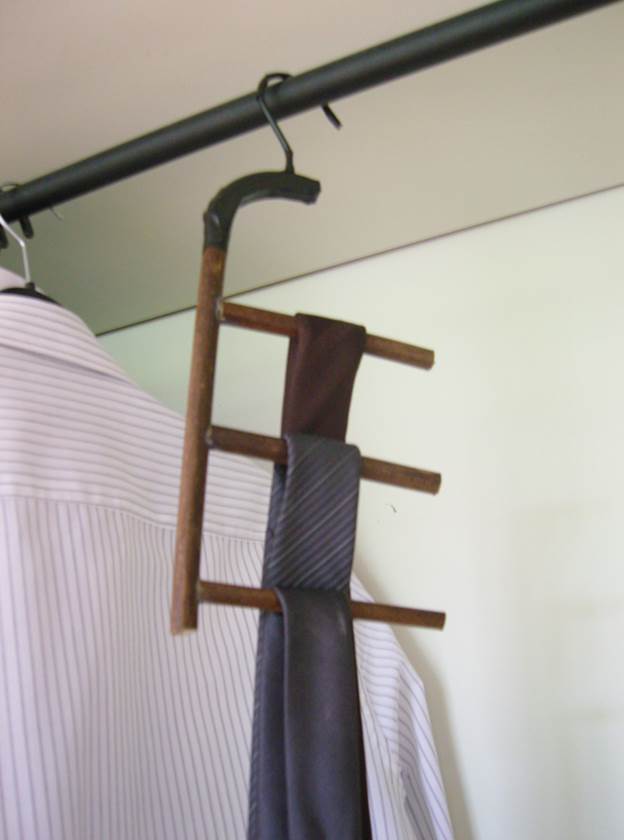 This can sit well with your cloth collections even though I feel you may really love them separated. This is made by cutting the bamboo to shape and filling it. Glue the pieces together and make a hook. You can color it for satisfaction.
6. DIY Spent Ammo Tie Rack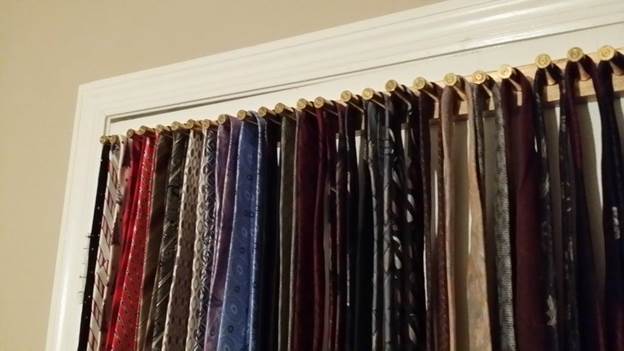 Here's another project I highly recommend for people who have a lot of ties. This DIY tie rack can house a good number of ties that line up horizontally across a wooden frame. Drill holes on the long bar of wood and attach the caliber. Fill 3-4 holes at a time before attaching the casting.
7. DIY Tie Rack Tutorial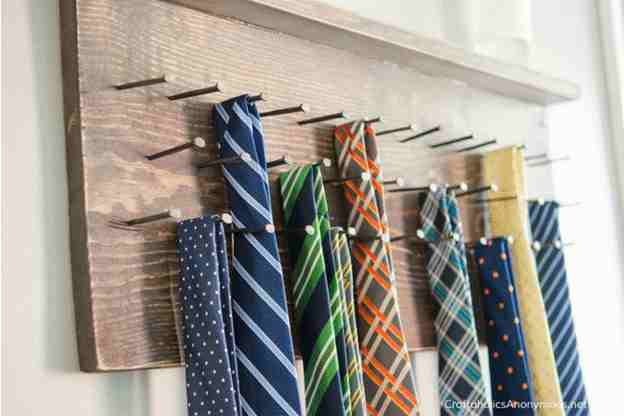 For this tie rack, all you have to do is drive a couple of nails on a board and then hang your ties, it is as easy as that. You can make your rack way bigger if you have a lot of ties you want to store. However, the making process is one of the easiest to follow.
8. DIY Tie Rack Hanger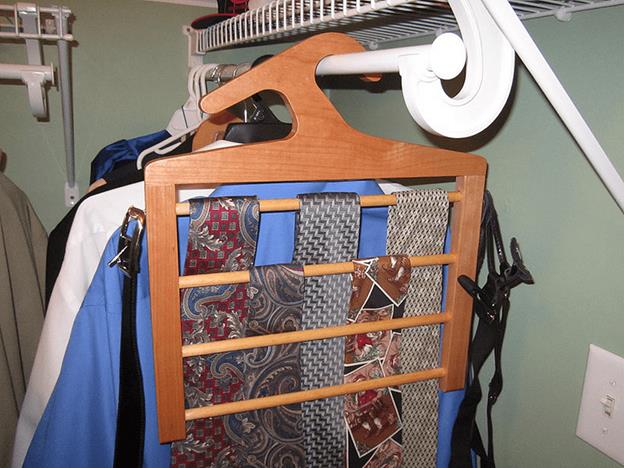 This is an unusual tie hanger and it is classy enough to house just a few ties except you will want to overlap in the long run. It has the shape of a real hanger only that there are layers below the first. To make this, you will need wood, a dowel rod, wood glue, and a finish. Create your pieces and attach them together.
9. Tie Rack DIY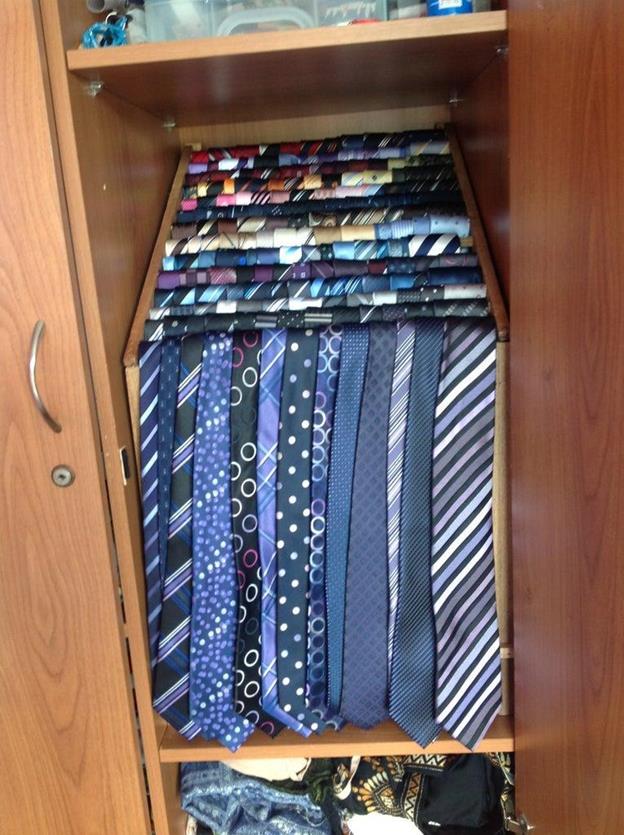 If you have an unusual collection of ties then you may just need a rack as big as this. It lies in layers so you will still get to see the patterns of every single tie to know which to pick from easily. It is fitted neatly into the wardrobe. So you don't have anyone litter the environment. They are set in layers that fall below each other from the first rack.
10. DIY Wooden Tie Rack
This simple DIY tie rack is not meant to occupy space. Measure and cut out your pieces of boards. As soon as you are sure that the pieces are in order and properly smooth, you can clamp the piece in place and drill holes in it.
You can also customize the hanger and carve it in any name you want. Make holes and fit in your pegs securely. When you are comfortable with what you have come up with, spray to taste.
11. DIY Walnut And Brass Rack Tie
This beautiful piece is made with walnut and brass. The first step for this DIY tie rack is to measure out the wood you will be needing to work with. Cut out the pieces appropriately to attach to the wood. To make your pegs secure in it, you will need to use glue before attaching them. This saves you the stress of having them pull off.
12. How To Make A Tie Organizer
The best part of making things for yourself is that you can make it to be exactly the way you want it to be. This is a really creative box for ties that are sectioned within to house all the ties and belts and other little pieces. It has a glass frame that covers it up. The first step is to cut out all your pieces with precise measurements. Assemble your pieces together and make them firm.
13. How To Make A Tie Holder
This is a pretty much easy DIY tie rack to make. Lay the bangles in the design shape of the tie holder that you want. This is totally dependent on you if you choose to tweak it a little. Wrap each bangle with wool all around it. Lay the shape back again and glue the pieces together. Use the wool to attach the anger to the rack.
14. How To Make A Crafty Tie Rack
This beautiful piece is made of wood. Measure and cut the wood. Do well to shape the sides too. Attach the tags to the board and use a bit of design too. This is one of the easy tie racks you can DIY easily.
15. DIY Tie Rack
For this activity, you will need an old frame. Paint it to your taste. Cross an old belt on the top bar of the frame and strap to the frame. Here, you can lay your ties out on it.
16. Closet Door Clamping Tie Rack
According to the name, this closet door clamping DIY tie rack is fastened securely to the inner door of the closet so as soon as you pull it open, you come in contact with your collection. The first step is to make a plan using measurements. Cut out and build the triangles. Add the clamping bar and coat the sharp edges. Add upholstery and the clamp then mount.
17. DIY Tie Hanger
This unique creation is made from shower curtain rings and a cloth hanger. Use hot-glue to fix your curtain rings to the hanger. Make some to spread over the lower layer of the hanger and keep going down till you are satisfied with the length. The more ties and belts you keep buying may require you to extend the rack a little more.
18. DIY Simple Tie And Belt Rack
Here's one for the woodworking experts. Measure out the tie rack to the size you want. Carve the edges to be curvy a bit. Clamp unto your little piece and paint the stain. Drill holes in it for the pegs to fit in comfortably. Use glue to make an even firm fixture.
19. Space Saving Tie Rack Tutorial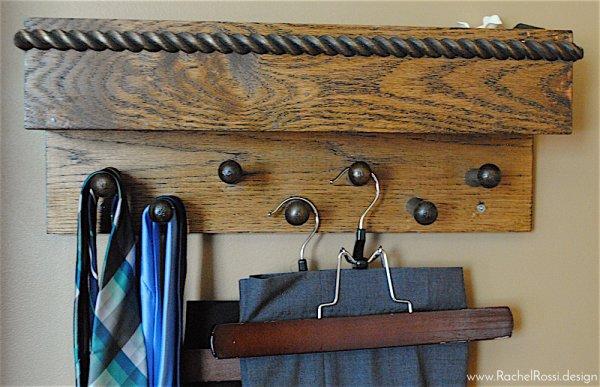 If you are not a fan of ties but have a knack for neat places, you can create this simple piece that can match the two needs. This is simple and straightforward and can house about 14 different ties. Cut according to the measurements you have. Add the pegs and put the box together.
20. How To Make A Simple Tie Rack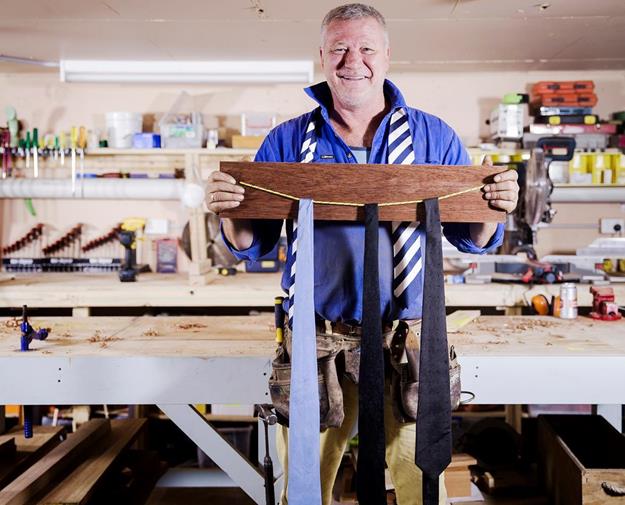 This is made of wood and a string. Mark the length of the rack on a timber. Sand it to smooth all the edges. Drill holes at the edges for the connecting string. Rub timber stain to the wood. Attach a rope that is a little longer than the wood so it sags a little. If you are looking for a tie rack that won't cost you anything to build, I highly recommend this one.