This is a great DIY that you can use to make under-bed storage for your bed at home, free up space in your room and comfortably catalog your stuff in an orderly and easily accessible manner.
It's also important to have a plan or design before starting a DIY, some of the guides above have plans in their link to help you build from start to finish without stress. It's super easy to build with the right tools and materials at your disposal. We have listed 15 DIY under bed storage ideas just for you.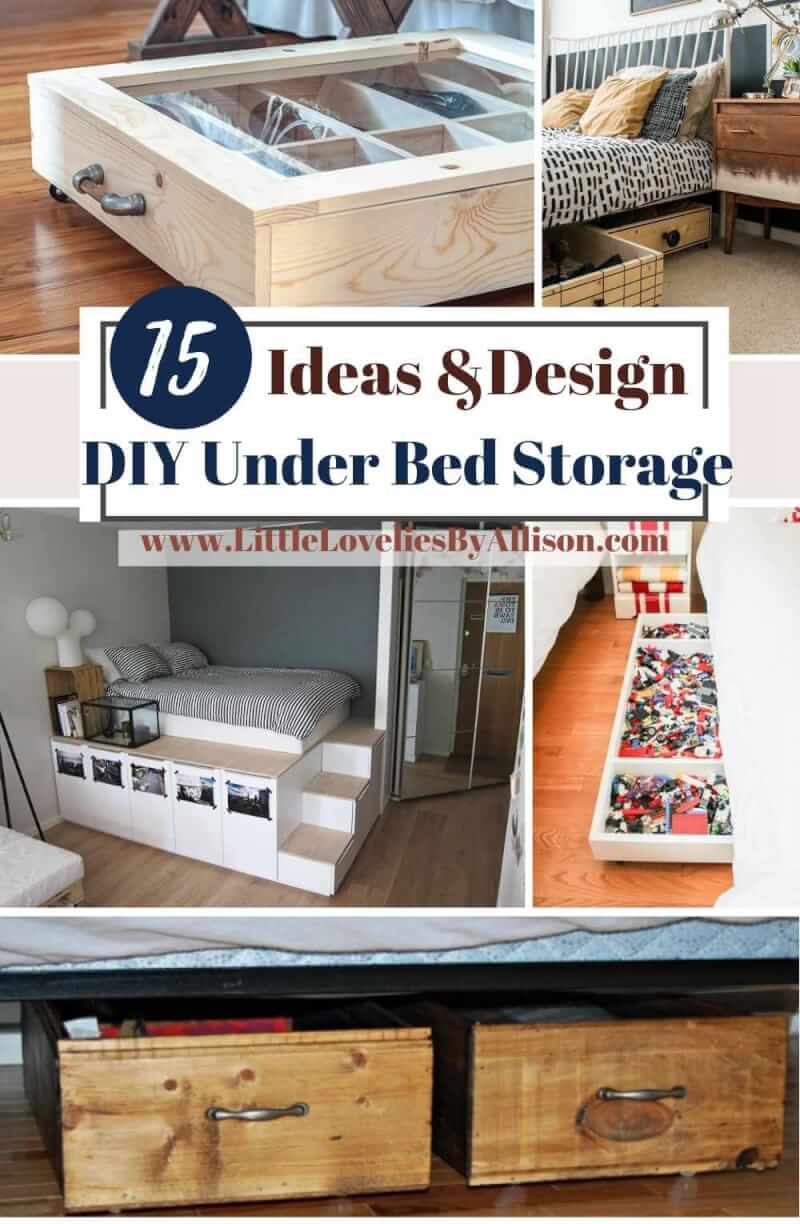 1. DIY Under bed Storage With Wheels
This is a simple video tutorial to follow, the creators used wood boards, 4 casters rotating wheels, wood screws, and a handle. If you have a big bed with a lot of space under it, you can use this guide to create amazing storage under it. This is also an inexpensive project, the cost is about $20 for the materials. Which makes it quite cheap but not the cheapest on my list.
2. How To Make Under bed Drawers
Before you start anything you need to get your measurements, the measurements underneath the bed. The creator made some cool drawers and attached wheels to them. The construction is pretty easy and doable. The wheels will make it easier for you to slide the drawer in and out of the under-bed. It is solely attached to the under part of the bed, so if you decide to change the bed frame, you'll need to dismantle the storage.
3. DIY Under bed Dresser
This under-bed storage idea is one of the best, you can store items like clothes, shoes, sport wears, and even jewelry. The drawers were made with simplicity. It's easy to pull out and in, and there are two partitions made in the drawers to know where to keep certain things and where not to. They are also made with rotating wheels to allow easy access.
4. DIY Underbed Rolling LEGO Storage Cart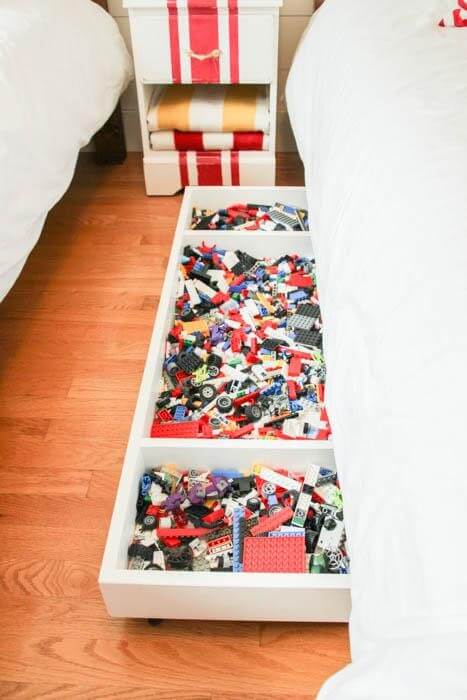 For this video tutorial guide, the creator made this under-bed storage cart to store LEGO toys for her kid, you can make one too if your kid has these kinds of toys and plays with them virtually every time. This will keep the toys safe so that you don't have to buy toys every time and you can save money and save yourself some stress of having the LEGOs just lying around everywhere giving you a hard time to arrange them.
5. DIY Storage Platform Bed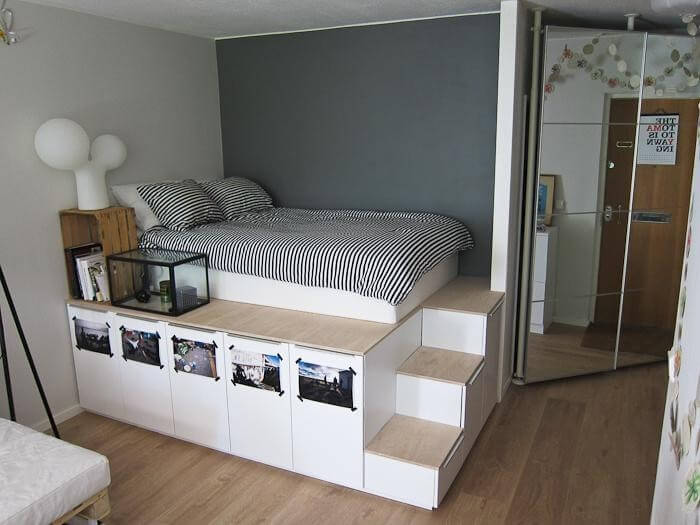 If you have a platform bed, this guide will work for you perfectly, if not, check another guide on the list below and above. For those with a platform bed, it's easy to make storage underneath. Of course, a platform bed has a lot of space, most of which are empty, so the idea is to make use of the space to create a storage cart to store important items for your room. You're going to need some plywood, hinges, and other essential materials. The storage space created is so large that you can even put a light bulb in there to see the entire inner part of the bed.
6. DIY Underbed Storage Boxes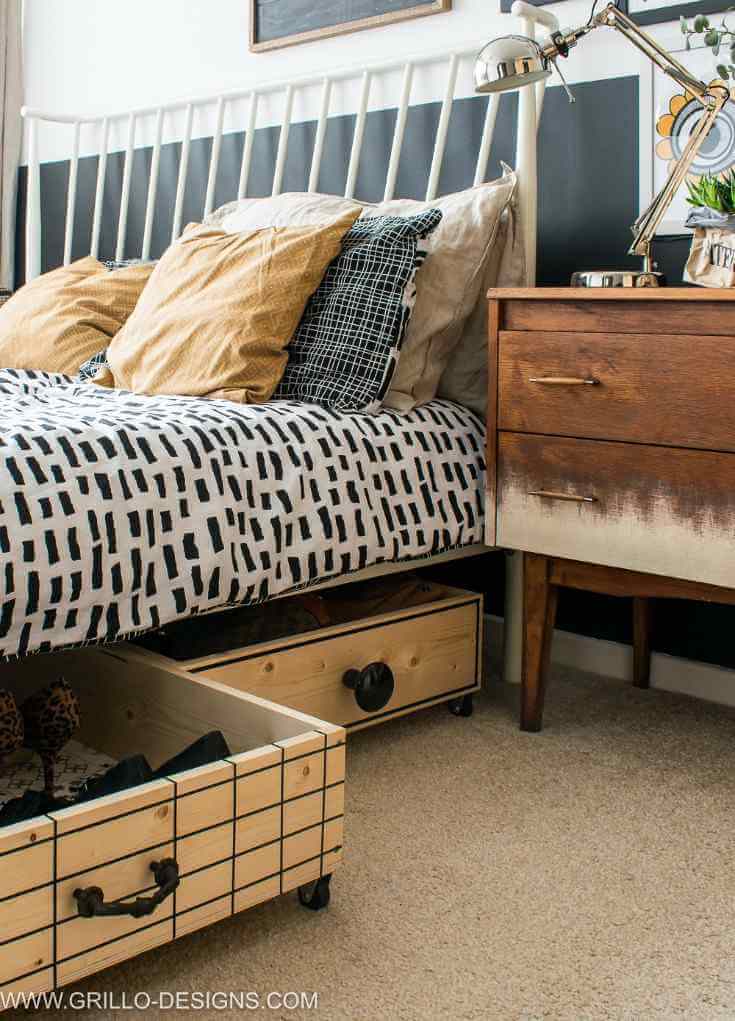 This is vintage under-bed storage that was made in the form of boxes. It's super easy to make. To build this you need, a power drill, 40mm long screws, miter saw, caster wheels, plywood, wood, wood glue, and a few more. For decorating the drawer, you need black washi tape, ceramic knobs, any wallpaper of your choice, Elmer's glue, and much more.
7. How To Build An Underbed Rolling Storage Box
Have you looked under your bed lately, you'll realize there is nothing there, that's why you can use this guide to build an amazing under-bed rolling storage box. First, you need to make the box four equal sides with some wood and then attach a plywood board under and screw it firm.
8. Underbed Storage Drawer DIY
With this video tutorial guide, you can build a simple and unique under-bed that will fit into your bed, not minding the size because you'll be making it yourself and you can adjust the measurements. You will be making this under-bed storage drawer with just $2 and it's way more durable than any band you can buy that fits underneath your bed.
9. DIY Underbed Storage Drawer With Wheels
This guide is super easy to use. The creator made the video tutorial simple and explained the making process without any time-lapse effect. The creator had some plans drawn out to guide you if you decide to use this guide to make an under-bed storage drawer with wheels.
10. DIY Underbed Shoe Storage
For this project, you'll be making great under-bed shoe storage. It's meant for shoe storage only, so this means if you want to store things other than shoes you'll need another guide to do so. This was built detached from the bed. So you'll have to practically roll the drawer out from under the bed and put or take out your shoes and roll it back in. It's super easy and simple to build.
11. DIY Rolling Underbed Storage Crates
For these storage crates, you'll need good flimsy wood, something around a sturdy groove plank. When you have this wood ready, the next step will be to determine the space you wish to work with, draw some good plans to work with, and start building. The making process is simple and short.
12. Underbed Storage DIY
The creator of this video tutorial guide didn't make any storage boxes or crates, she only had some empty wooden boxes she found lying around at home and used them to form under-bed storage. All the creator did was to paint it with a different color and slide it without a wheel under the bed. Due to the under-bed space, the creator was able to put three of these boxes under. If you have similar boxes, it will make The job easier for you, although you can always attempt to make something new if you don't have the ready-made wooden boxes the creator used.
13. How To Build An Underbed Storage Drawer
This time-lapse video guide started with the creator taking four wood planks of the same measurement and putting them together to form the sides of the storage drawer, applying strong wood glue, and holding it to dry with wood clamps. He then drilled holes and put in wood screws to hold them firm. Then, attached the bottom one drawer, applying glue to the top to glue it and screw it firm. In the remaining steps, he added some rolling wheels to make the sliding process easy for you. The making process is pretty easy and simple to follow.
14. How To Make Storage Under The Bed
You need to pay close attention to the calculations and measurements of the creator, this under-bed storage is simple and cheap to make, but also quite technical if you don't follow the instructions carefully. This storage was made with shelves, and you'll need a few materials like zip ties, storage bins from Walmart, wood, and clean white fabric to cover the wood, canvas panel, black fabric, and other essential items. No.matter how technical, once you understand how it's done, It becomes easier.
15. DIY Underbed Shoe Organizer
This under-bed shoe organizer is simple to make. It has a glass cover to protect your shoes from rodents, or dogs if you have any, and also to enable you to see into the shoe storage. It's also. has a divider to partition and create more space for your shoes to fit in. The creator used some lumber woods, casters, plexiglass sheets, Kreg pocket hole jig, power drill, wood glue, Rockwell blade runner, Lid-stay torsion hinge lid support, a pipe metal pull, circular saw, miter saw, and a few more materials. If you are a beginner and looking for the easiest and coolest under-bed storage shoe organizer, then you have come to the right guide, perfect for beginners.
Conclusion
After all, is said and done, under-bed patronage is one the best storage ideas ever. It not only frees up space in your room but helps you organize your things and keep your properties in order while you still have easy access to them anytime. The guide above is working and reliable, just try them out and thank me later. Thanks for stopping by.