Are you in search of the best kitchen table to use for your dining needs? It's normal to be confused as to which one to choose, there are a lot of amazing kitchen table ideas out there. However. Instead of buying a table. We would recommend that you make one yourself.
Making a table is cheaper than purchasing one. Yes, it is easier to add a nice looking table to your online shopping cart. But it is more fun when you make one yourself. There's a greater feeling that comes with looking at a table and saying to yourself "I made that"
In this article, I have been able to put together some of the very best DIY kitchen table ideas. You can have a good look at the ideas and pick one that is suitable for you.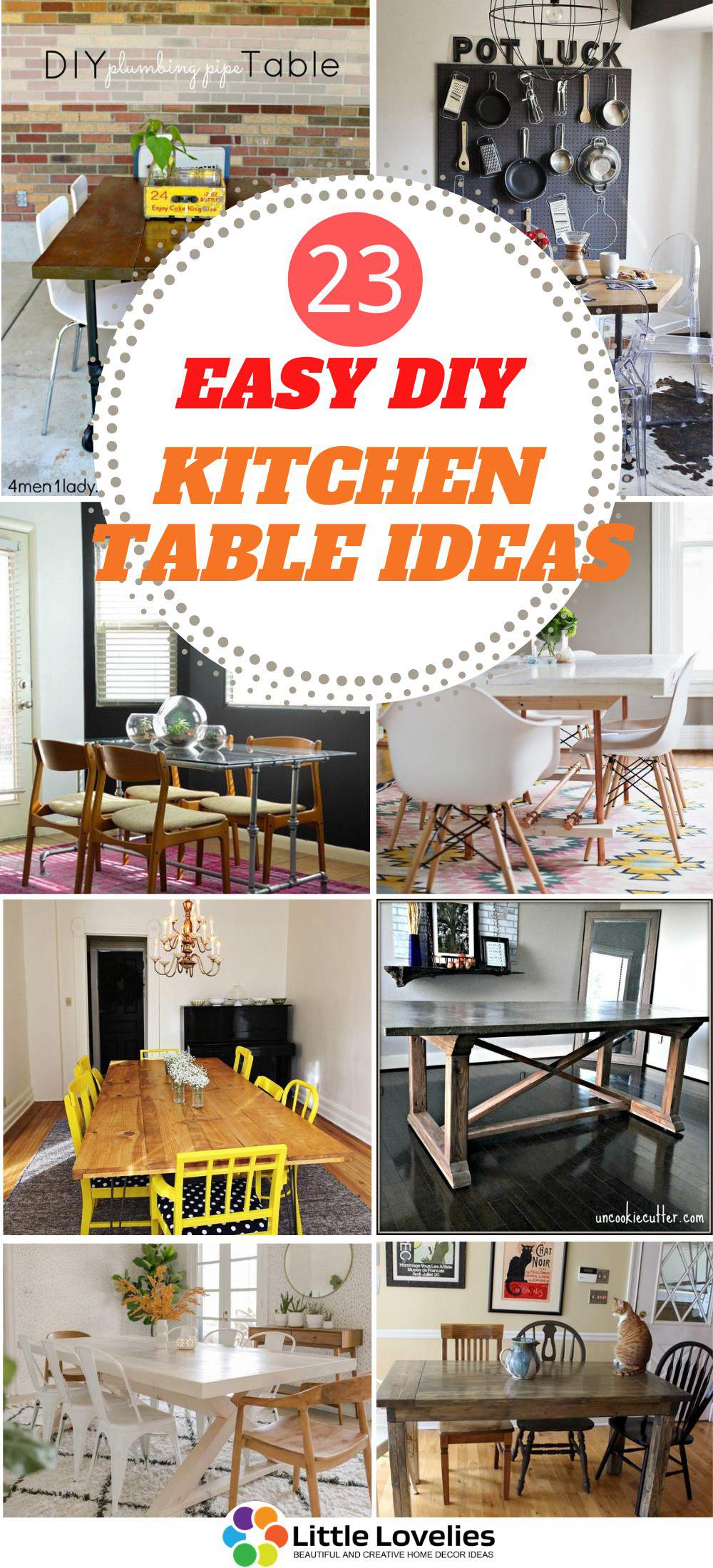 1. Wood Beam Round Table

This round table is made from reclaimed wood. Having a square-shaped table is great but I would pick a round table over a squared table any day. The size of this table is compact enough to fit in almost any kitchen. You should check the dimensions before going ahead to make this so you don't end up making a table that won't fit in your kitchen.
Check the Idea
2. DIY kitchen Dining Table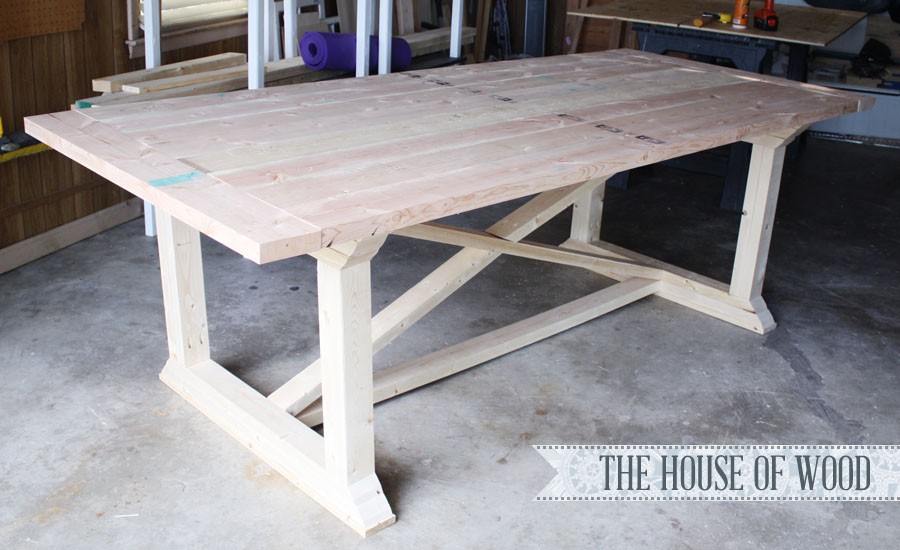 I would choose to make my kitchen table rather than buy it online. I was going through some already made tables online and I saw one that looked exactly like this and it costs over $1000. The DIY table in the image costs less than $100 to make. We highly recommend this kitchen table.
Check the Idea
3. Farmhouse Dining Table

This farmhouse style kitchen is beautiful and durable. We highly recommend this dining table for your kitchen if you have a family with over three persons. I love the design of the legs. The countertop of the table is also very beautiful. You can make this table for your home even without a lot of experience with woodworking tools.
Check the Idea
4. Low Budget Kitchen Table

It is beyond a reasonable doubt that the table in the image is very beautiful. The best part about this project is that it won't cost you much. Yes! You can have this beautiful DIY kitchen table without having to spend a truckload of cash.
Check the Idea
5. Kitchen Table Made On A Budget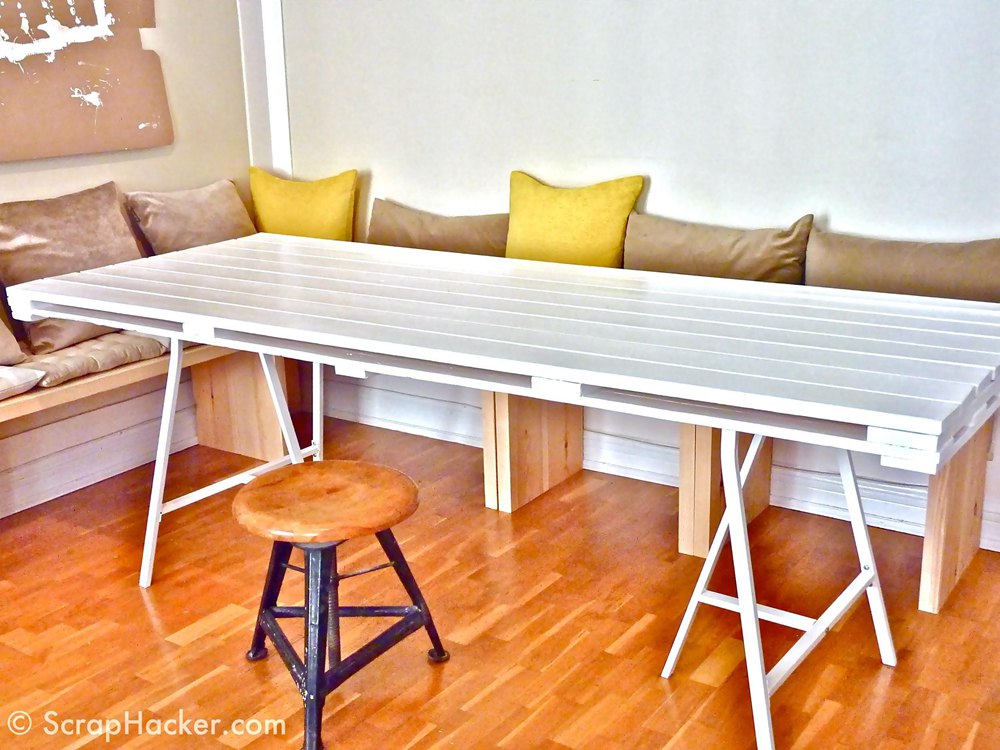 It cost the creator about $36 to be able to make this amazing table. I love the white color of this kitchen dining table. There's a whole lot of countertop space on the table, this means you have enough room for different bowls of food. We recommend this DIY kitchen table.
Check the Idea
6. DIY Scandinavian Dining table

How a little Scandi style? This table has shades of amazing. I love the wood finishing on the table. It's an amazing table that will complement the looks of any kitchen.
7. Small Dining Table DIY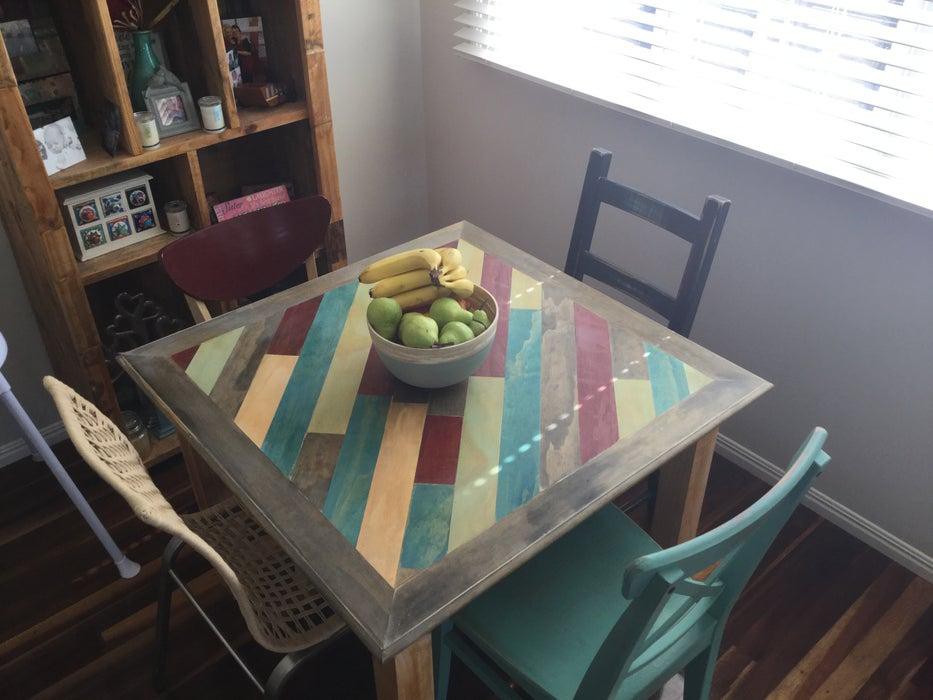 Having a small dining table in your kitchen is ideal especially when you want to save space. This table is an amazing option if you are looking at saving space. I love the patterned countertop. You can make this kitchen table for yourself following the instructions.
Check the Idea
8. DIY Farmhouse Kitchen Table

Cat lovers will immediately notice the cat on this amazing farmhouse table. This is a simple table that you can make for your kitchen. It doesn't take up a lot of space and its color will blend in almost any kitchen. We highly recommend this farmhouse kitchen table.
Check the Idea
9. DIY Kitchen Rollable Table

A table without legs might be stressful to move out of the way. If you want to be flexible in the placement of your kitchen table, you will need one that has wheels on it. While doing my research I came across this fantastic DIY kitchen rollable table project. It is not so easy to make if you have never worked with wood tools before.
10. DIY Kitchen Cooking Table

A cooking table is hard to build but with the right instructor, you would be on your way to making yours with less stress. This kitchen table is made of cement and other materials. There is a lot of countertop space that I bet you would love.
11. DIY Hexagon Table Transformation

The main idea in this DIY kitchen table project was to transform a previously "not so great" hexagon kitchen table to the amazing hexagon table you see in the image above. Mallory was able to paint laminate the table and give it a better look. You too can transform your already existing table using paint.
Check the Idea
12. DIY Pallet Kitchen Table

This pallet style kitchen table is an amazing option if you are looking at having something amazingly outstanding. I love the chairs and how they look simple but yet so beautiful. The table has fairly enough space for your dining needs.
Check the Idea
13. Wood Pallet Table DIY

If it were for me to decide, I'd place this beauty in every kitchen. This pallet table is very simple but yet beautiful. The pallet countertop looks so great. I believe this table would fit perfectly in even small-sized kitchens.
Check the Idea
14. Modern Farmhouse Table DIY

This DIY project would show you how to make this fantastic modern farmhouse table. The table is large enough to accommodate eight medium-sized table chairs. This kind of kitchen table is ideal if you have a large family.
Check the Idea
15. DIY Kitchen Dining Table With Copper Legs

Are the legs made of copper? Yes, all the legs on this kitchen table are made of copper. We recommend this table if you are looking for something classy. This is nothing like the regular wooden table. Its design is top-notch.
Check the Idea
16. DIY Large Kitchen Table

I love the yellow color used for the chairs. This table is quite large and would work perfectly in the dining section of your home. If your dining section is in your kitchen, you need to have a lot of available space for you to use this table. I love the large countertop space. There's enough space for everyone who will be on the table.
Check the Idea
17. DIY Concrete Kitchen Table

Is your kitchen countertop already made of concrete? Adding a concrete kitchen table won't be a bad idea now, would it? In this DIY project, you will learn how to make a DIY concrete kitchen table. The table is very durable and can withstand wear and tear.
Check the Idea
18. Hardwood Floor Topped Kitchen Table

This is a four-person kitchen table that can also accommodate up to five people. I love the countertop on this table. If you are a beginner looking at making a low budget kitchen table for your home? You can check out this DIY project.
Check the Idea
19. DIY Honeycomb Table

Making a hexagon table isn't as hard as it looks. In this DIY tutorial, you'll see all the steps taken to make this fantastic honeycomb table with industrial pipe legs. We highly recommend this table if you are looking at having a new table in your kitchen.
Check the Idea
20. Large Pallet Kitchen Table

Do you love pallet tables? Are you looking for a way to make a bigger pallet kitchen table? This one would do. This six-seater kitchen table is ideal if you have a large family. There's room for everyone.
Check the Idea
21. DIY Plumbing Pipe Table

If you have plumbing pipes laying around somewhere in your home, you make this kitchen table with the plumbing legs, some wood, and other materials. Take a piece of advice from me, this table would be a perfect fit for your kitchen table needs. It has wheels, which means changing the location of the table won't be hard to achieve.
Check the Idea
22. DIY Metal Conduit Kitchen Table With Glass

Here's one DIY project that won't cost you much. It might not be easy to see the pipes used. But I'm sure you'll find where to buy it eventually. Also, for you to make this, you need a machine that will help you cut the pipe, the machine purchasable. This table has all shades of amazing and would fit perfectly in your kitchen.
Check the Idea
23. Beautiful Glass Table DIY

A wooden table is a great option for your kitchen table needs, a concrete table is also cool. But a glass table for me is one of the best options when it comes to true beauty. Here's a DIY project that will show you steps in making a glass table for your dining needs.