If you are an artist, you do not have to buy an easel. There are many articles online that teach you how to make a DIY easel, thus saving you a lot of money. Making a DIY easel gives you the option of customizing the easel to fit your needs.
In this article, I have put together 15 amazingly outstanding DIY easel projects that you can make for adults, you will also find amazing mini-projects for the kids. The building process isn't as hard as it looks. After cutting the pieces the rest is like a walk in the park.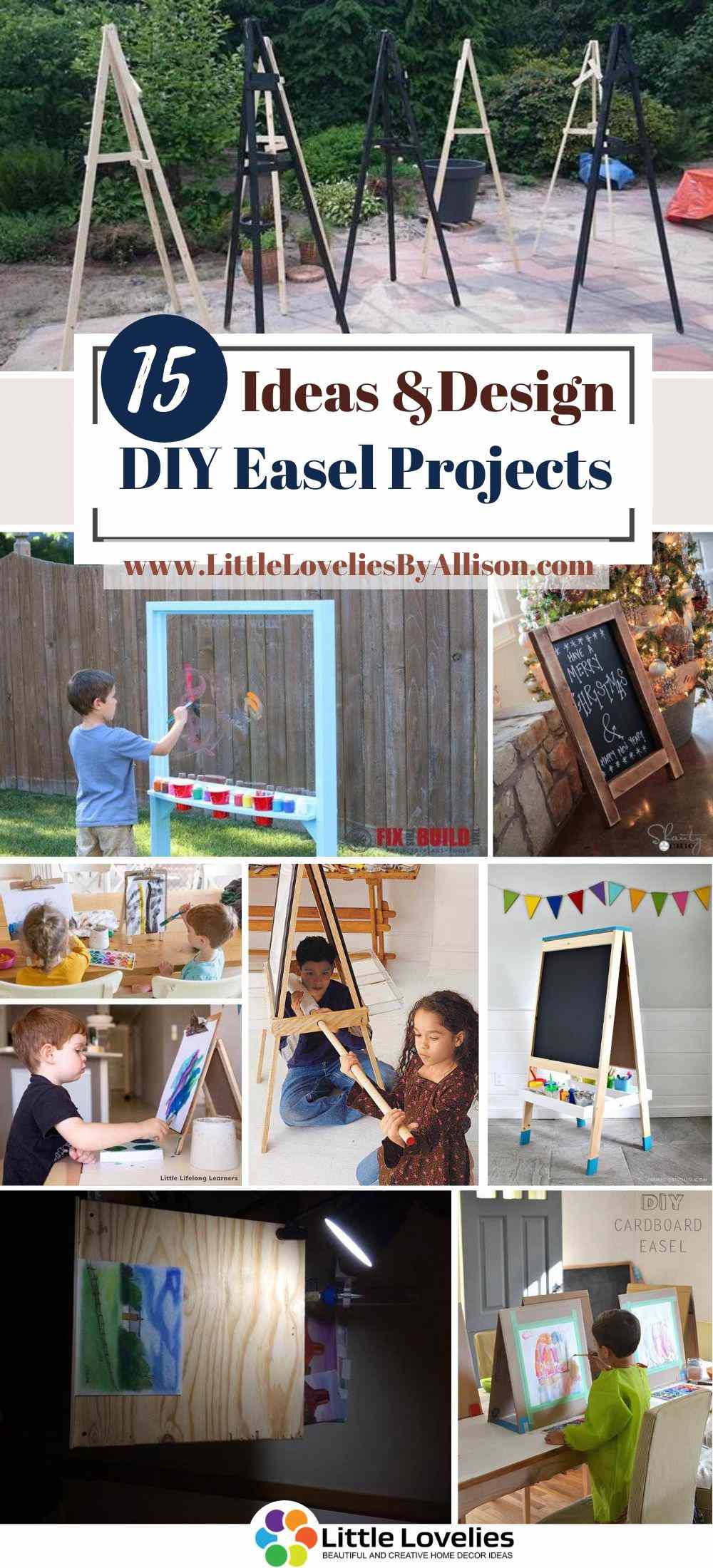 1. Wood Art Easel DIY
Here's an easy one for people who are into woodworking. This tutorial shows you how to make an adjustable wood art easel in no time. The making process starts off with gathering the materials. The creator used maple wood. You might need to make customizations to the wood. If you do not have maple wood, you can also use regular 2x4 wood. The intense part is cutting all the pieces. The video shows you how it is done. In the end, you would have an amazing wood art easel for your painting or drawing needs.
2. How To Make A DIY Easel
If you are looking at building an inexpensive artist easel here's the tutorial to watch. In this DIY guide, the creator takes you through the whole build process. I love this easel because it does not take up much space. The precut wood shown in the video gives you an idea of all the pieces needed to put the easel together. You might need to pause the video to cut the wood. Afterward, he shows how to assemble all the pieces to create the easel. This guide is pretty much easy to follow.
3. How To Make An Adjustable Art Easel
An adjustable art easel is one that can be used by anyone, whether you are tall or short, you'll be able to position the easel for comfort thanks to its adjustability. Building one is quite easy with the right guide to follow. You will need to sand and cut lumber, the measurements are giving in the video tutorial. After cutting all the pieces needed, the creator will walk you through how to put them all together. Some nuts, bolts, and other materials are needed for this project.
4. DIY Easel
For this DIY Easel project, the creator used pine wood. You will need to get three lengths of pine that are 2.4 meters long by 17 millimeters wide. You will also need a hinge and some screws. Other tools used are a saw, drill, dowel, rope, and tape measure. Going further, the tutorial shows you how to cut with precise measurements. The easel is also adjustable. However, it is long and great for outdoor use. You might not be able to use this indoors unless your house is big in length.
5. Portable Painting Easel DIY
One of the easiest woodworking crafts to make are easels. This tutorial shows you how to make a portable painting easel. It is not adjustable like the previous easel, however, it still works great. For the materials, you will need 4x screw 4mmx40mm, 4x M4 ring, 1x 5mm thick rope of approximately 200mm, 1x wood, 20mm x 50mm x2200mm, and a bunch of other tools and materials. The making process starts off with cutting the parts, there's a detailed downloaded PDF file to help with that. Next up is assembly, which is the easiest part of making this painting easel.
6. Kids Outdoor Acrylic Easel
The little ones are not left out. Here's a DIY guide that shows how to make an outdoor acrylic easel. This DIY project is for outdoor use only, unless you want the paint smeared all over your home. The making process is quite easy to follow. You will need a miter saw, jigsaw, router, and a couple of other tools to work with. For the materials; the major ones are (3) 8′ 2×4 pine boards, 2″ Pocket Hole Screws, (4) 68″ 11/16″ quarter round, (1) 8′ 1×6 pine board, and a couple of other important materials. Your kids will surely have fun with this acrylic easel.
7. DIY Kids Art Easel
Here's another fun one to make for kids who are smaller. They can draw or paint on it. Build this and your kids would spend a lot of time doing funny paintings and drawings. It can be used indoors but only if you are ready to clean. You can teach your kids to not paint the walls or any other thing besides the workstation.
Here are some tools and materials needed for this project. 1x3 x 24' wood, (2) 2" hinges, (4) 4" T straps, sandpaper, painter's tape, circular saw with a finish blade, drill with 5/32", ⅛", and 5/16" wood/metal bits, and screw bit, 24" x 24" piece of 26-gauge galvanized steel, 5/16" x 24" wood dowel ETC. The making process starts with cutting the pieces then building the front and back frame, attaching the hinges, adding plywood, and installing the sheet metal comes later.
8. DIY Easel Stand Cardboard
Here's yet another exciting one to make for the kids. You won't need to spend a lot on making this DIY easel. Cardboard is the major material and it is pretty cheap to come by. I would highly recommend this DIY guide for people who have no woodworking skills and are looking at making an easel for their kids.
9. DIY Easel Tabletop
Back to the adults. This is a tabletop easel that can easily be placed on a table. The building process is also easy to follow. It is also a low budget easel and won't require spending much. After cutting the wood for the project, you will need to do some assembling, Screw 20" 1x2's to each board on the bottom edge, screw the hinges after. Adding the pencil ledge is pretty easy. The tutorial will give you a complete guide on how to make this DIY easel tabletop.
10. DIY Easel For Kids
One more for the kids. This DIY easel has two sides. If you have two kids, having this would be a great idea. Both of them can have a whole area to themselves and you as a parent won't have to worry about them fighting over space. The easel has compartments for keeping the painting and drawing tools. The making process requires woodworking skills, however, the tutorial makes it possible for even learners to build one of these.
11. How To Make An Easel From Recycled Cardboard
This tutorial is ideal for people who are looking at making an inexpensive art easel. This art easel is made from recycled cardboard, they're cheap but work great. For the making process you will be required to download a free template from the video description. You will need a cardboard or box. Other tools required are a X-acto knife, scissors, cutting surface and a marker. The tutorial will show you the complete build process.
12. DIY Drawing Board
I recommend this video for people who know their way around woodworking. In this tutorial, the creator doesn't speak. However, you can see how he was able to come up with a unique drawing board thanks to the crystal clear video. You would get the hang of it after a couple of tries.
13. Chalkboard DIY Easel
This project is for design purposes. If you think this is a great idea, you should consider making one of these. You will need wood and a chalkboard. The making of this DIY easel does not require a lot of money. You can keep it on your kitchen island or on your kitchen cabinet. You will have to get creative.
14. How To Build An Easel
The kids can assist you in building this DIY easel. However, make sure you have already cut the wood. Smoothing the wood also prevents splinters. The making process is easy; lay out the pieces, cut the wood, mark and drill the brackets, cut the slots, drill the dowel holes, attach the hinges, cross braces, and brackets. Mounting the boards and then putting the plastic tray is very easy.
15. DIY Tabletop Art Easel
Not all parents like their kids playing outdoors due to the dangers that lurk outside. If you are that kind of parent, then consider making this tabletop art easel for your kids. It is long-lasting and easy to build. You would need a table to be able to use this easel. You can build one or more depending on the number of kids you have.