Maybe you're looking for a fun Halloween project or maybe you just want to decorate your house for the holidays. Either way, these haunted dolls are super easy to make and creepify any room in the home. In this particular post, you will find a couple of DIY haunted dollhouse projects that you can make in your spare time.
You can make a haunted dollhouse and be the envy of your neighborhood. I made one recently and it turned out better than I could have expected. If you want to make your own haunted dollhouse, check out the ideas on this article, pick one, and start the making process.
1. Haunted Dollhouse Makeover
One of the best ways to get a dollhouse to work with is treasure hunting. Try getting some old but neat dollhouse, and it's going to be fun. Once you get the dollhouse, you need to paint and repaint it to transform it from a bit of pinky dollhouse to a rustic and haunted one. You need different layers of paint for the dollhouse with different colors. But the first and the most critical layer is the back paint applied to the dollhouse first! It helps keep the shadow effect in check.
2. DIY Haunted Dollhouse Using Trash
Being crafty and creative at the same time is so fascinating! Imagine building a haunted dollhouse from a pile of trash boxes. The boxes used are of different sizes and shapes. The size and shape of the box will tell where it will fit into.
3. DIY Haunted Dollhouse Using Cardboard
Here is a great plan to show you how to build a haunted dollhouse using cardboard in Victorian style! The first step is to get some solid cardboard sheets and trace out the dollhouse's template on it. Then, cut the sheets and join each piece together with glue. After that, you can paint the dollhouse with cool colors in multiple layers till you get the desired texture.
4. DIY Miniature Haunted House
How about you first draw the dollhouse plan you want on a shot of paper, then transform it into an actual miniature. Take the template and glue it on a piece of cardboard and cut out all the grooves. Then use popsicle sticks to frame the whole cardboard surface. Repeat this till you have all parts of the building.
5. How To Make A Haunted Dollhouse
There are few options when it comes to getting a dollhouse for your haunted dollhouse; you can buy a new dollhouse - which can be expensive, upcycle an old one, build one yourself, or buy an old dollhouse. Once you get the dollhouse, you're halfway done. The next step is to get some supplies to decorate) redecorate the dollhouse. splendry
6. How To Make A Haunted Dollhouse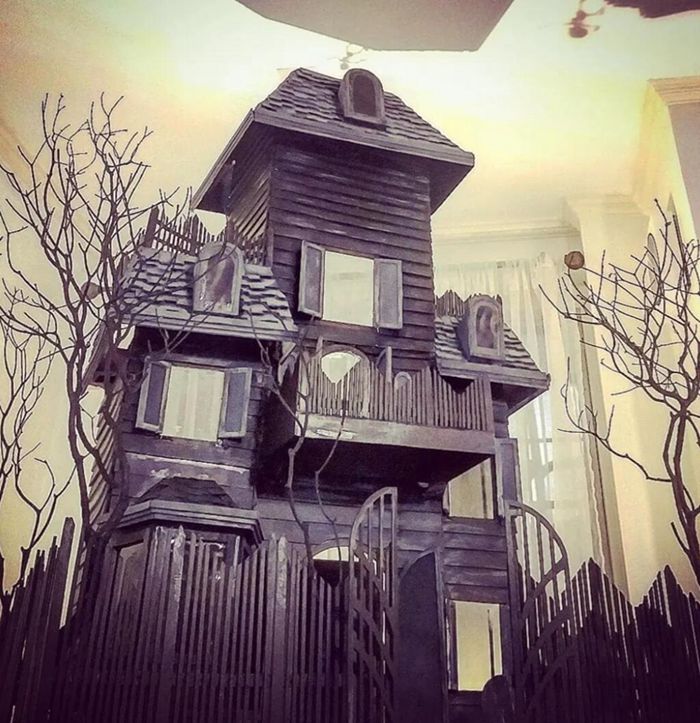 Since most dollhouses are initially pink, bright, and cool, they need to be repainted if you want to turn them into a haunted dollhouse! However, you can make one from scratch if you don't want to go through the stress of repainting and all. The materials required for the building include popsicle sticks, water-based paint, cutter, transparent sheet for Windows, super glue, and old PVC pipes. feltmagnet
7. Upcycled Dollhouse To Haunted Dollhouse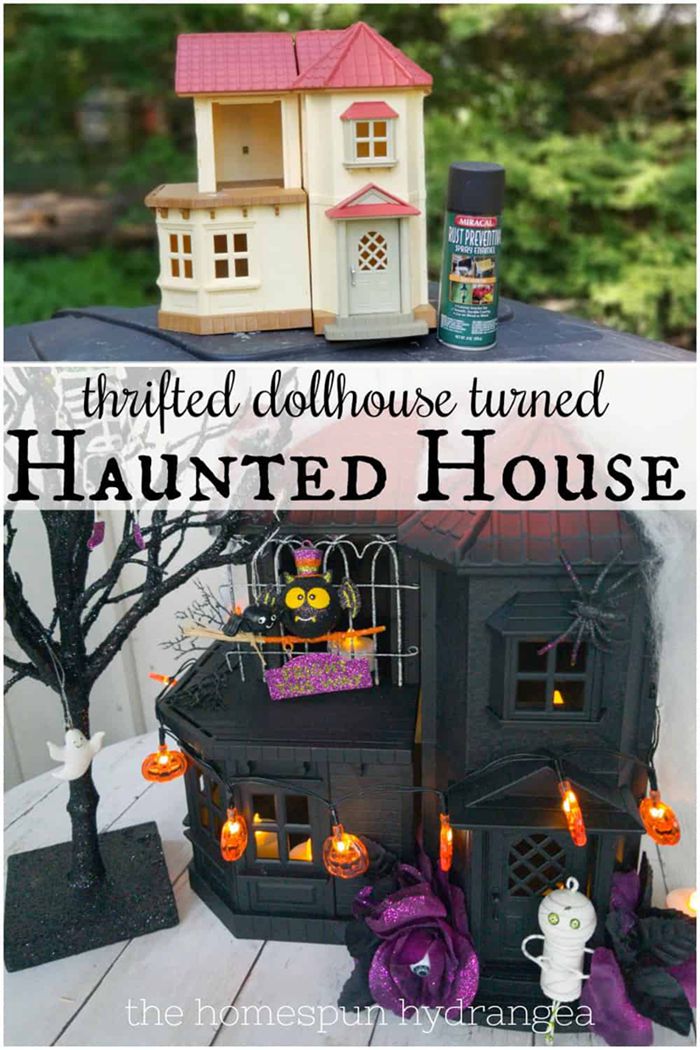 If you have a dollhouse readily, do you know you can upcycle it into a unique haunted house? Upcycling helps keep some of your money back in your pocket as you don't need to buy the primary materials for the project. All you need to get are the materials for decoration and finishing. Find out more about the upcycling process by clicking the link below. thehomespunhydrangea
8. How To Make A Haunted Dollhouse
Don't you want to spend so much on a haunted dollhouse? I've got a great plan that can pass for your budget. It is unique, cheap, and gives the exact effect you want. Let's see how to make it happen! The low-budget logic involves getting an old dollhouse ( you can get one as cheap as possible depending on your negotiating power). Then, you revamp the dollhouse into what you want by using different paints, toys, and spooky pic frames. melyssawilliams
9. Haunted Dollhouse
Dollhouses come in different sizes, and if you want to make one, it is either you model it to one or create a new design from your imagination. This is a mini single-story haunted dollhouse designed and decorated according to the instructor's preference. You can modify the design into a more rustic, old, and scary-looking dollhouse. Find out more about this haunted dollhouse here!
10. Haunted Dollhouse Makeover
When reforming a dollhouse into a haunted dollhouse, the main thing you need is to paint and the scary toys you will use to decorate it. You can start by spray painting the dollhouse with excellent color, then add several layers of paint to each segment, as shown in this video guide.
11. DIY Haunted Dollhouse
Aside from black, some rustic-looking purple color can give a dollhouse an excellent haunted house effect. However, you need first to paint the dollhouse in black, although to have a shadow. Then, you can add layers of purple colors to it. Another fantastic thing about the haunted house is that all the parts were assembled using paper tape.
12. DIY Haunted Dollhouse Miniatures
One of the elements you can use to decorate a haunted dollhouse is a pumpkin miniature. However, you can structure the pumpkin to be the haunted house itself. It only requires a few steps and a few materials. Check out the link below for a guide on how to go about it.
13. Haunted DollHouse DIY
Here is an excellent plan for a haunted dollhouse with many toys to decorate it. The toys give the dollhouse a horror outlook and the all-black shade of the house. Though it is an open penthouse, it did pass all the requirements for a haunted house. It will be a good plan for a Halloween party once the toys in the house are a blackout looking out of the window, a wardrobe containing a peg skeleton, a talking skull, and other scary toys. mrprintables
14. DIY Halloween Dollhouse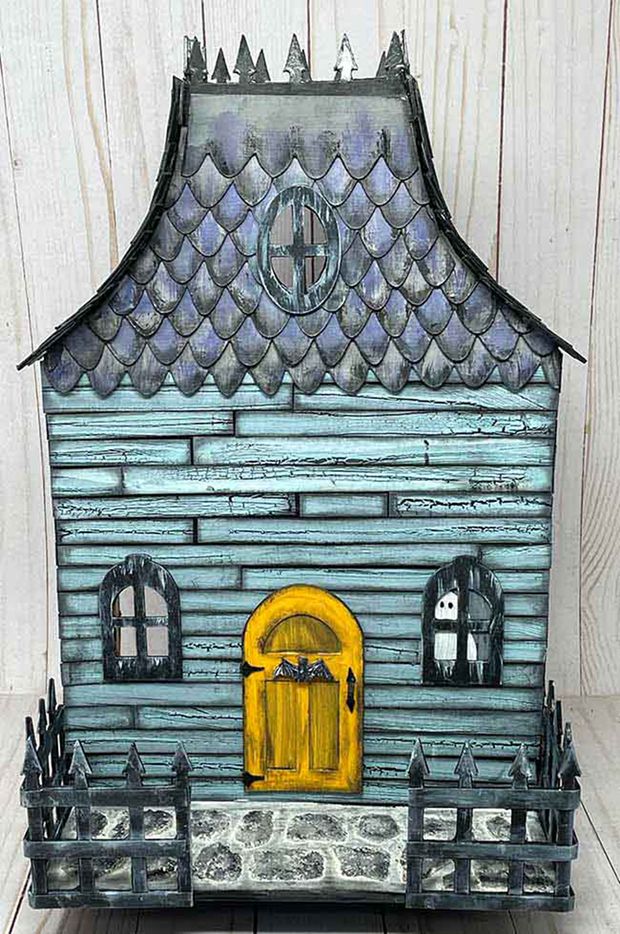 Do you have some cardboard boxes? You can recycle them to make a haunted Halloween house. Simple, scary, and perfect for a Halloween makeover. What are you waiting for? Check out the link below for the full tutorial on how to do this. paperglitterglue
15. Haunted Dollhouse Transformation
This is a beautiful transformation! Turning a pink dollhouse into a Halloween haunted house is very simple. This can be achieved by getting your hands dirty with some awesome crafts! In the process of the transformation, you will need supplies such as. Spray paint for the base (black or white),  latex glaze, cardstock ( for moon and bats), acrylic paint for finishing, twigs, pumpkins, and sliders for additional decoration. diythought
16. Dollar Tree Haunted Dollhouse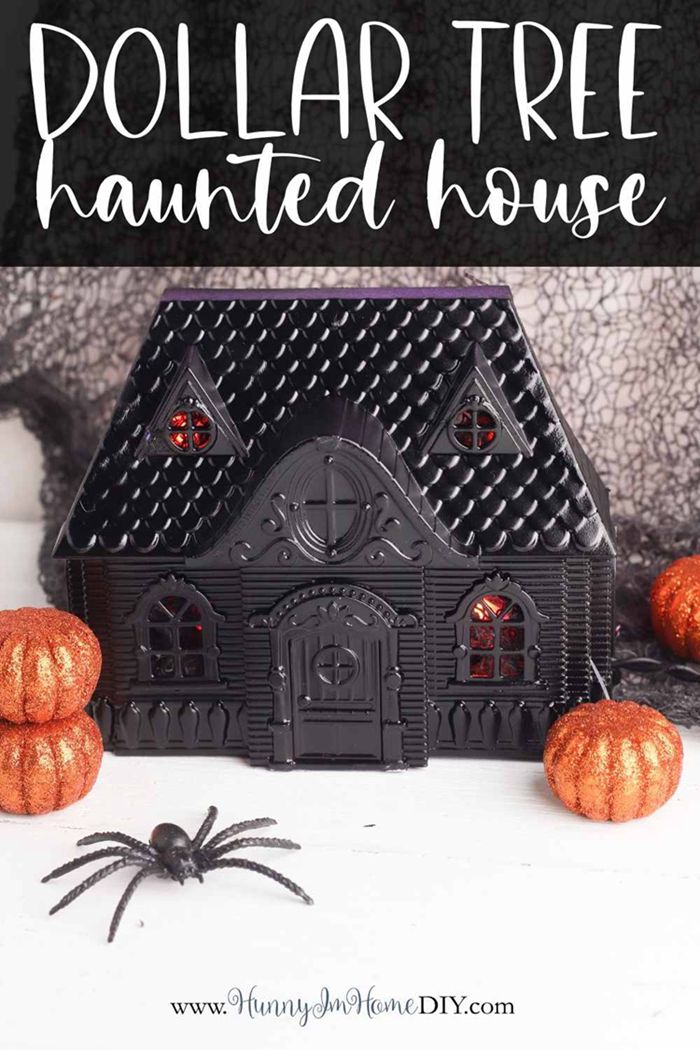 Making Halloween decor is a way to add more fun to your preparation for the beautiful season! A haunted house is an excellent example of a decoration that befits the season. All the materials required from this project are obtained from the Dollar store. However, you will need a dollhouse (the essential material); black spray paint - to turn the dollhouse to black; crappy black fabric - to give the dollhouse some authentic haunted look; orange light for decoration, and some pumpkins. hunnyimhomediy
17. Halloween Haunted House Paper Craft
Are you looking for Halloween party ideas? Here is a fantastic guide that will ensure you have the best decoration for your Halloween party. The guide talked about haunted houses crafted with paper. Creativity at the maximum! The plan for the haunted house is
18. DIY Miniature Haunted DollHouse
You can get a miniature dollhouse from a toy store and assemble it from scratch. The miniature dollhouse comes with all the housing accessories, and all you need to turn the miniature into a haunted house entirely is paint and glue.
19. How To Make A Cardboard Haunted Mansion
Imagine seeing a mini haunted mansion at a dark Halloween party! As it looks scary, it's going to be fun and light up the spirit of the season. The villa is made from cardboard boxes and wood pickets. Find out more about this fantastic but scary haunted doll mansion by clicking the link below.
20. Gothic Doll House Transformation
All you need to transform this gothic dollhouse into a haunted house are different paints, spray paints, and paintbrushes. The first step required you to disassemble the dollhouse, clean it, and allow it to dry. Once it's dry, spray paint all the wall and interior in black while the roof and everything above it in gold. After this, you can wither the pieces to give them a rustic look.
Conclusion
How are you preparing for Halloween? I know with the guides above you've got to know one more decoration for a Halloween party!
Aside from being a great decoration for Halloween, kids' dollhouses are widely cherished, and adding a little bit of adventure to it will make them more interested! But as time goes by and they're growing up, there will be no need for a dollhouse again, and perhaps you should take advantage of that and upcycle the dollhouse as explained in the guides above.
However, If you're buying a dollhouse, you can get one as cheap as possible from toy shops. By now, you should have gone through the guide above and know the design that best suits what you want.