Did you know that you can make an amazing Beyblade stadium using paper a satellite antenna and more? If you have been looking for how to make a Beyblade stadium without success, here's an ideal guide to check out.
Here you will find 15 DIY Beyblade stadium projects that you can DIY from the comfort of your home using a few tools and supplies.
1. DIY Beyblade Stadium
This is an amazing Beyblade stadium to make using paper. First, you need a mold, something round that has a little depth. The creator used a cooking pot cover, but to be honest you can use virtually anything else that is similar to the cooking pot cover. Then he proceeded to cover the curved interior with plastic wrap and then used sticky glue to gum pieces of paper to the interior that was covered with a plastic wrap. At some point in the video, there was a time-lapse, but the entire making process is easy and quick. The rest of the steps are simple to follow.
2. Beyblade Stadium DIY
This is a time-lapse video tutorial that shows you how the Beyblade stadium was made with an antenna dish. The entire video is in time-lapse so you have to concentrate to understand and pick every step from the beginning to the end. The creator got an antenna dish, removed all the extensions, and sprayed it with the color he preferred. After that, he closed the hole on the body of the dish after attaching a base for the dish to stand firmly on the ground. The steps are so easy and quick, even a beginner can make this with ease.
3. How To Make A Beyblade Stadium For $30
So you want to make a Beyblade stadium for your Beyblade burst? You can with just $30, it's seamlessly easy and the making process Is effortless. First, you need to buy the slot for the stadium arena, you can get that at Amazon for just $25, which is the most expensive item on this list, then you'd need some electrical tape of different colors. Once you get most of the supplies required, you can now proceed to build this Beyblade stadium with ease.
4. Homemade Beyblade Stadium
Today you will learn how to create a Beyblade stadium arena with ease, I truly hope this works for you. First, the creators bought a satellite dish at a cheap price and filled up the four holes on the body with epoxy glue. Then they got some pole noodles and covered the side to make the arena complete. This making process took 2 days to finish because it has to allow the glue and other materials in the filling hole to dry properly. This is a simple and easy to build Beyblade stadium.
5. How To Make A Beyblade Burst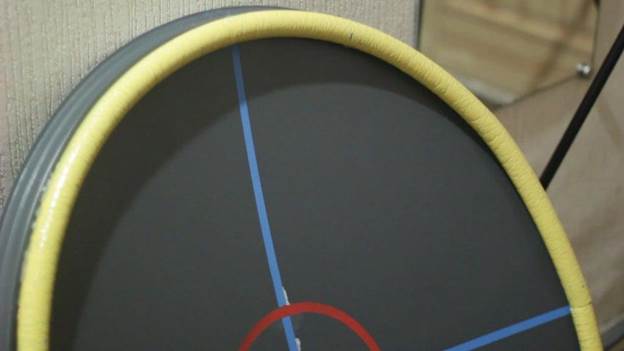 With this guide, you can build your Beyblade stadium for an amazing battle with your friends. Instead of buying Beyblade stadium which is usually quite expensive and less durable. The most important item you need for this build is an antenna dish. It's big, circular, wide, and has a little depth. You can't use the antenna the way it is, you need to work on it to fit your Beyblade stadium idea, so take out every antenna extension on the dish and prepare it for spraying and finishing.
6. How To Make A Beyblade Stadium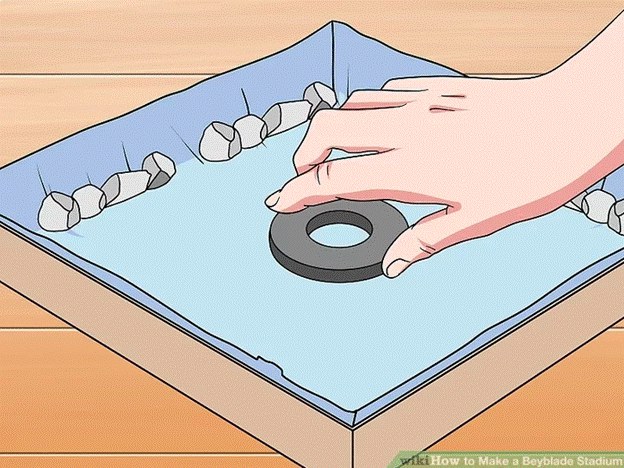 The first task is to find a playing surface, something that is flat and either circular or square. The creator used a square box to make the Beyblade stadium. Once he had the box in hand, he lined it with construction paper, then made the walls using small clean rocks and pebbles and attached them to the side of the box interior with a strong construction adhesive. Follow the guide and complete the steps and create your amazing Beyblade stadium with ease.
7. DIY Beyblade Arena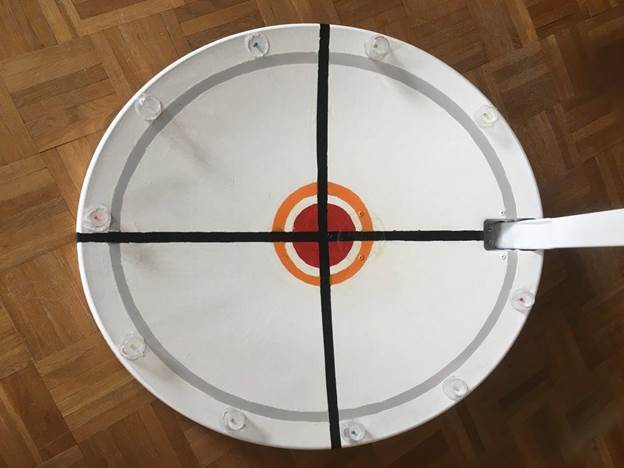 First things first are to get an arena, a round flat surface, to make this happen here are a few things to purchase. You need a satellite dish, 40cm - 60cm In diameter, a clear coating material, hot glue, Enamel, then wood, and stress for the rack. There are also a couple of electrical components that you need, things like a resistor, 1 speaker, 1 white LED spot, 1 IKEA plastic box, 1 power supply, either 5V or a USB cable that can connect to a power supply of 5V and much more.
8. DIY 3D Printed Beyblade Stadium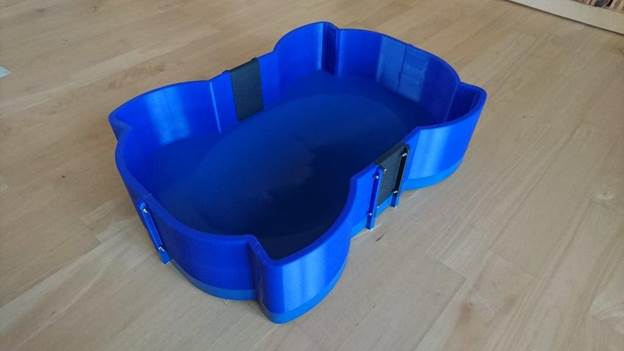 If you want to make this particular Beyblade stadium, you need a 3D printer, if you have one already then that's a plus for you, if not you need to get on right away or check another guide on this list. For this Beyblade stadium, you need to design the 3D model of the arena with Fusion 360, after that is done, move on to the printing. Every piece needs to come out uniquely. You can check the guide link to download the printable format. After the printing is done, you need to assemble them all and finish with acrylic spray paint.
9. How To Make Beyblade Stadium With Cardboard
If you don't have the money to get a 3D printer, you can simply build a Beyblade stadium at home using cardboard. You need to cut the cardboard into several pieces, check the video tutorial to see how those pieces were cut. Then assemble the pieces and make your Beyblade stadium. With this video tutorial guide, you can make this Beyblade stadium without spending a dime. If you have cardboard, a hot glue gun, and scissors, you're good to go.
10. DIY Beyblade Stadium
You can make your great Beyblade stadium with just a few materials from your kitchen. This video is not in time-lapse mode, so you will hear and learn every part of making this Beyblade stadium effortlessly. You will need some plastic bowls of different sizes and depths, a paper plate, and a cooking pot cover. Yep creator made a few Beyblade stadiums, so you can choose which one of them you'd prefer.
11. How To Make A Beyblade Stadium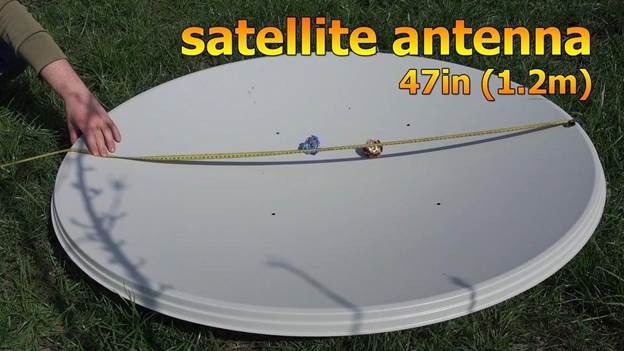 This is an old style of Beyblade stadium, you will be using a very common satellite dish which is mostly used for this kind of project. You will also need a tape measure, epoxy glue, a degreaser, paint, insulation pipe, hot glue gun, and a few other supplies, and your stadium will be ready for battle.
12. Beyblade Stadium DIY From Scratch
This is easy, cheap, and quick to make. All you need is cardboard and glue. Those two materials are easy to find and most people have them at home. Once you have gotten your items ready, start cutting the cardboard in a circular shape, then cut out another cardboard in a square shape. You will put the circular cardboard into the square-shaped cardboard and glue it. You still have other small pieces of cardboard to cut out, and you will attach those small pieces to the fame to make the stadium look more like a Beyblade stadium.
13. How To Make Homemade Beyblade Stadium
You can make this Beyblade stadium at home with just 3 materials. A concrete carrying pan, a tire, and a pipe or a water hose pipe. Once you have these 3 items ready, start building. Your first step is to glue the pipe to the edge of the concrete carrying pan. After you're done with that, place the pan on top of the tire and battle with Beyblade burst. It's that quick and easy.
14. How To Make A Beyblade Stadium With Legos
It's no fun spending so much money on something that you can easily make at home with less or no money at all. That's why for this guide the creator used Legos. So, all you need are Legos, lots of them. First of all, you need to bet a Lego building plate of 94, use bricks to cover the sides, then cover the remaining part of the plate with pictures and legos builds. The process is quick and simple to build, just follow it step-by-step.
15. How To Make A Satellite Dish Beyblade Stadium
So, with a satellite dish, you can make any kind of Beyblade stadium you want. For this video tutorial which some parts of the video are in time-lapse. After removing all the satellite extensions, use mineral spirit to clean the interior body, then fill the screw holes with Bondo body filler mixed with red cream hardener. Mix evenly and fill the holes properly, before even filling you must have taped the back of the hole with some electrical tape so that the filler doesn't lick out. The great steps are easy to follow. Just continue with the instructions from the video and you will have your Beyblade stadium ready in no time. This project is quite expensive, because of all the materials you'll need to buy unless you have some of them at home.