What will the world be without jigsaw puzzles? We all love them, don't we? It's a great way to engage yourself and your kids and keep them learning. However, there's one problem with these puzzles. They take up a lot of space and room. But we found a solution - Puzzle mats!  The Puzzle Mat is a must-have for any puzzle enthusiast. You can now enjoy assembling any puzzle on a smooth, clean surface that's the perfect match for your puzzle pieces. This mat protects your dining table or work surface while giving you plenty of space to work on those medium to large puzzles.
With puzzle mats, you can roll up and stash your puzzles till you're ready to play. You can play anywhere, indoors or outdoors. It's pretty expensive to buy a puzzle mat. So we've carefully curated 14 DIY puzzle mat designs and tutorials to help you make your custom puzzle mat.
Ready? Let's go.
1. How To Make A Puzzle Mat
Do you and your family love to play games and solve puzzles but don't have enough space and the puzzles are always getting in the way? Not to worry, we've got you. Ever heard of a puzzle mat? I'm sure you have. Rather than get one at the store for say $15, you can DIY your puzzle mat for half the price. All you need is half a yard of felt material and a PVC tube and that's it.
Let's show you how it works.
2. How To Make Puzzle Mat
Jigsaw puzzles are a good way to exercise your brain and learn focus while simultaneously getting your mind off worrying about things. However, puzzles can take up a lot of room. So what do you do? Your answer my dear friendlies is a puzzle mat but rather than buy one, you can just make your puzzle mat. We can show you how to make a puzzle mat in a few minutes.
All you need is some felt material, PVC tube, velcro, measuring tape, and scissors for cutting, and voila, you're good to go.
3. No-Sew Puzzle Mat With Fur
This is one unique puzzle mat. Ever heard of a no-sew puzzle mat made with fur? Told you, pretty amazing yeah? No one likes boring, so let's help you spice things up a bit by showing you how to DIY a no-sew puzzle mat faux with fur. Come on, what are you waiting for?
4. How To Make Custom Jigsaw Puzzle
Hey guys, we've got something really interesting for you. This custom jigsaw puzzle isn't just unique, it's creative as creative can be. If you haven't made a custom jigsaw puzzle before, now is the time and we're here to show you how. This isn't just a custom jigsaw puzzle, it's a custom jigsaw gradient puzzle. It's really beautiful, trust me. You'll need a jigsaw puzzle, spray paint, tape, and some old carton paper. Come on, let's get to it.
5. Foldable Puzzle Mat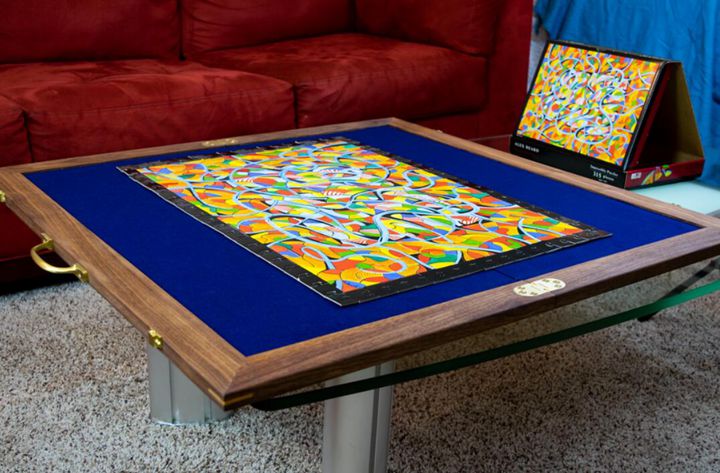 This foldable puzzle mat is beautiful, sturdy, solid, and functional as it can be used with or without the lazy susan base. And the folding butler hinges mean we can use it pretty much anywhere. The supplies you'll need include: 4/4 Hardwood of your choice, Plywood for the board and lazy susan, Butler hinges, Clasps, Handle, and a couple of other supplies. instructables
6. DIY Puzzle Mat
Do you like building puzzles but don't have enough room where you can build them? A puzzle mat is a perfect solution! It can be spread out on the floor or dining room table, then when you're done working on it for the day, it can be rolled up and put away for later. The only problem with the Puzzle Mats you purchase is that you are limited in the size of puzzles you can build on them. So what do you do? You build your puzzle mat; a bigger one and we can show you how to do it. Come on, let's get into it. supermomnocape
7. DIY Roll Up Jigsaw Puzzle Map
This mat makes it easy to relocate your puzzle projects when you need to use your table and it's made with just a few inexpensive materials! Are you addicted to jigsaw puzzles? Well, you're not alone. There's a bunch of us like you. Come on, let's show you how to DIY a roll-up jigsaw puzzle mat. momadvice
8. How To Make Puzzle Mat
Are you a lover of jigsaw puzzles and love to play a lot? Are running low on space and need one to play all night long? Then, a jigsaw puzzle mat is the best solution for you. From laying the puzzle mat on the floor to your dining room, a puzzle roll-up mat might be what you are exactly looking for. Because once you are done working on your favorite puzzle pieces, you could easily roll up the puzzle mat.
However, it's pretty expensive to buy one. So, why not just make one yourself. That's where we come in. We can show you how to DIY a puzzle mat and save you all of the costs. jigsawdepot
9. DIY Puzzle Mat For Kids
Want to keep your kids busy while sharpening their minds? Then a jigsaw puzzle is just the thing you need. However, these puzzles can take up a lot of room.  What do I suggest? Get a puzzle mat. I must warn you though, they can turn out to be expensive. So, just make yours. When you DIY your puzzle mat, you can roll it up for later or choose where to play. Ready? Let's go.
10. DIY Sniffing Puzzle Mat
Everyone loves puzzles, don't they? But hey, dogs love puzzles too. It'll be a great thing to make your dog a sniffing puzzle mat. It's a great way to let your dog have some intelligent fun.
11. DIY Portable Puzzle Mat
If you love to solve puzzles, you're going to fancy this creative little portable puzzle mat! It's a way to store small mini-puzzles and it's an upcycle project, meaning it uses some things you most likely already have in your home! The only thing you'll need to get is a large sheet of felt. It's small enough to take and store anywhere. What do you say? Let's get on with it. craftyourhappiness
12. Puzzler Puzzle Mat DIY
Everyone knows jigsaw puzzles are fun to work with but tough to work around. How do you work weird things then?
Get a Puzzler! Or rather, make one. This one-seam easy-sew puzzle mat allows puzzles to be worked at will, rolled up, and stashed away between play sessions. It's made from a short length of craft felt and a recycled gift wrap roller. The materials and supplies you'll need include: 1 yard 72-inch wide craft felt fabric (one yard makes two Puzzlers) thread to match recycled cardboard gift wrap roller, 28 to 32 inches long. 2 9"-10" hook-and-loop straps to secure the mat, and more. christmas.organizedhome
13. Make a Puzzle Mat With Alphabets
If your kids love puzzles, you could use them to teach them the alphabet and also how to count. You can do this by making them a puzzle mat with alphabets.
It's pretty easy. Come on in and we'll show you how.
14. Foldable Puzzle Mat
This foldable puzzle mat solves the one major challenge every puzzle lover and owner has - no room or space. With this foldable puzzle mat, all your worries are gone and you have all the space you need to do other things. Let's show you how.
Conclusion
There you have it; 14 DIY puzzle mat ideas and designs. Now, you can get creative with your puzzle mats and make something for yourself, your kids, and your dogs too. We're pretty sure you'll have fun getting this project done. Let us know how it goes. But we're certain it'll go great.  Puzzle mats have three primary uses, including protecting your child from cold floors. Choosing the right puzzle mat can be a daunting task. However, if you are comfortable with this particular type of play mat, it can provide many benefits to your child.