Nobody likes to walk outside and see their beautiful deck tarnished by the appearance of bird poop. It's such a nuisance to clean, and it's just gross. What if we told you there are ways to prevent or lessen the chances of a bird pooping on your deck?
You're never going to get rid of birds; that's just an unobtainable goal. However, there are numerous ways you can actually detur them from even considering defecating on your deck. We're going to break down some of the ways to keep birds from pooping on your pool deck.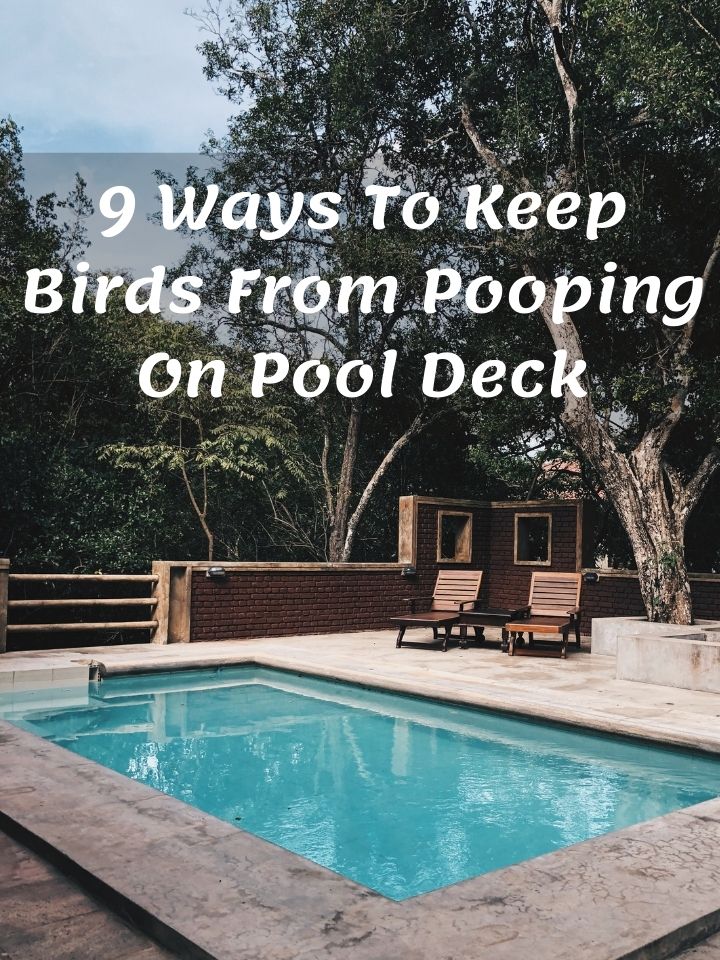 Trim Your Shrubs Back
There are many things that birds love, and dense shrubbery is one of them! Birds love to nest in the shrubbery and lay their eggs because of the substantial cover they have from predators and various other threats. To minimize the chances of bird poop on your deck, just trim back the hedges nearest to the pool deck.
We do advise that you make 100% certain that no existing bird nests are in your shrubs. The last thing you want to be doing is murdering an entire family of birds purely because you hate bird poop on your deck.
Just take a step back, proceed with caution, and if you come across an empty nest, remove the nest from your shrubs and continue. However, if there's a bird nest with eggs inside, leave it alone and wait for the eggs to hatch. You're going to have to wait for the baby birds to leave the nest before ultimately relocating the nest away from your deck.
Wind Chimes
Birds just aren't that fond of shiny things, and wind chimes are more often than not made of shiny things. With wind chimes, birds don't like the shiny aspect, but they're also not so fond of the sound either. The only downside is that the sound of wind chimes can become annoying for anyone, not just the birds.
You can hang wind chimes near or in your pool area, and hopefully, birds will avoid the area due to the sound, as well as the shine.
Pool 'Predators' & Beach Balls
Like the plastic owls and hawks, a plastic floating predator like a snake or, more ridiculously, a shark will keep birds away from the pool area. The wind keeps them moving, so it adds slightly, and I somewhat emphasize the idea that they're a real danger. The only downside, you've potentially got plastic snakes roaming your pool.
If you're not a fan of pool predators, try beach balls. Colorful beach balls will move around in the water, and the birds will not enjoy the sight of them and keep clear of them as much as possible. It fits the pool area's mood better than a plastic snake will, as at least it fits the decor requirements of a pool area.
Remove Food Sources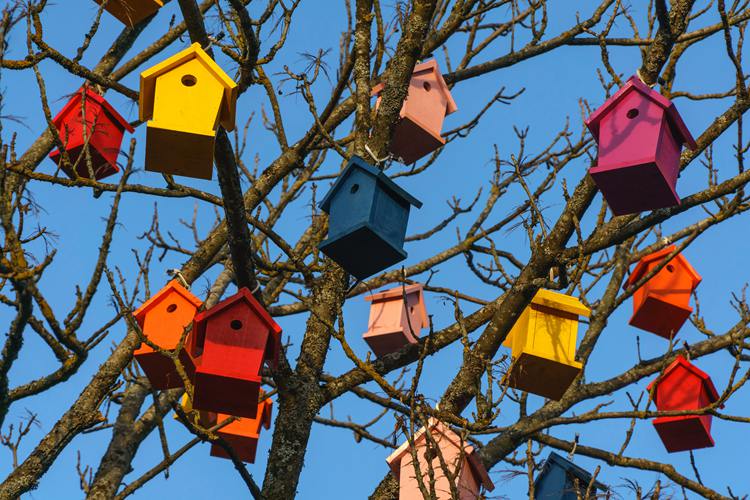 It's time for the 24-hour bird restaurant to close its doors! If you've got a bird feeder anywhere on your property, then you've got two options;
Remove it entirely.
Move it as far away from the pool deck as possible.
If you go with the second option, but the bird poop persists, then the birds have forced your hand. Once the birds realize that your property is not some late-night takeout place, they'll go out in search of another place that has feeders available night and day.
Another more complex source of food that birds go after is a bit trickier to solve, and that's bushes and trees, which produce some fruits or nuts. But before getting the chain saw out, consider using some of the other options on this list to deter them as much as possible before going to such an extreme last resort.
An alternative to chopping down the tree is relocating it away from your pool deck.
Plastic Predators Birds
There are a series of birds that are just really common around suburban areas, and one or more of these birds may be frequenting your home. The following birds are the commonly found birds in outdoor spaces;
Sparrows
Robins
Crows
Blackbirds
Starlings
Mourning Doves
Suppose these are the birds in your area that are responsible for the bird poop on your deck. In that case, you're going to want to consider getting some plastic predator bird ornaments.
Hawks and owls are the most common predator birds that other birds try to avoid. So place the plastic birds somewhere visible and let them work their magic, and drive away the culprits responsible for pooping on your deck.
One thing to note about this method is that you need to move the ornament around once in a while, so other birds don't realize it's fake and get comfortable taking the risk.
Bird Baths? Fountains? Toss em' Out
Like the feeders, you need to stop catering to birds and just get rid of the things that make them want to visit your home and stick around. Don't feel bad. There are plenty of people in your neighborhood who probably provide birds with a full buffet with feeders and water fountains galore.
If you really want to get the birds to leave your pool deck alone, you'll remove the baths and fountains that they're using for a drink. If you've got a purely decorative fountain, you'll need to find a way to get them to leave that fountain alone with one of the other methods on this list.
Reflective Bird Diverters Or Pinwheels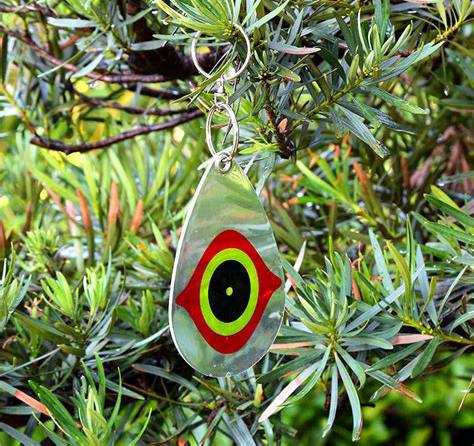 Reflective bird diverters aren't very attractive, but they do an excellent job of keeping birds away, and they're cheap, so winning, I guess? These small circular tags will spin in the wind and have light reflect off of them. The reflective bird diverters have eyes on each tag to trick birds who'll think it's a predator in the area.
Who would have guessed a worthy alternative would be that thing we used to play with as kids. That's right. Pinwheels are remarkable for getting birds to leave your home alone! The wind hits the little metallic sheets and spins the pinwheel around, which freaks the birds out. They're so cheap to buy or even make, and they're actually really effective.
Hang Some Mirrors
It's not a vanity project. It has a purpose! Hanging mirrors is easy to DIY, cheap, and highly effective. Above all, you can make it look really lovely, which other options on this list simply can't accomplish.
Sticking with the theme of birds being anti-shine, the light reflecting off the hanging mirrors will make birds really question whether or not they should be going anywhere near your property. More importantly, your deck. One day co-orse your partner or children into making hanging mirrors with you and reap the benefits of a clean deck.
Sound System For Ultrasonic Waves
Bird poop on decks is such a big problem that companies began making sound systems that give off ultrasonic audio waves. Of course, we as humans can't hear, but birds can. Better yet, they're more often than not motion-activated, so they can shock the bird and train them to avoid your home.
Another option is sound systems that play the sounds of predator birds. But honestly, I can't think of anything worse than that blaring at 2 am.
You can find reasonably priced options in the $20 - $70 range. Still, they can go as high as $200+ depending on the brand and what you're after in terms of capabilities and quality.
FAQ
Here are some of the questions we find are frequently asked about when it comes to stopping birds from popping on pool decks.
Are there any odors that birds can't stand?
Birds are not fans of numerous odors, including; cayenne pepper, chili pepper, garlic, essential oils, and vinegar. This requires a bit of a routine to keep the scent present enough to keep away the birds, and we recommend diluting the essential oils as birds' respiratory systems aren't the strongest.
Are there any quick and easy ways to stop birds with stuff in my home?
Well, it depends on what's in your home, but there are always alternatives to numerous items on this list. You can make many of these options DIY projects using things found around your home. For example, you can make your own windchime or use CDS as reflective surfaces instead of mirrors.
Here's a great video on making some DIY junk drawer wind chimes!
Final Thoughts
There are so many ways you can try to minimize, if not eliminate, the likeness of bird poop on your pool deck. Try working with a combination of some of these options to ensure no gaps can be taken by the birds to 'make the best of a bad situation.' You want the birds to leave, don't give them reasons to stay.
Let us know in the comments how you managed to eliminate your deck's bird poop problem. Additionally, if you have a friend who's been complaining about this issue, then send this article to them so they can solve the problem.