What is a pool waterfall? It's a swimming pool with a waterfall, of course, and it's certainly not as difficult to build as you may think. If you have some basic construction knowledge you can easily build a backyard waterfall to add beauty, tranquility, and value to your home. Create your own tropical paradise in your backyard with this do-it-yourself waterfall plan for your pool. Designed for swimming pools, It turns a plain, boring pool into a stunning backyard oasis.
In this article, we have put together 10 amazingly outstanding DIY pool waterfall plans that you can build. Some projects below will show you from step 1 - the final step, while others might just inspire you to create a cool DIY pool waterfall. Come on! You've got this, check out the plans below and start today.
1. DIY Pool Waterfall
Waking up to the sound of a waterfall has a kind of serenity and peace that is beautiful. Thus, to have this kind of serenity around you, you need to build a pool waterfall. It's an artificial waterfall, yet it gives almost the same effect as a natural waterfall. Let's see how you can build one; the first thing you have to do is to gather the materials required, then build the base of the waterfall.
As you're doing this, you need to modify your pool pump in such a way that it works for the waterfall as well. All you need to modify the pump is a T-connector and a tube connecting to the existing pump tube. doityourself
2. How To Install A Pool Waterfall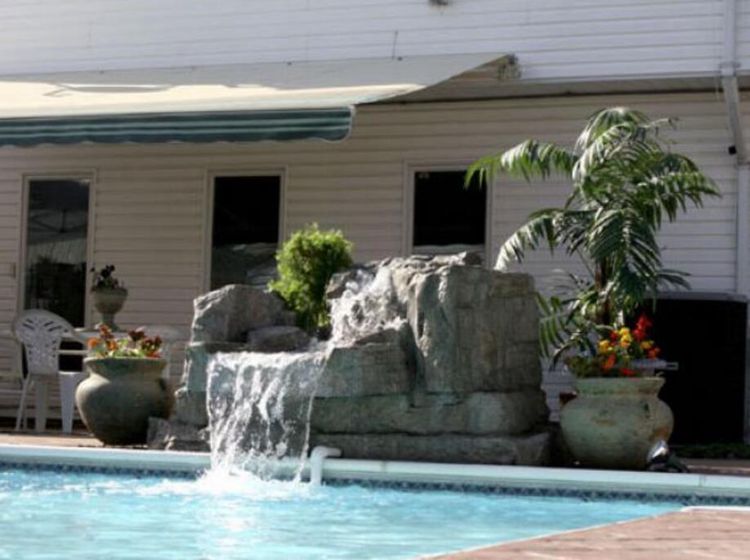 You decide to give your pool a touch of nature and the best way to do this is to get a self-contained waterfall kit and install it therein. You need to choose where you want to place the waterfall, then dig out the area to fit the waterfall structure. After this, carefully assemble the waterfall and ensure the structure aligns with the space you dug.  It would be better to follow the manufacturer's instructions when you want to connect tubes to the pump.  Once you're done with the set-up, what remains is the landmark. You need to make the surroundings attractive and natural. hgtv
3. DIY Waterfall Idea For Pool
This isn't really for a pool, but I think the idea is great. This tutorial shows you how to build a backyard waterfall and stream. This build can also be linked up with your swimming pool. The whole process might take a while to complete, and you'll probably need help from a friend or two. Regardless, this is an amazing project that would look perfect in your backyard alongside your natural swimming pool. familyhandyman
4. DIY Waterfall For Outdoor Pool
Outdoor waterfalls can take different shapes or designs depending on what you want to use and how much time you have. An amazing outdoor waterfall will give an emphatic focal point. All you need to do this is a pool where the waterfalls are on and the cascading structure for the waterfall itself.
The waterfall structure is the most difficult aspect of this project, but you can learn how to build it simply and cheaply. This guide can help you with the simple and cheap process. When building this big waterfall, you need to have a flexible liner on the ground between the top of the waterfall and the look/pond to channel the water. thespruce
5. Pool Waterfall Installation
Before you can start making a waterfall system, there must have been a water source or a water body the waterfall is running into. In this case, the waterfall is artificial and it stems from a pool. For this waterfall, the waterfall structure is not so difficult to put together. It is made out of bricks and cement. Choose the area you want the waterfall to be and assemble the bricks. You can have the same layout as shown in this video or you can change the stout to anything you prefer. Once you lay out the bricks, join them together with mixed cement.
6. Glowing Pool Fountain DIY
All you need to make this pool fountain glowing include clear glass rocks and LED lights. Rinse the glass stones as many times as possible and add some to the base of the fountain. Then, place one LED light on each side of the fountain. After this, add some more glass rocks to cover the lights. Power the pump and your fountain are ready. You can add bigger glass stones to the fountain later. At night the fountain becomes colorful dye to the LED lights.
7. Waterfall Blade Cascade Water Feature For Pool
Setting up this blade cascade waterfall can be complicated at first, but once you understand the concept it becomes so easy. You will need some parts before you can start making the waterfall, a pipe, a table saw, an LED light bulb, and a couple of hardware. Once you have all these parts, it is time to start assembling. You can check out the link below for the full tutorial for this blade cascade waterfall.
8. DIY Outdoor Water Feature
There are some things you need to consider while building a pool waterfall. The height; of the waterfall must not be too high; if not, any breeze will affect the flow of water. This was built on a former flower bed and there's no need to start building any structure. All you need to do is to dig the bed and place a plastic container inside it, where the waterfalls on. The waterfall itself is made from wooden boards. Find out more about this amazing outdoor waterfall below.
9. DIY Natural Pond Waterfall
An amazing pond liner will make your waterfall system strong and beautiful. You don't need a separate liner or double liner for the pond and the rocks that make up the waterfall structure. Only one-liner for both and ensure its proper install into the trench. Once you have the liner installed, it is time to assemble the rock as you want it.
You can start with some heavy rocks and later mix the heavy and the light. Most of the rocks used were gotten from the underground, if you can get such rocks, there is no need to buy anything. The only rocks the instructor bought were the flat rocks that allow the water to fall freely.
10. DIY Pool Fountain
The materials required for this above-the-ground pool fountain include a male adapter, threaded T's, PVC pipes, standard T, PVC end cap, elbows, filter, ball valve, and 45° couplers. However, depending on the setup and the filter, you might need some more 45° couplers and elbows. Once you have all of these materials, the next thing is to measure and cut the pipes. You can remeasure after cutting to ensure that it is accurate. Then, lay out all the pieces on the floor to see the order of assembly.
Conclusion
Waterfalls help to increase focal points and give your pool a touch of nature. To do this there are many ways you can follow to build a pool waterfall. Thus, this guide is providing you with 10 DIY pool waterfalls that you can follow to guide yours. The most difficult or expensive part of the waterfall system is the waterfall structure.