Who doesn't love having a lovely day by the pool while the sun's out?
If you're that person, you hopefully have a clean pool deck and actively work to keep it clean from week to week. But nobody wants to be by the pool surrounded by dirt and weeds! Do you ever find yourself wanting to clean your pool deck but not knowing where to begin? Well then, this article is for you!
We're going to break down everything you need to know about cleaning your pool deck, keeping it clean, and more to make any day by the pool a great day.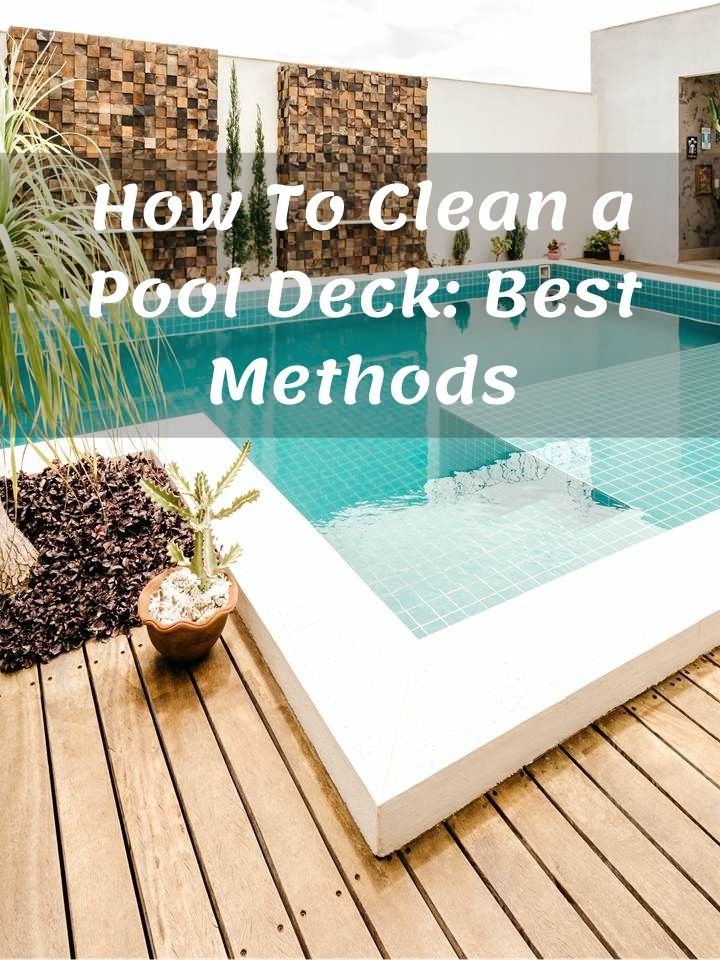 How Often Should I be Cleaning My Pool Deck?
How often you should be cleaning your pool deck depends on the type of pool deck you have. There are standards for each type of pool deck, but certain situations can prompt more robust and frequent cleaning schedules such as;
If you live near open fields, you might experience bursts of pollen coating your property or summer irritants that require intervention.
If you live near busy roadways or production areas, then you might find dust is a frequent nuisance, along with rogue debris.
If you frequently use your pool deck, then expect to maintain it more regularly to keep it clean and tidy.
These are the standard cleaning requirements of the most popular materials used for pool decks.
Wood Decks
Wood decks need to be cleaned every year in order to get rid of potential mildew, mold, moss, or algae.
Metal Wood Decks
Metal wood decks, on the other hand, need cleaning when they need cleaning. Therefore, you will need to determine when that need arises. Still, they require more frequent cleaning to ensure they provide a safe surface underfoot while retaining an aesthetically pleasing appearance.
Concrete, Stone, or Brick
Concrete, stone, or brick pool decks can either be attended to every other year or when you feel it is essential.
Why is it Important to Keep a Clean Pool Deck?
There are a few reasons why it's so essential to maintain a clean pool deck. For starters, the prominent place to start is the aesthetics. Nobody wants a dirty pool deck, and if they argue otherwise, they're lying. You'll want to maintain a clean pool deck, so no matter what, you're ready to entertain guests by the pool or enjoy the pool with your family.
Beyond just the aesthetics of a pool deck, you'll also want to keep your actual pool clean. When your deck is dirty, your pool suffers as a result. This can compound when your pool filter starts trying to work with damaging objects causing it to break.
Safety is probably the most important reason, however. When you don't clean your pool deck, you're allowing for slippery surfaces to come into existence in the form of mold, or moss, and more. Mold and pollen can also cause members of your household to develop allergies. For the ones who already have allergies, they're in for a bad time.
How To Clean a Pool Deck: Best Methods
Different decks will require their own sets of methods to achieve a satisfying final result. Here's how to clean the different types of pool decks;
Wood Decks
Who doesn't just love a great wood deck? They're probably the nicest-looking decks you can have when it comes to your pool area! So naturally, you want to make sure it looks fantastic at all times.
To properly clean a wooden deck, you're going to want to use a paint roller. I know it sounds weird, but a paint roller, garden sprayer, and a broom - preferably stiff-bristled - can do wonders for the cleaning of your wooden deck.
Don't let your cleaner dry into the wood when you're cleaning. Instead, scrub the deck down, rinse it off, and let it dry for a day or two before adding a waterproof sealer which will better protect your deck and make it more durable.
Concrete, Stone, and Brick
Concrete, stone, and brick decks generally require very similar, if not identical, means of cleaning. Once you've cleared away the area and as much dirt and debris as possible, you'll want to rinse your concrete, stone, or brick deck off with the hose.
Using a stiff brush and some water mixed with either bleach or mild detergent, you're simply going to scrub away at the surface. While you're cleaning your deck, we recommend looking out for any potential cracks. If you find cracks, consider filling them in or, better yet, get a professional to come and inspect the severity of the cracks.
Ceramics and Tile
Ceramic and tile decks require a pressure washer to do the job effectively. You can either purchase or hire a pressure washer and if you want to avoid that, just ask your neighbor; maybe they have one.
In the event you're unable or unwilling to go down the route of getting and using a pressure washer, you can use a scrubbing brush or mop. Combined with the mixture of chlorine bleach and water, you should be able to get similar results.
Vinyl
With vinyl deck cleaning, you'll clear the deck, wet it, and let it sit for a little while before getting started. Next, you're going to take a stiff bristle brush and mix a mild dish soap in some warm water before scrubbing your deck. Once you've scrubbed the deck, let it sit for a bit before rinsing it off and, if necessary, repeating the process.
Composite
When it comes to composite deck cleaning, you're going to want to clear the deck and use a soft scrubber and cleaning product that's intended for use on composite decks. You can also find composite brighteners with oxalic acids. It's essential to correctly determine if the product you intend to use can work on your decks type of composite without damaging the deck.
Tips & Tricks
Here are some additional tips to help you get your pool deck clean and maintain it after you've done the dirty work.
Never allow for the cleaning solution to dry into your deck. Once applied, work fast to get what you need done, done. When you enable cleaning agents to dry into your deck, it creates streaks which make it far easier for dirt to accumulate.
Once you've cleaned your deck, look for any cracks or damages in your deck that was probably hidden behind the dirt, mold, moss, or grime.
Once you've cleaned your deck, consider sealing it for extra protection and more robust durability.
Don't use or rely on harsh chemicals, as they can have devastating effects on your pool deck's material.
When cleaning a wood deck, mix a cup of white vinegar with a gallon of water and put the finished product into a spray bottle. Now you can target mold and mildew spots to kill and loosen them before spraying them away.
Don't use silly little mops; you need scrubbing brushes if you're going to do the job just right!
Don't clean in heavy or even moderate rain, as it will wash away your cleaning products and make all your hard work incredibly useless.
When it comes to the use of pressure washers, a lot of people remian wary. Here's some excellent advice about what to avoid when you're using a pressure washer;
remainFAQ
Here are some of the questions we come across frequently when people ask about cleaning their pool decks.
Are pressure washers not suitable for pool decks?
If you know how to use a pressure washer, then in most cases, you're good to go with using it on your deck. However, when you use a poor technique, you risk chipping or cracking your deck regardless of the material your deck is made of, be it stone, wood, concrete, etc.
We recommend using a professional power washer and a soft wash, in particular, to remove intense dirt or dust. Alternatively, hire a professional who's well equipped both with the tools and knowledge to do the job right.
How can I address the numerous stains or discoloration that exists on the surface of my pool deck?
There will come a time when you need to look at your deck and determine if there is an actual way to save it. It's going to be challenging to come to terms with the knowledge that you're facing a tough decision in how you go about revitalizing your pool deck.
A suitable method of revitalization when your deck is in poor condition is to use specialty stains or paint to bring new life to your deck.
Final Thoughts
Now that you know so much more about cleaning pool decks than you did before, it's time to apply that knowledge and bring your deck back to life! Revitalize your deck and make it an area of your property where you're proud to spend time.
Let us know in the comments how your revitalization job goes and shows us that before and after when you're done! Furthermore, if you know someone who maybe needs a subtle hint that it's time they clean their pool deck, send this article to them and watch change occur overnight.