These DIY pool deck plans are not easy to work with but they are essential to having a comfortable pool experience. Pool decks are usually the area around our pool, also known as the pool patio, where you can keep chairs, tables, and other pool furniture. Some pool decks are small, and can only take a few people on them, while others are large, comfortable, and can take a lot of people on them at the same time.
Here today, you're going to learn in a few simple ways how to make a DIY pool deck by yourself at home, with ease. Some of the guides below may be expensive and some inexpensive, it all depends on what you are looking out for. So, let's begin.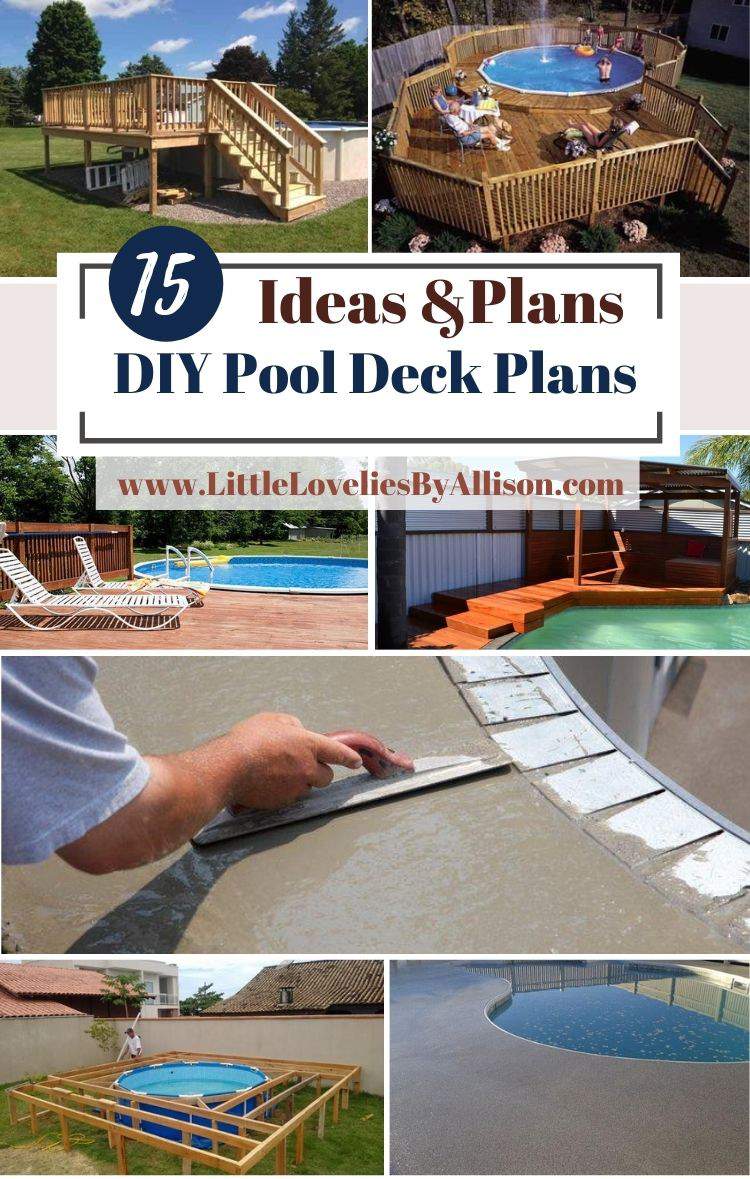 1. DIY Pool Deck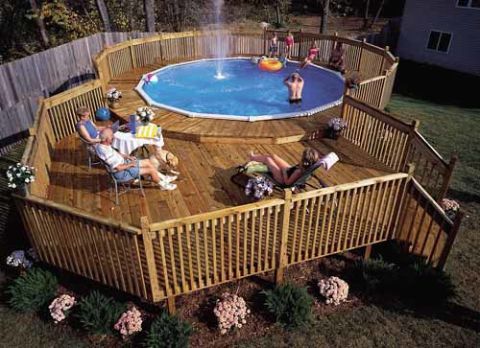 This project is super tasking and cannot be done by just one person. It's a big pool deck, therefore you need to have a sketch or design that will help you build the deck with ease. After the design plans are ready, the next step the creator took was to frame the floor, then set the piers and post. Setting the piers and post is another technical part of this project and must be done carefully to have a stable deck. The rest of the steps are easy as you follow them properly.
2. DIY Pool Deck Plans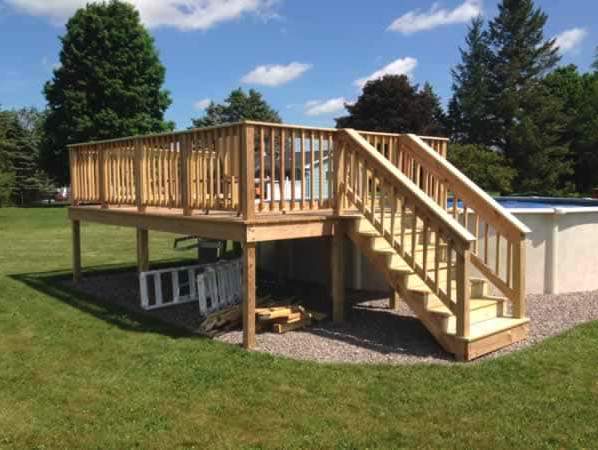 For this guide, all you need is a fair woodworking skill, good lumber wood, and the basic woodworking tools to kick start this project. The size of the deck will be determined by the size of your pool at home, and once you are done with that measurement, you can proceed to get the necessary materials and start building this pool deck with the plans the creator has prepared for you.
3. DIY Outdoor Floating Swimming Pool Deck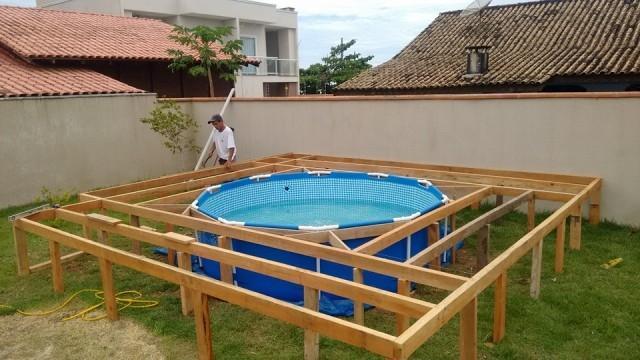 This is a super easy pool deck to build, it's so straightforward and can be done by just one person if you know what you're doing. The creator started by laying the wood post around the pool, in a square format. Then, he proceeded to lay the wood deck over and on top of the frame, then added small stairs that will aid an easy walk-in.
See also: 13 DIY Pool Ladder Plans
4. DIY Concrete Pool Deck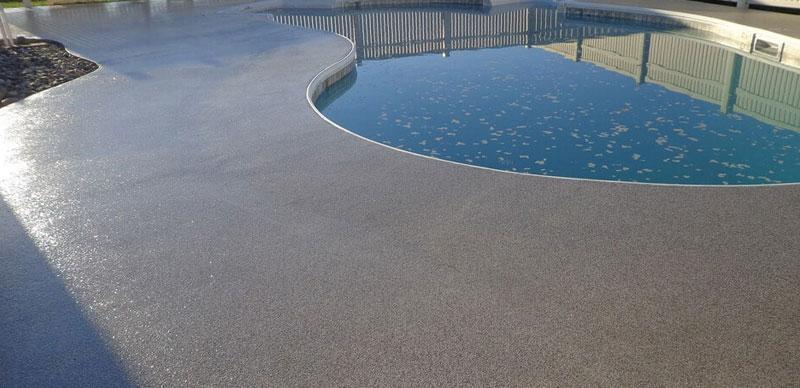 If you have a pool as unique and amazing as this, you might have a hard time getting the right pool deck to build and install for your pool but this pool deck plan is all about using concrete to make the pool deck, this is more permanent and durable. If you are looking for a permanent pool deck, you should consider using this guide.
5. How To Build A Deck Around A Pool
For this video guide, the creator started by digging the ground near the pool he intended to put a deck. After digging, he poured some Quickeret concrete cement inside to hold the wooden post firm as he builds and mounts the deck later. The making process will be easier with a companion to assist you, in the heavy lifting, but it's quite an easy task.
6. DIY Quick Pool Deck
If you want to make a quick pool deck right away, you can use these video guide plans. It's super easy and the crater made everything from scratch, though he had some materials that were already ready-made. The making process is quite simple, but the durability is under probability.
7. How To Build A Pool Deck
Here is another amazing guide on how to build a pool deck. The first step is to frame out and square the perimeter of your deck, then dig holes 24 inches deep at every point you wish to mount the frame legs. Then, you will cement your post in and let it dry overnight. Then when you come back in the morning as it's all dried up, you can complete the rest of the steps and they are pretty easy to follow.
8. DIY Pool Deck
The pool deck that was made for this outdoor pool didn't go round it, the creator just took a part of it that was facing the house and built a simple but sturdy deck there. The pool deck must not surround the pool all the time, it could just be one side of the pool and with this guide, you can build it effortlessly.
See also: 14 DIY Pool Filter Ideas
9. How To Build A Pool Deck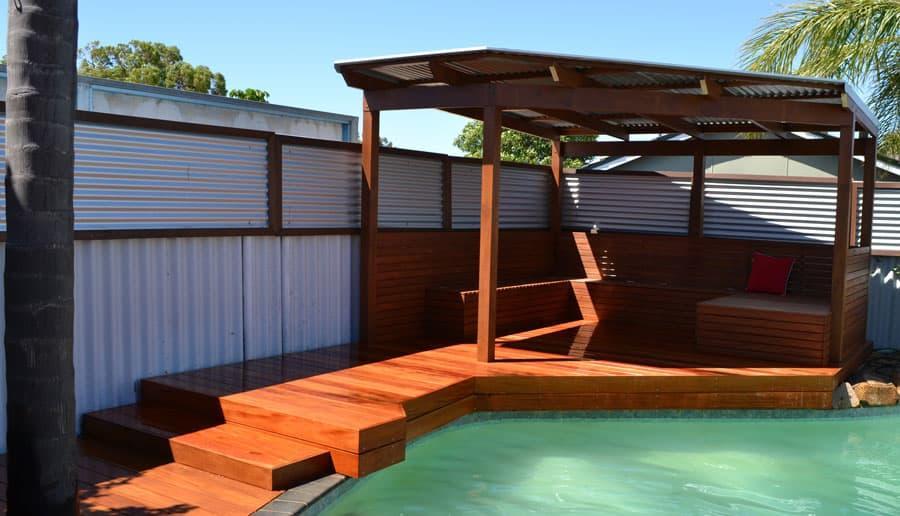 This is a complete pool deck, one of the best on my list. It looks great, but not so easy to build. First, before you start building this pool deck you need to consider the style of deck, location, and materials that you'll use. Once you have gotten that sorted out, you can now process to see the plans the creator of this guide had in mind and build the deck from his ideas on this guide.
10. How To Make A Concrete Pool Deck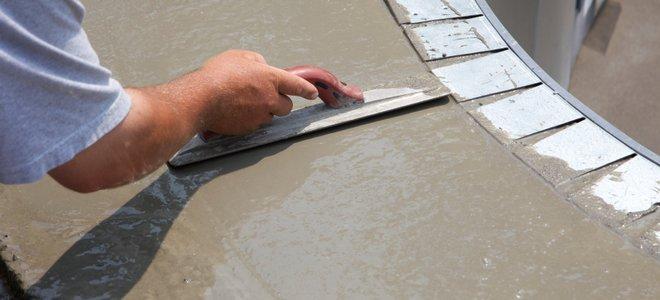 This is a cement concrete deck, it's durable and super easy to build. All you need is the necessary materials and tools at your disposal and you're good to go. first, measure the deck area, then lay the frame, and pour the sand and concrete and let it dry, probably overnight. After that, the rest of the steps are easy to scale through.
11. How To Build An Above Ground Pool Deck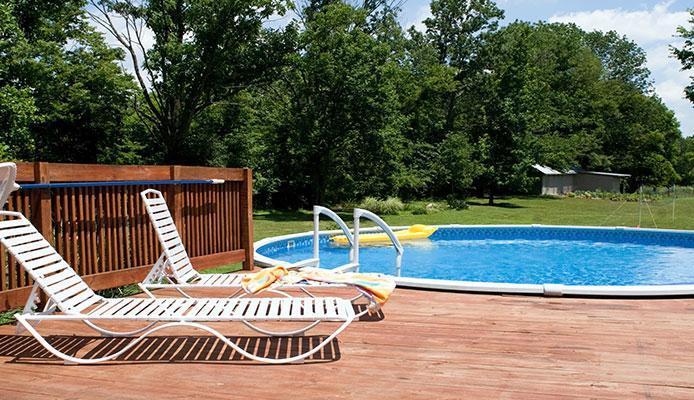 Here is a simple step-by-step guide on how to build this above-ground pool deck effortlessly. First, you need a deck design, you can create one yourself, check online or use the one in this guide. Then, you start preparations to frame the floor, setting piers and post, laying the deck, building the guardrails, and stairs leading to the deck. It's quite an easy process.
12. How To Build A Pool Deck
This is a complete packaged pool deck idea, you not only get to build a great pool deck but a pool deck with storage and a lockable gate. It's a multi-level above-ground pool deck, and it's quite easy and simple to build. All you have to do is follow the creator's instructions on the video guide and you'll be good to go. This is the kind of pool deck you need if you want privacy and you just want it to be you and your family.
This pool deck was just built for one side of the pool, it's an above-ground pool deck and it has stairs that lead up to the deck, where you have chairs and tables and other stuff to make your swimming time amazing. This pool deck is small and simple to build with a simple design, so you should not have any trouble building it with ease.
14. How To Build A Pool Deck
If you have an outdoor patio that is attached to your house and also close to the pool, then it makes the pool deck build easier. You can easily attach the deck to the patio sides and the pool, making it more sturdy and durable. The creator and his wife started by digging holes to fit in the wood plank to have a firm base frame before mounting any further wood and then the deck itself. The space on the deck is quite small but comfortable enough.
15. Pool Deck Building DIY
Thi video tutorial guide started with the creator setting the wood beams into the ground and installing the wood beams on the ones on the ground with deck screws. The making process is super easy and simple to follow, but you might need to have fair woodworking knowledge to be able to complete the process from here. It requires a few calculations, measurements, and cuts to the right dimensions that only an expert woodworker can do without blinking. This last pool deck idea gives the coolest decking experience ever.
Conclusion
The pool deck is the fun part of a pool if you want something standard. It's way better and more fun to build a pool deck by yourself or with friends and family. I hope this list of DIY pool deck ideas has given you the idea suitable for your pool needs.
After a few hours of research, I found that there are no better ways to build a pool deck than the guides you have above. Have a wonderful decking experience. Thank you for your time, and hope you visit again soon, bye for now. Feel free to leave comments below if you have questions or contributions concerning this article.