Trucks do not only look great but offer great utility. Unlike a regular cabin car that is meant to get from one point to the other, trucks have a lot more space to carry things with them.
This utility can be improved by adding modifications to the truck bed storage. This not only helps increase the number of things you can carry but also helps you be a lot more organized. There are options out there you can buy.
However, to get a bed that best suits your specific purpose and tastes, you would have to make your own. This article will be going through 19 DIY truck bed storage solutions you can use.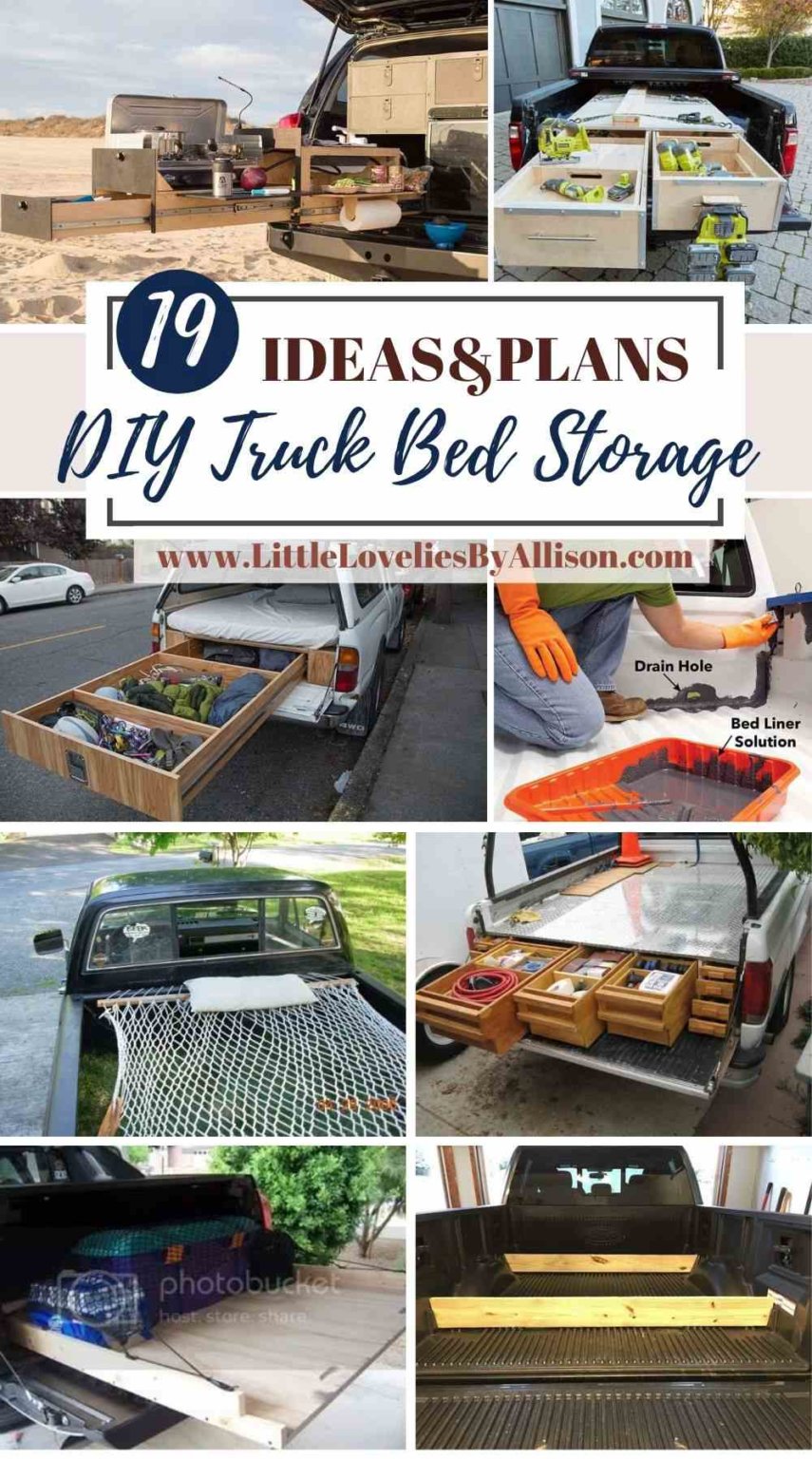 1. Sliding drawer system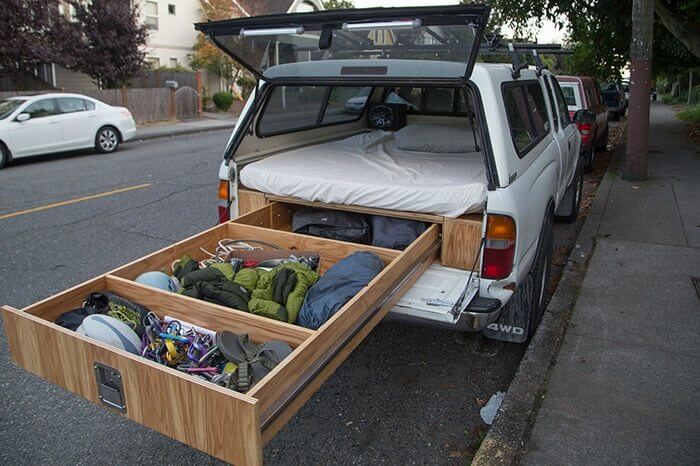 This is meant to create valuable extra space for you and your friends when you go on trips in your truck. Do not be too intimidated, with proper planning and measurements, you can accomplish this easily.
You are going to need plywood and screws. Fashion them into squares you can fit in the car. Screw the squares to the floor of the bed and fashion the top and the drawers. On completion, you will have a draw you can use for extra space.
2. Bed slide construction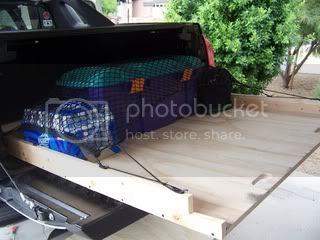 This build allows the truck user to have an extra platform they can put their things on. It extends way past the door giving it a lot more utility.
You will need some plywood. Cut it to the dimensions of the bed. Apply brakes to the bed as well as wheels to the plywood to allow it to slide to the outside. On completion, you will have a platform you can use to put your things.
3. Reared end partition
If you have a truck, you must know just how stressful it can be to have a few things in the back. As you drive, they are yanked in all directions being, especially groceries.
Using a partition at the back of the truck near the door. You can have your groceries tight enough that they are not thrown in all directions as the bus keeps on moving. You can have crates there to make sure it is as effective as possible.
4. Bed divider
This helps truck owners better manage the space they have. It helps them made division they can designate to whichever items they want.
Buy planks of lumber and cut them to fit the bed and your idea of how small you want the spaces to be. You can stick them to the anchor points in the flatbed. This process is not very complex and requires widely available products.
5. Strap mod for truck storage
Unsecured cargo is the root cause of thousands of road accidents a year.
Trucks should have pins on either side of the truck. This should allow you to have a strap go across the load and tightly secure it to ensure it does not move in transit.
6. Waterproof boxes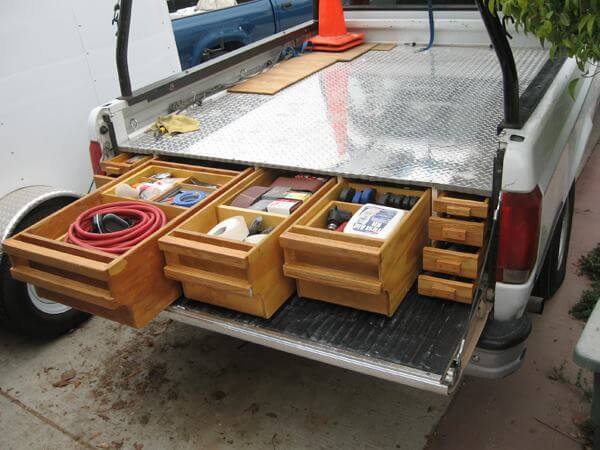 Trucks have always been vulnerable to rain and the elements because of their large open backs. This hack to the storage bed is meant to remedy this problem.
Build a drawer case with three different sections. Ensure they fit the wheel wells of the truck. Have the three sections interlock, then have a sheet of diamond plate aluminum to protect the wood from water and the elements. Have glue that can close up some of the gaps.
7. A Grill on the bed
Trucks are not just good for getting people from one place to the other as quickly as possible. They are popular in camping.
At the back of the truck, you can have a grill connected to a pivot. This would allow you to pull out the grill without having to set it down.
8. Workstation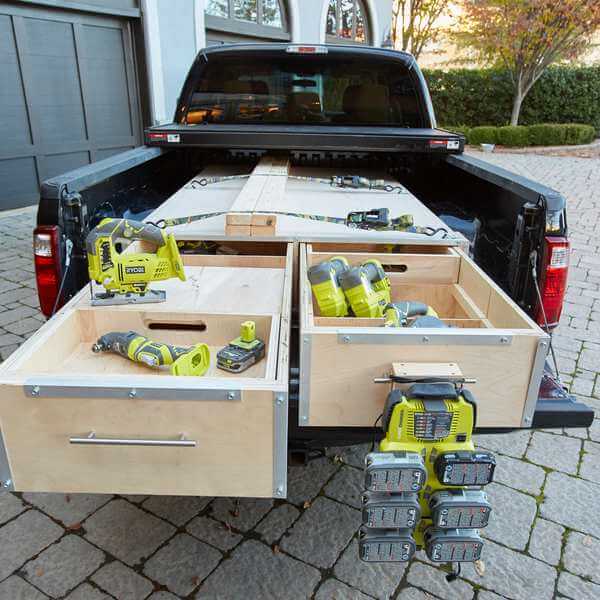 This especially useful for contractors and other people on the job. They can use the storage on their truck as a sort of shop which houses all the tools they need.
You will need a lot of plywood to fashion drawers. Make sure they go all the way to the end to get as much space as possible. You have the option of subdividing the drawers to keep specific tools separated from the rest.
9. A Bike Rack Mod
The storage bed of your truck is useful for many things, but carrying bikes is very difficult.  With problem can be solved with a bike tack.
With PVC pipes, some glue, and elbows, you can create a rack that can safely carry bicycles without the danger of them falling over.
10. Apply a bed liner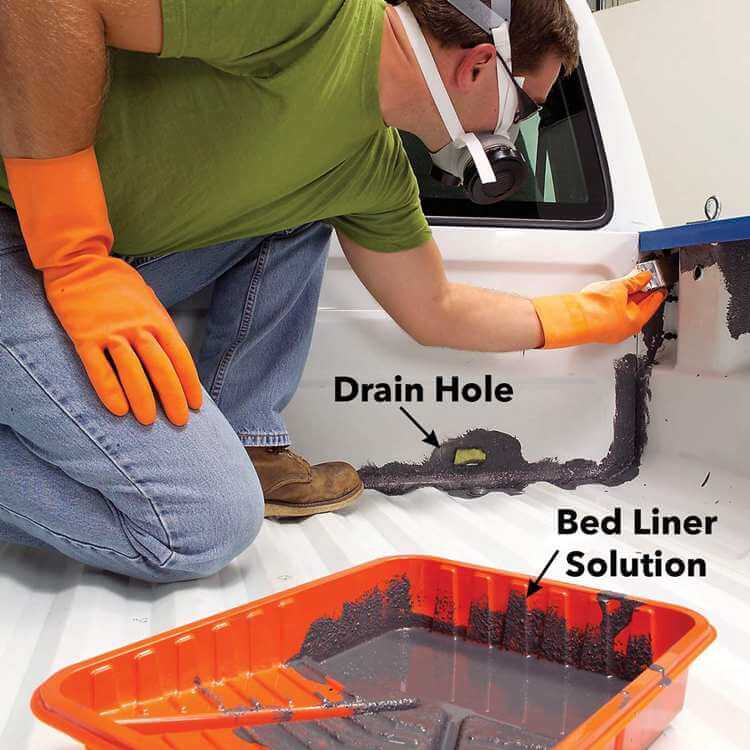 To get the most use from your truck, it pays to take care of it. Carrying pieces of steel, cement and even gravel can have the effect of damaging your vehicle. The scratches formed can give way to rust which can be even more destructive.
One way to prevent this is the use of a bed liner. Pick up some at the store and with a pan and a brush, paint it all over the bed. Ensure that you get all the nooks and crannies. They are also roll-on brush as a solution for this problem.
11. PVC fish rod holder
Trucks are great for camping and fishing. For people who make use of them for fishing regularly, it makes sense to have a fish pole holder.
With PVC pipes make short cuts and mount them to the back of the truck. The wholes would be used to slot the fish rods. Make sure they are deep enough so they do not go flying off.
12. Install a hammock on your truck bed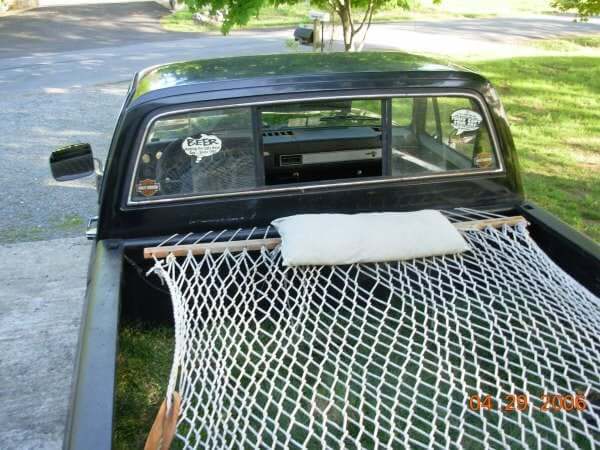 This addition is just for your comfort. After a long day, parking your truck in the shade, and taking a nap is one of the most relaxing activities there is.
All you need is some pins on both ends of the truck bed, install the netted hammock, ensuring it not too tight or too loose. Just enough to accommodate your weight at the dip of the truck. You have the option of some grass underneath it and even a pillow for added comfort.
13. Bed storage turned camper
With a few modifications to the storage bed, you can have your very own camper.
On the sides, you can have cabins to hold water and other necessities. At the center, the space can be used to hold a bed. This setup is only useful for trucks with a roof.
14. Install some LED lights
This addition does not only look great but adds to the functionality of the truck. The users can load and unload their truck at ease whether it is the day or during the night.
This process is quite simple. All you need is some wires and LED strips, both of which can be bought at the local store for cheap. The LED bulbs are advantageous as they do not consume as much energy as other bulbs.
15. Slide-Out Truck Bed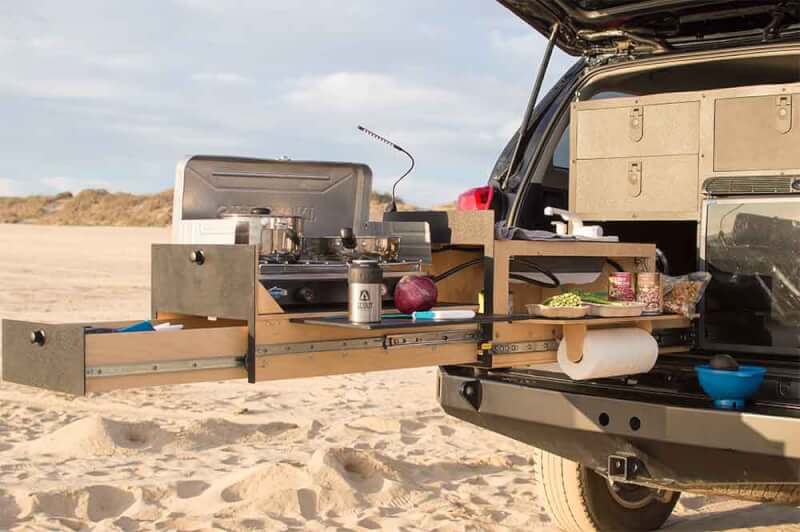 Trucks are not just used for work; they find just as much use in play. Trucks can be used for tailgating and barbeques. The truck bed is especially useful as it can house food and act as a table for the people involved.
You can have an entire kitchen on the truck bed.It would slide out of the bed when used and retracted when finished. It can act as a roving restaurant, serving people from the truck storage bed.
16. Cabinet on the Truck Bed
We know that the truck can find use as a camping vehicle. In that endeavor, having a back cabinet can prove to be useful.
You can make a cabinet that has a sink, LED lights, space for clothes and toiletries, a laptop charger, and USB ports. Fashion the cabinet with plywood and make sure the angles complement the corners of the truck. The electrical and the plumbing equipment are all easily found at your local store.
17. Camping set up
The bed storage can be very useful when used for camping. You can modify the truck to better suit your needs when you wish to go camping.
In this design, the modifications are made on the sides, where the wheel wells are. The divisions are used to store camping essentials like clean water and portable fire pit. The center space is left empty and can carry a lot more things like blankets.
18. Simple bed storage compartments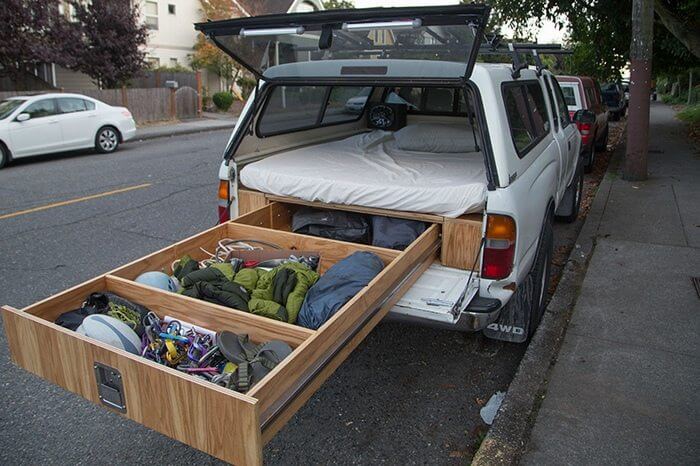 For better organization, truck users could benefit from having all that storage space being divided into smaller compartments. These compartments can be used to hold separate items easing confusion.
You first have to make drawers made of plywood to fit the back of your truck.  Subdivide these compartments into smaller ones and designate them for certain equipment.
19. Storage with an Ice Box
With the space at the back of your truck and the electricity from the battery, you have the option of a mini-fridge in the storage.
This is useful for camping as well as when carrying perishable products like fish. With a pivot, you can attach the fridge to the bed allowing you to pull it out without having to drop it down.
Conclusion
Pickups are incredibly versatile, they give the services of a regular car and the advantage of having extra space in the back. It also has the power to haul the heavy loads in the back.
With these DIY tutorials, you can add to the versatility and functionality. You should be able to find a tutorial that matches your needs and your skill level.