Have you ever tried tapestry? I think it is a great way to beautify your home. It is also an easy-to-do task that you can use to keep yourself busy and kill boredom. From big to small we have compiled some of the best DIY tapestry plans.
There's a total number of 25 DIY tapestry projects to choose from. Choose wisely. You should consider a lot of factors like the overall design of your living room or where ever you would want to place it.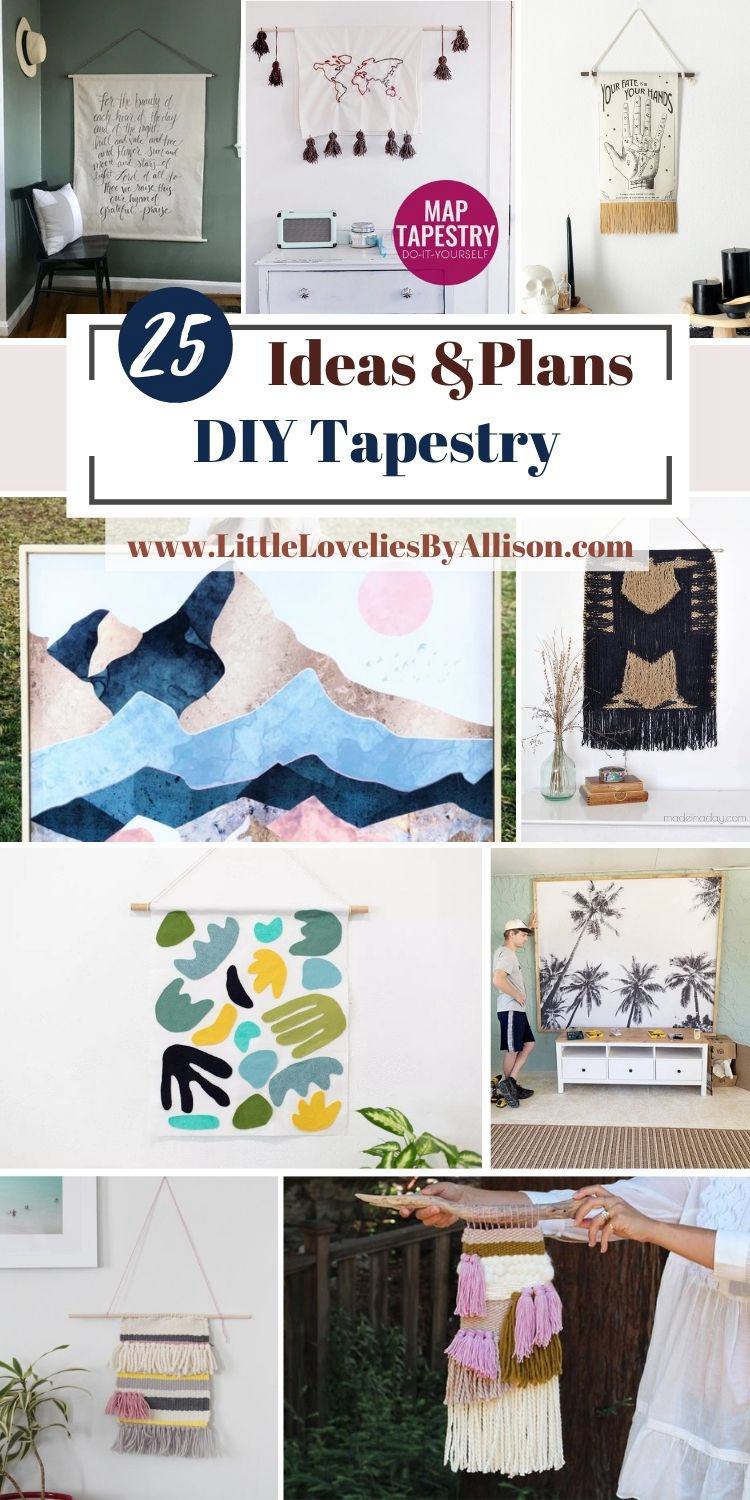 1. DIY $7 Tapestry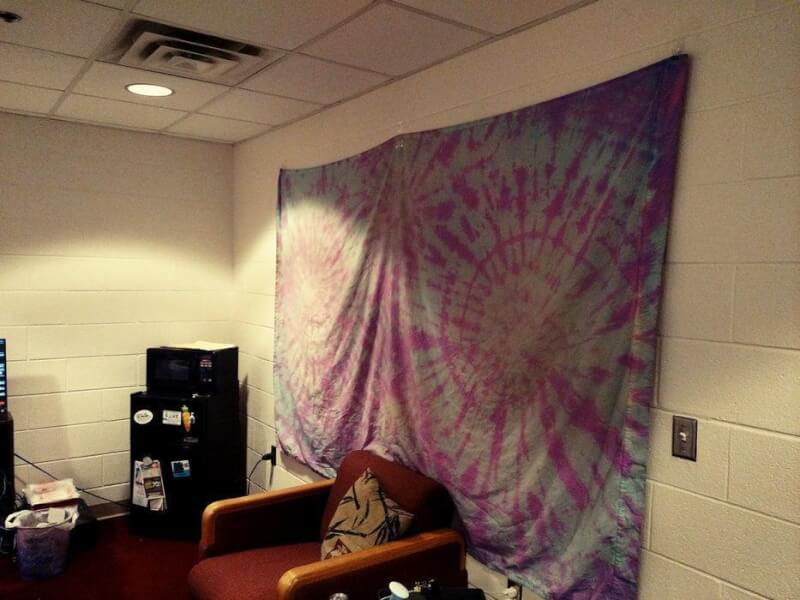 With your needed materials in place, prepare your dye. Take up your sheet and get to wrapping, twisting, and scrunching. Pour different colors of dye into a wrapped sheet and wrap up in a plastic bag, let it sit for a day. Dry, then use command hooks and hang up. Admire your beautiful piece hanging there!
2. DIY Tapestry Tutorial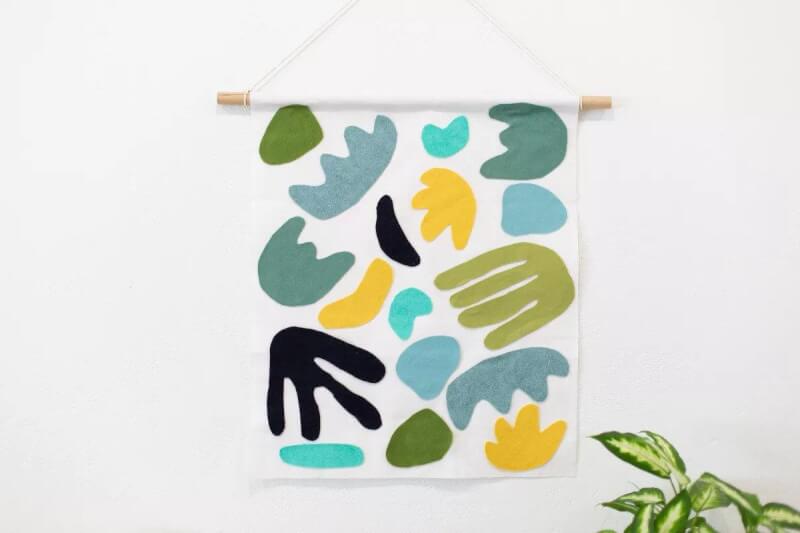 Choose a style complementary to your space. Cut out the felt shapes and place by gluing on the fabric base, ensure that the width is not wider than the dowel length. Glue dowel to the fabric base, using a cotton cord tie on a dowel and hang on the wall.
3. DIY Wall Tapestry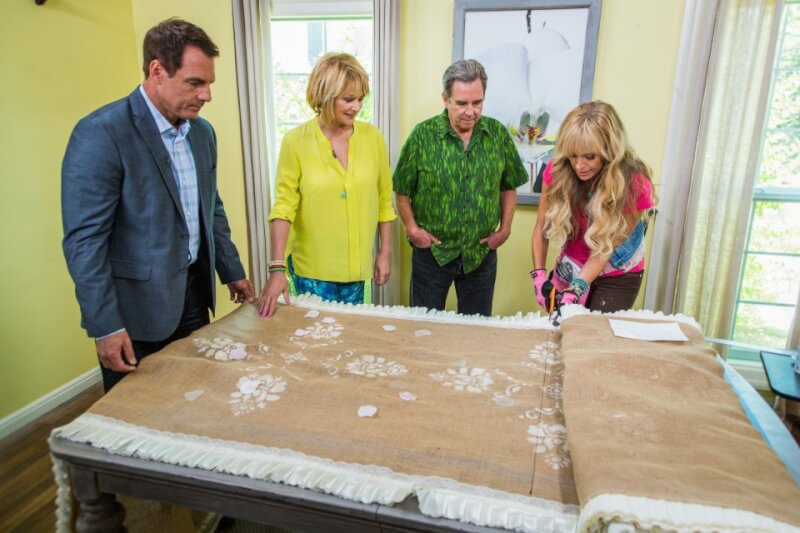 Buy a tapestry and then Cut out your tapestry to the size that fits your space then move on to fold the top over a rod. Glue the edge of the fabric to the backside of the tapestry with the rod intact and leave for the glue to dry. Hang up as desired.
4. DIY Wall Tapestry - 3 Ways
Get a white sheet and separate clothes into sections, then dye different sections and place in a plastic bag to sit for a day and take out. Secondly, on an ironed-out white sheet, use a sponge to dab paint, use a brush also to style different colors accordingly. Thirdly search out a design and print to design transfer sheet, then iron design to tapestry.
5. DIY Batik Mandala Tapestry
Sketch out your design on a white bed sheet, mix flour and water smoothly and out in a piping bag. Pipe your design on the sheet. Put a mixture of fabric paint and water in a spray bottle and spray over the tapestry with different patterns or gradients. Once the paint is dried, peel off flour paste, and your design is ready.
6. DIY Tie Dye Tapestry
An old table cloth can be used here. Knot ties and soak sheet in water. Twist from the center until it looks like a rose, put ties to keep it in place. Mix fabric dye in water and put in sections of the sheet, turn over and do the same then let it sit for 24hrs. Another means is to crumble up the fabric and put ties in place, soak in water, put ice on them then put dye, but not everywhere. Wash off till the water is pastel pink and then dry.
7. DIY Framed Tapestry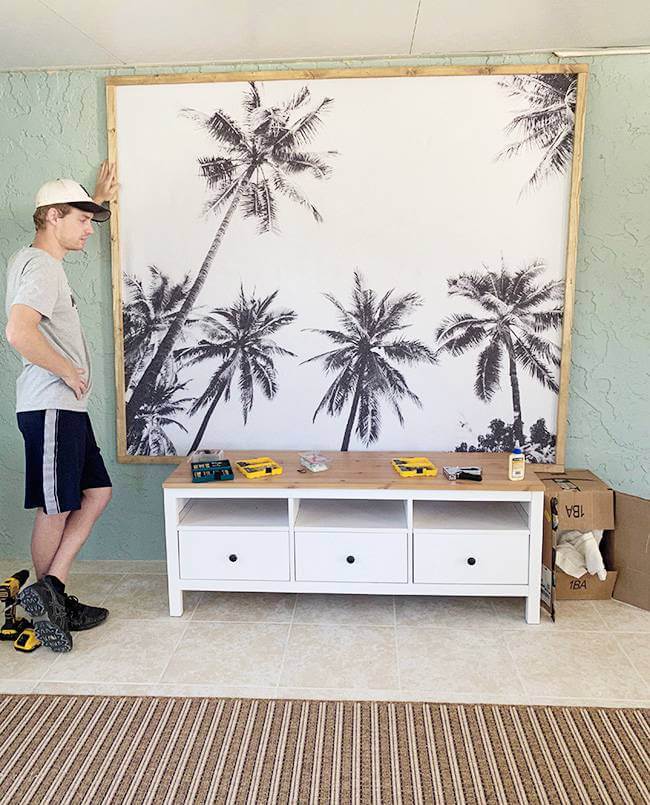 After buying your tapestry, measure and cut out wood. create a 4-sided frame with wood. Sand and stain wood, then pre-drill wood and attach glue. Place tapestry from the back of the frame and staple, then drive in screws. Use picture frame hooks at the top sides of the frame and hang up.
8. DIY Woven Tapestry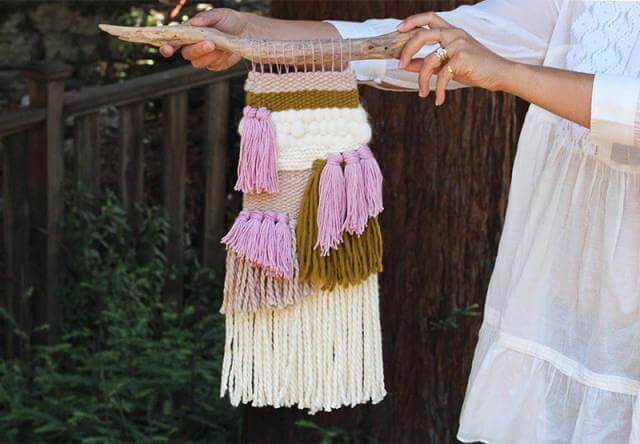 If you have weaving skills then this beautiful artwork won't be difficult to accomplish. Make a loom on your wooden frame, slide a dowel through the strings and begin to weave. You can add tassels as well as wool roving. Secure loose ends and snip off the top of the loom. Use a wood or metal rod for hanging.
9. How To Hang Wall Tapestry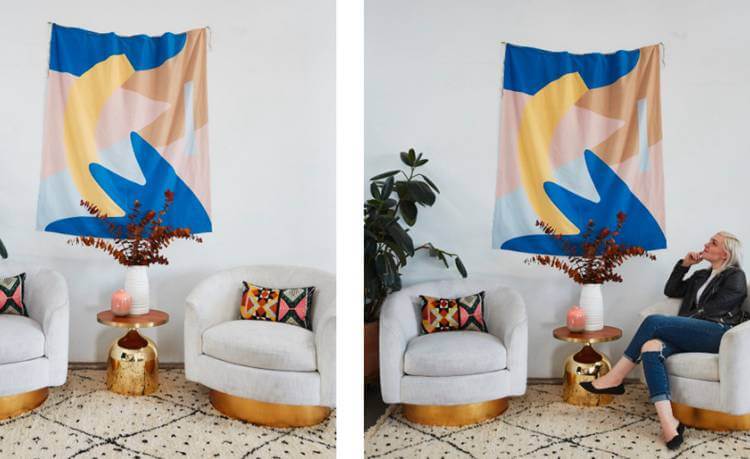 You may be wondering what next after picking a beautiful wall tapestry and a spot for it. Next is to put that up on the wall by using wall command strips, hammering to the wall with a nail, or threading a rope across the top of the tapestry and hanging on a nail.
10. DIY Tapestry
You should get your canvas and paint ready. Cut your canvas to size, fold the edges, and hot glue. Draw your art on your canvas then out eyelets for hanging. Move on to paint your work and that's it!
11. DIY Mini Tapestry
Get varying weights and textures of yarn for this mini woven tapestry. On your cardboard loom, start weaving with any color of yarn you please, add fringe also. Take off the loops when you're done weaving and tie knots. Remove the top part of the tapestry and tie knots across and hang by tying tail ends together.
12. How To Make DIY Tapestry
Buy your white bed sheet or if you have any to spare you can make good use of it. Hang the sheet on the wall and sketch out your design with a sharpie. Take your paint and start painting on the canvas while still hanging on the wall and your tapestry is ready!
13. DIY Large Tapestry - No Weave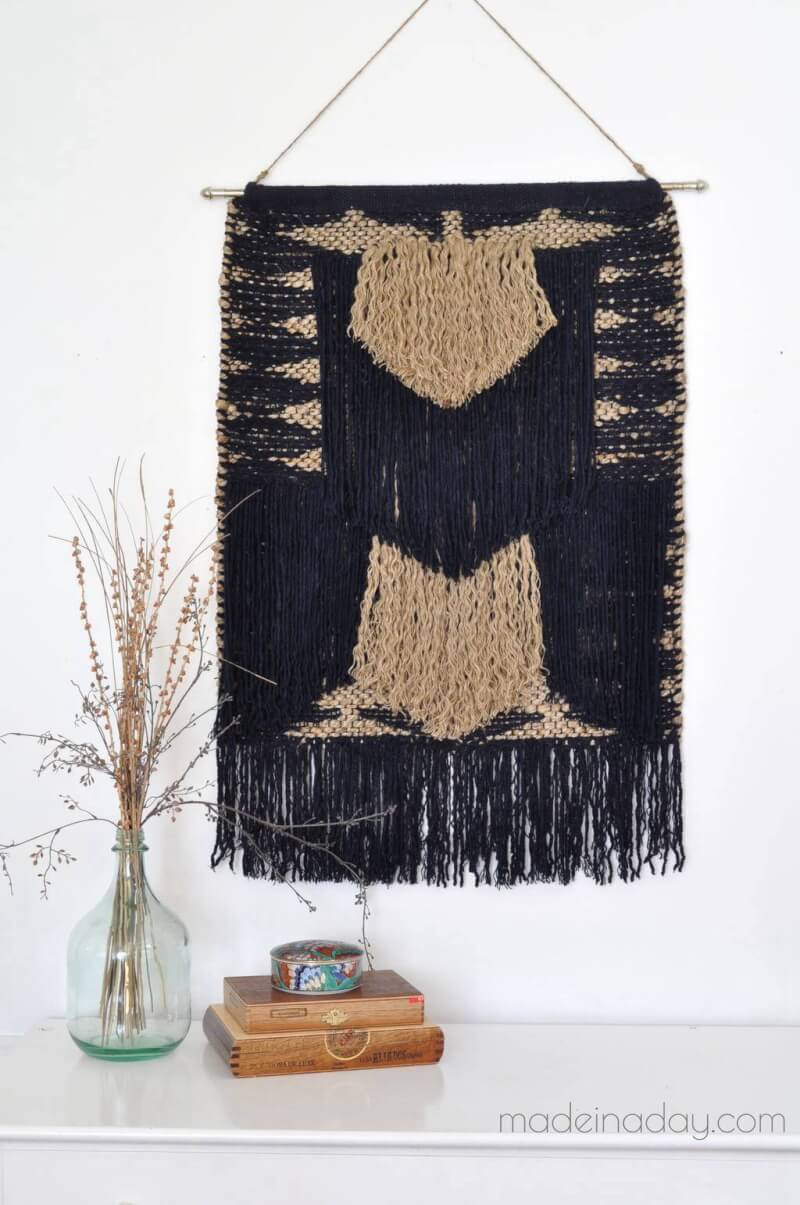 You can use your rug for this or buy a new rug. Cut off one end of the rug unraveling 7-8 inches up. Turn over and put hot glue across the bottom edge. Cut 14 inches of chenille that was pulled off and fold in half, use crochet needles and pull loops under the thread and use loose ends of chenille to form a knot to tighten.
14. DIY Yarn Tapestry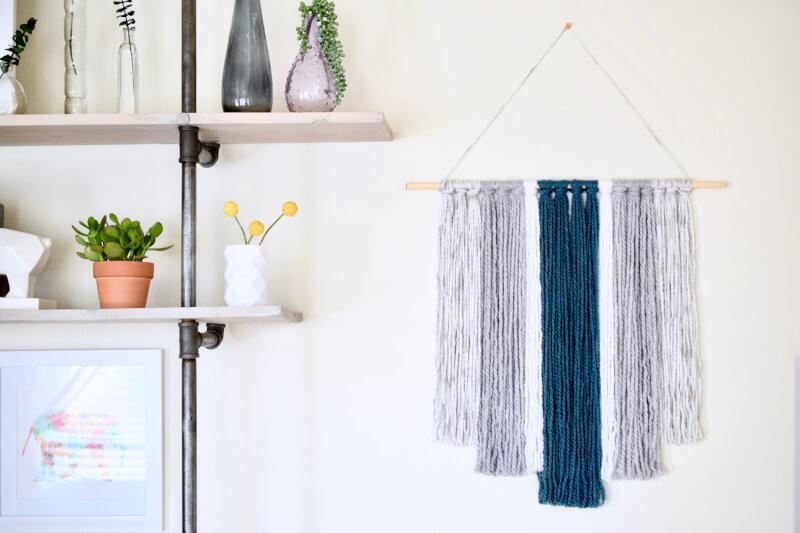 Meet the DIY yarn tapestry. It is one of my favorite DIY tapestry projects. It is also one of the easiest to make. Just gather the materials and follow the guide to make this amazing piece. You can use different colors that would match your home decor.
15. DIY Large Wall Art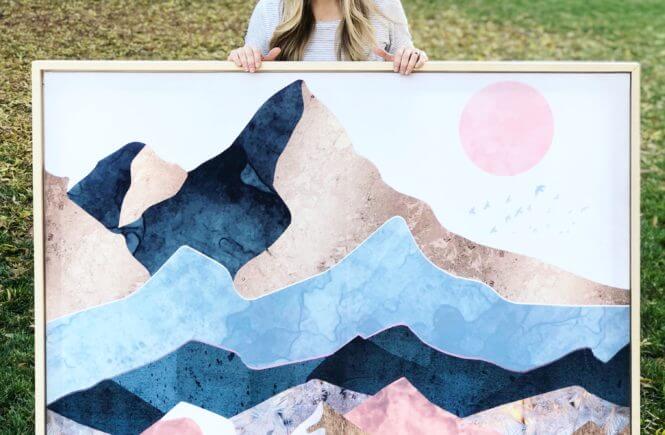 This piece of art is framed using a floating frame method. Frame a tapestry with wood, then use another wood longer than the frame in place already and create another frame then mount up and hang.
16. DIY Scrap Fabric Tapestry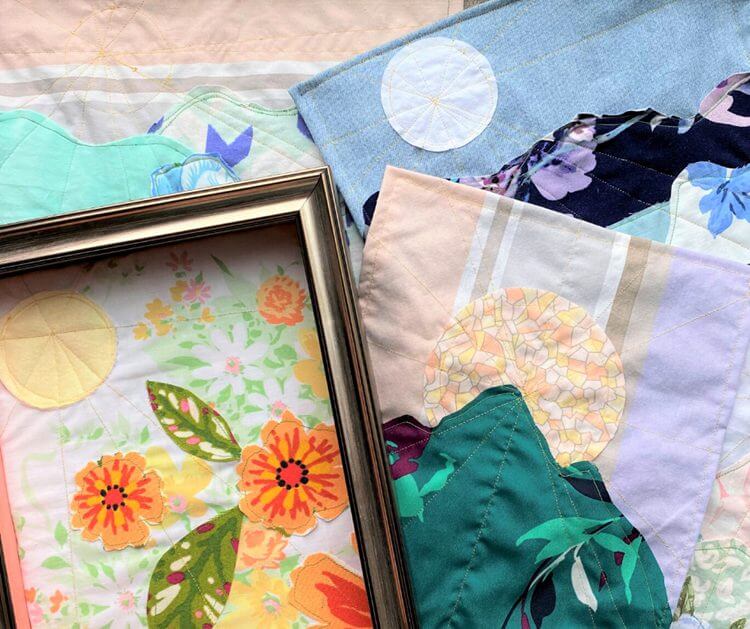 Cut your scrap fabrics to any style or shape of your choice you would want to represent on your work, then sew on the tapestry and you can put a frame or hang it up on the wall.
17. DIY Tapestry Shirt
Buy beautiful tapestries of different patterns and designs at the store. Decide which pattern of tapestry to use for different parts of the shirt (arm, sleeves, bodice). Having done that, place out the model shirt and cut to size, and then sew. Your beautiful tapestry shirt is ready to wear!
18. How To Make Tapestry Blanket Pants
Get a tapestry blanket not just the regular blankets at the store. Fold the blanket in an accordion-type, take the pants you want to model and place them on the blanket, and cut them out. Don't cut so close, leaving about an inch for sewing allowance. Sew together and fit into your tapestry pants.
19. How To Hang A Tapestry - 3 Ways
You may be wondering how to hang up your tapestry after getting a beautiful one, especially if your apartment doesn't agree to punches on the wall. The first isn't for you though. Use push pins to fix the tapestry to the wall. You can also use command strips and lastly command hooks also to set up your tapestry.
20. DIY Palmist Tapestry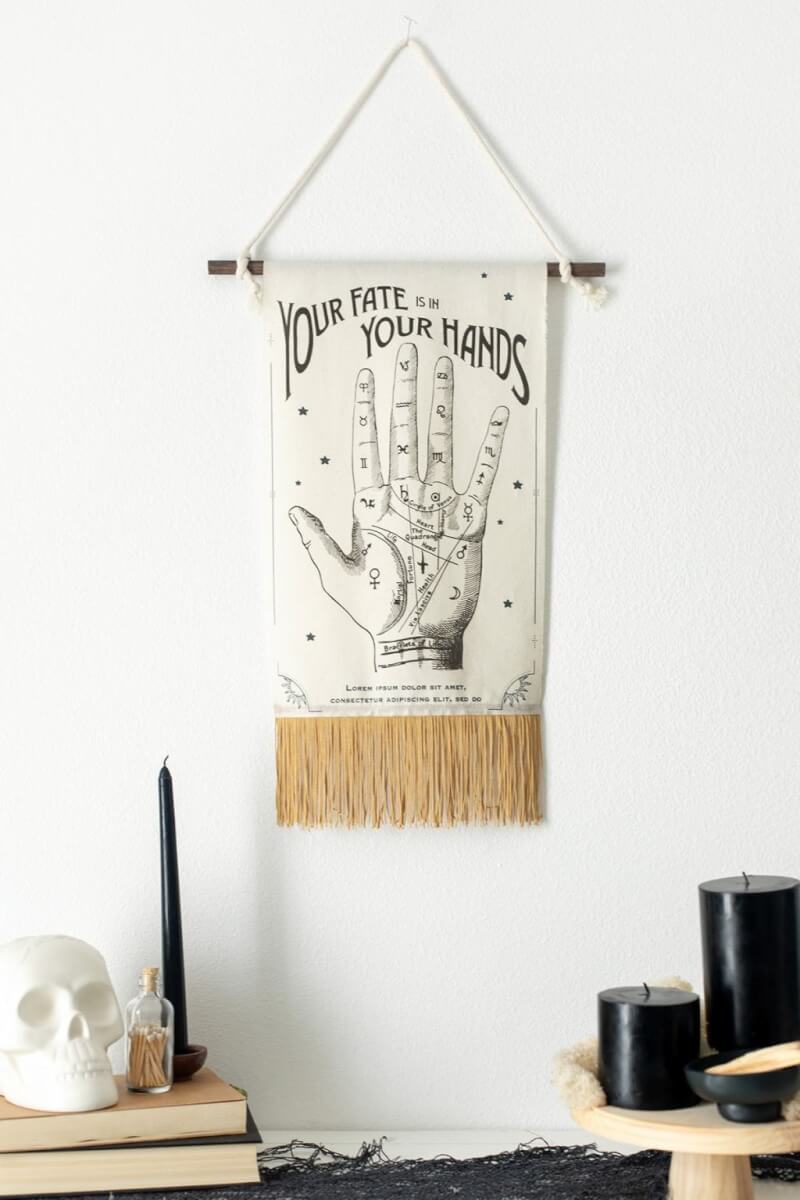 You'll need palmistry printable. Iron freezer paper to fabric with waxy side, cut freezer paper and fabric to print size and print. Glue trim to the edge of the tapestry and then loop over the dowel and hang.
21. DIY Map Tapestry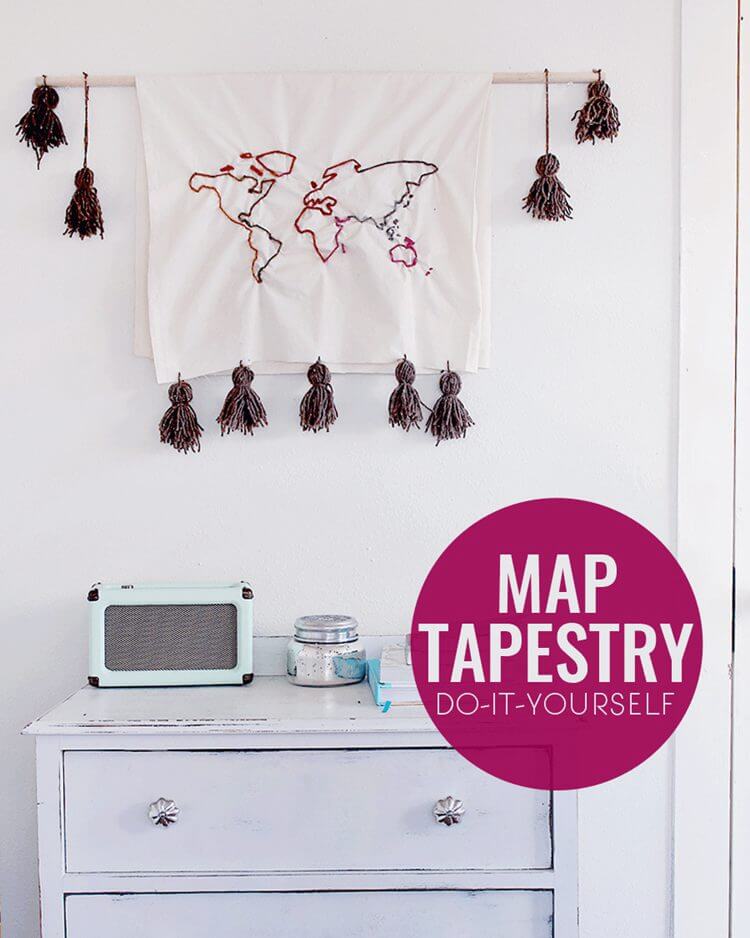 This is quite cool. First print out the map you want, place the sheet under a fold of the tapestry and use a sharpie to make dots in the shape of the map. Take a yarn of your choice and stitch your map. You can add tassels when you're done stitching the map.
22. DIY Wall Tapestry For $10
Soak your white sheet in water. If you don't have dye mix acrylic in hot water. Start to paint out your desired design or artwork then leave it to dry. Hang up your beautiful piece at the designated spot.
23. Dip Dye Wall Hanging DIY
This is a really special type of tapestry. Cut wooden planks to desired size and length. Loop yarn around the dowel or plank all the way to the end. Cut off strings to the desired length. Soak them in water. Mix different colors of dye in water. Start by soaking strings into lighter colors then move on to darker colors and the different colors you have. Suit to your taste and then hang up.
24. DIY Tapestry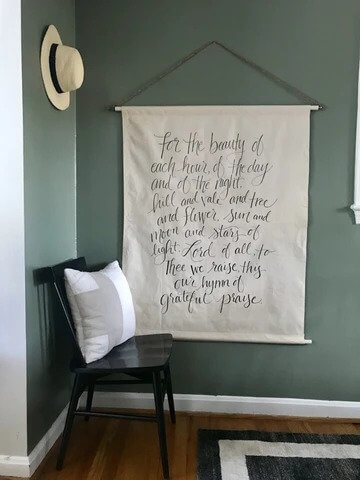 After buying the tapestry, fold up the edges and sew to avoid fraying. Fold the top forming space for a dowel and sew. With hooks on the dowel tie a rope and hang it on the wall.
25. DIY Woven Wall Hanging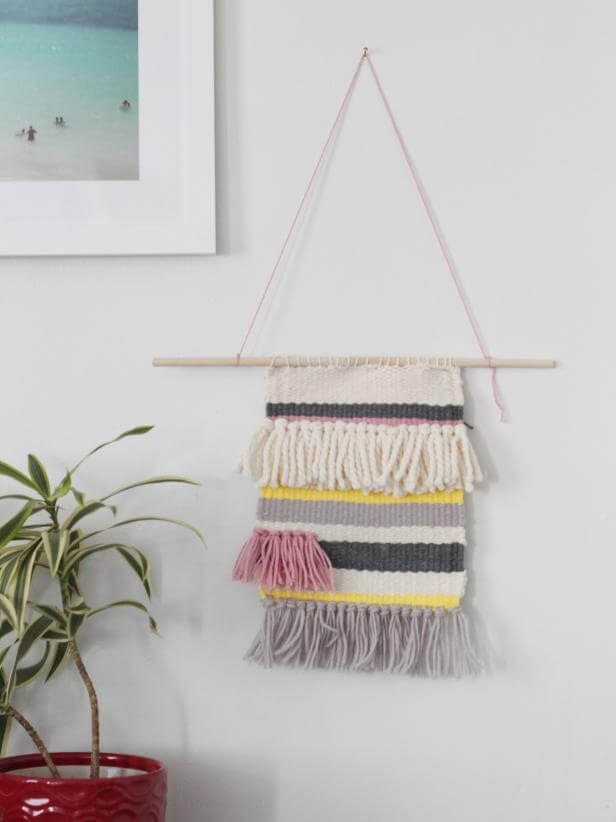 This is another beautiful woven tapestry. Create warp on a loom. Loop yarn to finish warp, prep for weaving, and start weaving. You can switch colors in between weaving. Add fringe or tassels to your work. When done on the loom, cut off and tie yarn to the dowel and hang up.
Conclusion
That's a wrap! Every good thing must come to an end. We have come to the end of our epic compilation on the best DIY tapestry. All the projects listed in this article are pretty much easy to make. The instructions of each individual project are easy to follow. Even the materials used can be gotten easily.
Thanks for stopping by! If you have any questions or contributions regarding this article, feel free to use the comments section.