These drawstring bags are so practical for anything you can think of: DIY treasure pouches, bags to store tiny items, school pouches for art accessories (like those crayons that never stay in the original box?). A drawstring purse or bag is easy to make and fun to use.
In this article, we have put together a list of 25 DIY Drawstring bag patterns that you can make for yourself or your friends. The making process is easy, even if you don't know how to use a sewing machine, you can settle for the no-sew drawstring bag tutorial.
1. How To Sew A Drawstring Bag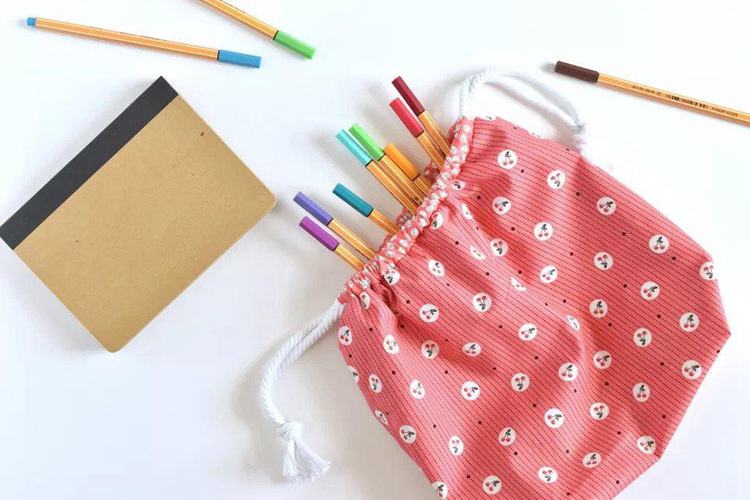 This is a lovely peach-colored drawstring bag we have here and trust me it doesn't take the whole day to get this done. With 3 different fabrics of your choice,1 ⅔ yard cotton cording or thin rope, Thread, Tape, Pins, and of course a sewing machine you can attain this.
2. DIY Drawstring Backpack
Here's a pretty-looking drawstring backpack. The bag is made out of quilting weight cotton, which comes in a variety of colors, prints, and designs. The drawstring is lined on the inside, giving it a satisfactory finish while still enhancing strength and durability. It also has a handy hanging loop made for hanging your backpack.
3. How To Make A Simple Drawstring Bag
You may find this drawstring pouch bag great for holding gifts or presents for a party or whatsoever. The short and straightforward steps given here will lead the way you make yours. So get your fabric ready and get sewing.
You May Also Like: 25 DIY Clutches That
4. How To Make A Drawstring Bag
There's no need to waste money on ordinary drawstring bags if you know how to sew. Even if you're unskilled in sewing, you can follow this tutorial and sew a drawstring bag in under an hour and can be made into your desired size.
5. DIY Drawstring Bags
You won't break a sweat when carrying out this project, because this tiny storage drawstring bag is simple, quick, and easy to make. With a muslin fabric, sewing machine, thread, and cord/string you can get this done.
See also: 20 DIY Chalk Bag Projects
6. Easy Drawstring Bag Tutorial
What we have here is a black drawstring bag made using satin, it is not so big and yet not so small, just like a normal drawstring bag. In order to attain this beautiful DIY project these were the materials used; measuring tape, fabric scissors, satin ribbon, lighter, clips, safety pins, ruler, small scissors, and tailor's chalk.
7. DIY Backpack Drawstring Bag
This cool backpack drawstring bag will help accommodate stuff you'll need to take to the gym, beach, or sporting. The good news is that it's simple to make, you don't need anyone to do this for you can do it yourself and on a low budget also.
8. How To Sew A Drawstring Bag
This will guide you on how to make your drawstring bag too. It's just two pieces of fabric put together and when you pull the tows at the top, it closes up. They're quite useful for a whole lot of stuff and are therefore known to be versatile.
9. DIY Drawstring Bag
This DIY drawstring bag is made of two rectangles and has two side seams and one bottom seam. This project was made using fabric – cotton, canvas, linen, muslin, ribbon or cord, sewing machine, needle, matching thread, sewing pins, sewing gauge, fabric scissors or rotary cutter, and iron.
10. DIY Drawstring Bag Tutorial For Beginners
Drawstring bags are great gift bags and I'm sure kids and teens love to have one as much as adults. This DIY project is great even for starters, you don't have to be a professional to try this out, trust your competency and you'll have great results.
11. How To Make A Drawstring Purse
Some people often like to store pieces of jewelry in drawstring bags since the opening is tightly secured and has no escape route. This drawstring purse is easy to make and all you need is your favorite fabric, a ribbon or string for pulling through, a needle, and some thread.
12. DIY Drawstring Pouch
To make this super cute drawstring pouch, cut out the net fabric (or any fabric)8 inches by 12 inches. Make a fold around the three edges and make your stitches. Follow through the steps and you'll give yourself a big pat for a job well done!
13. DIY Drawstring Pouches
For this DIY project, you'll be needing some scrap piece of fabric which you should probably have lying around, scissors, thread, twine, or string and of course your sewing machine. Don't get panic attacks at the mention of a sewing machine, lol!. It's really basic sewing you'll be making, so good luck on your journey to having your lovely pouch.
14. DIY Drawstring Bag
If you're a new beginner in sewing you need not worry about how you're going to get this done. It's the most basic sewing you'll be handling here. So to achieve this pretty big flowered drawstring bag get a piece of fabric 12" x 28" (any fabric of your choice will do just fine), 1 piece of twill ribbon ¼" by 28", and other basic tools.
15. DIY Drawstring Backpack
How this backpack drawstring bag is made will amaze you, I'm sure you're itchy about having one and that's why you're here. You're in the right place actually. So to make this design yours all you need is 1-yard lightweight cotton twill, 4 yards of a drawstring, thread, safety pin, and sewing machine.
16. How To Make A Drawstring Bag
This is another beautiful and easy DIY drawstring bag. It is inexpensive, less time-consuming, and forms great storage for your jewelry or a pouch to fit in other items.
17. DIY Drawstring Bag With Pencil Bag
You won't be making this bag afresh, it's more or less an upcycling of another drawstring bag which makes it a lot easier to deal with. So these were the supplies used; drawstring bag, running belt, needle, thread, scissors, and needle threader.
18. DIY Suede Drawstring Bag
Away from the regular cotton, linen, or canvas fabric been used, yours can be more unique by trying out this suede drawstring bag using the following tools; ruler, rotary punch, sharp scissors, leather stitching needle or large sewing needle, marker, binder clips (at least 25), a single sheet of pre-cut 8 ½ x 11 suede trim, hemp cord, suede lace.
19. DIY Tiny Drawstring Bag
Just with your small scrap of fabric probably lying around waiting to be used, you can make this tiny drawstring bag. The fun part is, if you're not in a haste then luckily this can be handsewn. Whichever way you want to go about sewing be sure to try your best.
20. DIY Reversible Drawstring Bag
You may not have seen a reversible drawstring bag before but, Hello! you found one here and seeing that it's not complex gives a great feeling. Ensure to work with two different fabrics so they can match your mood at any point in time when switching between both sides of the bag.
21. No-Sew DIY Drawstring Bag
So yippee, here's a no-sew drawstring bag, the one you've been waiting for. If you don't know how to use the sewing machine then there's no problem because your case is solved. Using fabric tape you can also make for yourself a pretty drawstring bag for your use. I repeat no-sew guys.
22. DIY Drawstring Bag Without Sewing Machine
Believe me once more when I say you don't need a sewing machine to make this. Why? I'm sure you can make neat hand stitches, now that's what I mean, it's simple. This simple, lined, embroidered drawstring bag can be yours under a few hours of commitment.
23. DIY Drawstring Bag
You may want something bigger from the norm out there, well this is for you. If you have a particular object you intend to use it for you can just cut your material to fit that size. But this drawstring backpack is big enough to carry everything you may need for a day out.
24. DIY Drawstring Bucket Bag
Now, this is really classy, it's not just an ordinary drawstring bag. This can form a fashion statement with your outfit. This is a leather drawstring bucket bag and trust me, with the steps given here you can quickly grasp and get to work.
25. DIY Paracord Drawstring Bag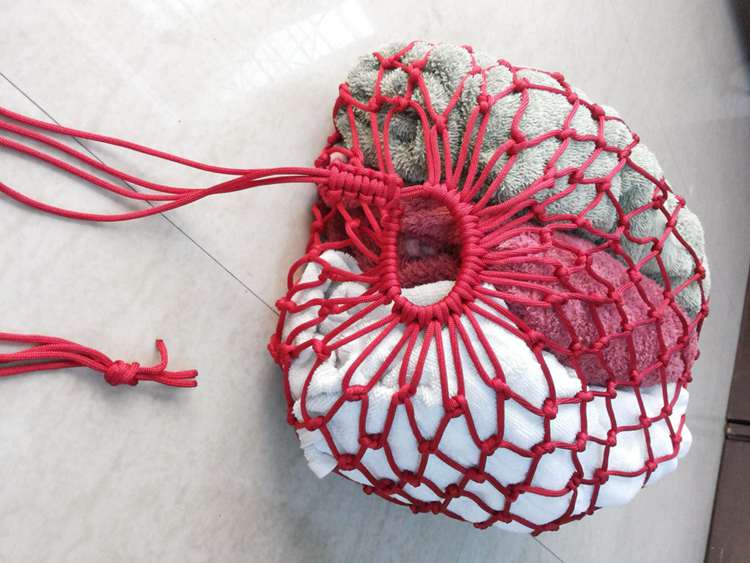 This Paracord bag requires a lot of your time and patience because you need to knot your Paracord the right way. So with a  paracord - 48 meter, scissors, lighter, clip hanger, thick wire, meter tape, and pliers you can get started.
Conclusion
A drawstring bag is also great as a gift bag, traveling accessories bag, medicine bag, money bag, reusable shopping bag, or even as a face mask bag. We have come to the end of this article on DIY drawstring bags, the ball is now in your court, find your preferred bag and start the making process. Thanks for stopping by!