Are you thinking of throwing away your favorite shirt because it has shrunk in size? Or maybe you've come across a shirt you really like but end up not buying it as it's not the right size? Well, you'll be happy to hear that there is another option. It involves stretching the fabric so that the shirt fits you perfectly.
In this guide, we've put together different methods you may employ to stretch a shirt. Apart from that, we've also included essential information regarding the different materials that can be stretched. Continue reading to learn all about it!
Why Stretch A Shirt?
There can be many reasons why the need to stretch a shirt can arise. Many industries produce bulks of clothes in standard size. So, it can be a total pain to find the right size for your body type. Instead of giving up the thought of buying from such brands, you may simply stretch these shirts to fit them.
Moreover, exposure to heat, water, or agitation in the dryers tends to cause shrinkage of garments. You may have noticed your shirt getting smaller and smaller every time you take it out of the dryer. Hence, to avoid further shrinkage, opt for a different drying method.
Wear and tear can also lead to the deformation of fabrics. However, you can fix or resize your clothing by following the ways mentioned in this article.
If you want to watch a video for a better understanding, click here.
Which Fabric Material Can You Stretch?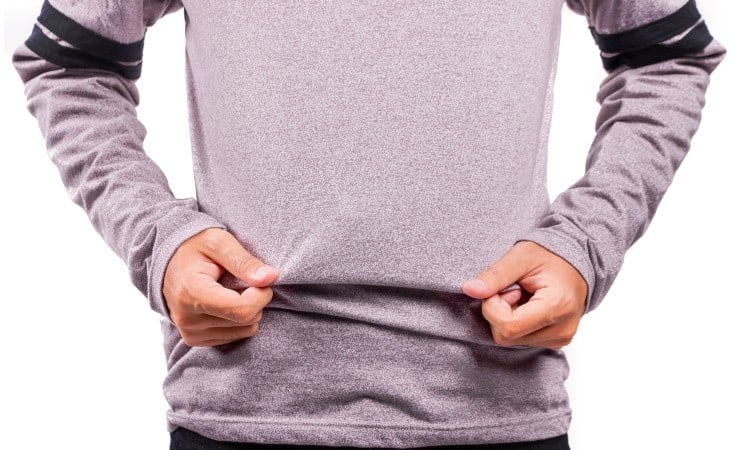 Generally, all types of fabrics can be stretched, but their effective percentages vary. Having a good quality fabric makes the stretching process more favorable. Natural fibers like wool or cotton have greater elasticity than manufactured fibers like polyester or nylon.
Similarly, fabrics woven loosely are more prone to stretching or shrinkage than those woven tightly. Hence, it's best if your shirt consists of a higher percentage of cotton. This is because cotton material is pretty malleable, so you can easily resize your shirt to make it a perfect fit for you!
On the other hand, polyester material has lower elasticity. This characteristic makes it resistant to not only stretching but also shrinking. Other fabrics such as wool, cashmere, or silk can also be stretched using the suitable method. The calculated percentage of silk's ability to stretch is about 20%, which often offers satisfactory results.
Click here to learn about various stretchable fabrics in detail.
Different Methods to Stretch A Shirt
You can employ many ways to stretch a shirt to make it your size. Read through these to decide which one you want to put into use:
Hand-Stretch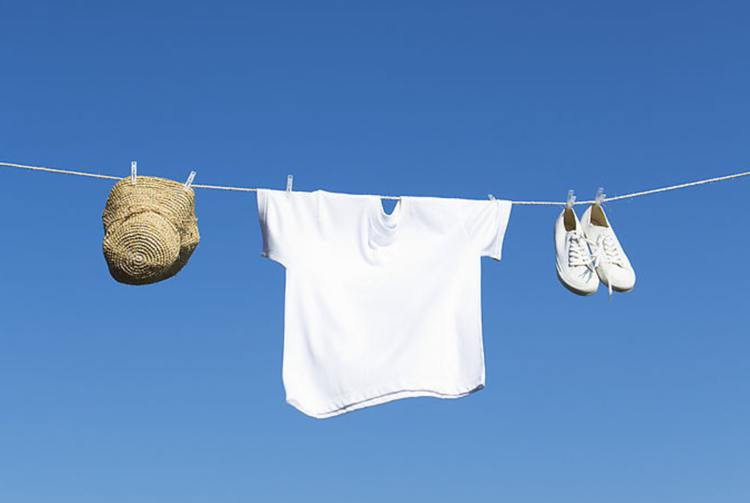 Follow the steps below to stretch your shirt by an easy and effective technique:
Step #1: Wash the Shirt
An essential step in stretching out your shirt is to wash it since wet clothes are much easier to reshape as compared to dry.
You can perform this step in either a washing machine or by hand-washing, depending on the manufacturer's tag instructions. Also, it's advisable to use cold water as using warm water tends to shrink your shirt even more.
Step #2: Lay Out Your Shirt
Regardless of how you washed the shirt, your next step is to lay a towel out on a flat surface. You should have enough space to spread your wet shirt on top of the towel. While doing so, remove any creases from your shirt.
Step #3: Stretch the Shirt
Starting from the edges, pull your shirt in the outward direction equally from both sides to ensure it is the same from each side. If your shirt is made out of cotton, it can stretch about 5cm from some areas.
Step #4: Air-Dry Your Shirt
Once you feel like you've got the desired amount of stretch, let your shirt air-dry. After that, try it on to check if this method worked out for you.
Hair Conditioner, Fabric Softener, Or Vinegar
If the method mentioned above didn't work out, don't fret! By using a hair conditioner, fabric softener, or vinegar, you can effectively reshape your shirt. Here's how to do it:
Step #1: Fill A Container With Water
You can use a tub, sink, or a big bowl for this step. Simply fill it with enough water that can soak your shirt properly. Again, use cold water to carry out this step.
Step #2: Add Conditioner or Softener
Next, pour 40-60ml of any conditioner into the water and mix it well by stirring. This step will ensure that the fibers of your shirt are relaxed to make stretching effective. If you're out of hair conditioner, you can use any fabric softener or baby shampoo as an alternative.
Step #3: Allow Your Shirt to Soak
Lay the shirt flat on the container and simply press it in so that the shirt is submerged in water while flat. This will allow every fiber of your shirt to come in contact with water. Let your shirt sit in the water for 10 to 20 minutes.
Step #4: Wash the Shirt
Once the time is up, drain the water out of the tub or sink while keeping your shirt inside. Add fresh water and rinse your shirt thoroughly to rinse the conditioner out. Rinse and soak until you're sure that all of the conditioner has been removed from your shirt.
Step #5: Stretch the Shirt
After washing, dry your shirt by placing it flat in between two towels. Then, roll it to get rid of the remaining water completely. Replace the towels with a dry one. Finally, stretch your shirt out from each side to enlarge it.
After that, let it air-dry overnight before checking to see how well this method worked.
Heat Stretch
This is another quick fix for when you want to resize your shirt in emergencies. All you need is iron or steamer to perform this method.
To begin, soak your shirt in cold water, ensuring that every fiber of your shirt is wet.
Next, wring out excess water and place the wet shirt onto a flat surface, preferably an iron stand.
Place your iron onto your shirt and start pressing it with a bit of force as you pull the shirt out. Do this all over your garment so that it's equally pulled and pressed from every side.
Lastly, let it dry and try it on afterward to see if your shirt has regained its original size.
Household Products
Vinegar and baking soda are readily available at home. Also, vinegar is known as a natural fabric softener. Hence, using these products can easily relax the fabrics of your cotton shirt, making it easier for you to reshape it. Follow the steps below to do it:
First, dissolve 2tbs of baking soda in lukewarm water and stir it until it's well mixed.
After that, place your shirt into the baking soda water and tug it in so that it's fully submerged.
Next, take your shirt out and gently pull it from opposite sides of the shirt to stretch it.
Submerge the shirt again into the baking soda water and let it stay for 30 minutes to 1 hour.
Then, take one cup of vinegar and add it into a few cups of lukewarm water. Add this mix into the baking soda water.
Once the foam starts to appear, take out your shirt and leave it to air-dry overnight.
Finally, wash your shirt, as usual, to get rid of the vinegar's smell.
Tips to Avoid Shrinkage of Shirts
If you wish to unshrink your clothes, it's best to carry out techniques that result in lesser shrinkage over time. Some of these tips include:
As warm water can cause your garments to shrink in size, prefer using cold water when washing.
Hand wash the shirts made of delicate material. Keep in mind that this takes a longer time as compared to cleaning your items in a washing machine. However, it's ideal when it comes to maintaining the original shape of the garment.
Set your washer to fragile or low settings to avoid damage or deformation of your shirt.
It's advisable to dry clean materials such as wool or cashmere, as experts will have a better idea of dealing with them.
Try to avoid drying your clothes in a dryer. This is because the high temperature and rotation can cause the fibers to shrink. Hence, it's better to let them naturally air-dry.
Always check the tag of your clothes for proper instructions regarding the shirt's material. By following these instructions, you can protect the shirt from damage or shrinkage.
Conclusion
Before you start to follow any technique, it's essential that you keep these things in mind:
Check the tag on your garment to see what fabric was used to make it and how much stretching it can endure.
Make sure you have all the materials and tools required for the specific method that you wish to use.
Carry out the desired technique on an old shirt to check how it reacts.
You've come to the end of our guide. Now that you have all the knowledge on how to stretch your shirt, you can go ahead and follow any one of the methods to resize your clothes.