Have you ever considered making a DIY backpack but do not know what to do or where to start from? You just landed on the right page, we have compiled a list of DIY backpack projects that you can make for yourself or your kids.
All the DIY backpacks listed in this article are amazingly outstanding products made by people like you. You will need a Backpack is very few materials and tools to make most of them.
1. DIY Polka Dot Backpack
The polka dot backpack is simple and classy in its way. All you need for this is a white canvas bag with lovely colors. The amazing part is that you could personalize it to match your personality. The creator uses different colors to make his own design and when making it you need cardstock or watercolor paper so as to avoid the paint from flowing to the backside of the bag.
2. DIY Denim Backpack
My denim lovers, this is so going to appeal to your sense. This bag features two interior pockets, a side pocket, and a zipper at the top. The creator uses a jean needle to stitch the seams and do the topstitching. The link elaborates more on the process of making a denim backpack, so fun and very easy.
3. DIY Mini Backpack
If you hate carrying lots of stuff, this DIY mini backpack is a go for. Very simple to make you will need 1.5 durable cotton fabric, 3yards of ribbon straps, 3zippers, Plastic adjusters. When making a mini backpack, you have to cut it into different dimensions that suit you. The video gives a proper explanation of the process.
4. DIY Toddler Backpack
Here is another tutorial on how to make a toddler backpack, however for this tutorial the creator already cut her fabrics into desired dimensions, and the creator used two strap adjusters, one pack of double-sided bias tape, etc. In making this backpack, the creator sewed three pieces of his cut fabric together and ironed it well, the creator made his own design and I recommend this for any toddler backpack.
5. How To Make A Backpack
Making your own customized backpack is not only a dream but it can become reality with this DIY you could sew and design your backpack, all you need is to get some variant materials. This link elaborates more on the different designs, creating a prototype, and also editing the design. I recommend this for customized work.
6. DIY Teddy Bear Backpack
Here is a different tutorial on how to make a teddy bear backpack, not the regular ones. These backpacks are super comfy and very adorable. In making these, you will need one old teddy bear, cotton fabric 6x6 inches, hot glue, a sewing machine, etc. I recommend this for children's backpacks, it's a great way to trick toddlers into carrying essential gears.
7. African Backpack DIY
Here is another type of backpack, this is different and you will need an African print fabric, lining fabric, interfacing, plastic buckle, a sewing machine, you could use either a needle and thread depending on what you have. This design is remarkable and the creator makes hers with what suits her. Very easy to make. All you need to do is get creative.
8. DIY 3-Pocket Backpack
The 3-pocket backpack is a different design. Very easy to make and can be made in smaller or bigger sizes depending on what you want. In this tutorial, the creator makes use of an outer layer fabric, the body of 32cm x 38cm 2piecies, front pocket 16cm, side pocket 22cm, etc. This is a 3pocket backpack and super easy, all you need to do is get your measurements properly.
9. How To Make A Pretty Backpack
Making a backpack, you certainly need to get a proper measurement of any fabric you intend to use, and your fabric has to be cotton fabric. However, this involves sewing with a machine or making use of a  thread and needle. This process is fun and super easy. Click the link to know how to make a backpack better.
10. DIY Mini Backpack
Mini backpacks are recommended for kids. The creator made use of nylon fabric for water resistance and for durability. This backpack is easy to make, all you need to do is be creative in picking up colors to suit your choice.
11. Hand Stitched Leather Backpack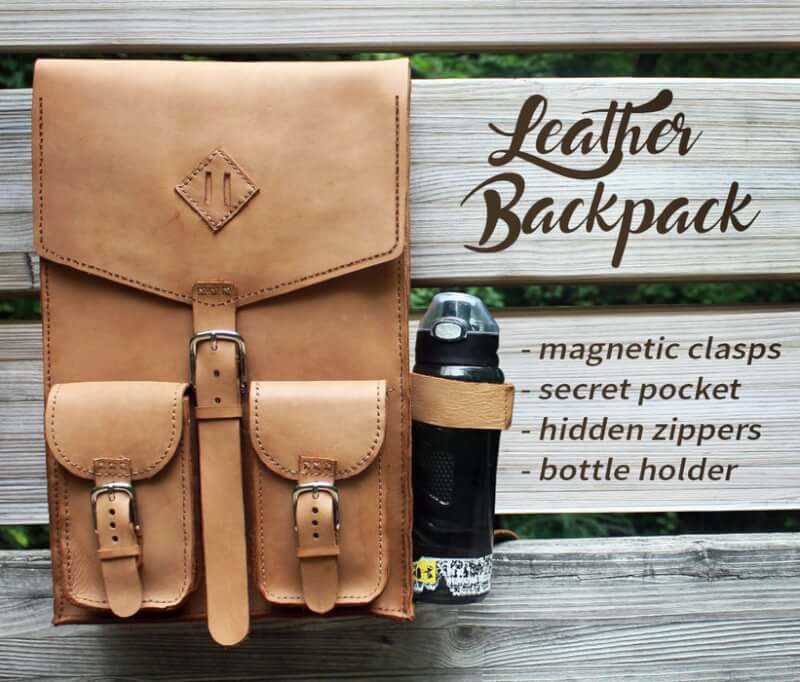 Here is another tutorial on a hand-stitch leather backpack. This backpack is highly recommended for students and it's very durable. The creator made use of an entire side of 5 oz vegetable tanned leather, one large buckle, two medium buckles, a needle, waxed thread, etc.
12. How To Make A Super Mario Backpack
A super Mario backpack is a different idea on its own, this type of backpack can be used for lighter objects, it's advisable not to put lots of weight in this. You will need variant material to make this including EVA foam, green felt, red felt, heating gun, duct tape, etc. The first step in making these is you need to measure the size of your backpack that is the back of your neck to your waistline, transfer the measurement into paper and fold it in half.
13. How To Make A Backpack
You want to make a backpack yourself, you first need to have a proper measurement of your fabric, so as to get a proper pattern. In the video the creator used a Cordura bag fabric, you will also need a rotary cutter or scissors, to cut the necessary parts, after this, you will need to work on the pocket of the bag so as to assemble them together.
14. DIY Foldover Top Backpack
This is a different pattern of a backpack, very classy and comfortable. You will need two outer layers of the fabric for the body, a contrast color for the bottom, lining as well. The creator measured 33cm of the top part of the fabric, 25cm for the bottom, 33cm for the sides, the foldable top is 43cm, etc.
15. How To Sew Backpack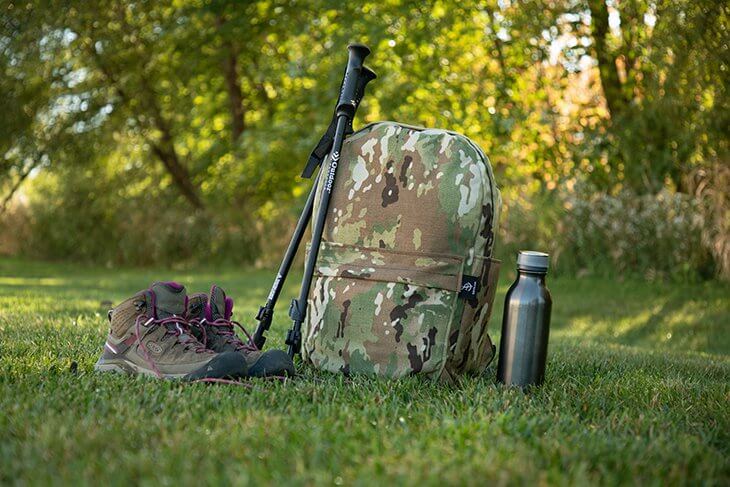 Making a backpack comes with all the basic materials you need to sew a backpack. The materials used in this tutorial include one yard of Cordura bag fabric, you have to cut your patterns, front pocket, etc, you have to sew your straps, etc, you will need a zipper however the creator used a YKK zipper. I recommend this for a professional backpack.
16. DIY Drawstring Backpack
Drawstring backpacks are very cute and fun to make as well. The creator made use of quilt-weight cotton fabric. Also the drawstring is lined making it have a perfect finish and more durable. The tools needed for this project are very much available and this can be gifted as well.
17.  How To Sew A Backpack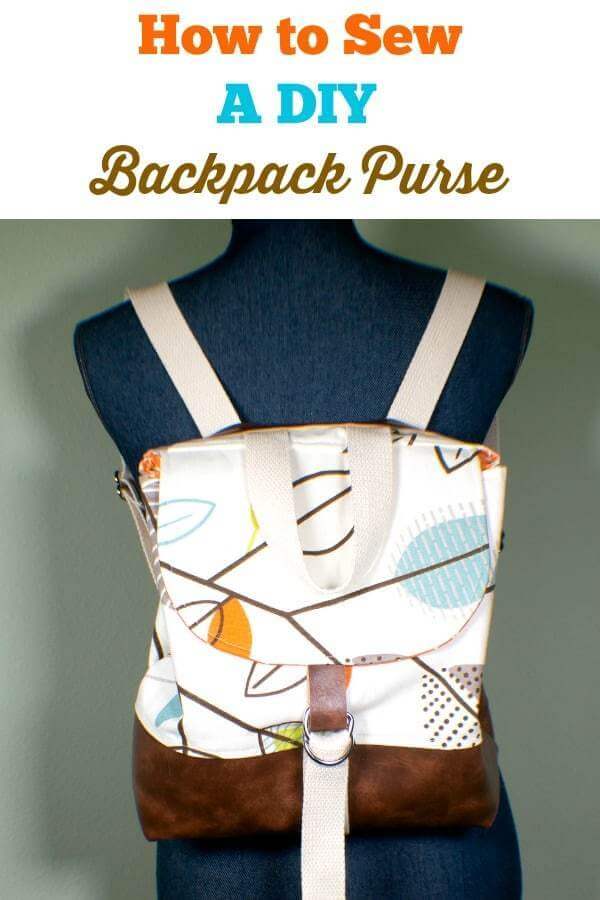 This tutorial helps to show you how to sew a backpack purse. The creator made use of a motif canvas fabric for the exterior design and faux leather. If you make use of a lighter fabric you have to interface it. It's advisable to make use of heavier fabric for the exterior. The link helps you understand better.
18. DIY Backpack
DIY Backpacks can be very classy and simple to make. This tutorial gives a very simple DIY, the creator uses synthetic leather of 104cmx50cm, all sewn allowance are just 1cm, you need zippers, etc. You need to take a proper dimension in a paper and cut accordingly.
19. Best Design Backpack DIY
Here is a tutorial that shows you how to make a backpack, you will need a piece of fabric, two zippers, wall fiber tape for the bottom, etc. I recommend this DIY for a simple classy backpack.
20. DIY Cardboard Backpack
Here is an entirely different tutorial which is the cardboard backpack. The materials needed for this are inexpensive and can be made in different sizes and any design you choose. You will need cardboard, straps, etc. This comes in handy in an emergency.
Conclusion
While going through this list of DIY backpacks, if you have a kid, call him or her to make a pick from the list of unique DIY backpacks. If he or she chooses, it will be up to you to make it for them. Making any of the backpacks listed above shouldn't be a problem, the materials are cheap to get, the making process is easy to follow.