In some countries, rats are taken as pets and they are quite adorable. Now, you can't have them running around the house unchecked and out of control, so, a rat cage is one cool thing to have at home as a rat lover, to keep them in one place to be able to care and feed them when required.
Here is a great list of all the amazing ways you can make a DIY rat cage for a good amount that will be durable and comfortable, better than buying a brand new rat cage that could go for about $253. Let's dive in and see how the rat cages are made by several amazing creators.
1. DIY Amazing Rat Cage
Here is an amazing rat cage that can be made with a few simple supplies like some pieces of wood, a metal sheet, chicken wire mesh, some nails, a hammer, hinges, and other rat cage accessories. The step is to start cutting the metal sheet into two halves, then measure a piece of the wood on the metal sheet and cut it. Do the same for all the sides of the metal sheet. The metal sheet is for the base, and sides of the cage. The chicken wire comes in the front, back, and top of the cage. This project is super easy and simple to build.
2. DIY C&C Rat Cage
Here in this video, the creator made a C&C rat cage that is cheap and easy to make, it cost about $30 to make this rat cage with chitin wiring and a few other essential tools to hold all the wire in place to be able to form the cage. It's not a small cage, although it's also not too large, just medium size and spacious enough for your rats to run around easily.
3. How To Make A Rat Bin Cage
Using a bin to make a rat cage is super smart and amazing, it's also a budget-friendly project. First, you need a 27-gallon bin, and that's because that is the size of the bin the creator has available, if you have one larger, and you have more rats you can use it instead. The next step is to cut out holes on every side of the bin, then make small Dremel holes on the body close to the cut-out apace and attach your mesh. The great thing about this rat cage is that it's well ventilated and also easy to carry around.
4. DIY Rat Cage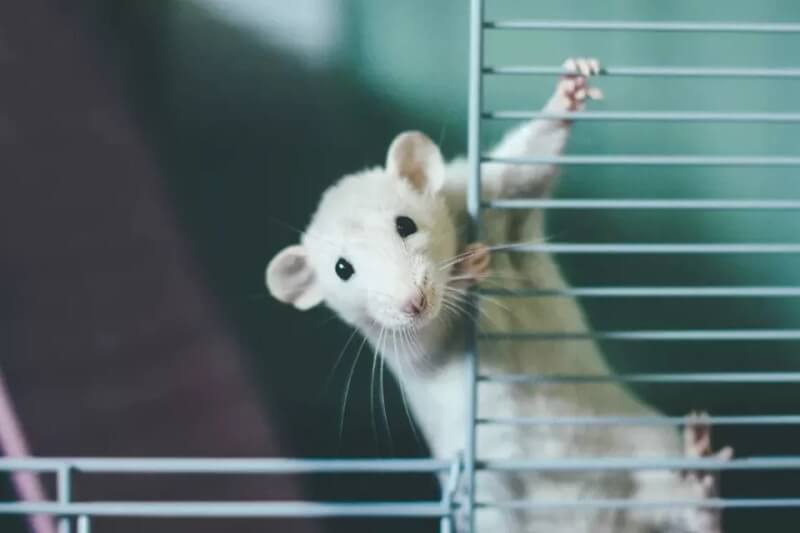 Here is a list of all the material you'll need to build this rat cage within 2 hours, four 6 foot long 16 inches wide vinyl coated wire shelves, a large under-bed storage container, a large plastic bag cable ties or zip ties, a bolt snap, or dog leash clip to hold the door of the cage closed, scissors and a power saw. After you've gotten those materials and tools ready, follow the instructions to build a simple rat cage with ease. Like the material list says, this case will have a storage pack where you can store things like food and other accessories for the cage. The making process is seamlessly easy and simple to follow.
5. Rat Cage From Old TV Stand DIY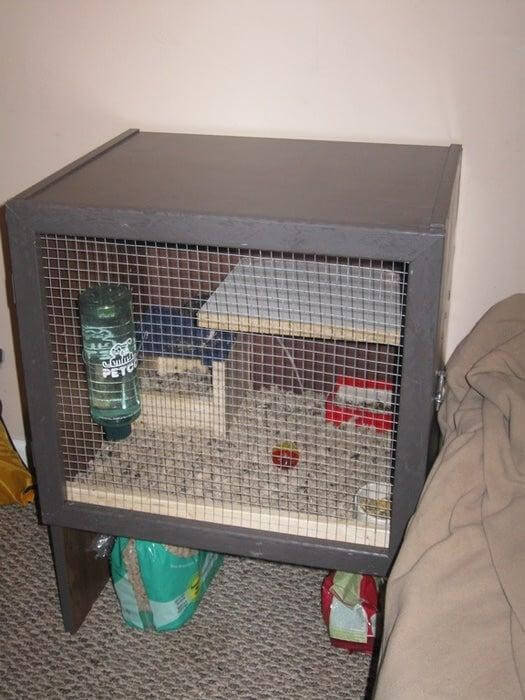 Here is another amazing rat cage that you can make from an old TV stand. The creator got the TV stand at a flea market for a great price, $5. If you have a flea market near you, it would make the job a lot easier. You also need some wood, hinges, a latch that comes with a spring, spray paint, and wire. The assembly process is super easy and fun. The wood was used to make a square meter In the corner of the inside of the TV stand, and the wire to cover the front. The assembling process is effortlessly easy and simple to follow.
6. How To Make A Bioactive Rat Cage
Making a bioactive rat cage is not an easy task but it's possible with a few simple tools and materials. You'll be making an acrylic bin, and here is the material you'll need to get started. A suitable glue or sealant, custom size acrylic panel, water-resistant tape, painter's tape, a tape measure, and a file for filling and smoothing down edges. It's effortless and simple if you follow the instructions carefully.
The creator took time to talk about the rat cage and explain how it works before starting the making process, and during the making process, she took time to make it for you to see and even made a small drawing to assist her and also help you have a full grasp on what she was talking about earlier. Check the link to learn more.
7. DIY Mouse Breeder Cage
The video started with the creator showing you how the finished rat cage looked like. The cage also has a rack to store food and other essentials for the rat. Although it's quite small and can only contain 2 rats at a time, you can have more than one if you have a lot of rats.
Furthermore, if you're looking for a single rat cage that can house as many rats as possible then this video guide is probably not for you. First, you'll need plastic tops, the creator got some at Walmart on the dish section, some wood, a wire mesh, and other essential supplies. You need to create a frame for the plastic tops first, then start assembling the other parts and the mesh.
8. DIY Sliding Rat Cage
This is a large and sturdy sliding rat cage that you can make at the comfort of your home. It's a permanent rat cage, unlike the one you could buy at a store and it won't last up to a year. The entire body frame is made of wood, and the front is covered with wire mesh. The creator started the making process by measuring and cutting the wood for the base. So in all the creator used some pallet wood and an LDF board. The LDF boards for the base, and the pallet wood for the aides. After the assembling, coat the wood one time with polyurethane to eliminate any smell.
9. How To Make A Bin Cage
For this rat cage, you'll be using a plastic bin. This is another amazing guide that uses a bin to make a rat cage, this particular idea seems cooler. All you need is that large transparent plastic bin, and an adjustable window screen. You will cut space on one large side of the bin, measure the adjustable window screen first to ensure it will fit into the space you will cut out before doing your cutting. This sliding adjustable window screen is a great addition to the rat cage, makes it easy to remove your rat, clean up the cage, and put your pet right back.
10. How To Build A Small Rat Cage
For this video tutorial guide, you'll need a lot of wire mesh, and a flat pan. First, you'll need to construct the wire mesh into a box shape. The real work is assembling the wire mean, after that is done your rat cage is ready for the next and final process. It's a small rat cage so if you have a lot of rat pets, you might need to opt for something larger. But this is a small temporary, cool cage. It's super easy to build and also cheap. Furthermore, you'll need some pig rings, ring tools, and wire top and sides. You can get these items at Amazon for a good price. Check the link description below the video to get it directly from Amazon.
Conclusion
That's a wrap on this article on DIY rat cage projects. All of the projects listed in this article are easy to make, some might take more time to finish, but the build would be worth it. Feel free to leave comments or contributions regarding this article in the comments section below. Also, we would be happy if you shared this article with people who keep rats as pets and are looking at making a safe cage for their pet rat.