You can find different types of daybeds in interior stores, it might be expensive, cheap, or adorable. But you will be denied the joy of making it with your hand. To enjoy the pleasure of making it yourself you'll need a DIY guide.
As luck would have it, I have compiled a list of 25 different DIY daybed plans that are adorable and simple. Click on any of the links and learn how to make a DIY daybed.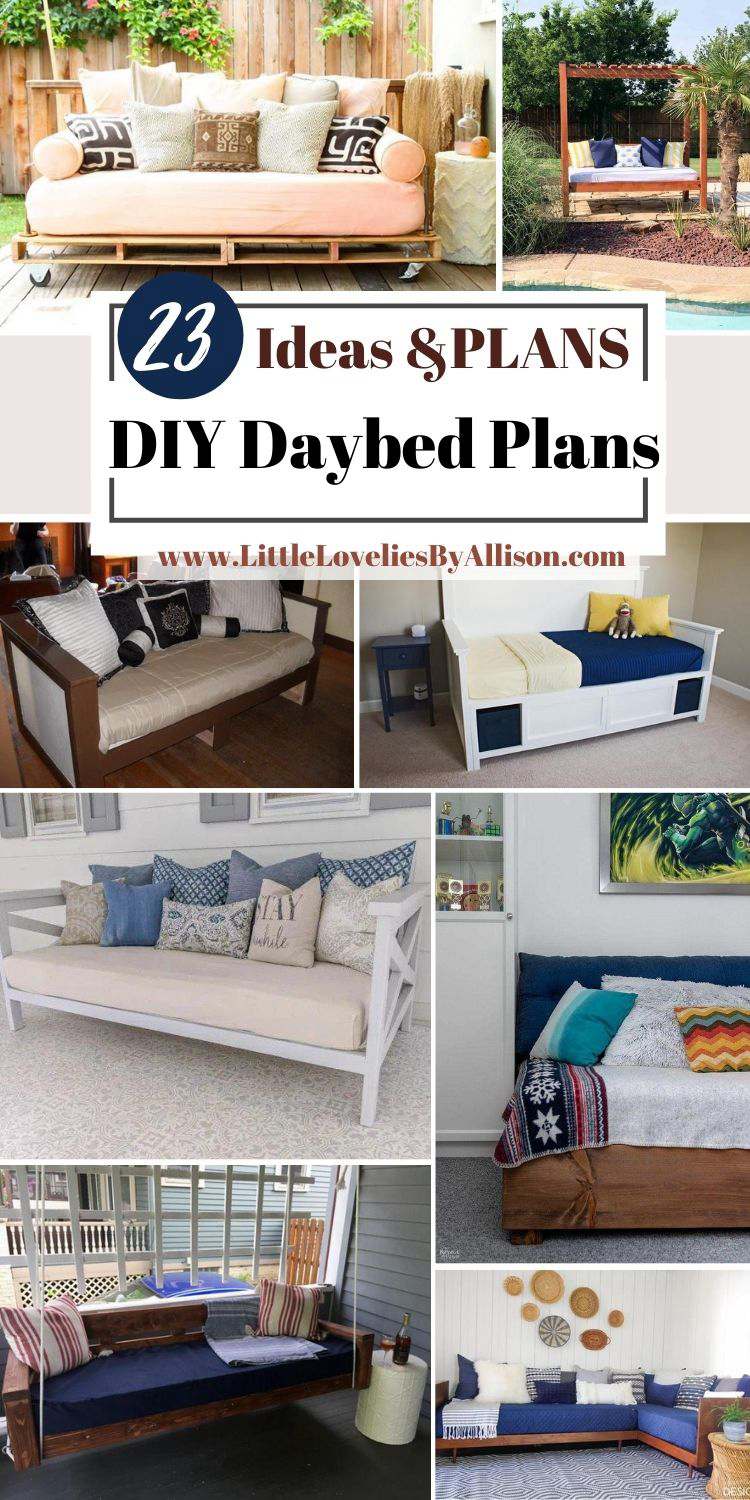 1. DIY Daybed Plans For $50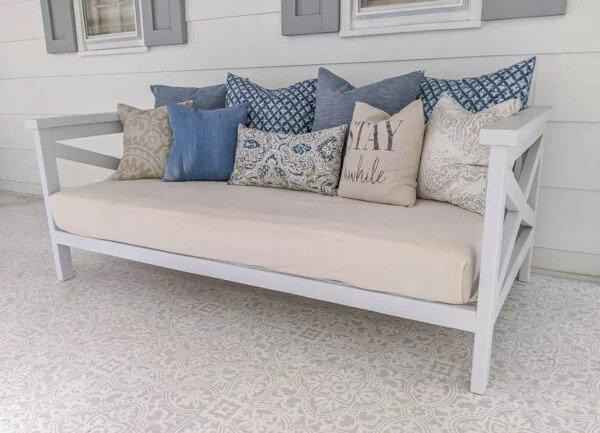 What is your budget? $50 is not very expensive for this beautiful daybed plan, right? To cut down cost, the creator used framing lumber for the project. You can use the same lumber to suit your budget as well.
2. DIY Storage Daybed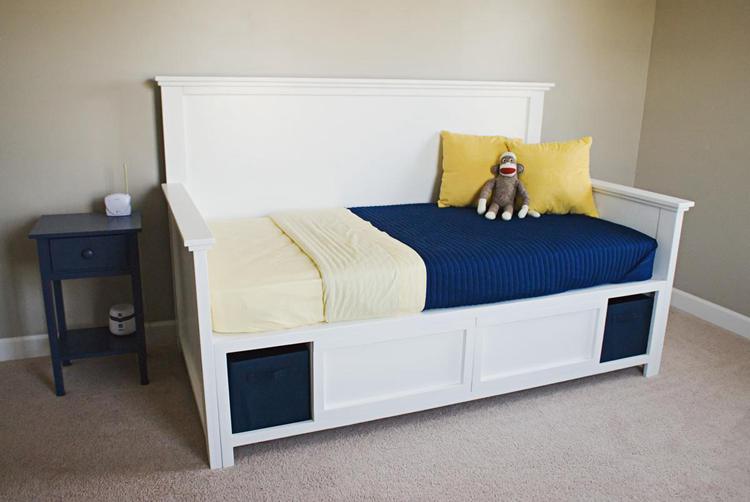 You're going to love this daybed with storage. It was the transformation of the Hailey Twin storage bed. Because the daybed is built on the concept of a Hailey storage bed, you need to review the plan well to familiarize yourself with it. You can get the link to the plan by clicking this link.
3. DIY Pallet Daybed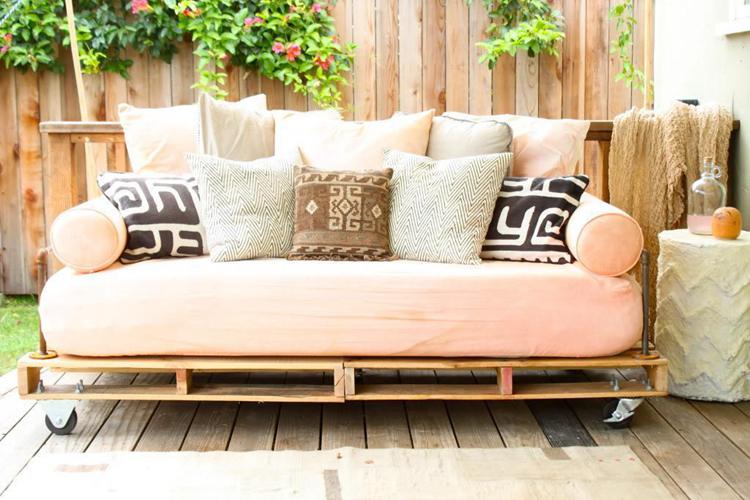 You don't have to be an expert in woodwork before you can make this daybed. It requires little experience, time, and money. Here is what you need: pallet wood, orbital sander, outdoor polyurethane, brush, sanding discs, and 5 large caster wheels.
The first thing you need to do is to sand the pallet wood down, you can start from the lowest grit.
4. DIY Outdoor Daybed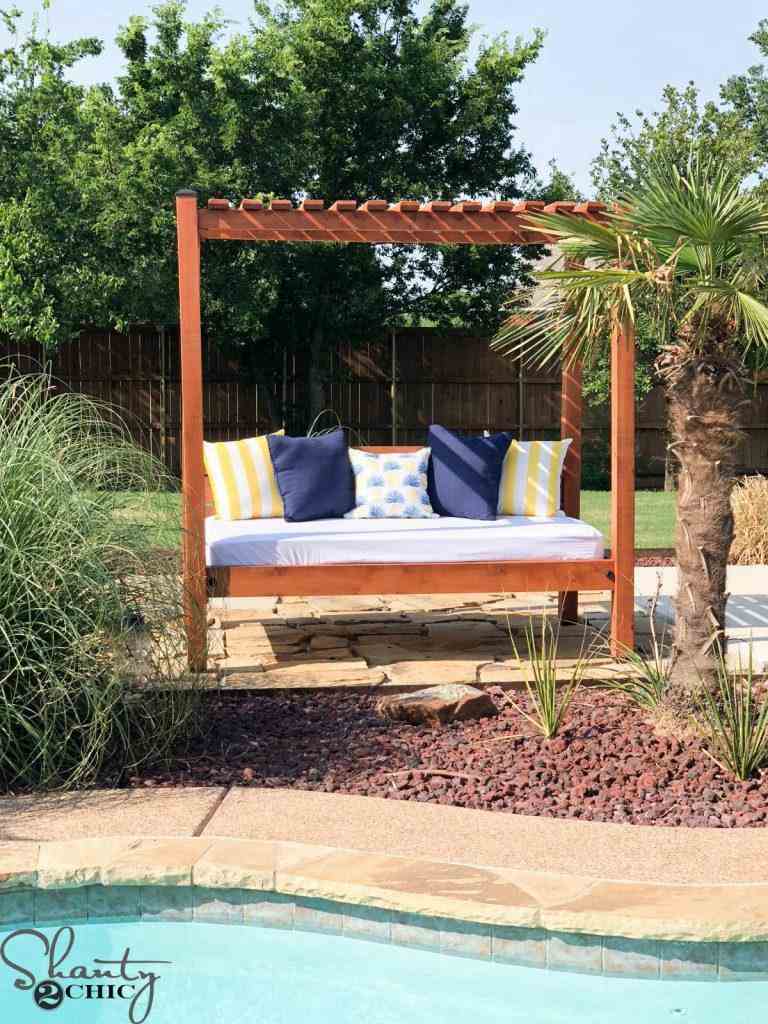 What more can possibly make a DIY project easier if not for a free printable plan. This guide provides a free printable plan that will make the project easier.
In the process of building, caps, and base are advisable for the post and the joinery used throughout the project is from Kreg jig.
5. DIY Daybed
This daybed is made from rough walnut. If you don't have a planer or jointer you can smooth it at the store. For the daybed, mortise and tenon joinery were used and the creator started by setting the ruler away from the edge for the squares. However, you can cut the mortise with your hand if it's something you enjoy doing or you can use the machine.
6. DIY Outdoor Lounge Sofa
You can make this outdoor lounge with three power tools. A drill, orbital sander, and a circular saw were used to revamp some 2×6s and 2×12s to a beautiful base while the lounge cushion was made from foam plywood canvas and a staple gun. It is very simple, inexpensive, and time-friendly.
7. How To Build A Daybed For Less Than $50
If you need an extra seat or bed around your house, this is a very amazing daybed plan for you. The lumber used for this daybed costs less than $50 and it's very simple and adorable. You can use the Kreg jig joinery for all the parts.
8. How To Build A Daybed In A Day
Do you have some hours of your day? Let's make this daybed together. This bed was built with 2×2" all through and 3½" screws to join the parts together. For extra support metal angle, brackets were required. Within a day, you can own this beautiful daybed with low cost and simple methods. Click this link to learn further.
9. DIY Daybed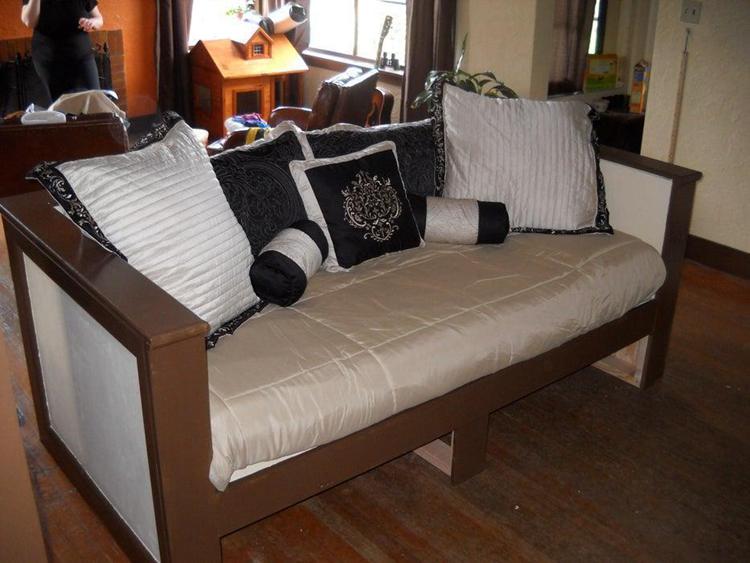 There is no need to waste time once you know what you want to build and you have all the necessary materials. All you need is a detailed guide that will show you how to turn your desire into reality. This guide is just the perfect package you need. It started by explaining the process of framing.
10. DIY Mini Daybed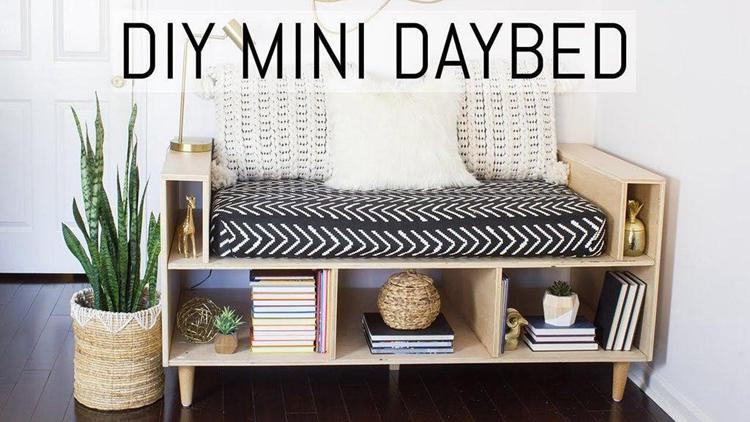 The cushion of this daybed was made from an old crib mattress. What are you doing with your own crib mattress? This is a great way to recycle your old materials. The main body of the daybed was built from ¾" thick plywood.
11. DIY Storage Daybed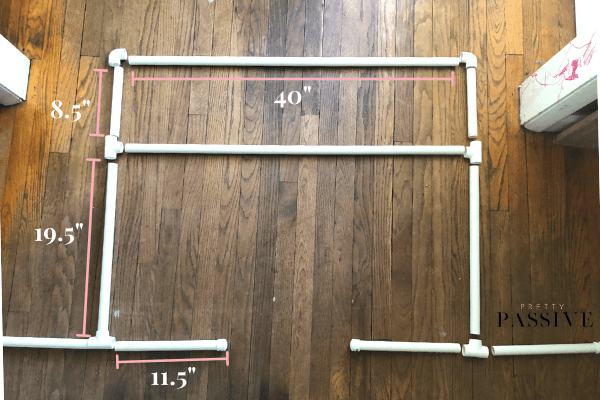 If you need extra space in your kids' rooms, this built-in bed with storage space is the best option for you. For the shelving, an already made bookcase was used and thus automatically saved you some time and stress. Other materials needed for the bed include plywood, lumber, Kreg jig, nail gun, wood glue, and wood putty.
12. DIY Swinging Daybed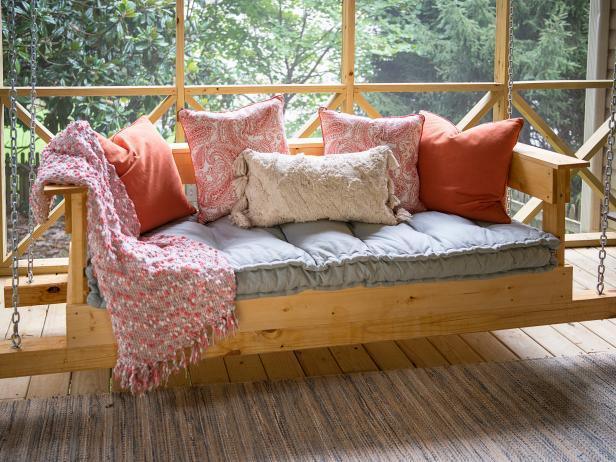 One thing that makes this daybed stand out is its ability to swing. Sleeping on a swinging bed surely gives another leave of pleasure.
Let's look into how it was made;
The first thing is to gather the necessary materials( you can find the full list in the link below). Then, assemble the base and the armrest support.
You will need wood filler to close some openings on the wood.
13. DIY Outdoor Daybed
The total cost of all the materials used for this outdoor daybed was $200. Though it's not very inexpensive, it is super easy and cool. Exterior screws are used to join the parts together.
14. DIY Daybed Frame Tutorial
In this video tutorial, the instructor emphasized on measurement and how important it is to measure the wood accurately. After measuring and cutting the wood into pieces, she drills pocket holes on all of the pieces and then joins them together.
15. How To Make A Daybed
Kreg jig holes literally make your project look good. It makes it easy for you to hide screws if you don't want them to be showing. Other materials needed include wood glue, wood filler,  2×2 pieces of pine, polyurethane, and pocket hole screws.
16. How To Make A DIY Daybed
The materials needed in the process of making this daybed include timber, wireless drill, orbital sander, cutting screws,  square, tape measure, wood filler, pencil, wood stain, paintbrush, foam roller, and spray.
Once you get all these materials, click the link below and watch how the instructor maneuvers these instruments and materials into a beautiful daybed.
17. DIY Daybed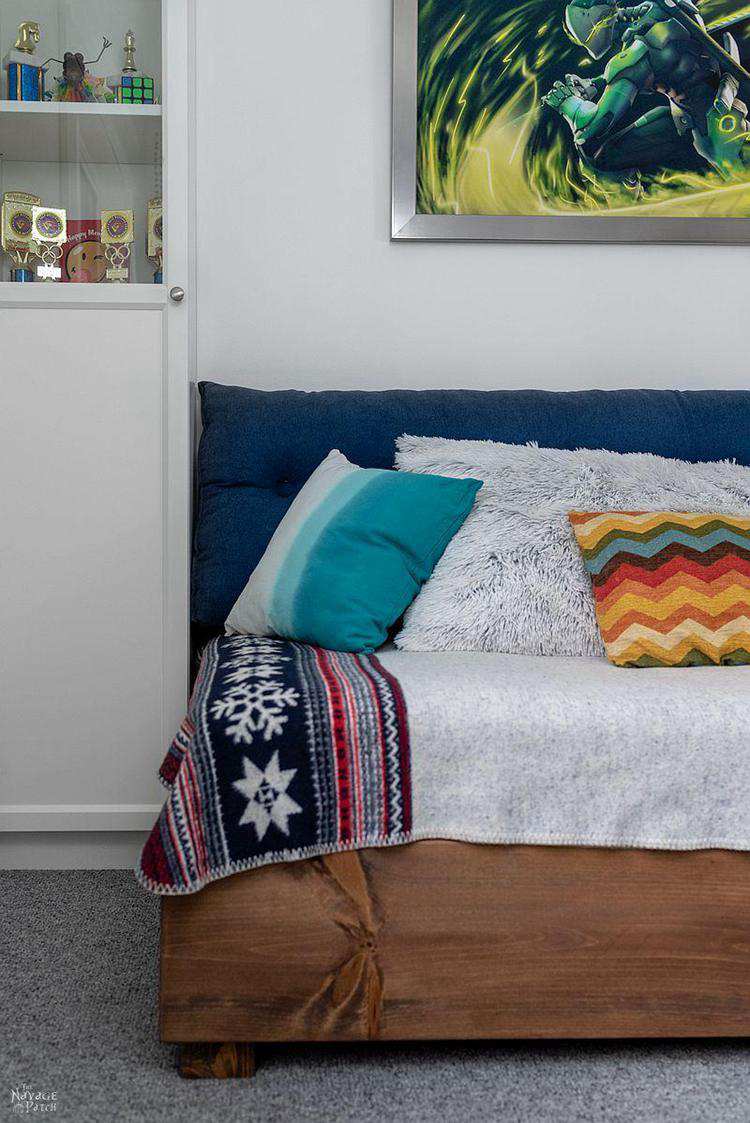 One thing that is special about this daybed is that it has two casters attached to the back piece. This allows it to be moveable, i.e if you need the daybed in another room or out of the shelving, it will be easy for you to move it without any stress. The daybed was made from pine boards and furring strips.
18. Plywood Midcentury Daybed DIY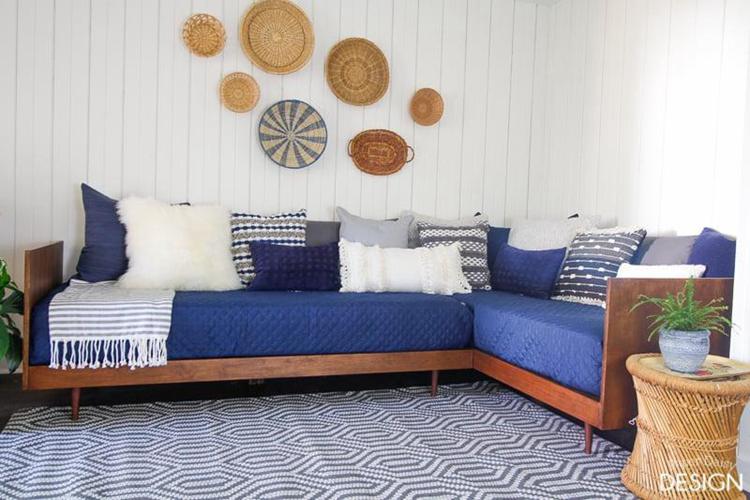 It is very easy to make this Mid-century daybed. All you need to do is to get some birch plywood, leg brackets, Kreg jig screws, table saw, nail gun, wood screws, tack cloth, and miter saw. After getting these materials the next thing to do is to cut the plywood into pieces and join them with screws.
19. How To Make A Daybed
What do you do if there is a need for you to move or transport your daybed? You don't need to stress yourself over this, all you need to do is to make a moveable daybed. This daybed is very easy to transport because of the mortise and tenon joinery used for it. It makes it easy to dismantle the bed and put it together again.
20. Building A Daybed
This is made from exclusively 2×4 boards, a drill, saw, and some exterior decking screws. The first thing you need to do is to assemble the base and the armrest support.
21. DIY Outdoor Daybed
Do you want to improve your outdoor experience? If yes, you need to add this amazing outdoor daybed to your list. It is made from pallets, power drills, pencil, tape measures, and speed squares.
22. DIY Pallet Bed
Have you got some pallet woods lying about in the house or you have a couple of bucks you can spare to buy some at the dollar store? If yes, then you should be watching this video tutorial. In this video tutorial, you will learn to modify pallet woods into a beautiful daybed within a couple of hours.
23. DIY Hanging Daybed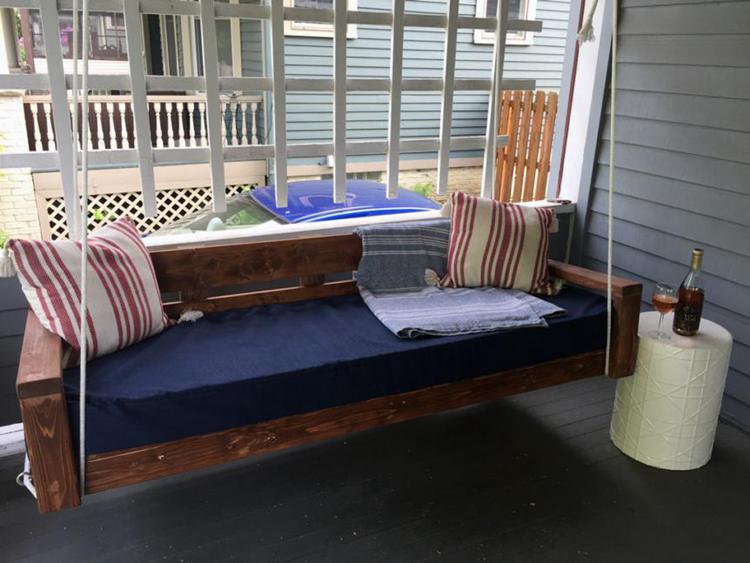 In this guide, you will learn how to make a hanging daybed. The daybed takes the look of a porch swing but the plan is a little bit different. The creator didn't use a pocket hole for the joinery, instead, she pre drilled the holes and countersink the screws.
You May Also Like:How to choose the fabric of the sofa?
Conclusion
These lists of amazing daybed plans are very simple, inexpensive, and can be made at home. They are budget-friendly and not time-consuming. If you have any questions or contributions regarding this content, feel free to use the comment section below.