There are many beliefs attached to African waist beads. The first is that it makes the waist look charming and sexy. You know the look! Another thing is that it makes it very easy to track your weight loss. Once you tie it around your waist, it will slack off when you lose weight.
If any of these two beliefs is your motive or you've heard other beliefs you will like to experiment with. Here are 15 DIY African waist beads ideas you can start with.
1. DIY African Waist Beads Tutorial
In this video, you will learn how to make this cheap waist bead with elastic and a couple of beads.
The first thing the instructor did was to visit a Walmart and pick up different varieties of beads and elastic, she then went ahead to measure the actual and accurate size of her waist to make the waist bead.
2. No Elastic African Waist Beads DIY
Instead of using elastic for the length of this waist bead, the instructor uses a cord. It made the waist bead more unique. But since the cord doesn't expand like elastic, a removable clasp is required. The instructor has a barrel clasp at both ends of the thread.
3. How To Make African Waist Beads For Weight Loss
A very quick way to know if you're actually losing weight is when the waist bead keeps falling lower and lower down your waist. This waist bead was made from a clear stretch cord, barrel clasp, and different beads.
4. DIY African Waist Beads With Names
Do you want to know how to customize your waist bead? If yes, then you've come to the right guide. In this video, you will learn how to make an African waist bead from scratch and how to install your names in it.
5. How To Make African Waist Beads
You don't have to have enough experience before you can make African waist beads. All you need is some time, a guide, and some basic materials.  To complete this project, you need only about 30 minutes.
Here are the simple steps:
Measure and cut 50 inches of tiger tail and attach its end to your working table. Start threading the tiger tail with beads, and once you reach the measured length, carefully take it off and attach a clasp to the end.
6. DIY Waist Beads
For these waist beads, you will need Beadalon wire, seed beads (any size), 2 crimp beads, bead stopper, a closed jump ring, 1 lobster clasp, wire cutter, and crimping tool. To start with, use the beadalon to size your waist. While doing this, make sure it is not too tight and 2 fingers can enter between the beadalon and your waist.
The next step is to cut the beadalon and thread the seed beads through it.
7. DIY African Waist Beads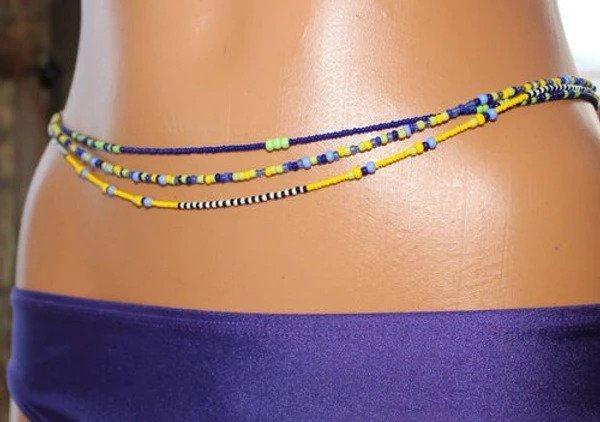 One of the beautiful ways to adorn your body is to have an African waist bead on it. It feels so good to have beautiful and adorable beads beneath your clothes while you're swaying your waist here and there.
If you've never made any jewelry before, these African waist beads are just a perfect way to start. They are very easy to make, cheap and time friendly. This means you can make African waist beads in your leisure time.
8. DIY Waist Beads
When it comes to making a waist bead by yourself, creativity is always at its peak, because you want something special, something beautiful for your waist.
In this guide, you will learn a great deal about the history of waist beads and how important it is for you to have one to spice up your maturity and femininity.
The materials needed include small colored beads( beads of any kind would be okay), flexible plastic or cloth tape measure, closers, scissors, measuring tape, a white towel or a plate with divisions, and of course your creativity.
The first thing you need to do after getting all the above materials is to measure yourself. You will learn how to take appropriate measurements of your waist from the guide as well.
9. DIY Waist Beads
The materials needed for these waist beads include measuring tape, venus beading needle, white mercerized cotton thread, scissors, and glass beads. The instructor chose the Venus beading needle because the eye is wide and it's a little curvy which makes the picking of the beads easier.
The whole process is very simple and straightforward. You can click the link below to learn more about the project.
10. Making African Waist Beads
In making African beads, you have a variety of methods, types of beads, and types of beading wire to choose from. This is amazing and adorable.
This video adopts different methods of making beads and the first method used goes as thus.
Measure the length of the waist bead, you can use an old waist bead to do this. Then, cut a long wire to size the length measure. Thread a needle to the wire and knot the end. After this, start picking the bead with the needle and you're good to go.
11. How To Install African Waist Beads
For a weight loss waist bead, you should use an inelastic cord because this is the only way the waist won't slack off and it will be easy to track the weight loss. But if you use an elastic cord, it might slack off even before you lose weight and that will affect your tracking system.
After understanding the type of cord to use for your waist beads, the next question is how do you tie it on? In this video, you will learn how to appropriately install different types of African waist beads with ease.
12. DIY Customized Waist Beads
Let's see how this customized waist bead is being made. Cut two to three yards of clear beading wire. Cut the wire into two equal pieces and secure both with a knot at the end. Then, attach one end of barrel clasp to both wires and start threading the wire with beads.
After threading to some length,  make both wires intersect to go crystal shape. And with the intersection, you can start threading the letters of the name you want to use. It is very simple and straightforward.
13. DIY African Waist Beads
Do you want to track your weight loss, feel sexy and mature while still saving your money?  Let's get started; The first thing is to get the following materials; glass beads kit, measuring tape, scissors, non-stretchy beading wire, really cute barrel clasp, and stretch wire.
After getting the materials, the next thing is to measure your upper waist. You can add an extra 3 inches for non-stretched beading wire and 2 inches for the stretch wire. Measure the wire against the measuring tape and cut.
Tie the clear wire to one end of the barrel clasp. The non-stretched wire knot easily but the stretchy one will need additional support after the knot.
14. DIY African Waist Bead Tutorial
There are different methods of making waist beads; we have knot tying, barrel clasp method, magnet clasps method, and lobsters clasps method.
All these methods are simple but technical to make. In this video, you will learn how to make waist beads with lobster clasp.
The process is very simple, after threading the beads into the cord, secure both ends so that beads won't roll off. Then, attach the ring from the clasp to one end and the other side of the clasp to the other end. With this, you're good to go.
15. How To Make African Waist Beads
Aside from beads, do you know you can decorate your waist beads with a pendant? The pendant gives additional style to the waist beads and beautifies them. Here is the process of making and adding a pendant to beads.
Firstly, you need to gather some materials; seed beads, pendants, string, scissors, magnet clasps, After the materials are ready, you need to wrap the string around your waist to take the measurement, and if you want two layers of beads, that means you need to wrap the string twice to make the string longer.
Conclusion
If you want to spice up your femininity, you should read this article. There's nothing bad about making or wearing African waist beads, it has a couple of benefits like body awareness. I hope this article has been helpful to you, thanks for stopping by!