Are you looking for a shop from where you can buy your own handmade beaded bracelets for both men and women? Or do you like to make your own bracelets? Whether it is for personal use or even for varnishing your own jewelry business, we have got a list of the best DIY bracelet projects you can try out.
There are many ways to create bracelets. You can make them with beads, wire, embroidery floss, ribbon, and so much more. The most common fabrication methods of bracelets are macrame and the use of beading wire.
1. Braided Thread And Rhinestone Bracelet
These pink braided threads have a simple-looking exterior but are actually quite fancy and sparkly. You can wear them with any outfit that you want to look really cool. Braiding the thread isn't as hard as it may seem. I'm sure you'll get the hang of it.
2. T-Shirt Yarn Bracelet
Here's another amazing project for bracelet lovers. A t-shirt that's seen better days can be turned into t-shirt yarn and then braided into a cool bracelet. However, the use of a metal clasp makes this project a bit more challenging.
3. DIY Easy Friendship Bracelet
The best part about a friendship bracelet like this is that you can use your favorite colors to make it. This beautiful bracelet can be made with embroidery floss and thread snippers. Looks challenging but it's quite easy to make.
4. Felt Friendship Bracelet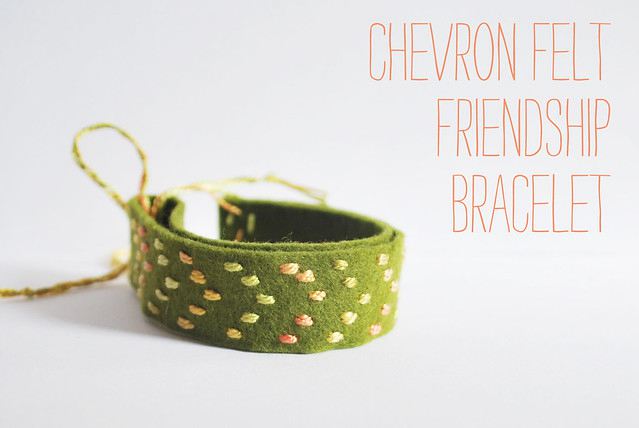 This would look great on both kids and adults. Feel free to experiment with your favorite colors. For this bracelet, you will need felt and pearl cotton in two colors. If you are into stitching, this would be a great way to put your skills to the test.
5. DIY Adjustable Paracord Bracelet
Are you into paracord projects? Well, I love them too. My favorite part about this bracelet is the adjustability. It would be able to fit comfortably on any wrist. You'll be required to do some folding here and there, but not to worry, this is an easy project.
6. How To Make A Macrame Bracelet
Here's another special bracelet on our list. It has an adjustable slider that makes it very easy to fit. I also love the beads used at the bottom, you have a choice to change the colors. I would love to display a lovely pendant below the bracelet. I guess that's just how I would prefer it.
7. How To Make A Shamballa Style Bracelet
For this project you will need a couple of round beads, scissors and a lighter. The making process is very satisfying to watch and you should get the hang of it immediately, especially if you know how to tie a knot. Also, the bracelet is made so it can be adjusted with ease.
8. How To Make A Single Strand Bracelet
This is one of those quick DIY crafts that you can make. The best part is, this tutorial requires only a single strand. However, the strand needs to be long enough else it won't fit your hands. Try to make the single strand long, but not too long.
9. DIY Sailor's Knot Bracelet
Meet the perfect bracelet for valentines day. A sailor's knot bracelet symbolizes safety and good fortune. It also signifies a bond between friends and family, making it the perfect friendship bracelet! The making process is quite easy to follow.
10. Knotted Chain Friendship Bracelet
This simple bracelet starts with a keychain-style chain, The first few knots are tricky. The rest is easy if you pay attention to the placement of the threads and chain. However,  It gets trickier again at the very end.
11. DIY Button Bracelet
You should have some cute buttons in your home, yes? Well, it is time to put them to very good use. For this bracelet, you will basically need a button and faux suede cord. Tying the knot is very easy. This will make a great bracelet for you and your partner.
12. Stamped Initial Bracelet
Tired of seeing wires? Well, here is something quite different from most of the ones we have listed above. You'll need gold coin discs, jump rings, a gold chain and lobster claw closure. These supplies will help you personalize the bracelet for yourself and your friend.
13. Beaded Square Knot Bracelet
This bracelet has a rather unique knot, a series of beads knotted with waxed polyester cord. Besides being very beautiful, this bracelet is completely waterproof. Yes, that's right! It won't get soaked if you use it while swimming.
14. How To Make A Multi Layered Bracelet Without Cutting
Usually, in order to make a multi layered bracelet, you would have to cut up some pieces and then try to put them all back together. However, that is not the case with this piece. This tutorial shows you how to make one without cutting. You'd enjoy the making process.
15. DIY Rastaclat Style Bracelet
I am in love with the thickness of this bracelet. If you love bracelets that'll look bold while you rock them, this is one to rock. It is completely adjustable and requires a couple of knots to finish the making process. Feel free to use any color and also adjust the length for proper fitting.
16. DIY Conquistador Paracord Bracelet
If you love the previous bracelet on our list you will like this one even more. It is very wide and bold. This is the kind of bracelet that people can't help but admire. If you do not mind a little weight on your wrist, then you should try out this conquistador paracord bracelet.
17. DIY Rainbow Bracelet
This is a basic paracord bracelet, only that this particular version has different colors on it, thus the name "Rainbow bracelet". Due to the colors used, it will most likely match with most of the clothing attires you have.
18. DIY Level Bracelet
This would go well with a woodworker. I think it is a gateway to tell people that you are a handyman or handy woman. The making process requires a couple of tools and materials, however, you should be able to make this bracelet with ease. Looking for the perfect DIY gift for your couple who is into handy work? I suggest this.
19. DIY Easy Bracelet
Two major supplies are needed to make this bracelet. You'll need some wood beads and a string. Fill in the beads, thread here and there and you are good to go. If you are looking for a simple bracelet idea, this is it!
20. DIY Leather Bracelet
A leather bracelet would take more time to make than most beaded bracelets. The process isn't too easy but you should get the hang of it. Start by cutting the leather, then putting holes before laying out the final design. The tutorial will show you all the steps to making this.
21. How To Make A Crystal Bracelet
Looking for a beautiful and sturdy bracelet to DIY for your lover? Here's one. You will need to get crystal stones and slim copper wire. The wire basically swirls around the beads in a very unique and beautiful way. This can also be a great bracelet for BFF's, however, that's your choice to make.
22. DIY Simple Beaded Bracelet
This bracelet looks so simple, and I have seen a lot of people rock it, especially BFF's. It is a very delicate design and also customizable. For this tutorial, you will need small beads (any color combination you'd like), jump rings, crimp tubes. Check out the video for an in-depth explanation on how this is made.
23. Handmade Macrame Bracelet
I have always been a fan of macrame projects, there's just so much you can do with the ropes. This time, it's going to be a bracelet. Like all macrame projects, a couple of twists and turns here and there and you are good to go. The making process might take some time if you are a beginner though. However, I think this is a beautiful bracelet.
24. DIY Minimalistic Macrame Bracelet
While this is referred to as simple to make, it might not be so easy for beginners. This minimalistic bracelet features two unique colors at the side making the bracelet stand out amongst others. The making process might take a good amount of your time but it will be worth it in the end.
25. Yarn Wrapped Bracelet
What's not to love about these amazingly outstanding yarn-wrapped bracelets. Girls are particularly fond of making things with yarn. You could decide to make these bracelets with your friends. The fun part is when you are all done with the making process and rock the bracelets.
26. DIY Heart Knot Bracelet
The idea of a heart knot bracelet is amazing. What an amazing way to tell your partner you love them without actually saying the words. I would advise that you use his or her favorite color to make this bracelet, that way, they'll appreciate it more.
27. Washi Tape Wooden Bracelets
The best part about rocking a DIY bracelet is that you won't get to see it on another person.This priceless work of art was made using a jumbo-sized popsicle stick, scissors, mug, hemp beading cord, a piercing tool, and of course, different colors of washi tape. The making process should take you little time to finish.
28. DIY Heart Bracelet
Here's yet another one for lovers. This bracelet is 100% made of wire. You will need a cup and pliers to help with the making process. As easy as this looks, you should be careful not to make a mistake, do that and you might have to start from the top.
29. Knot And Loop Paracord Bracelet
The only really significant part of this simple bracelet is the button knot and loop. I love how this bracelet can be worn in several ways. You can decide to rock it sideways or upside down, the choice is yours. I think this would make a great addition to your casual attire. Why wait? Get up on it!
30. 4 Strand Round Braid Bracelet
Ready for some pro-level weaving? Well, that's what this bracelet is all about. For the making process, you will need 4 strands of paracord. Feel free to use your best color combination for this. You can also use the same color but remember to have 4 strands. The making process takes a while but I'm very certain you'll love the finished work.
31. How To Make A Stretch Cord Bracelet
I have always loved stretching bracelets, they are way more comfortable to wear, I mean there's something very satisfying about giving them a little pull from time to time. For this DIY, the creator used different variations of seed beads. You can make adjustments if you want to.
32. DIY Copper Wire Bracelet
These kinds of bracelets tend to look more expensive than other DIY bracelets. If made rightly, you'd fool your friend to think this was bought from a jewelry store. The creator in this tutorial will show you how to make a bracelet with copper wire and fancy stones. You can use crystals or beads. The choice is yours!
33. DIY Paper Wrapped Bangles
You'd never believe that these amazing bangles are made with paper. The making process is one of the easiest we have in this article. However, you might need some artistic creativity to find your way around this DIY bracelet. You can use any design that comes to mind.
34. Crepe Paper Bracelets DIY
Wanna teach your kids a cool craft? Here's one that they won't only learn but also be able to rock to birthday parties and occasions alike. You will need crepe paper streamers, a stapler, tape, scissors, and a couple of tools. Be sure to inspect your kids while they are trying to do this craft. Do not allow them to use the scissors without your permission.
35. DIY Friendship Bracelet
This tutorial will teach you how to make matching friendship bracelets. They are a lot easier to make than you'd think! There are many different ways you can personalize them too. These bracelets make a really cute gift for a group of friends.
36. DIY Watermelon Bead Bracelet
Here is another beautiful bracelet that'll look very bold and cute on your wrists. From the unique colored pattern, you would agree that it has a strong resemblance to the inside of sliced watermelon. For this project, scissors, an elastic cord, and a couple of beads will make up the watermelon color.
37. DIY Beautiful Bracelet
This is a unisex bracelet that will definitely look good on you. The bracelet is also adjustable. I love the location where the beads are kept, it literally looks like eyes circled by strands. The making process should take a couple of hours to complete, just a couple of twists and turns here and there and you are done.
38. DIY Shamballa Style Bracelet
While making this Shamballa style bracelet, be sure to use crystal pave beads. The beads make the bracelet look very appealing. You will also need 3 different types of beading cords and of course wire cutters.
39. How To Make A Fabric Bracelet
Remember that your once favorite fabric that you longer wear again due to size? Yes, that one. You can rock it as a bracelet. It's a good thing you didn't throw it away. This tutorial will teach you all you need to know about how to make a bracelet with fabric.
40. Simple Beading Pattern Bracelet DIY
For this bracelet tutorial, you are going to be using beads, but this time, it will be a different pattern. For this, you will need a couple of beads in different colors. Do not forget to choose your best colors. Doesn't matter if you are a beginner, the process is very easy to follow. The creator actually does a great job breaking down the steps.
41. DIY Glowing Bracelet
Here's the perfect bracelet for superhero cosplay. Do not worry, this bracelet won't harm you in any way. You likely just have fun with it over and over again. However, the making process would take your time. There's a lot of electrical stuff to be done. Although it may seem hard, I actually tried it myself and was able to come up with something outstanding. Not perfect, but better than the worst.
42. DIY Bamboo Bracelet
Whoever thought one could make a bracelet this amazing with bamboo. I was literally blown away at first sight. I mean, this is something you'd wear without any form of discomfort. Although this bangle looks beautiful, the making process is one of the most difficult on our list of DIY bracelets. Care to try?
43. DIY Music Staff Bracelet
I have always been a big fan of music and when I saw this bracelet, I knew I had to jump on it. The bracelet is an upcycled job because most of the items used are things from other crafts. It's beautiful regardless.
44. DIY Magnetic Leather Bracelet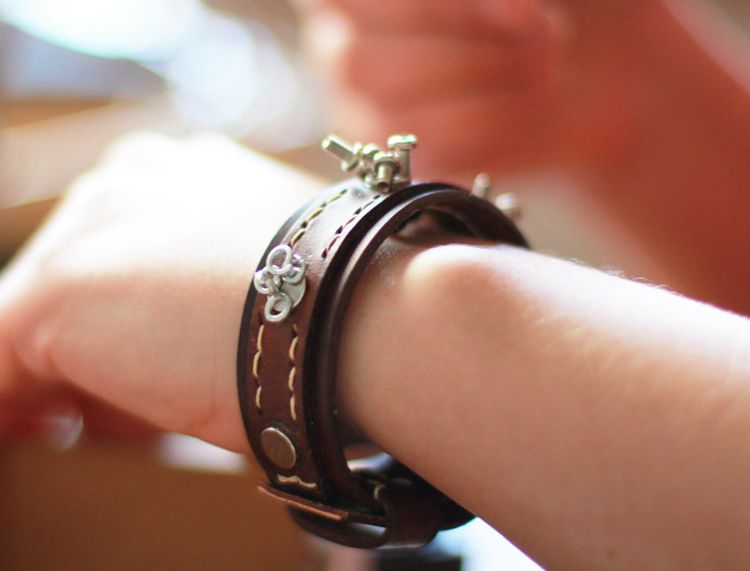 Here's another sweetheart on our list of DIY Bracelets. This is a sturdy bracelet that should last for a good number of years before needing a replacement. It is made with leather and magnets.
45. Handmade Flower Bracelet
I must admit, this has to be one of the best bracelets I've ever seen. I mean, take a closer look and you'll notice that no beads are used for the flowers, it is all about how well you knot the strand.
46. DIY Name Tag Bracelet
This is a fully customizable name tag bracelet. Simply get letters of your name and attach to the strand using the pattern in the video below. If your name is longer or shorter than the name used in the description, you'll just have to adjust the number of times you twist and turn.
47. Easy Bracelet Pattern For Beginners
If you ask me, I would say, this kind of looks like what people wore in the 60s' The pattern is very simple and feminine. It would definitely look great on a bride. Feel free to use brighter colors.
48. How To Make A Simple Sliding Knot Bracelet
A simple sliding knot bracelet is the best kind to wear on days when you are in a hurry. It's very easy to wear and make.
49. DIY Safety Pin Bracelet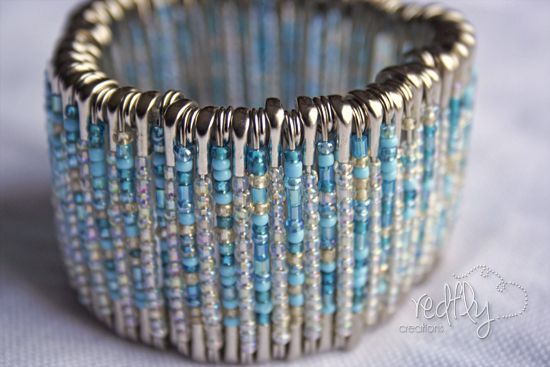 Beads are placed inside the safety pins to a point where it seems like the pins would barely close. This beautiful craft is like nothing ever seen before.
50. DIY Abacus Bracelet
Would you like to keep track of numbers on the go? Check out this abacus bracelet. The design is pretty awesome. You can choose which beads you want to use. Different colors perhaps?
Conclusion
I hope you enjoyed our list of DIY Bracelets. Take a look at these awesome DIY bracelet ideas and get inspired for your next project! I'd love to see what you make. We have looked at how to make some of the most popular bracelets, the easiest ones, and the crazy ones.
Thanks for stopping by, if you loved this article, kindly share this content with your friends or family who are interested in making a DIY Bracelet.