Stepping up your organizing game, a jewelry box comes in handy to avoid being messy. This list of DIY jewelry box ideas is a lifesaver, it helps in conserving your precious ornaments.
A DIY jewelry box is cheap to make and helps save all your favorite jewelry. This DIY will provide specific pieces of information and ideas on how to make various jewelry boxes with different shapes and different materials to give you your desired effect.
1. DIY Jewelry Box Tutorial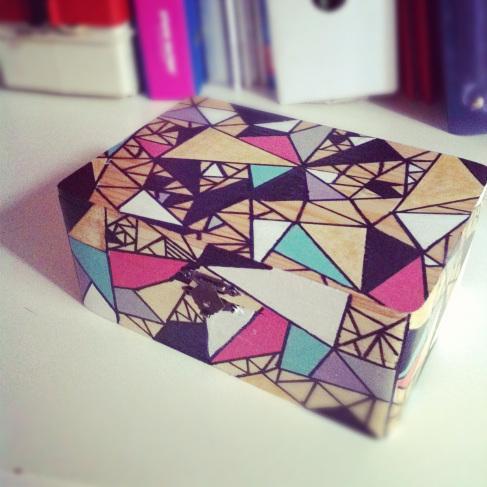 Here is a simple jewelry box made with a geometric pattern, quite easy. In making this you will need a wooden box, acrylic paints, brushes of your choice, an HB pencil for sketching out your work also a black sharpie, ruler, etc. The link below gives a proper analysis of this creation.
2. DIY Marbled Jewelry Box
This jewelry box is perfect for those who like decorated paper which creates surface designs with lovely patterns. This marbled jewelry box is a perfect design on its own made using a cigar box. The beauty in this baby is about experimentation. You will need a few materials. Follow the directions in the link below and you will enjoy what you've created.
3. DIY Ring Storage Box
This is a quick and super brilliant storage idea mostly for rings. You will need an empty chocolate box insert, ruler, glue, pencil felt. Basically in making this, you need to measure and match your felt piece to the chocolate. On each square of felt, you make two dots and draw a short line, cut and apply glue Voila your storage box is created.
See also: 25 DIY Watch Box Ideas
4. Handmade Jewelry Box
In categorizing this handmade jewelry box I will say it's unique, inexpensive, exquisite, and not easy to forget. This serves as a perfect gift for Mother's day, all you need is a fence post cap. The tip in making this is to ensure proper fitting, apply spray paint, add a handle and a piece of soft fabric inside. Viola!
5. DIY Jewelry Box
Using decorative materials you could make an impressive jewelry box, you could create this in any shape. You will need an old box, canvas fabric, foam, cardboard, glitter paper, etc. The most stunning part of this DIY is that you can make different enclosures as you thrill.
6. How To Make A Small Jewelry Box
Making a small jewelry box can be effective and it helps maintain your favorite collections. This box is made out of cardboard and glue. In making this exact type you need to use the measurement provided in the above link. You will need fabric or wallpaper, cardboard, cutting board, etc.
7. How To Make A Jewelry Box From Cardboard
Cardboards are simple to find and can be used for a variety of stuff. In making this jewelry box, Firstly you need to cut out the excessive part in your cardboard box, measure the desired part with your wrapping paper, and glue it properly. Design your inner part and your box is ready.
8. DIY Cardboard Jewelry Box
This simple jewelry box is inexpensive, very portable, and can be made in big or small sizes. Can be gifted as well and it's super easy. You will need cardboard in making this and other simple materials including glue, etc.
9. DIY Jewelry Box
Here is a simple and classy jewelry box. You will need a wood box, screwdriver, wood filler, paint, etc. The inner part of this box is covered in velvet to give it a perfect look. Making this looks very luxurious and less expensive.
10. DIY Simple Wooden Jewelry Box
This wooden box is 10x5 and 3 high and the ratio is 2.1 making it look big enough but not too big. In achieving this magic you will need a little wood. The creator made use of walnut with some nice figures to make the top and bottom.
11. DIY Jewelry Box
This type of jewelry box requires you to be good with wood, after your desired sides are cut out with their length, these sides need to be inserted together with glue and shim to strengthen the corners. The creator made use of some velvet on the top and the inner part of the box.
12, DIY Walnut Jewelry Box
This walnut jewelry box is creativity at its peak. You could use anything to make a jewelry box, just go creative. Here the creator uses walnut and after cleaning the inner part of it placed a perfect glued fabric inside of it, cutting out the excess. Viola.
13. DIY Jewelry Box From Cardboard
This DIY jewelry box is simple and less expensive to create. You will need cardboard shaped into your desired size, glue to help put it in place. This type of jewelry box helps you with different compartments.
14. DIY Paper Jewelry Box Gift
Women like to decorate and this is perfect for gifting. The creator made use of paper and other materials to create this effective look.
15. How To Make Wooden Jewelry Box With Drawers
All classy and fancy. Making a wooden jewelry box with drawers needs patience and you have to be good with woodworking. After proper analysis and a perfect cut of the wood. Applying glue on the edge and sides to keep it all together.
16. How To Build A Simple Jewelry Box
Building a simple jewelry box is affordable. The creator made use of woods, cut out into sizes and desired lengths. If you're good with woods I'll recommend this. Easy and fun.
17. Traditional Jewelry Box DIY
Traditional jewelry box is mostly used by brides to store their ornament. The creator made use of acrylic colors, decoupage glue, craft paper, MDF box. Firstly, color your box, cut your papers to your measurement, apply the decoupage glue and paste your papers.
18. DIY Book Jewelry Box
This DIY book jewelry box is simple and quite easy. The creator used an old book to make this beauty. The link below gives more guidelines on how to accomplish this.
19. DIY Mod Podge Wooden Jewelry Boxes
In making a mod podge wooden jewelry box you will need a scrapbook, matching fabrics, wooden box, matching paints, etc. After cleaning up your box, you apply your paint inside of the box and you apply mod podge all over your scrapbook. The final Magic is adding your fabric.
20. DIY Wooden Jewelry Box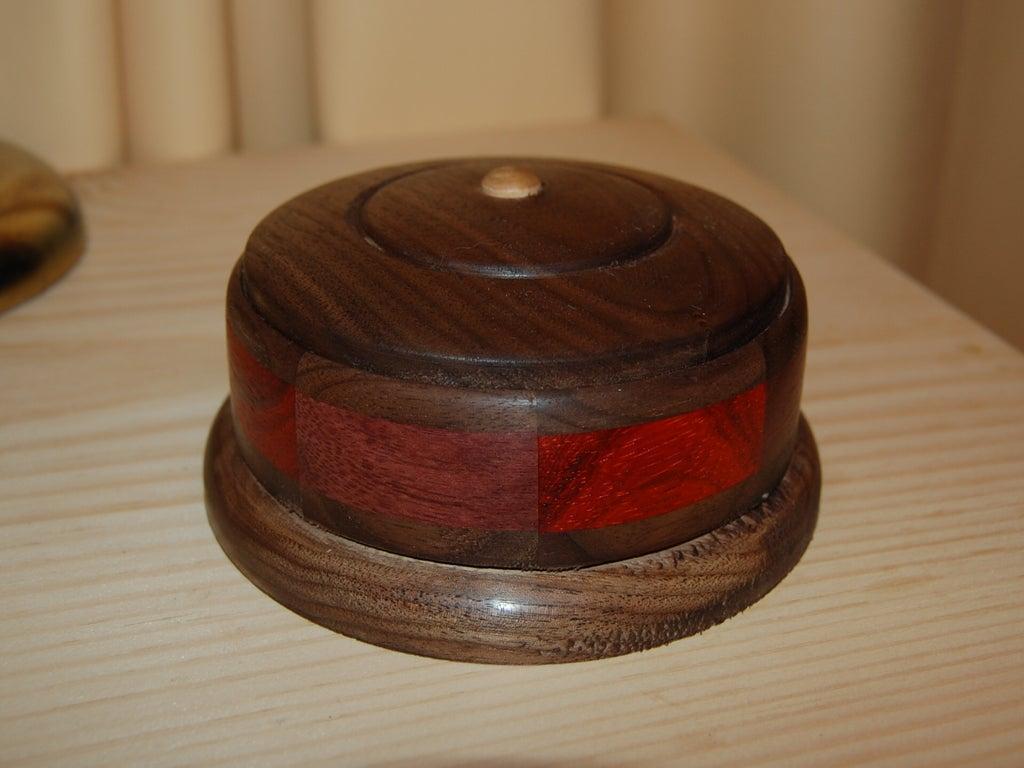 The wooden jewelry box is perfect for gifting and the creator made use of wood shaped into an octagon. After preparing and assembling the blanks, the gluing process begins,  the link above elucidates more of this design.
21. DIY Glam Jewelry Box
The glam box is all beauty and glam. In making this the first step is spraying your box with a finishing spray. The creator made use of mirror titles and also blink wraps. I recommend this for a perfect jewelry box.
22. Beautiful Jewelry Box DIY
If you are in search of something simple and at the same time beautiful this is highly recommended. The creator made use of a 12cm wooden and plastic canvas, to make a perfect jewelry box and this can be gifted as well.
23. How To Make A DIY Jewelry Box
Making this is super easy, all fun and less expensive. You will need a sheet of felt, a wooden box, paint, ruler, etc. You choose whatever design suits you.
24. How To Make A Jewelry Box With Jute Rope And Popsicle Sticks
Making these, you will need popsicle sticks, after proper assembling of it with glue it comes out so perfect. Super amazing and very classy.
25. DIY CNC Jewelry Box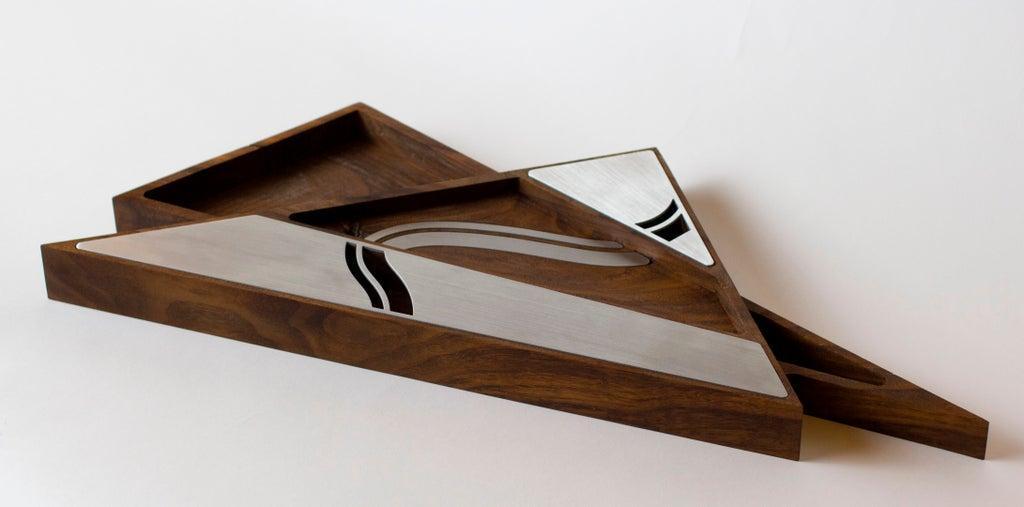 Something classy and all flashy, very modern. This is a 2.5D design for a CNC router made out of walnut with aluminum inlays and lids, with two intersecting triangles. It's advisable to start with a paper sketch.
26. How To Build A Wooden Jewelry Box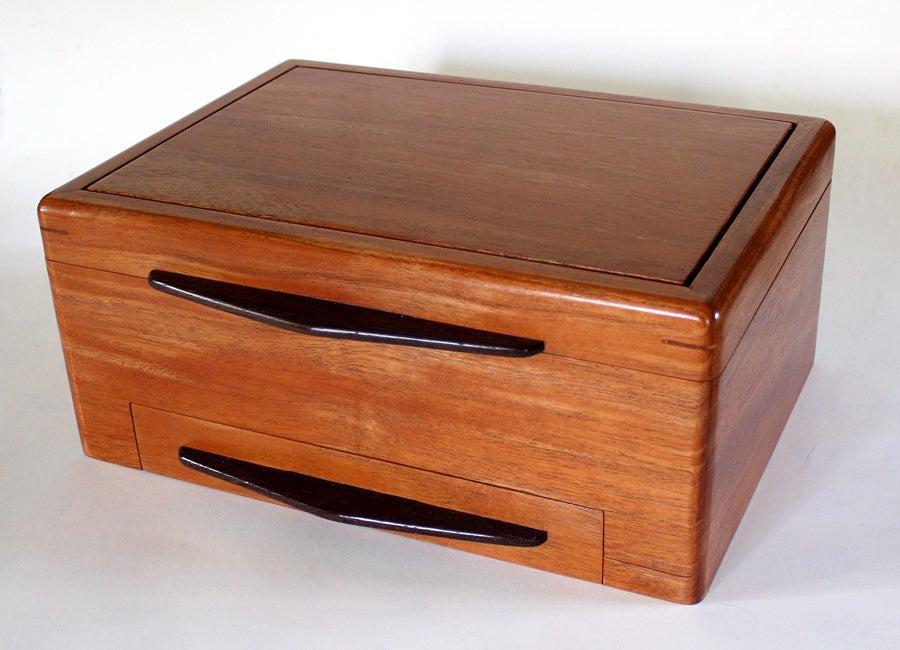 A wooden jewelry box is sometimes seen as the regular but in making this the creator added some drawers for extra space and easy access.
27. DIY Bracelet Storage Box
The storage box is very posh. Perfect for watches and bracelets. The creator made use of a cardboard box, toilet paper tubes, or a cardboard roll to the desired size of your jewelry, cling wrap them, and voila it's ready.
Conclusion
That's a wrap! Were you able to find a preferred DIY jewelry box? Let us know in the comments section what you picked and why. Also, if you have any contributions or questions regarding this article, you can talk to us via the comments section below.