Making your own DIY clay earrings can take less than 45 minutes and cost you less than $10. Clay earrings are not difficult to make. Although I had never used polymer clay before, it was really easy to get started. I had 2 pairs done in the first 15 minutes of learning how to work with this medium. DIY Clay Earrings is also a nice project for adults, and for kids who want to take their craft projects further, or for teachers working with third graders.
You can make your own clay earrings using materials you probably already have handy. The best thing is you don't need to be an expert sculptor or artist to get nice results. Making your own earrings is a great way to express yourself and show off your personality. Today I'll show you how to make cute clay earrings that are sure to become a favorite! For extra, you can check out our list of 50 DIY earrings.
1. Polymer Clay Earrings
Your earrings speak volumes about you! It gives you a beautiful and classy look, especially earrings made from polymer clay. These trendy earrings are beautiful. You can follow this guide to learn more about the fantastic polymer clay earrings.
2. Handmade Clay Earrings
These handmade clay earrings are easy to craft as long as you know the design you want and all the necessary materials and tools. However, there are many designs you can choose from if you follow this guide.
3. How To Make Clay Earrings
Making DIY clay earrings allows you to customize your earring with any shape, design, or accessories. You can also combine different forms in one earring.
4. DIY Polymer Clay Earrings
Here is a great plan that shows you a simple technique of preparing and how to decorate the clay. The first thing to do is roll out the clay with a rolling pin, and to get the right thickness for the clay, you can place a transparent acrylic glass on one side of the work table to measure the thickness.
5. Beautiful Polymer Earrings DIY
Do you know some clay breaks as you wear them? I know you won't want such clay for your earrings. Among the best clay you can use for earrings is polymer clay. It makes your earrings look flexible and beautiful. sarahmaker
6. DIY Clay Jewelry
Using jump rings and earring studs together in a single earring design look beautiful and classy. However, if you want a classic design, you can use only an earring stud with a clay design. papernstitchblog
7. Simple Polymer Clay Earrings
Clay makes it very easy to make several earrings within a short period. All you need to do is have all the required supplies and different colors of polymer clay. Follow this guide to know more about these DIY clay earrings. handmadeintheheartland
8. Beautiful Clay Earrings DIY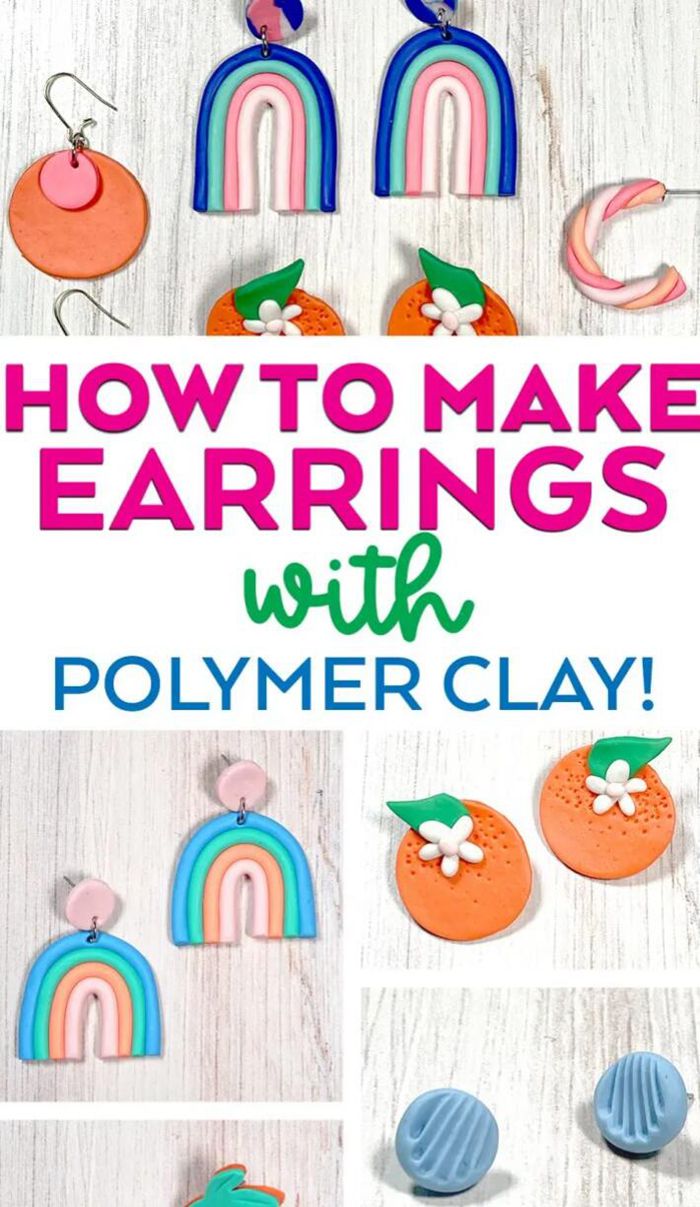 Polymer clay earrings are effortless and fun to make! You have the opportunity to choose any earrings and accessories to finish the work. You can use earring studs, earring hooks, jump rings, and other ones. pineapplepaperco
9. Beginners Guide To Making Clay Earrings
For a beginner, these are the materials and tools required to make clay earrings: pasta machine, cutting mat or ceramic tiles, acrylic rolling pin, a blade: dotting tools, and shape cutter. However, if you can't get a pasta machine, you can use an acrylic rolling pin to smoothen the clay.
10. DIY Air Dry Clay Earrings
Air-dry clay earrings look more impressive when painted with acrylic Colors. After choosing the design you want, get a cutter that can give you this exact shape. Cut the clay with the cutter and leave them to dry a little before attaching other accessories of earrings to it.
11. How To Make Embossed Clay Earrings
Here is a video guide that shows you how to use Cricut, silhouette, or other cutting machines to make deficient designs of embossed clay earrings. Follow this guide to understand the concept behind each cutting machine.
12. Polymer Clay Christmas Earrings Tutorial
To shape these polymer clay earrings, you need a large cookie cutter and a small cookie cutter to mold out a donut shape. Get a green polymer clay, straighten it and make small mold leaves. Attach the small leaves and earring hooks to the donut shape, and you will have your Christmas Earrings.
13. Homemade Clay Earrings
Polymer clay is a mixture of Polyvinyl Chloride base, pigment, lubricant, polymers, resins, and fillers. Because of this, polymer clay is a way to mold, sculpt, or shape into anything. Most significantly, if polymer clay is molded into earrings, it looks more beautiful. sweetredpoppy
14. Amazing Polymer Clay Earrings For Beginners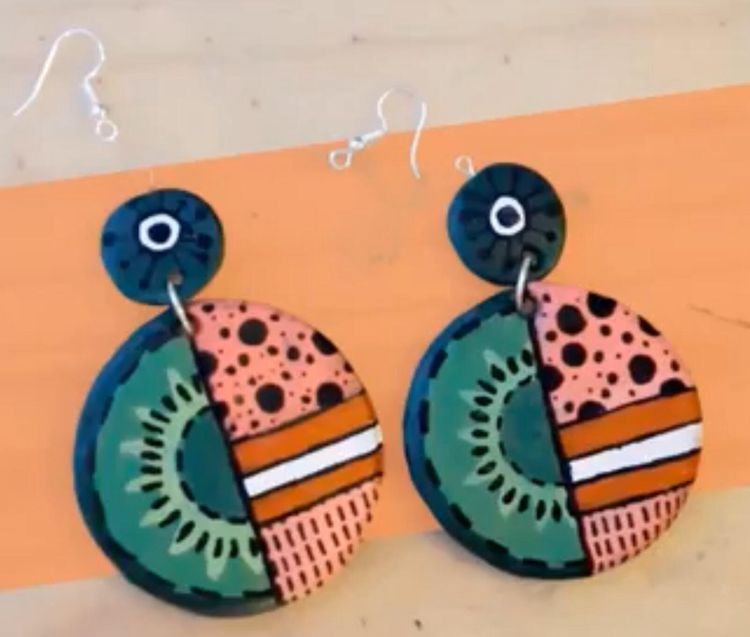 If you're a beginner, you want to make clay earrings for yourself or give them out as gifts. Then, this guide will give you step-by-step instructions on how to go about the earrings. Aside from the different clay colors, other things you need include earring hooks and pliers. skillshare
15. DIY Clay Earrings
Polymer clay earrings are fast becoming the new trend of earring design as there are unlimited options of design and color for the earrings. The materials needed are very few and simple; they include earring posts, jump rings, cutter, and clay. Once you have these materials, you will be able to make your clay earring with ease. raisingnobles
16. How To Make Polymer Clay Earrings
If you're a beginner and want to try out DIY clay earrings, this guide will walk you through step-by-step instructions on how to make the earrings. Aside from making the earrings for yourself, you can give clay earrings as a gift to your loved ones. thesprucecrafts
17. Floral Clay Earrings DIY
In this guide, you will learn how to make three designs of clay earrings. The first design is a floral tree earring, the second is a lemon flower design, and the third is a long drooping earring. For each design, different colors of clay are needed. Follow this guide to learn more about each design.
18. Polymer Clay Earrings For Beginners
Though these polymer clay earrings are for beginners, they look more creative. It is made using special jade howlite techniques. Another beautiful thing about these clay earrings is that the color variation is vast and has unlimited options. If you want to learn more about making polymer clay earrings howlite, then this guide is for you.
19. Roses Clay Earrings DIY
Check out these rose earrings made from polymer clay! The rose pattern looks fantastic, and you can make it without any instruments. It would be best to have clay, a round object to shape circles for the rose layers, toothpicks for shaping the flowers,  and an oven for baking.
20. Handmade Clay Earrings DIY
These handmade clay earrings will make you want to stock your jewelry box with them alone. It looks beautiful and simple. It is different from other polymer clay earrings because it is air-dried instead of oven-dry. The air drying gives the clay the flexibility to form a flower shape. You can click the link below to know more about these fantastic air dryer polymer clay earrings.
21. How To Make Clay Earrings At Home
Clay earrings are the simplest and cheapest kind of jewelry you can make for yourself. However, they are affordable and straightforward doesn't mean it is not good. It is beautiful and trendy. All you need to do is know the design and get the clay. thecraftaholicwitch
22. Polymer Clay Earrings
As you know, jewelry can be expensive while clay earrings are lightweight, and on the fashion trend, you can make beautiful earrings from clay with minimized cost. Since clay earrings are cheap and straightforward to make, you can have lots of them to match your outfit all time. bhg
23. Easy DIY Clay Earrings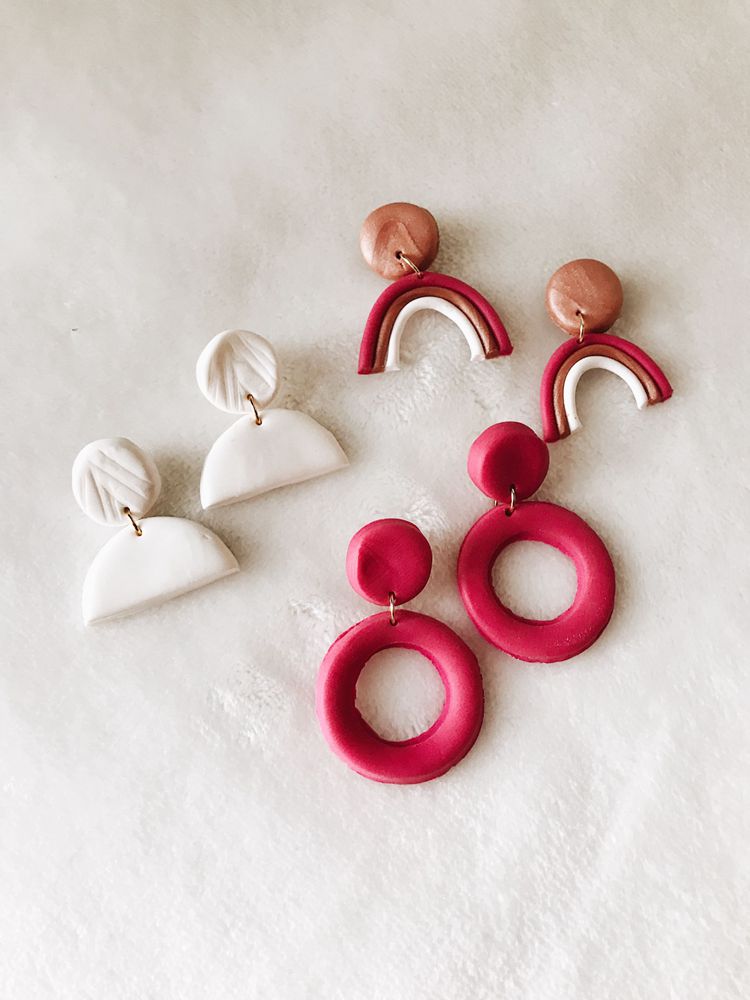 If you want classy but straightforward earrings, I can recommend these fabulous clay earrings, and you're going to love them! These earrings are made from Sculpey Soufflé clay which is lightweight and suitable for small jewelry and craft projects. thetrendychickblog
24. Marbled Clay Statement Earrings
Let your earrings speak for you anywhere! When you put on dazzling earrings, people will notice and want to talk to you about the earrings. Here are stunning DIYmarbled clay statement earrings for you. You can customize the earrings with anything or to any shake you like. abeautifulmess
25. Polymer Clay Gold Marble Earrings
Polymer clay is commonly known to be unique! And if creativity is met with this uniqueness, it gives you a classy and beautiful product. These earrings are made from different colors of polymer clay. It would be best to bake the clay at intervals to make the earrings strong. This guide will know the points where baking is necessary during the process.
Conclusion
One piece of fashion that a woman can never neglect is earrings. Earrings speak a lot about women, and women also use them to show off their class and uniqueness. There are different kinds, designs, and qualities. Among the classy designs of earrings are clay earrings. And since it is DIY, it allows you to customize the earrings to your taste!