Wondering how to clean aquarium plants? Well, when it comes to cleaning, aquarium plants have it rough! These poor aquatic plants have been on the receiving end of algae, small rocks accidentally being broken off, and the occasional snail or fish poop.
Despite all this, they're still able to thrive in an aquarium, but after time they tend to take on a dark appearance. Cleaning aquarium plants is essential, In order to maintain a bright and beautiful look.
If aquarium plants are starting to look unsightly or unhealthy that's a sign that they need to be cleaned. In this article, we will show you how!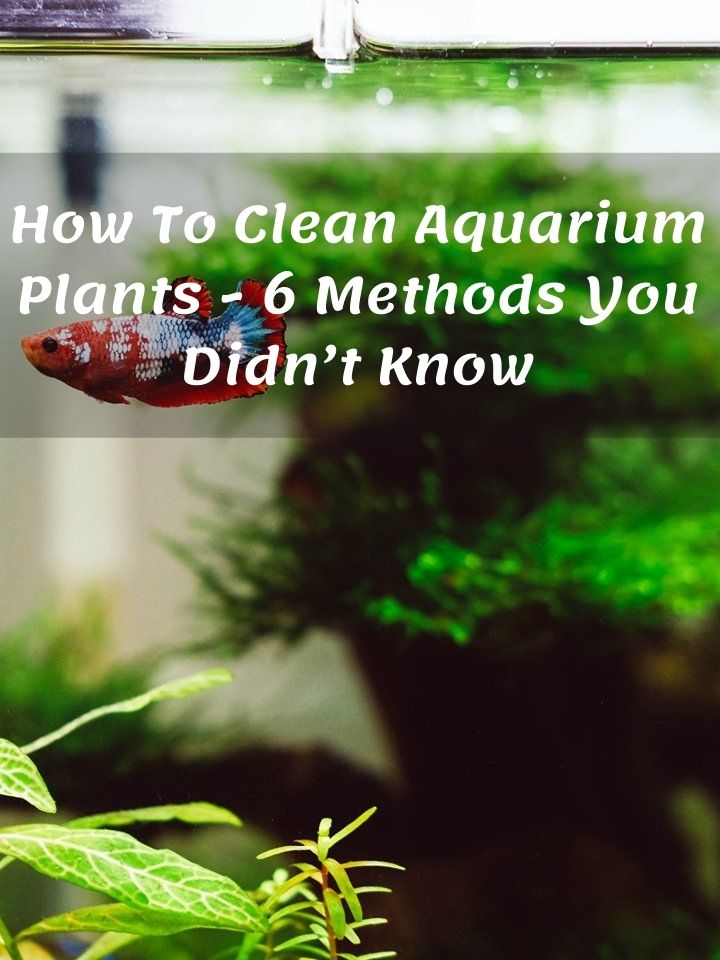 Frequently Asked Questions
How often should I clean my aquarium plants?
You can always clean your aquarium plants when doing an overall process of cleaning your aquarium, however, sometimes plants might need more, so, I would advise that you clean your aquarium plants 2-3 times a week. Doing this will significantly improve the appearance of the plants, they'll look bright, bold, and beautiful. If 2-3 times seems too much for you, try to clean the plants at least once a week.
Do aquarium plants clean water?
Only live aquarium plants can have a positive effect on the water quality. Live plants help in purifying and cleansing your aquarium water. Although this doesn't mean dirty water would become clean after the use of live plants.
Do live plants oxygenate aquarium?
Yes, live plants in an aquarium produce oxygen and also absorb carbon dioxide. So, it is very important to have live plants in your aquarium as they'll provide an oxygenated environment where your fish can survive.
Will live plants grow in gravel aquarium?
Certain species will thrive well in gravel substrate, but not all. Some of the live plants that'll do well in a gravel aquarium are;
Anubias
Amazon Sword
Jungle Vallisneria
Asian Ambulia
Ludwigia Repens
Java moss
Italian Vallisneria
Water Sprite
Hornwort
And more
Types Of Aquarium Plants
There are two major types of plants that are used in aquariums, each type has different plants categorized under them. You can choose either of the two for your aquarium for decoration or a healthy environment for your fish. The choice is yours.
Plastic Aquarium Plants
Plastic aquarium plants also known as artificial plants are fake and won't require water or fertilizer to look great. They are also pretty much easy to clean when they become dirty. Using an aquarium siphon can easily get the dirt off plastic aquariums plants. Artificial plants won't provide oxygen for your fish, however, life in your aquarium can still go on without these plants.
Live Plants
These are the best plants to have in your aquarium, they provide a very suitable environment for your fish. However, they are very fragile, not planting them properly could result in dead plants. Importing live plants into your aquarium is something that you should consider.
Aquarium plants will help keep your tank looking and feeling great and can also provide a habitat for the many creatures that inhabit the aquarium. Cleaning live plants is also easy, you can take them out of the aquarium and wash them under tap water.
How To Clean Aquarium Plants - 6 Methods
Note: It isn't advisable to clean your plants with tap water, this is because of the chemicals most likely present. However, if you are certain your source doesn't have harmful chemicals, feel free to use tap water. If you can't use tap water, there are other options like distilled water, well water, or rainwater. Even bottled water can be used.
1. Use Your Hands
Using your hands is the first method to try out. I prefer this method because I do not have to use chemicals or any other substance that might probably harm the fish in my aquarium. Also, I do not want the plant to die off.
All you need to do here is take out the plants from the aquarium, you can do this by inserting your hand inside the aquarium and pulling the plant out of the substrate. Be careful not to pull too hard, pulling too hard might damage the roots.
After pulling the plant out of the aquarium, place it on a sieve or bowl, take the bowl to where you have tap water. Open the tap and gently use your hands to rub the plant, removing all the debris stuck on it.
I use my forefinger and thumb to do this and sometimes add my middle finger when I feel like it. This method works great for both live and artificial aquarium plants.
Note: Do not use soap
2. Toothbrush
Sometimes the accumulation of algae or dirt might be impossible to get rid of with your bare hands, for this, you will need to use a tool that will help, a toothbrush. If the hand technique doesn't work, this should be your next option.
For this method, you won't need any chemicals or soap. Just a toothbrush would do. However, you'll need to get a soft toothbrush, hard ones might damage the plants in the cleaning process.
Now here's what to do; slowly remove the plant from the aquarium, if you have snails and other small creatures, you would wanna check that they aren't attached to the plant, if they are, remove and toss them back into the water.
Place the plant(s) in a bowl, take the bowl to your sink or bathtub, open the tap halfway and let the water hit the plant directly, use the soft toothbrush to gently scrub off hard debris on the plants. Remember, you need to be gentle with this approach, else you will be doing more bad than good to your aquatic plants.
Note: Do not use an old toothbrush
3. Bleach
Here's another method you can use to clean aquarium plants. You will need to pay rapt attention to the procedures before trying them. Household bleach can destroy your aquatic plants in seconds. But not to worry, the type of bleach used here shouldn't ruin your plants.
What you'll need;
2 tablespoons of hypochlorite bleach
Container
8 Liters of water
sodium thiosulfate-based water conditioner
Instructions
Pour 3.8 liters of water into a container.
Add only 2 tablespoons of hypochlorite bleach.
Give it a good stir and allow it to sit for a minute.
Remove the plant from the aquarium and Insert the plant in the solution for 3-4 minutes.
Take the plant out of the bleach and use your hands to gently rub off algae or dirt.
Soak the plant again but this time in a clean bucket of water for 10 minutes.
In another clean bucket, add water and treat with sodium thiosulfate-based water conditioner.
Soak the plant again in the conditioned water for 5-10 minutes.
Remove the plant and thoroughly rinse it with tap water.
Allow the plant to dry completely before placing it back in the aquarium.
Note: Do not use gel or scented bleach, also rinse the plant thoroughly before placing it back in the aquarium.
4. Algae Pad
An algae pad is specially made to scrub off algae. Besides using this tool to clean your aquarium, it can also be used to get rid of algae on your plants, both live and artificial. If you are scared of using the bleach method, you can try this method.
All you have to do here is take out the plants from the aquarium, if you are dealing with live plants, you would want to do this very carefully so you do not damage the roots of the plant. Without using soap or any liquid detergent, place the plant under running tap water and gently use the algae pad to scrub off dirt from the plant.
Depending on how dirty your aquarium plant is, you should be done with this process in about 20 minutes or less.
5. Vinegar
Vinegar may seem harmful however, it is one of the best methods of sterilizing live and artificial aquarium plants.
What you'll need;
1 cup of vinegar
1 gallon of water
Toothbrush
Container
Instructions
In a clean container, add 1 cup of vinegar to 1 gallon of water.
Stir and let the solution sit for 1 minute.
Remove the plant from the aquarium and place it inside the solution.
Allow soaking for 3-7 minutes.
Rinse the plant gently using clean water while using a toothbrush to remove dirt.
Soak the plant in freshwater and allow it to sit for 5 minutes.
Bring the plant out and allow it to dry before placing it back in the aquarium.
Note: Do not intermix different solutions from different methods, doing this might be harmful to you, the plant, and your fish.
6. Hydrogen Peroxide
This method works as well as the bleach method. Be careful not to use the wrong mixture, doing this might destroy your aquatic plant.
What you'll need;
5ml Hydrogen peroxide
1 gallon of water
Instructions
In a clean container, add 5ml hydrogen peroxide into 1 gallon of water.
Soak the dirty plant for 3-4 minutes.
Bring it out and rinse thoroughly but gently with clean water.
Note: Soaking the plant for too long in the hydrogen peroxide solution might damage the plant. 3-4 minutes is okay!
Final Words
We have come to the end of this article on how to clean aquarium plants. All the steps listed above can be used for live and artificial plants. Just before you leave you can check out essential tutorials like how to clean aquarium gravel and how to clean aquarium sand. We even have an amazing guide that shows you how to clean aquarium glass white residue
I hope this article has been helpful to you. Thanks for stopping by! Feel free to ask questions or contribute via the comment section below.