Aquariums are awesome to look at, but decorating your fishy's tank can be quite a challenge. This is because you have a lot of options to choose from when it comes to decorating your aquarium. Can't decide which one will suit your taste and needs? Try building some DIY Aquarium Decor before resorting to the pricey stuff.
In case you missed it, we have a full article on DIY aquarium caves that you can make for fish to hide. We also did a compilation of the best ways to light up your aquarium, check that out too. Making a DIY aquarium decor isn't a hard thing to do, without spending a lot of money and with just a few household materials, you can create something amazing for your aquarium. Are you ready to build? Let's begin!
1. Small Aquarium Decorated With Animal Dolls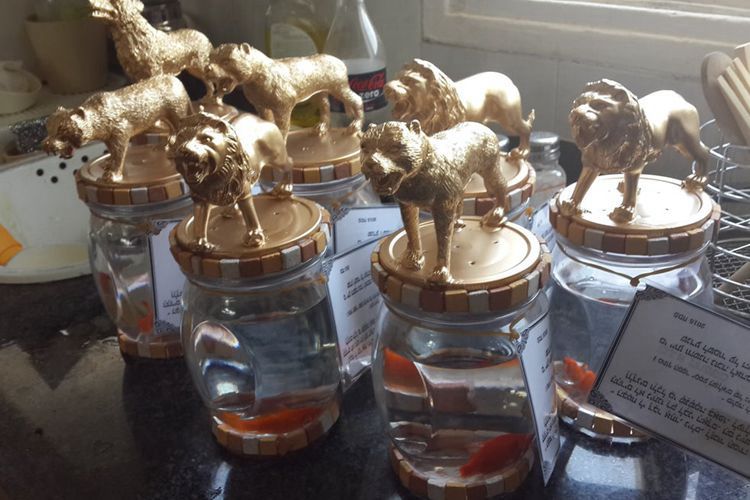 If you have a friend that loves animals, you can give them an aquarium decorated with animal dolls and mosaics as gifts. This mini decorated aquarium was made using a glass jar with a tight lid. Since the cover is closed, you can make holes on the cover to allow ventilation.
Now, get some little animal dolls and glue them on the perforated lids. After this, paint the cover and the animals in gold. After painting, the next step is to attach mosaics to the cover and the bottom of the jar for decorations. Once the decoration is done, the next and final step is to fill the jar with all the aquarium animals it can contain and add water. instructables
2. DIY Aquarium Decor | Fish Tunnel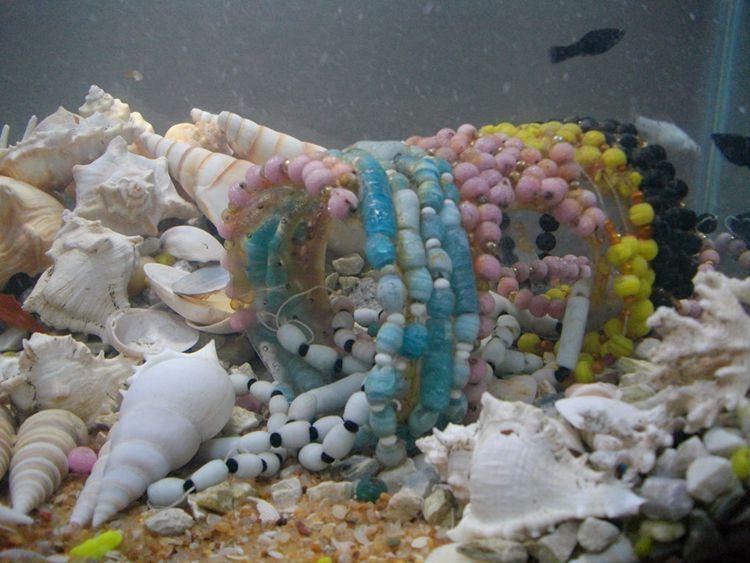 If you have an aquarium in your house, you need to check out this decorative fish tunnel! A fish tunnel is another way for the fish and other aquarium animals to have fun. You only need a coke bottle, scissors,  beads, and glue for this fish tunnel. Let's see how to put it together; cut the top and bottom of the bottle to give a hollow cylinder. Then, cut a kick off the side of the cylinder. String the beads into a thread and wrap it around one of the openings of the cylinder. instructables
3. Aquarium In Lightbulb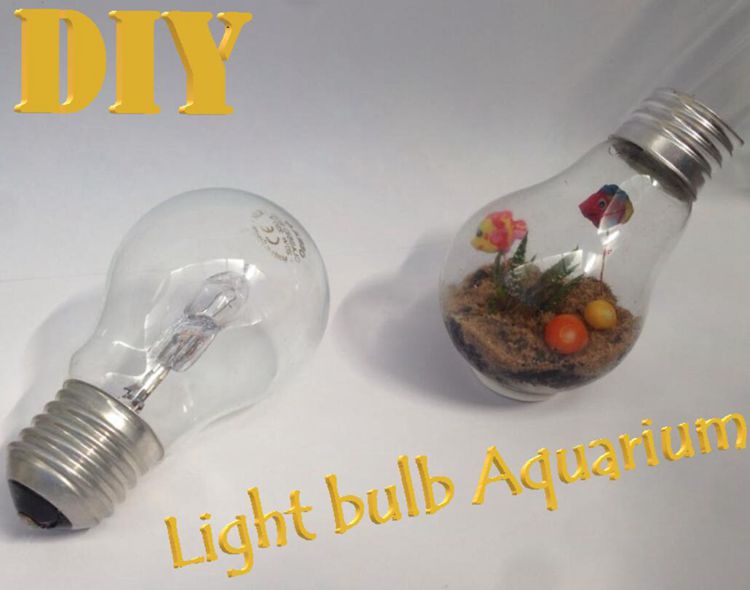 What do you think about an aquarium in a lightbulb? Amazing right! The lightbulb gives a transparent spherical view of your aquarium. However, you will need to open the lightbulb. This requires a lot of attention so that you won't break the bulb. Gently use a hammer to break off the bottom part of the bulb. Remove everything inside the bulb and clean it thoroughly with a cotton ball. Click the link for further steps. instructables
4. Concrete Aquarium Decor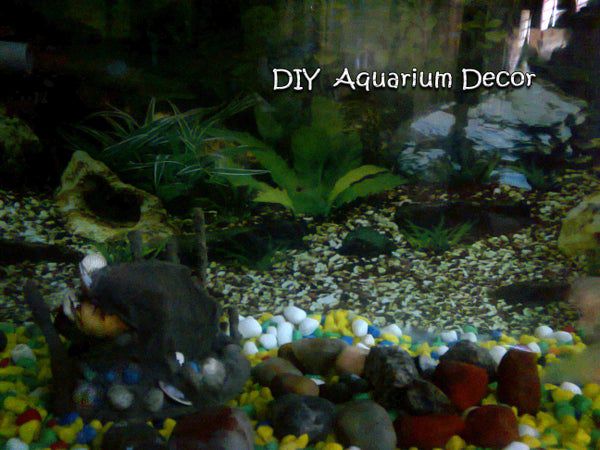 The purpose of using paper for the base of this aquarium concrete decor is that it makes lifting off the décor easier after everything is done. Here is how it goes; place a sheet of paper on your work table and pour done cement on it. Dip a coconut shell into the cement, ensure all shell parts are covered with cement, and then use a paintbrush to make a rock texture. Then, add some decorations such as coral and oysters shells to the cemented shell. instructables
5. DIY Simple Aquarium Castle
To make an aquarium cave with cement, you need a mold. Get a long CD plastic, cut holes at some strategic places for cave openings, and turn it upside down. After that, mix the cement with adequate water and use it to mold the plastic. Add two layers of cement to it to make it thick. Then, add the cave top and use a stick to draw patterns on the whole cave. Allow it to dry scorched; then, you can remove the plastic.
If, after removing the plastic, the cave comes to fall apart, you need to amend the cracks with more cement. After this, you can paint the cave sealers, and you're good to go. However, if there are other decorations you want to add to the cave, you can go on and add them.
6. DIY Fisherman's House Diorama Aquarium
The only word that qualifies this fisherman's house is excellent! It looks so unique and natural from the aquarium. It is made from cardboard and small wooden sticks. The house was first built in a cardboard box as a template.
The cardboards were removed as the building proceeded. In the end, most of the cardboard was later used for roofing, while all the house walls were made from sticks. The aquarium itself was made from ceramic floor tile and acrylic glass. The aquarium was out together with silicone glass sealant. The house was built to have a long leg to stay afloat inside the aquarium.
7. Aquarium Cave
Here is another great idea on making an aquarium cave by yourself. Unlike the first mentioned cave, this requires a long list of scrap materials and tools to make the design beautiful and easy. The list includes dried coral, artificial leaves, tape, wire, cardboard box, cement powder, mixing bowl, long nose player, scissors, palette knife, and pencil.
After gathering all these materials and tools, the next step is to start making the foundation of the cave. If you follow this video tutorial, you will learn to add all these materials to the cave once you're done molding.
8. How To Make PVC Aquarium Decorations
Always take caution while working with any DIY project, significantly while cutting or making grooves! For this PVC aquarium, you need three lengths of PVC pipes; the lengths include 6.75", 5.5", and 4".
Then, use an angle grinder to make a groove across each piece's size. After that, use sandpaper to further rough the surface of the PVC pipes. This will give rooms for the paint to stick well to the pipes. Use a sponge brush and black acrylic paint as the first coat, then use dear brown paint for the second coat. Ensure each of the coats gets into the grooves.
9. Lighthouse Decoration For Aquarium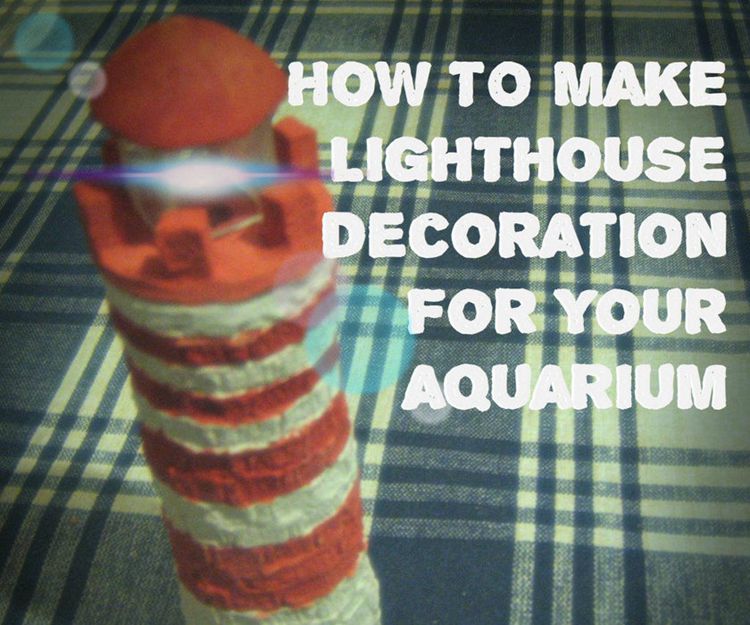 This lighthouse decoration is going to look amazing in your aquarium!   The materials required for the lighthouse include slats, pencils, wooden sticks, files, wood glue, clay, and caliper. After gathering all these materials, the next step is to create a form that will help you mold a brick. You can make as many bricks as you want for your lighthouse. This can vary with the size and length of the lighthouse. You can follow this guide to arrange the bricks for the lighthouse. instructables
10. Aquarium Gumball Machine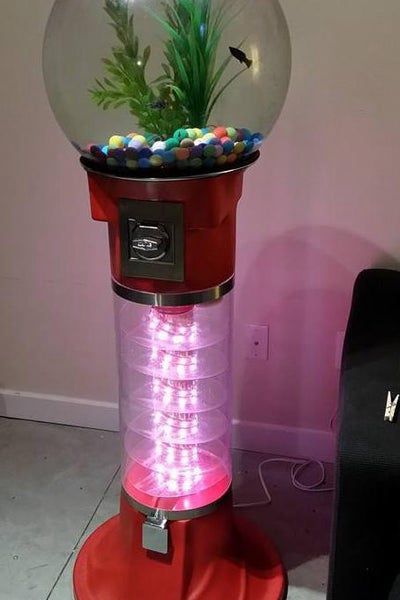 See here how to double your fully functional gumball machine as an aquarium! Get a gumball machine and take everything apart. Sand the parts and paint in your preferred color. You can add shimmer metallic as the first coat and a high gloss spray paint as the second coat. Tighten the globe that will contain water and attach a filter and air pump. After connecting everything, assemble the parts and decorate them as you like. instructables
11. Aquarium Cave DIY
This aquarium cave is made out of chimney flue! The chimney flues are made out of the same stone terracotta pots they are made from. The chimney flue can also be called Cichlid. They are mainly used as firestone or as top of the chimney, but they can also work wonders in the aquarium.
One piece of the chimney flue is very heavy, but it is very functional. You don't need to do anything on the chimney flue, like cutting or making holes. It already forms a cave on its own. All you need to do is lift it and put it inside the aquarium tank sideways.
12. How To Make Aquarium Coral Structure
The materials required for this aquarium viral structure include a plastic bottle, metal net, aluminum foil, wire, white cement, Asian paints, enamel paints, and touchwood. The first step is to cut three small circular rings from the plastic table. Join the three rings together side by side to a triangular shape, then use wire to attach foil paper around each circle. After this, you can start painting.
13. DIY Simple Concrete Bridge
Here is another great idea on creatively using concrete for aquarium decor! Use a drink can as a mold to make an overhead bridge. You can design the bridge as shown in this guide or any other way you like. Then, mold a big circular ring. Once they are dried, place the bridge in the circle and add all sorts of gemstones around them.
14. 3D Rocks Decor For Aquarium
This 3D rock will look great in your aquarium! It is a mold with a mixture of cement and water. It is incredible to make such a unique piece of 3D decoration within a short period. After molding the rocks, you can paint it with any paint you like and decorate it further with small pebbles mentioned in this video tutorial.
15. DIY Tree For Aquarium
If you need an original decoration for your aquarium, you need to watch this video tutorial. All you need to do to have such fantastic decor is to get a bottle and cut off the top and bottom. After cutting, take the middle part and cut through it; then cut out three circles. Make a flower using the three circles and repeat the process until you have enough flowers. The end product of this is a tree.
Conclusion
There are many ways you can decorate your aquarium! The above-listed guides are incredible ideas on how to decorate your aquarium with little or no cost. All the ideas were unique, and none of them required power tools. Many of the ideas even use scrap materials and make upcycling easier for you. Check them out once again and get to work.