Do you love shooting? If yes is the answer to that question, you should consider building a shooting bench. How hard is it to build one? It will take some hard labor and resources, but it will be worth it in the end.
We found 15 DIY shooting bench projects that you can DIY. Some of them are woodworking projects, others are concrete and metal. The choice is up to you.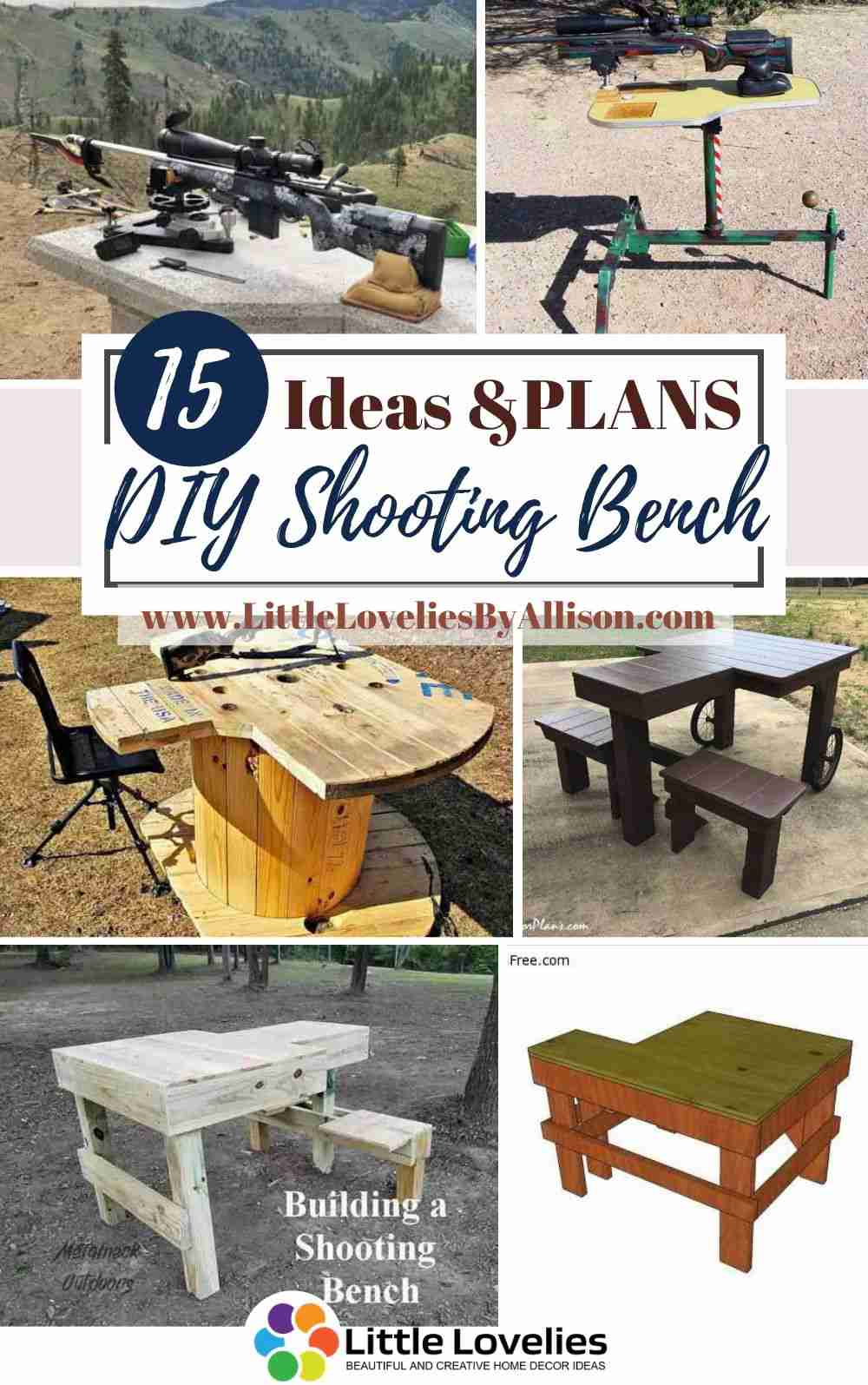 1. Free Shooting Bench Plans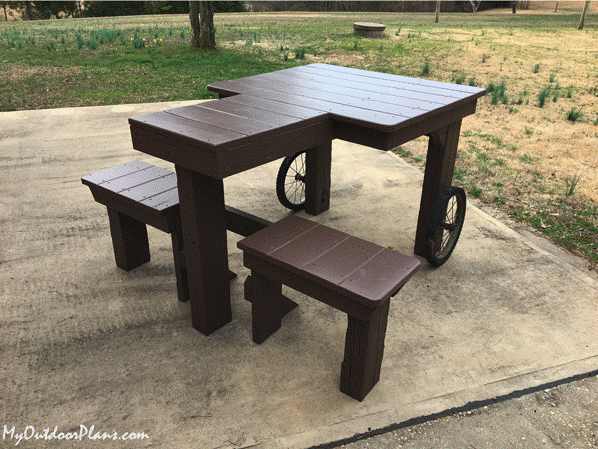 Here's a good shooting bench made of wood and an iron wheel. The iron wheel helps for easy movement of the shooting bench. The process is super easy and affordable. All you need are old wood pieces, two wheels from a lawnmower, and a wood paint of any color.
2. DIY Shooting Bench
Here's a strong and steady wooden shooting bench to build; all you need are some plywood, miter saw, drill, screws, carriage bolts, wheels, and other materials that are quite affordable to purchase. The first step to build this is to cut the wood into their desired sizes with the right dimensions. You're not going to be making the parts separately like other video tutorials; you're going to assemble the pieces at once as you build.
3. DIY Portable Shooting Bench Rest
This shooting bench is portable enough; you can also easily carry it around; you can fold the legs and move it to another position. Simply get a metal sawhorse at home depot or somewhere else, get plywood, and use carriage bolts to fix the wood on the sawhorse. This bench is strong enough to carry the gun's weight and sandbags that you will place on it.
4. DIY Adjustable Shooting Bench
Before you start buying any wood, you need to illustrate the shooting bench on paper, how it will look, piece by piece. Then, start working, cutting out the wood to its desired shape. You need plywood, a miter saw, and other essential tools. The process is easy to follow and does not require top-notch carpentry experience. The bench is not somewhat adjustable like what you might have in mind, but it's still great in its own way.
5. DIY Concrete Shooting Bench
If you wish to perfect your shooting accuracy and ability, you need stable shooting support; a concrete shooting bench is an ideal shooting bench that stays firm on the ground. In this tutorial, you'll learn how to build a 6-foot x 6-foot pad with cinder blocks, the support, and a concrete slab on the top. The bench is relatively low, but you can add more cinder blocks to increase the height if you want something higher. The only downside is that it might lose its balance.
6. How To Build A Shooting Bench Table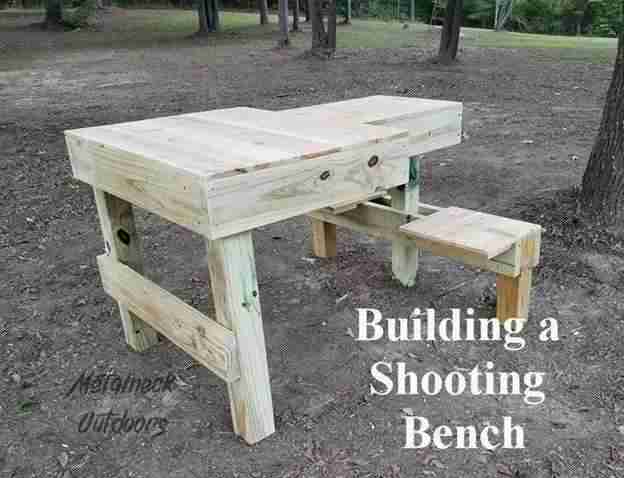 We found another fantastic DIY shooting bench that you can DIY using a couple of tools you might already have. In this tutorial, the creator uses Box of ¾ outdoor decking screws, Box of 3 ½ outdoor decking screws, 6 - cedar decking boards, 4- 2x6x8, 2- 4x4x8 also, and a couple of other materials. The guide will show you how to piece all of these materials together.
7. DIY Shooting Bench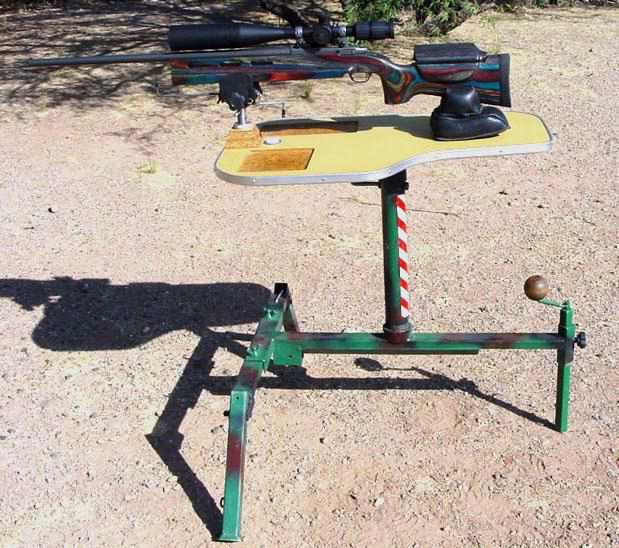 This is a super cool shooting bench; it is small and portable but also quite heavy. It is made of steel, conduit, iron pipe, and other materials.  You will need grinding equipment, a drill, and a welder. This shooting bench is built in a way that you can easily dismantle it, fit it into a large duffle bag, and carry it around. You can easily assemble it and attach it to the back of your car.
8. How To Build A Shooting Bench
You can make this nice wooden shooting bench within 24 hours. You need plywood, lumber, wood glue, screws, drill machinery, carpentry square, sander, miter saw, hammer, tape measure, and more. The first step is making the top frame of the bench then, building the legs, and finally fitting all the pieces together. The process is relatively easy to follow if you know your way around woodworking.
9. DIY Cheap Shooting Bench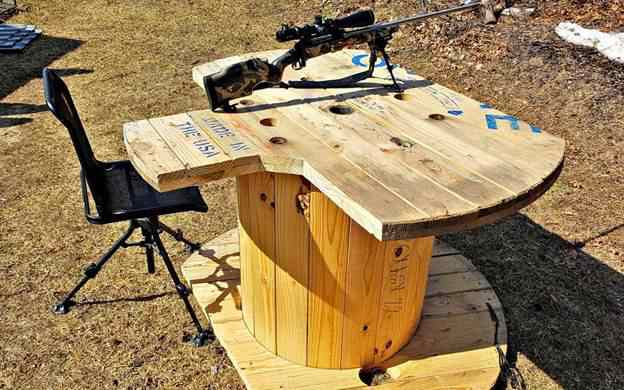 If you are looking for a portable shooting bench, then do not try this project. This bench is large and heavy and not easy to carry. If you can find someone who can give you an empty wooden reel at no cost then, that will be great. Your job is to cut out pieces of the reel that you don't need with a saw to give the bench the hope that it should have to serve its purpose as a shooting bench.
10. DIY Concrete Shooting Bench
This is one shooting bench that you can never move even if you wanted to. Why? It is made of concrete. This project will cost you $300, but it is relatively easy and straightforward to build. Here is a rundown of the thing you need.
You need a concrete base that will cost you $93, top concrete or$40, concrete blocks for $19, concrete pavers for $12, Remesh for $19, mortar mix and form. The first step is to build the concrete slab, the top then, mix concrete for the base and let it dry; this will take days to finish.
11. Portable Shooting Bench Build
This portable shooting bench is about 24 inches wide and 30-inches long; this was also made with a lid around the edge so that oose ammunition won't easily roll-off. Now, what actually makes it portable is that the legs are folded at the back of the benchtop. This is something that you can even put under your armpit and carry around, find a good location, remove the legs, mount it, and start shooting. The only important material you will use is a sheet of ½" Baltic birch plywood. Cut it to size described in the video and create the legs from the same wood as well. The only downside is that it might not carry a heavy gun's full weight when shooting because it is light.
12. Low Budget Shooting Table DIY
Today you're going to learn how to build a low-cost shooting bench for the range. The process will take less than a day, and it's simple. For just $60, you can build this with scrap wood board and the legs that cost about $39 from Amazon. The legs are very portable and foldable. It's a simple and great way to start your shooting exercise. The bench board is 40-inches wide, and it can carry the size of a standard rifle but might not carry the weight of a  heavy-duty gun or machine gun.
13. How To Build A Shooting Bench From 2x4's
Using 2x4's, you can build any shooting bench you want; here is how to begin. First, cut the wood into several sizes; the dimensions were not explicitly given in this video. After cutting, use screws to assemble all the pieces. Start with the top of the bench, build your way through to the legs, and then, finally, add the top wooden slab that must have been neatly carved out.
14. DIY Shooting Bench
This is a cool left-handed and right-handed shooting bench. It is easy to build and can be done within a day. It is also a stable platform to shoot from, and you will like it. To start out this project, make a quick but clear sketch of the shooting bench, and start cutting out your wood to the right dimensions.
You can use any kind of wood that you have; there is no specified wood for this tutorial, but ensure the wood is strong and straight. The calculations of the dimensions might get confusing, pay attention to all the measurements. It is the right calculations that make this bench so stable.
15. How To Build A Shooting Bench
You are looking at getting a cedar board for this project, a durable one at that. You should also polish the wood to make it smooth and free from wood dust. The process starts with you working on the legs first.
Split the cedar wood board into two halves and cut it to the length you want; there is no detailed measurement; you can choose how tall and long you want the board to be, although the size used for the shooting benchtop makes it 4-feet long and 28-inches wide. It's a great shooting bench if you follow the guide correctly.
This video tutorial will guide you on building the shooting bench from scratch using a sawmill to cut the woods and create a simple design top. The shooting bench is small in size and comfortable for two people to carry.