A bow press is a mechanical press which flexes the bow's limbs to take tension off the bowstrings and cables so it will be easy to perform maintenance work. There are a couple of easy ways to make this bow press and it will save you a lot of money.
There are a couple of fun DIY bow press projects that you can adopt for your own work. You can choose to use a steel bow press, portable bow press, clamp bow press, wood bow press, or a bungee cord attachment bow press. These ideas will surely produce results.
1. DIY Bow Press
This is a metal bow press where all the pieces are metallic. It has a lot of strength and tenacity but if you don't do it the right way, you may end up having issues in the long run. This provides mistakes that can be easily avoided.
The first step is to have a good plan. The hardest part of making this bow press is the fingers. If you, by any chance have a CNC machine then this can help avoid a lot of glitches. Take a piece of metal and cut and bend then you weld. You will have to make a plywood template first.
2. How To Build A Bow Press
This is a bow rack for the portable press which is made of wood and some nice finishing. You will need to do a couple of measurements and sanding so your bow press can stay in shape.
The first step for this is to cut out where the bow will sit onto. You will need to do some measurements. You will also need to cut out a bench where the bow can sit nicely as well as some side flaps. When you get your frame for the bow, you will need to assemble it properly. Mark out the center from the support arms and cut off. The next step is to install the carpet, finish, and set the bow.
3. How To Make A Cheap Bow Press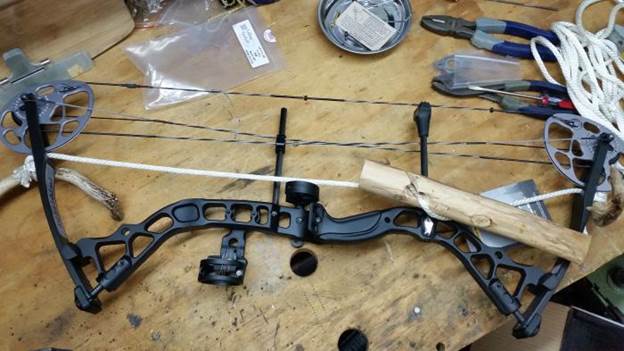 If you shoot recurves and longbows then you may not really need the work of a serious bow press. All the same, this is a pretty cheap and easy to do bow press that will certainly fit your needs. This is quite risky to come up with but will have to bear the burden.
The first step is to tie a very sturdy rope to two pieces of deer antler. You can also go for wood. The rope will go through the split in the limb. Get the limbs close together and secure. Attach loops and make sure it doesn't slip. Once you are done, let the ratchet strap down.
4. DIY Bow Press For $25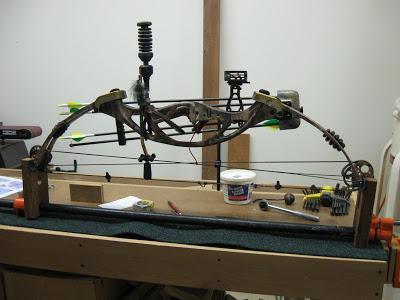 This wooden bow press can easily come for just $25. To get this done, you will need a pipe clamp, black pipe, oak, heavy-duty adhesive, carpet, and wood screws.
You will need to mill the wood to the final dimension. Drill a hole from the bottom into each block. Drill another for the cam channel then form it. Cut a deep saw kerf into the face of each block from the top. At this point, you will have to form the bottom of the notch and apply the carpeting. Drill holes and install the screws. Then build a base for the press.
5. Homemade Bow Press
If you are shooting compound bows then it is really important you get a bow press. Buying one may be pretty expensive, so I will encourage you to make one. This is a wooden bow press that takes a lot of precision to make.
The first step here is to cut the arms and make holes with a jigsaw. Make the necessary layer to place your bow press on. You can test it to be sure it is not stiff.
6. DIY Bow Press
Making a bow press can be pretty much easy especially if it is a wooden one and you are sure you can work with wood. You don't need to hunt for wood, you can use scrap wood for this project.
Arrange the wood you will need to work with and cut out your pieces. The edge of the piece will be a little bit pushed away from the edge so there can be a balance for the bow. You can choose to divide the wood into two if you wish for extra balance. Don't forget to drill some holes in the middle of the edges so it can rest in well.
7. $10 Bow Press
Have you ever thought of making a really less expensive bow press? This can actually work for you as you will get this for about $10. The materials are actually affordable but you will have to get the best of them so you will not have it snap and break off.
You will need some hard twines to connect the bow parts together so it will stay steady. For the edge, you can connect some pieces of strong wood so it can keep the bow in shape. A clasp will be needed to join the two sides above the bow. This time it is not on the base.
8. $35 Bow Press Build
If you need a more sophisticated wooden bow press then be ready to spend about $35 to get it. This can be used for multiple bows and it is built to be adjustable.
The materials to be used for this are the home depot bolt, threaded rod, wing nut, washers, nut, closed-end wrench (make sure it is bent at an angle), and weld. Cut out the different pieces of the home depot. Drill holes in it and assemble. Fix the washer and wrench on and exert a little bit of pressure on it to make it adjust.
Conclusion
Before choosing a DIY bow press from my list, you need to weigh the differences and what you really want. There are hard DIY bow presses and the not so hard ones. Also, if you aren't looking at spending much, I would recommend going for the cheap DIY bow press.
Feel free to share your thoughts in the comment section.