Building an archery target is quite simple to do. You can make an expensive one that would last for a long time, or you can make a cheap one that will still serve its purpose.
We have put together a list containing 14 amazing DIY archery target projects that you can make from the comfort of your home. You'll need a couple of supplies for this project.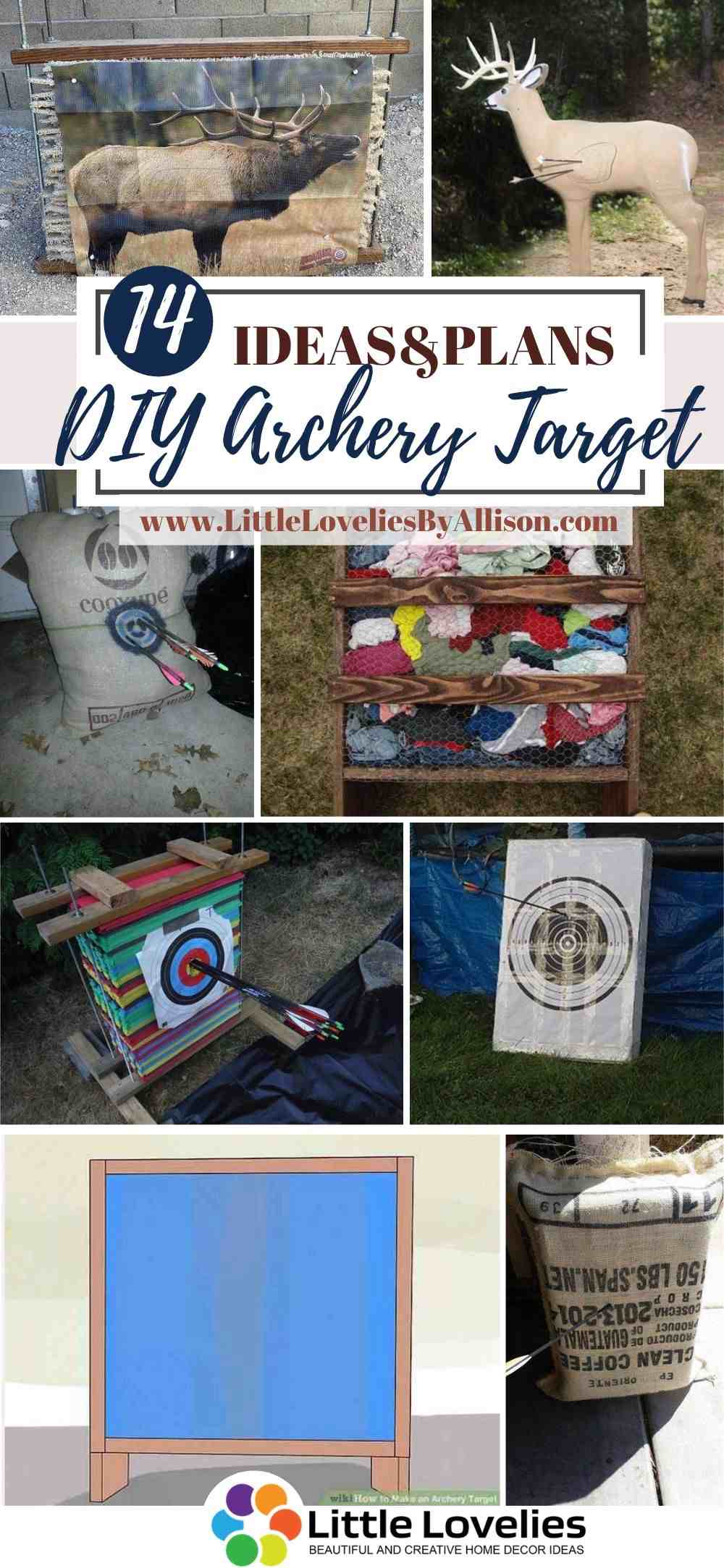 1. How To Make An Archery Target
The process of making this Archery target is made as simple as possible. You will need a few materials to begin, a cardboard box, duck tape, plastic or wrapped paper, staple gun, nails, and chicken wire.
For the cardboard box, it needs to be either 18inches (45cm) thick or 12inches (30cm) thick. The thickness depends on the velocity of the arrow that you will be firing. A high-velocity arrow will require more thickness. You will also be stuffing the cheap box target with the wrapped and plastic paper.
For the duck tape, nails, staple gun, and chicken wire, you will be using those items to make a new Archery target that will be made of wood, using the chicken wire to cover one end of the wood structure. You will now have two functioning Archery targets.
2. DIY Archery Target
You can easily make this at home any time you want, all you need to get this done are a lot of square foam floor mats of 24", you can get this at a cheaper rate at craigslist. You also need a box cutter, circular hand saw, power drill, an auger drill bit, and other important items.
Once you have these items ready, you can begin packing the foam together. Note the foam floor mats that you will purchase have to be the ones that look like a big puzzle piece. The next thing to do is to cut the foam into two pieces and stack them up together. Then, make a wood structure that will carry the foam floor mats, and your Archery target is ready.
3. DIY Homemade Archery Target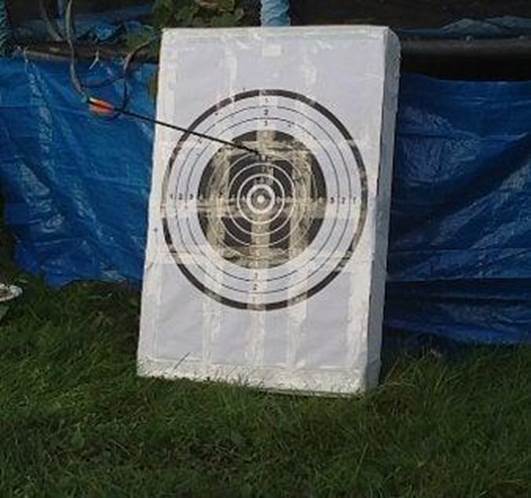 From the comfort of your home, you can make this Archery target with just a few materials that you can easily get at a hardware store near you. You need some foam mats, which will cost you about $6, 2 sheets of dark color polystyrene which can go for $12, a lot of duct tape, packaging tape for $5, a box cutter, and scissors.
After you have assembled these materials in a simple method, within a few minutes, your Archery target should be good to go.
4. How To Make A Foam Archery Target
It's one of the easiest processes so far, First of all, the items needed for this job to be done smoothly are easy to come by. Then that will be followed up by the purchase of a few simple items and then, creating a simple foam Archery target.
As you will see in the guide, you need some hard foam for the job, it is recommended that the foam be thick enough for high-velocity arrows. If not the arrow will just pass right through the foam. The next and important thing that you need is a cardboard box, this will enable you to store the foams inside while you shoot your arrows to test the strength of the foam.
5. DIY Archery Target Under $100
With less than $100, you can make any Archery target that you want, it's possible and now you're going to learn how. Cardboard seems to be one of the essential materials that you need to get started. The Archery target you are making has to be thick, like 12 inches thick to be able to stop an arrow. Stack all the foam boards together, let it be 4 foot by 4 foot. Then, take it outside to complete the setup and test your new Archery target.
6. DIY LIfetime Archery Target
This will be a great lifetime Archery target. If you have some pieces of wood lying around you can use them to construct a frame. All you need are some durable wood, chicken wire, tarp or burlap, kiln-dried boards, discarded clothes, or any plastic or hard object.
You will use the wood to create the frame that will have two openings, use the chicken wire to cover both ends of the frame and then, create a small gap at the top where you can easily fill in discarded clothes and other unwanted hard objects.
7. DIY Archery Target
I know it can be exhausting when you're constantly buying Archery targets. With this guide, you don't have to spend that much on an Archery target ever again. Here is a list of some items you need to buy, measuring tape, sandpaper, marker, utility knife, crosscut hand saw, power drill, a closed-end ratchet wrench, pencil, and many others.
Some of these materials can even be found at home, but if you don't have them, any hardware store near you should be your next stop.
8. Homemade Archery Target From Scrap Materials
Instead of buying an Archery target, you can simply make one at home with some scrap wood and other garbage that people just throw away. It's not expensive and it's easy for anyone with or without crafting experience to make it from scratch.
You can get an old packaging bag and use it as the target face, and staple it to the wood frame. You can also get wood from old chairs or furniture that you aren't using again, ensure to take out all the nails before you begin to cut out the wood to the size you want.
9. DIY Homemade Archery Target
Anyone can make this cheap and easy homemade Archery target. All you need are some old rags, towels and thick clothes, a magic marker, and electrical tape, and you can create a fully functional Archery target. Proceed to get an empty corn sack, fill it up with the old rags and towels then, compress it while you seal the mouth of the sack with the electrical tape.
Use the marker to make as many bullseyes as you want and test your new homemade Archery target with some arrows.
10. DIY Low Budget Archery Target With Cardboard
You don't need to spend so much on an Archery target when you have a cardboard box somewhere at home. You can get a large cardboard box or something moderate enough. Your next step should be to measure the face of the box and cut out 33 or more pieces of cardboard to fill the cardboard box.
You can glue some cardboards to one face of the box from the inside, and glue other cardboards to the other face of the box from the inside. Then, go online and download an image of an Archery target, print it out, and glue it to the front of the box, using it as your bullseye.
11. How To Make 3D Archery Target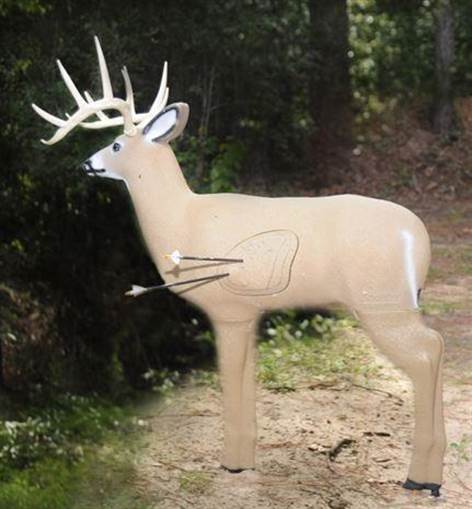 Are you looking for an Archery target in the 3D format then, you need to follow this guide. 3D Archery targets are a bit expensive as of late, so this might be your best option yet. The quality of the 3D Archery target that you will make might not be as good as the ones you could buy, but it also depends on your budget.
To buy a 3D Archery target it might cost you over $200, but with $5 you can get a hunting decoy turkey and use it as your Archery target. You can get a marker to create bullseyes on the body of the decoy. You can also choose to repair some old, used 3D Archery target.
12. Cheap Archery Target DIY
Build the cheapest Archery target with the few materials you have. With just about 8$ you can get the necessary items to create this Archery target. To build this at a cheap rate you need anima bleeding chips, which will cost you about $7, a milk jug cover or lid, burlap sack, for just $1.50. Fill up the sack with different things that will make the sack dense enough to stop the arrow.
13. $1 Archery Target
With just $1 you can make as many Archery targets as you want. Step one is acquiring the items needed for this Archery target. You need to have a burlap sack, you can find one at a feed store, cardboard, shrink wrap, binding, and spray paint, but the paint is optional. Stuff the sack with old rags and clothes. Seal it and make a bullseye mark with the spray paint.
14. DIY Archery Target And Stand
An Archery target can be made to be free-standing or you can just decide to make an Archery target stand as you are going to learn to do so with this guide. Get a pinewood and cut it out to your desired size. The process is easy and you don't have to be an expert in craftwork to create this from scratch.
After the construction of the Archery stand, get a polyurethane spray foam, cover one side of the Archery target stands with hard foil paper, and fill it with the spray foam. Print an Archery target image and staple it to the stand and you will have a great Archery target and stand to work with.
Conclusion
We have come to the end of this article on the best DIY archery target. Most of the projects here are cheap and pretty much easy to make. I would strongly recommend building one only for outdoor use.