Your living room is huge and you want to add a little bit of decoration to it. If you look in the nearby home improvement store, there are many beautiful mirrors you could choose from. One frequent choice is a flower mirror, which gives your living room a fresh and natural look. However, if you search for "DIY flower mirror" online, you'll see that the available project guides are very detailed and require some time and effort.
Light and airy flower mirrors are one of the best ways to bring a touch of spring into your home. This easy DIY flower mirror project compilation is sure to brighten up any room! In a few steps, this article will show you how to convert an ordinary-looking mirror into one of the best DIY floral mirrors you have ever seen.
1. DIY Flower Mirror
Creativity will always be at work when you meet a fantastic DIY ideal! Imagine this beautiful flower mirror sitting on your dressing table. This is absolutely beautiful and very easy to make; all you need to do is to get a mirror, a hot glue gun, and all kinds of flowers you want to use. Lay the mirror on the table and glue the flowers around its edges. sweetteal
2. Full-Length Flower Mirror For Girls
The mirror is one item every lady/girl wants to have in their corner! Everyone wants to see how beautiful or how big they've become. You will find in this guide how to decorate your mirror with some kinds of flowers. Click the link below for details. weekenddiyprojects
3. Modern Flower Mirror DIY
When you want to make a flower mirror, you don't necessarily have real flowers; you can carve some flower patterns from wood or other materials that you find interesting. This flower mirror is made from a small round mirror and a wooden board. The edge of the wooden board is carved like that of the flower. abeautifulmess
4. Fresh Flower Framed Mirror
Using Fresh flowers for a DIY flower mirror is not very common, but it is absolutely unique and beautiful. Here is the list of flowers required for the mirror; pink and white peonies, double white tulips, white spray roses, thistle, and light pink wax flowers. With all these combinations of flowers, your mirror will look colorful. papernstitchblog
5. DIY Flower Mirror With Lights
Choosing the right Colors of flower you want on your mirror can sometimes be tiring because there are many beautiful colors to choose from. After choosing the flower, the next thing to do is get the mirror ready, and the LED lights. First, attach the flowers to the mirror's edges, then connect the LED lights under the flowers.
6. How To Make A Flower Mirror
It will be nice if you get a framed mirror for this design. The frame will provide a space for the flowers to stay instead of on the mirror itself. All you need to do is cut off the heads of all the flowers and glue them on the frame to cover it up completely.
7. Easy And Affordable Flower Mirror
Long flowers make it easier to make a flower mirror, especially if you want to work with a full-length mirror. Instead of attaching the flowers one after the other, all you need to do is attach the flower at some strategic place, and if you want everything to be tied down, it becomes easier.
8. Quick Flower Mirror
The best type of glue you can use on your mirror is a hot glue gun; it is strong and sticks very well. First, get the size and type of mirror you want. Then, get the flowers and a hot glue gun. Now, you can start attaching the flowers to the edge of the frame one after the other.
9. How To Decorate A Mirror With Iron Flowers
It would be best if you only made this DIY flower mirror; an iron flower, a mirror, and a hot glue gun. To make the iron flower, you need foam discs to make it work. The work of the foam disc is for the installation of the iron flower. happyhourprojects
10. DIY Floral Mirror Guide
There are many DIY projects you can give out as a gift, and the top option is the flower mirror, especially the portable ones with flowers on one side of it. See the link below to learn more about this fantastic DIY craft. cityline
11. 40-inch Lotus Flower Mirror
Some homes are pervasive to find at least a small mirror framed. This looks amazing; it is made from a tiny mirror with gigantic wooden flowers surrounding it. You can check for the idea of the design by clicking this link. addicted2decorating
12. Anthropology Inspired Floral Mirror
Everyone loves Anthropologie! Well, if you've been admiring and their price has been your challenge so far, why not check out this anthropology-inspired floral mirror; it is so fascinating! The gold color on the flower makes it look more exceptional. Let's see how to make such a pretty picture out of a mirror. Deliciousanddiy
13. Flower Mirror With LED Fairy Lights
Do you have an old mirror? Or is a friend throwing out an old mirror? You can turn this old mirror into something more beautiful than before; paint it, and decorate it with flowers and fairy lights. Here is how to go about this. after getting this old mirror, paint the frame with any color you like and leave it to dry. Once the structure is dried, you can attach the flowers to it. The connection of the LED fairy lights will be the last step.
14. DIY Flower Mirror
For this flower mirror idea, you will need different colors of flowers. Get all the flowers ready and cut off the heads from the branch. Then, attach the heads to the edges of the mirror, and you're good to go. The only instrument needed for this colorful flower mirror is a hot glue gun.
15. Dollar Tree Flower Mirror
Unlike other flower mirrors where you need to rip off only the stem, you need to remove all the pieces attaching the flowers, including the back piece and the small stem holding the flowers together. Once the flowers are in parts, you need a push pin to keep them together and push it down the groove on the mirror frame.
16. $20 Flower Light Mirror
It would be best to use different kinds of flowers for this flower light mirror. However, having a backless flower is fantastic because it will sit well when you're gluing it to the mirror. Asides that, you will need strips of roses, flowers, Christmas lights, and a hot glue gun.
17. Pretty Flower Mirror
The materials needed for this pretty flower mirror include a Mirror, floral wire, floral tape, scissors, binder clips, and some fake flowers. With all these materials and this guide, you will fit these pretty flower mirrors. girlslife
18. Flower Mirror Craft For Spring
Spring is a season that comes with particular energy around fun. Therefore, you should add this beautiful flower mirror craft to your list in preparation for spring. The process is straightforward and cheap. Follow this guide to learn more about the spring flower mirror. cutefetti
19. DIY Saturday Egg Carton Flower Mirror
Arranging flowers around the edges of a mirror requires lots of patience because once one of the flowers goes out of place, it will distort the look. Check out how the instructor carefully arranged the flowers one after the other. acultivatednest
20. Dollar Store Flower Mirror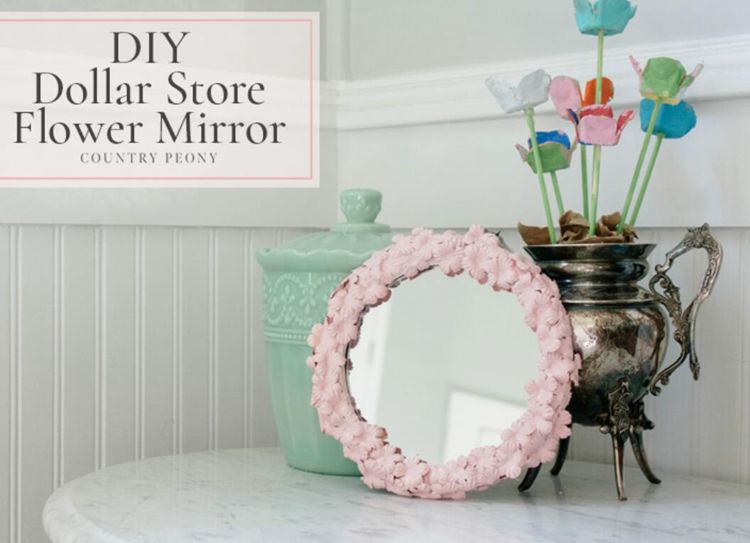 Your bathroom mirror also deserves some pretty makeover! All you need is a small bathroom mirror, spray paint, and some fake flowers. If you were unable to get the color of the flower you want, you can get other colors and spray paint them into the Colors you want. countrypeony
21. DIY Mirror Flower Box
Here is an excellent idea for making a mirror flower box. Turning a cardboard box into this beautiful craft is very simple. All you need is a cardboard box, mirror of different sizes, hot glue gun, foam boards, and flowers.
22. DIY Floral Mirror With Lighting
Making a flower mirror is among the most straightforward DIY projects you can lay your hands on. It can be done as quickly as possible once you have all you want to use. The main idea here is to glue the flowers to the edges of the mirror, and you're good to go.
23. Affordable Floral Mirror Decor
You can attach this beautiful floral mirror to your bathroom! All you need to put the flower mirror together is a bottle of Windex to clean the mirror, a hot glue gun, glue sticks, and E600, all for attachment. You will need many flower varieties to make the mirror come out as colorful as possible. see the link below for further details about the project.
24. Flower Mirror Wall Decor
Decorating a mirror wall with flowers makes it look amazing! You don't need to continue searching for a particular flower color; once you've got the design you like, you can spray paint them into the color you need. After gathering all the materials, the first thing you need to do is spray paint the flowers to the color you want and allow them to dry.
25. Lighted Flower Mirror DIY
Imagine the light reflecting from the mirror lighting up your room faintly? That would look beautiful. All you need to find yourself sitting in this beautiful scenery is to get a mirror, some flowers, and a pack of LED tape lights. Inside the LED box are a power adapter, charger, and remote control.
Conclusion
The mirror is an essential item when it comes to affirmation! You need to affirm your beauty, growth, and every other thing you can search for physically on yourself. The mirror will tell you everything. Therefore, to this incredible item, you decorate it to look beautiful.