A well-laid bed is a first-class invitation to the adventurous world of dreams, easing the transition from a stressful day at work/school to a good night's sleep. For many of us the bedroom is the room we spend a huge chunk of our time when at home.
So, if you are looking for techniques and styles on how to dress a bed and make your bed look and feel like a slice of heaven, we've put together the perfect you. Here I'll give you tips on different principles and styles that have helped me in the past.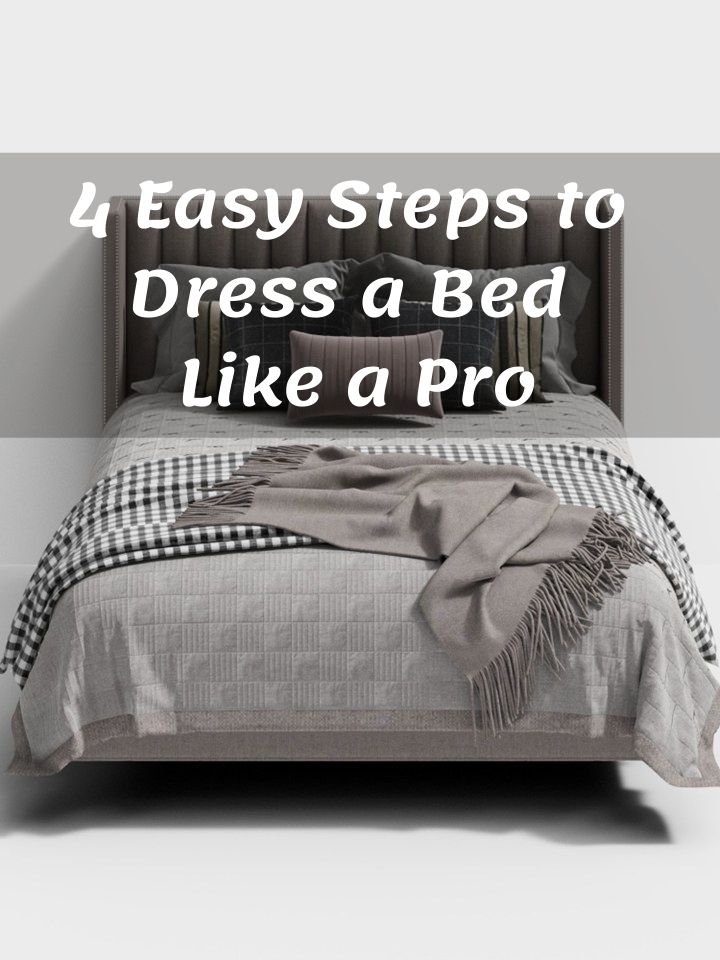 How to Dress a Bed Like a Pro
Here's how you dress a bed like a pro.
First, ensure you get the right size of beddings for the type of bed you own. Next, place a fitted sheet atop the mattress or mattress topper. After doing that, place a flat sheet, the sheet should be folded at the top end.
Then, place and arrange the pillows on the bed. Thereafter, place the duvet, and then the quilt/blanket and add the other pillows and cushions depending on your sleeping position. Finally, top it off with a throw blanket at the foot of the bed.
Tips to Remember When Dressing Your Bed
Dressing a bed doesn't have to be a dreaded activity, just remember these important tips and you'll have no issues.
Tip #1: Be careful when choosing colors
When laying your bed, it is important to know the colors you would use for different materials. This will ensure they complement each other and the overall outlook is pleasing to the eyes.
Try opting for colors such as white, black, or grey when choosing bedsheets; these colors have been found to blend perfectly with other colors you might be interested in using for your bedding.
The colors of the bedding should accentuate the colors of the room, including those of the walls, the rug upon which the bed itself stands, and the curtains/window blinds.
Tip #2: Sizing and Positioning
Pillows are essential ingredients in making a well-laid bed that looks sumptuous. There are different sizes of pillows with different textures.
In dressing a bed, the size of the pillow to be used matters a lot.
Below is a table showing the different types of pillows according to their sizes:
| | |
| --- | --- |
| Pillow Type | Size |
| Standard Pillow | 20 inches by 26 inches |
| King Pillow | 20 inches by 36 inches |
| Euro (Continental) Sham Pillows | 26 inches by 26 inches |
| Decorative Throw Pillow | 20 inches by 20 inches |
| Bolster Pillow | 10 inches by 27 inches |
| Lumbar |  12 inches by 24 inches |

Tip #3: Adhere to Pillow Placement and Styling Rules
We have previously advised you on How to Arrange Pillowson the Bed, Arrangement of the pillow types and sizes affects the general outlook of the bedding; therefore, you want to do this systematically. Picking different styles for different pillow types helps bring out the exquisite effect you want.
First, start with the standard pillows or king pillows. You could either stack them on top of each other or in front of each other. The appropriate color to be used would be solid white, to allow you to play around with other colors for other pillow types. It is also easy to maintain and wash.
After this, the Euro Shams come into play. They could be of colors lighter than the sheets or room color.
Next, place a layer of 20 inches x 20inches decorative pillows ahead of the Euro shams. These would allow you to play well with different patterns (such as animal print or mosaic patterns) and colors.
Finally, you could add a bolster pillow with a different pattern: a floral or striped pattern; and maybe include a lumbar pillow for additional comfort.
Here are some arrangement patterns that will be perfect; try experimenting with them to see which one you like best.
Required Pillows: Two standard pillows, two Euro pillows, three accent pillow
Begin by positioning two Euro pillows against the headboard with adequate space between the pillows
Next, place two king pillows in front of the standard pillows
After this, ensure that the accent pillows follow
Finally, place the Bolster in the center.
Feel free to experiment with the different pillow types, sizes, textures (such as satin, faux fur), and patterns. 
Tip #4: Make your Beddings Look Fuller with Duvets, Quilts, and Throw Blankets, of Different Textures
Different textures provide a richer feel whilst laying on the bed you have just dressed. Duvets, quilts, and throw blankets help make your bedding look fuller, and, if of different textures, give a level of comfort you have never experienced before.
Duvets are heavy looking and thus give a fuller look to your bedding. They are feather-filled and provide warmth during cold seasons. You could either make them plain or patterned.
Quilts are three-layered, containing a decorative part, the batting that provides warmth, and the backing. You place this on top of the duvet to create an extra layer of fullness and to also add to the overall beauty of your bedding.
Throws are small comfy blankets that can be carried about in and out of bed. You can place them at the foot of the bed and use a soft texture such as wool or faux fur to give your feet an entirely different form of comfort while you venture into the world of dreams.
Tip #5: Choose Quality over Cost
Be sure to pick bedding items made of fine, durable materials. Some may be costly but trust me, in the long run, they are worth it because they save you the cost of buying more when substandard materials wear off.
Linens and different kinds of cotton have proven to be great materials for beddings. It is advisable to aim for a 300 or 400 thread count linen as this is what obtains in elite hotels.
Step by Step Guidelines on how to Dress Your Bed
Dressing a bed is not rocket science: it is easy to learn and you can play around with various styles. Below are some step-by-step guidelines that would help you.
Step One
Start with a mattress topper for support. This is an optional addendum to the mattress to either elevate the height of the bed or provide a softer layer for more comfort in case the mattress is not comfortable enough for you.
Step Two
Cover the topper with a mattress protector, to avoid unwanted stains. You can get a mattress protector in the market or online.
Step Three
Now, on to the beddings. There are 5 basic layers of bedding – fitted sheets, flat sheets, duvet, quilt/blanket, bedspread/throws; and you can arrange them as such:
Fitted sheets: This is the first layer of bedding that comes in contact with the mattress itself (or the mattress topper, if used). Be sure to pick the appropriate size for your mattress, else, it will shoot out of the edges and make the bedding look untidy.
The best color for fitted sheets is white, as it looks clean and fits in with any other color. Cotton sheets are very good when it comes to texture.
Flat Sheets: place a flat sheet as the next bedding layer to have a more sophisticated look as this is what obtains in elite hotels. They are also called 'Top Sheets'.
Lay the flat sheet on your bed upside down, make sure it's smooth, then fold back over the top of your duvet: it raises the total height of your bedding. Also, fold it at the corners of the footboard to ensure it does not stick out and look disorderly.
You must choose a color that complements the rest of your bedroom color. Exempli Gratia: choosing a flat sheet with some elements of dark blue will accentuate dark blue pillows alongside a solid white duvet.
An added advantage of the flat sheet is that it could be used alone during the hot season when the duvet may be uncomfortable.
Duvet: Place this atop the flat sheets, giving your bedding a nice and full look. An added advantage is that it keeps you warm during cold seasons. A neutral color such as grey, black, cream, would be perfect.
You could double fold the duvet if you do not want it underneath your pillows. A reversible duvet with a beautiful pattern on the underside allows you to better visualize the layers of your bedding.
Quilt/blanket: This is the final layer of the bedding. You drape this over the foot of your bed. It is usually lightweight and you could choose from any variety of colors or patterns, including animal print, floral, and so on.
Step Four
Then, place a bedspread or throw over the beddings.
Tadd the different pillow sizes in any desired form of arrangement as previously outlined.
Place the standard or king-sized pillows and euro shams directly on top of the fitted sheet layer, while you place the rest of the pillows on the flat sheet or duvet. A helpful tip is to tuck in the pillow cover to avoid it from sticking out.
You could also choose to add cushions in complementary colors. Again, choose colors appropriate for the room. For children, you could use cushions or throw pillows with cartoon characters.
Dressing a bed is an art in itself that requires careful research and planning. It is also fun experimenting with different bedding styles and pillow arrangements. Just remember to
Choose the appropriate size and color of beddings,
Choose the right pillow size
And you'll have the you that perfect bed dressing you desire.
I'll be happy to go over your comments and answer any questions you might have on how to dress a bed.