Washing your bed sheet may seem like a trivial task that requires just soap and a washing machine. However, if the goal is to get rid of the stench, then you're on the money. But to achieve better results such as a wrinkle-free, crisp, and comfortable bed sheet, an important factor such as the material in which the sheets are made must come into play.
As various bed sheet materials require a special kind of care. So read on as we provide 6 tips to wash your bed sheets till they're crisp enough to use.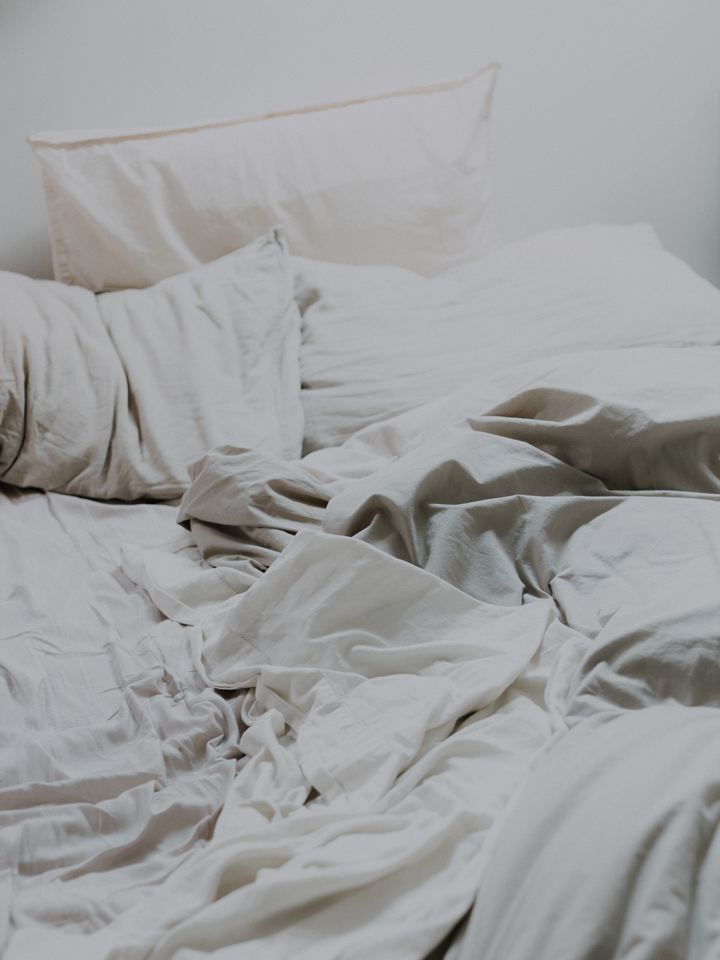 Tips On How to Wash Your Bed Sheets
Tip 1 - Turn the Temperature Dial Down
Although hot water does get the job done when removing certain stains, it also risks your sheets of permanent damage. As it can cause them to shrink, wrinkle, tear and even get stained permanently. This is why it's best used for thicker everyday wear such as jeans, gym clothes, and jackets, rather than your thin and soft bed sheet.
The best way to remove stains and stench faster from your bed sheet is with the use of warm water. Which has a temperature that falls within 40°F to 60°F.
Note: This practice will save your bed sheet fabrics from wearing and tearing quickly.
Tip 2 - Avoid Using Corrosive Detergents
Another dangerous practice that damages your bed sheets is adding corrosive detergents to the washer. As such detergents are suspected to contain harsh ingredients such as optical brighteners like bleach. Which will cause the sheets to fade away and their fabrics to weaken. Thus reducing the lifespan of your bedsheets.
You should look for are mild detergents, which do not contain ingredients that can weaken and discolor your bed sheet. Or have those ingredients in small quantities.
Chemicals To Look Out For And Their Causes:
Bleach (optical brightener) - discoloration
Benzene - skin irritation
Sodium Laureth Sulfate (SLS) - skin irritation
Formaldehyde - can trigger an allergic reaction
Tip 3 - Pre-treat Stains
Sometimes the stains on your bed sheet could be hard to clean. And you might require harsh detergents to do the job. However, if such detergents aren't used sparingly or in a controlled manner, then you risk your bed sheet wearing out fast. And it might also start to discolor.
The best step to take is to pre-treat the stain beforehand. So washing it will be a lot easier. And you get to avoid stressing your bed sheets fabric. Thus prolonging its lifespan and preserving its quality.
Tip 4 - Wash Your Bed Sheets Separately
You can't just stick your beddings into the washer with all your other dirty laundry. Why? Because it'll cause gradual damage to it. As the friction from another hard laundry can cause the sheets to wear, and stretch. Sometimes the other dirty laundry could even go as far as tearing up your bedsheets. Either by stretching and friction with sharp parts from other clothes (such as zippers and metal buttons).
Another reason why you should wash your bed sheets in an isolated washer is to prevent them from absorbing different colors from the dirty laundry.
Note: Another laundry should at least have the same color as your bed sheet. And they should have any paint or dye stain.
Tip 5 - Select The Right Cycle Setting
Upon the package, some details indicate the best cycle setting for the bedsheet. But to be on the safe side gentle cycle setting should be the default setting. It might take a while but the wait is worth it because it won't be overwhelmed by the agitator.
Tip 6 - Dry Carefully
Drying is equally as important as washing your bedsheets. Why? Because the way it dries up affects its smoothness and fabric build.
How To Dry Your Bed Sheets Properly:
Air drying - make sure to clamp your bed sheet with pegs. And keep it from direct sunlight (especially if it's made of Linen).
Make use of a dryer - keep the heat settings low or medium
Video on how to dry your bed sheets:
Common Materials Your Bed Sheet Could Be Made Of
The package that contained your bed sheet has information that indicates the material it's made of. So it could be any of these below:
Note: each material possesses its form of care. So it takes a special way in handling them to achieve that wrinkle-free, crisp, and comfy feeling.
Linen
This is an all-season bed sheet fabric that's quite popular because it's durable (also lasts longer), smoother, and breathable. All of which makes it a high-end bed sheet fabric. Although, its care isn't so demanding, as it's similar to the general way of washing a bedsheet.
However, there are still specific ways you should care for your Linen bedding. For instance, your linen bed sheet can shrink if the water temperature in the load is too hot (or if your washer water temperature setting is too high). It's best to keep the water warm (40°F to 60°F) or you could play it safe with cold water (but would take longer to clean).
Also, you should make use of mild detergents (ones without any corrosive chemicals, such as optical brighteners) to prevent weakening the quality of your linen bed sheet.
Note: Linen is the most tolerant to hot water as it requires up to 104°F to make it shrink.
Silk
Silk bed sheets are very delicate to handle, as their fibers can readily get damaged even if just a little pressure or stress is applied. For instance, Silk is usually recommended to be washed by hand rather than being thrown in an empty washer. In the first few times of using it. Because the agitator might over-stretch your silk bed sheet.
However, even when thrown into the empty washer, it's recommended that the cycle setting is gentle (hand washes cycle setting). Also, your silk bed sheets should be washed in cool water. Avoid washing them in hot or extra-warm water, as it will affect the fibers in such a way they gradually weaken or fade.
Cotton
This is one of the strongest bed sheet materials to wash, as it possesses stronger fibers that can handle friction and stretch than other materials. This is why it's usually allowed to be washed with other dirty laundry. This also means your cotton bed sheets can withstand the stress of a heavy-duty cycle required to remove a hardy strain.
Cotton bed sheets are also known to handle hot cycles better than most other bed sheet materials. However, it does have its threshold so it's best to use hot cycles during the cold seasons strictly for the sake of your health.
Mild detergents in controlled quantities are to be used. To prevent discoloration from harsh ingredients, triggering allergic reactions, and to reduce the amount of water as well as time to rinse your cotton sheet.
Bamboo
This is the most delicate bed sheet material because its fibers are completely natural. So the detergent to be used must be free of harsh chemicals as such material tends to fade out easily.
Pre-treatments for Stains On Your Bed Sheet
Certain stains could take all day to get rid of. Which could require a lot of detergents, water, time and it will inflict excessive stress on your bed sheet material. To avoid such problems, it's advised that you pre-treat the bed sheet stains before you toss them into the washer.
Treatment for chocolate and oil stains
Simply soak the sheets in hot (especially for Linen and cotton, but not silk) for some minutes. And then scrub the stained area with a pad made of cotton that has been dipped in alcohol.
Treating fruit juice stains
Soak your stained bed sheets in hot water (one with the best temperature for your sheet material).
Mud Stains
Your bedsheets can get mud stains from an air-drying mishap. To get rid of such stains, you should let the mud dry up. Once dey, make use of a brush to clean it off and soak in a solution containing warm water, a spoon of vinegar, and a little bit of liquid dish soap. All for 10 minutes before being rinsed and soaked in with water again for 15 minutes.
Grass Stains
Soak your stained bed sheets with cold water for up to 30 minutes. This same treatment can be used for stains from dairy products, but it would take hours of soaking to get rid of them.
Don't Let The Stain Last…
Once you've discovered that your bed sheet has stains, it's best to handle it immediately. This will help make its removal easier.