Many vegetables need a support structure for them to grow satisfactorily. Trellis is a great space saver, which can also be customized to fit your needs perfectly. This article contains numerous trellises ideas on how to DIY your trellis, which is super easy and less expensive.
We actually put together 35 DIY Trellis Ideas, check out the recommendations below, you will be grateful you stopped by.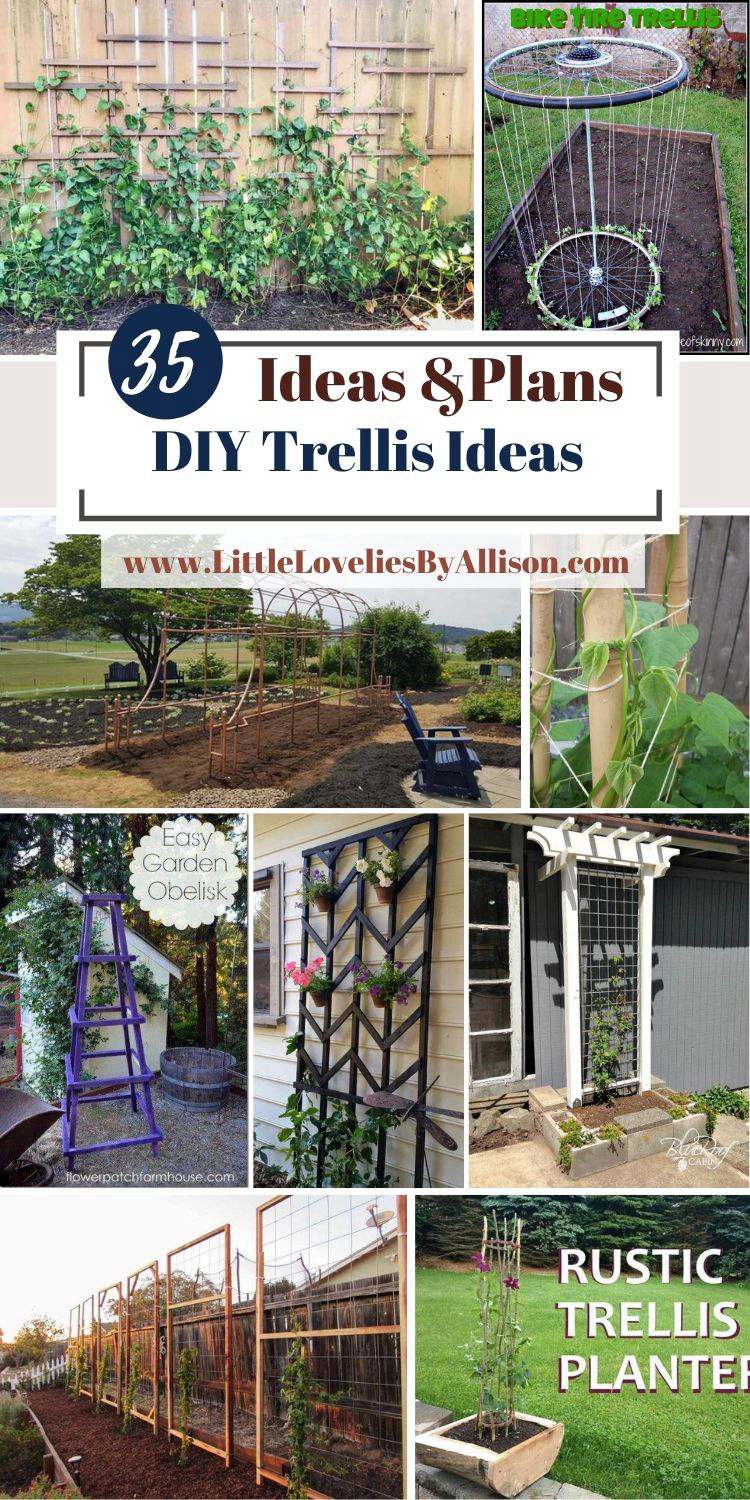 1. How To Make Easy And Cheap Trellis
Trellis act as a huge saver for your plants. The creator made this trellis with a one by two eight feet long wood. In the process of making these, he uses four planks of wood dividing them into two, making them into 3'4 and 4'8 pieces while the frame is 3'7 wide and 4'8 inches for height. I recommend this for a simple trellis.
2. DIY Easy Trellis
Plants rely on a support structure to grow. Here is a simple easy trellis you could make from the comfort of your home. Super easy. Here the creator made trellis to help support her cucumber plantation.
3. How To Make An Outdoor Trellis
An outdoor trellis helps your plants grow effectively and adds decoration to your garden. The first step in making this is to build the frame. The creator used a 2 by 2 cut 16inches for the top and bottom also 39inches for the sides. For the outer part a 4pieces 1'2. The tricky part of this project is cutting the woods so you need a table saw.
4. Easy Fast Trellis DIY
This trellis requires no skills. This particular type of trellis is used for smaller plants like beans, cucumbers, etc. In making this you will need scissors, sticks, strings. For a fast trellis, this comes in handy, but note this isn't for big vegetables or plants, only for less-weight plants.
5. DIY Garden Trellis
Here is a simple trellis for your garden. The materials needed for this are less expensive, but in making these you need to choose the right wood, cut the trellis in pieces, and also assemble the trellis. You will need three 5 1/² wide 6foot flat top fence pickets, table saw, sandpaper and sander, etc.
6. How To Build A Trellis
Easy design on how to make your trellis. Here are methods to build an inexpensive trellis. The creator has two different designs but super simple. In making this it will cost 20dollars if you have stakes. Here the creator used a sheet of concert support wired called "mesh".
7. How To Make A Tee Pee Trellis
A no-tool method for a quick project of 5 dollars which results is attractive and functional. You will need three pieces of bamboo per trellis, heavy-duty twine, and scissors, the time needed for this is 5-10 minutes per trellis. The first step is arranging your bamboo on the ground in a triangle fashion, consider the spacing your plant will need.
8. DIY Backyard Trellis
A DIY backyard trellis, you would need to purchase cedar wood 2x4 for the frame, cedarwood 1x1 for the top that will hold the lattice, cedar lattice wood fencing 4by 8-foot sheet, you will need to purchase concert to hold the trellis in place in the ground. I recommend this for a simple backyard project.
9. DIY Easy Trellis Idea
Here is how to develop your green area. In making trellis you need adequate materials to accomplish a good result and for it to last longer. The creator made use of wood which is 22mm thick, 1800mm long. Here he built sections. First, organize your wood in a square form.
10. Cheapest DIY Trellis For Vines
Sticks and coconut coir rope are what you need to build this up, which will help your plant climb. First, you insert your sticks approximately four or five and you tie your rope around. Voila! Tie your plant but not necessary in all plants.
11. DIY Garden Trellis Under $10
This is very possible and inexpensive. You need your supplies in place. Follow the link above for proper modification of this garden trellis.
12. DIY Trellis For House Plants
Here is a trellis for house plants customized and adjustable, which helps in decorating your home, less expensive to create. No matter the size, this DIY will teach you how to make extensions so the tricky part of this is that as huge as the size could be it can be controlled and maintained. The creator uses a tomato cage and also bamboo sticks.
13. DIY Garden Trellis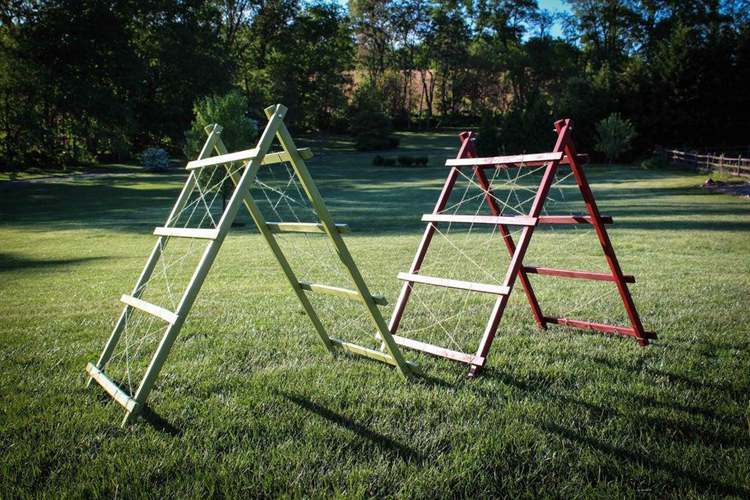 This is for those who love their garden to look explicit and tidier, first, you need to get your tools and materials including table saw, tape measurement, drill, strings, nails, etc. You have to do this DIY according to the plans or drawings provided in these instructions. I'll advise checking the link for proper guidance.
14. DIY Pipe Trellis
Here is a simple pipe trellis, as the creator you decide what design you will love to do. Get your drawings and next is getting your materials including pipe, strings, etc. I'll recommend you check the pdf provided in the link above for proper materials. The next step is the layout. This is recommended for big DIY trellis, for big plants.
15. DIY Cucumber Trellis
Cucumber trellis is lifesavers for your cucumber plants, super-effective because it's a vine and it spreads, so to control them you need a trellis and for better air movement. You will need a few materials for this project which include a roll of chicken wire, 3" deck screws, a small "L" bracket, etc.
16. Recycled Tire Trellis DIY
Have you thought of recycling your bicycle, here is a great idea for its use? A DIY tire trellis. The creator in making this removed the inner bolt of his bicycle tire and got a 5" all thread and matching nuts. First thing was to run the all-thread through both tires and put nuts on each side of the tires for a firm hold.
17. How To Make String Trellis
Here is a simple easy trellis, you need stakes and strings to perform this magic. After proper fitting of the stakes, you add to the strings from one stake to the other. This particular type of trellis isn't for the long term.
18. How To Build A Trellis
If you're looking for a super substantial trellis, I'll recommend this for such a project. The creator created his design with a 1 by 6 board dividing it into 3 pieces with a table saw. After the proper arrangement of the woods, he joined them with his nail gun. You could use paint for the proper decoration of your work.
19. 4 Simple Ways To Trellis Tomatoes
Here are four amazing tomato trellises ideas. One of these is getting a twine and wrapping the tomato plant around it as it grows, the notable here is grooming your tomato suckers so that they won't fall off.
20. How To Build A Simple Bamboo Trellis
A bamboo trellis is seen as one of the easiest trellises to do but the catch in making this is using twine and tying it around your sticks properly. The creator shows how to tie properly, I recommend this for a simple bamboo trellis.
21. DIY Upcycled Garden Trellis
Basically in creating this, the creator made support beams and these beams are of cedar pieces which were secured with wood screws, Thereafter you fun wrap the vines all over the trellis.  This process doesn't take so much time.
22. DIY Garden Trellis
Have you thought of decorating your garden and also having space in it, rather than making your plants fall off or suffer. I recommend this DIY, very short, simple, and durable.
23. DIY Fence Trellis Brackets
This is a different design. The fence trellis, which helps maintain your plant from going overboard. Firstly, you have to measure your Dowell length and your board width, also the layout must be gotten. The supplies for this project are encapsulated in the link above.
24. DIY Tomato Trellis
Here the creator turned eight 2x4s into sixteen 2x2s. Use a table saw to cut each 2x4 in half lengthwise, afterwards, you lay your board for proper assembly. You screw the necessary and cut out the excessive part.
25. DIY Grape Vine Trellis
Making this you need to get 8foot 2x4 wood, landscape timber, 10 small boards to run on each side, you could get chicken wire or cattle panel.
26. How To Build A Trellis Fence
Here the creator made a super big trellis fence with wire mesh, recycled hardwood joist, concrete mix, high wind post support, etc. This is an easy build project, it's also an interesting visual concept for your garden. This type is recommended for long-term projects.
27. DIY Cheap Trellis With Scrap Wood
People pay lots of money for trellises but it's super easy to make at the comfort of your home with some scrap wood, nail gun, etc. The link above gives you more insight into this simple project.
28. How To Make A Beans Trellis
Making a trellis you have to make your plant grow vertically to get space. This link helps you grow your plant using strings, twine, T-post, or tomato cages.
29. DIY Garden Obelisk
This is an inexpensive DIY, all you need for this work include 8 ft 2 x 2's (usually pine or fir), 3-inch wood screws, Exterior wood glue. This DIY can be used for several things.
30. DIY Chevron Lattice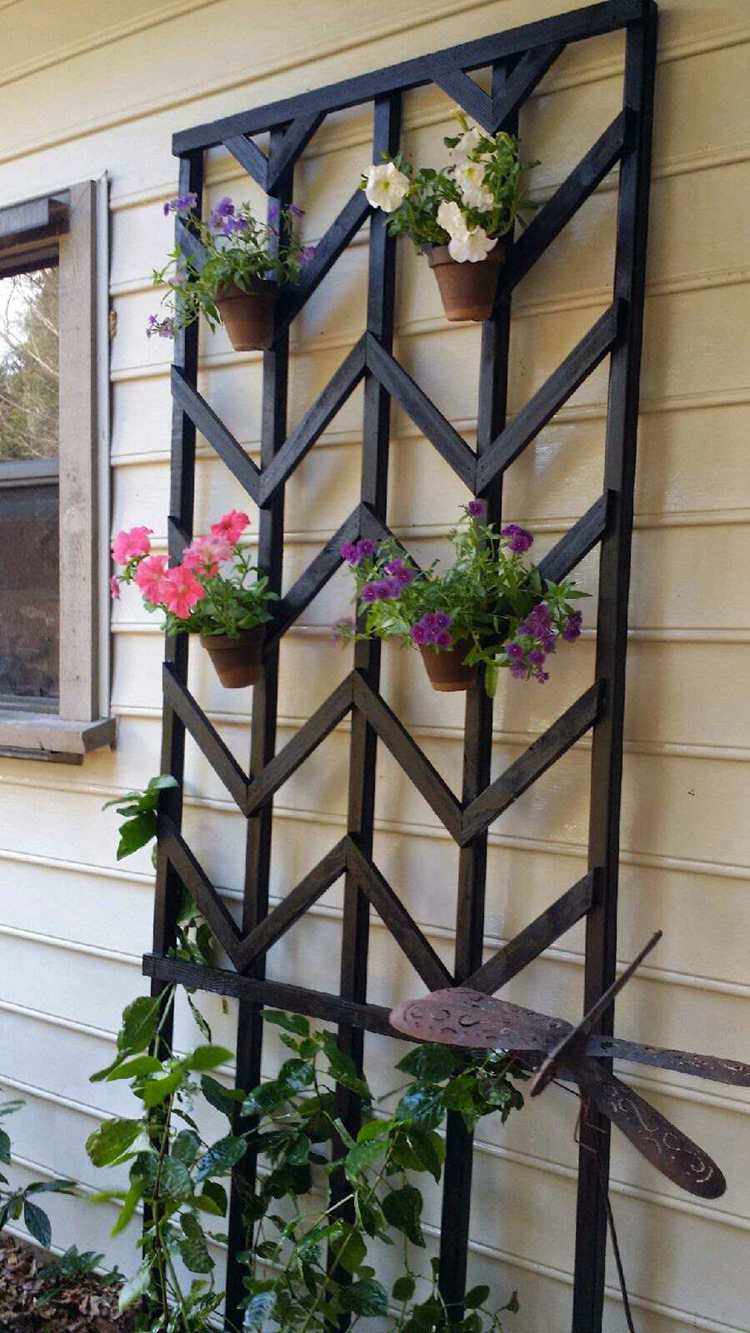 Chevron lattice is classy, what you will need for this magic include a nail gun, five pressure-treated 2x2x8, measurement tape, etc. The first thing to confirm is whether or not your strips are straight, take one drywall strip and cut two 36 pieces. I recommend this process for a classy trellis.
31. DIY Macrame Trellis
This is a different design of a trellis very simple and this took the creator two hours to fix. In making this you need two 2x2 wood, strings, paracord, etc. The creator firstly built a frame by using the wood and then the macrame and the last stage in this project is setting it up. Viola your trellis is ready.
32. DIY Rustic Trellis Planter
This rustic trellis planter was made with a tinkercad design, the creator used a 180mm tube shape with a wall thickness of 1. The creator places several tubes evenly around the large tube, secondly, after choosing the design you create a suitable base for your trellis.
33. DIY Trellis
You don't have to be an expert in making trellis all you need do is get the supplies which include your fence board, nail, you could use a table saw to pieces the board for proper nailing
34. How To Build A Simple Bamboo Trellis
These bamboo trellises are simple to make, you make holes on the ground for your bamboo sticks, you could use 6-7 sticks. After putting them properly on the ground, you use a zip tie or twin to hold them together, your bamboo trellis is ready.
35. How To Build An Arched Trellis
Arched trellis is extremely beautiful, they create space in your garden and give support to your plants. In making this you need a cattle panel, two T- posts, and zip ties. This link elaborates more on this project.
Conclusion
We have come to the end of this article on how to make a trellis. All the projects listed above are easy to make and should serve for a long time before needing a replacement. If this article was helpful, do us some good by sharing it with your friends and family that might be interested in building a DIY trellis.