The loft bed is an amazing single bed that has support that increases the height and gives you that high feeling. Not everyone loves loft beds, but for those that do, the building plans on this list are easy and simple to follow.
In this article, we have listed 35 DIY loft bed plans for you to choose from with each having a unique design. Making a loft bed might seem very difficult at first but once you begin the process the rest is pretty much easy. Are you ready to build? Let's begin.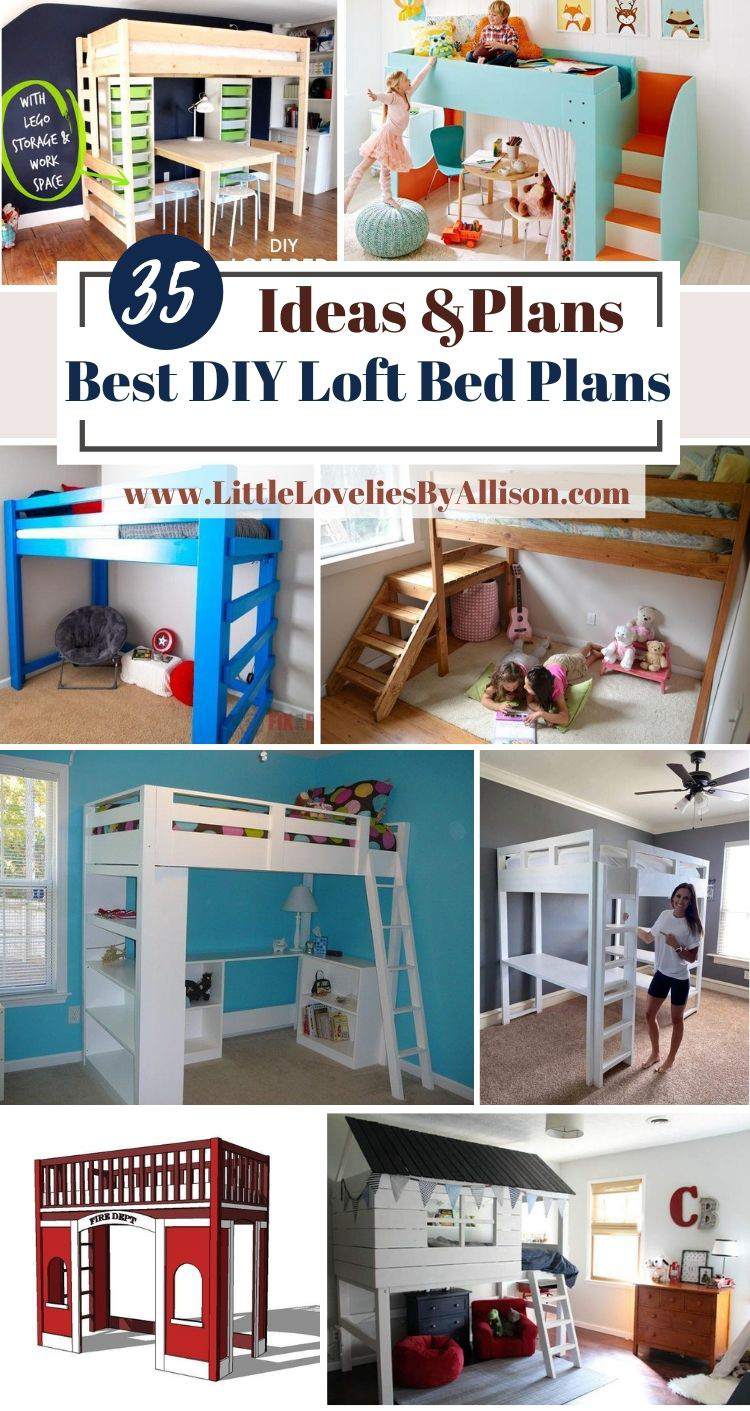 1. Loft Bed Construction DIY
Tired of sleeping on the low ground, with a few lumber wood planks, you can make a sturdy loft bed. First, you need a sketch of the bed, you can check the video to see more on that. Once you have this image guide ready, then the steps left are simple to perform.
2. DIY Loft Bed
This is a unique loft bed idea, the building plans are free and you can make it with a few basic woodworking tools. This loft bed was made with stairs that lead up to the bed. The fun part about this build is that it can fit anywhere in your house.
3. DIY Loft Bed For Kids
This loft bed idea is great but can be done by an expert woodworker, effortlessly. The tools used in this guide may be strange to a beginner and difficult to work with. There is a building plan in the guide, and you use them to make a sweet loft bed for your kids.
See also: 24 DIY Platform Bed Plans
4. Simple DIY Loft Bed
Here is a simple loft bed idea that has simple steps and instructions on how to build the bed from scratch. The creator used some 2x6 and 2x4 lumber wood, wood glue, screws, carriage bolts, and a few other items.
5. How To Build A Loft Bed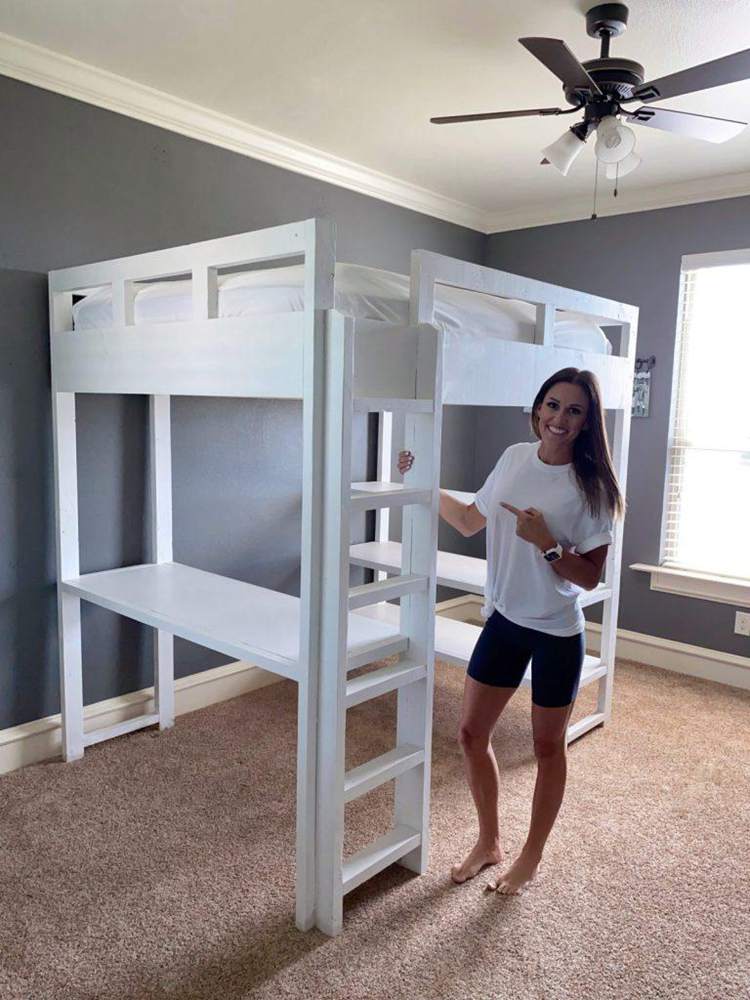 As much as they are a few cheap loft bed plans on this DIY, there are also ones that are quite expensive. This loft bed costs about $300 and it's one of the strongest loft beds that you'll ever see. you will need some framing lumber, pinewood board, wood glue, nails, and lots more.
6. Building A Loft Bed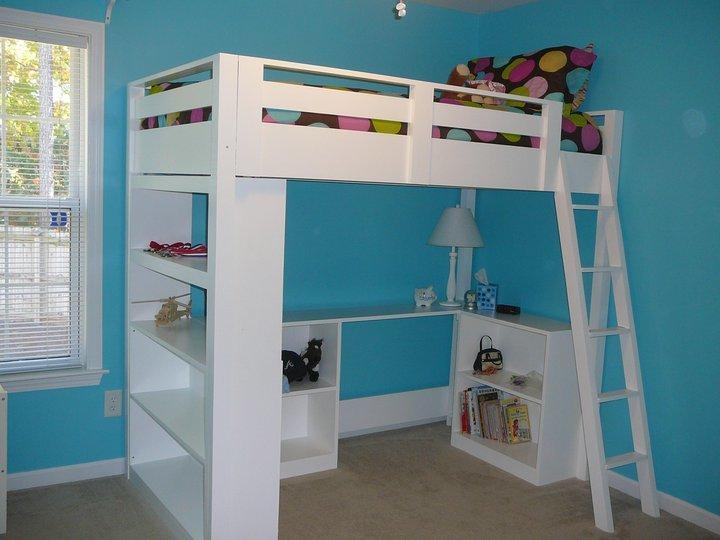 This project doesn't require an expert woodworking skill level, and with a few basic woodworking tools, you can perform this task with ease. Before you begin anything you need a sketch of how the loft bed looks like.
7. DIY Loft Bed With Stairs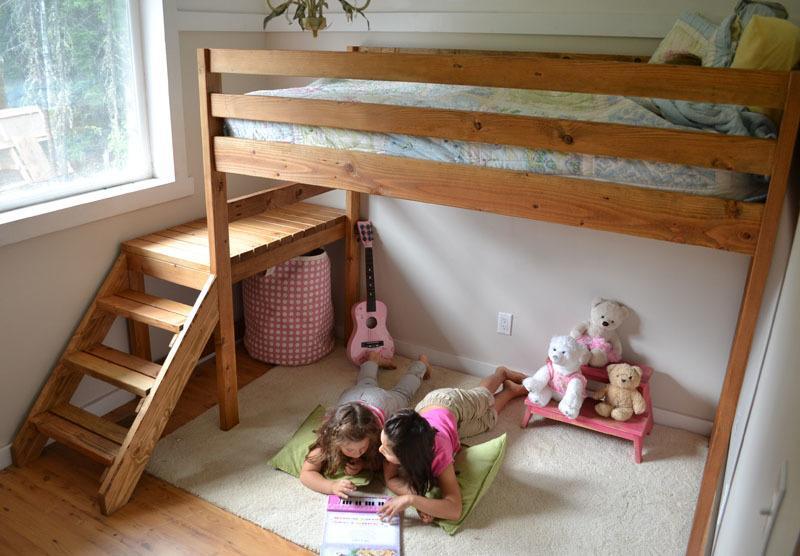 This is a cool loft bed for kids. It's small, has small stairs leading to the top, and a large space under for playing and storing kids' stuff. The loft bed is sturdy and durable. Although the bed is small, it can take up to 2 kids in it at once.
8. DIY Loft Bed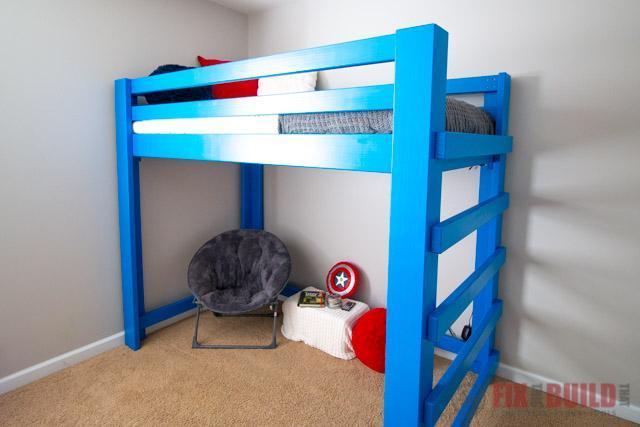 This is another amazing loft bed that looks like the previous one on this list, the only difference is the stairs, whereas this has just steps at the side of the bed that looks like a ladder.
See also: 20 DIY Queen Bed Frame Ideas
9. DIY Budget Loft Bed
Are you looking for a loft bed that fits your budget? It might not be all that you wished for but it's quite inexpensive and easy to make. This project does not require any special tool, a regular drill, jigsaw, tape measure, and a few more supplies will do. The creator also added some LED light strips to the bed frame.
10. DIY Queen Loft Bed
This queen loft bed can also work for a  small room, it comes with a desk and it's pretty comfortable. The creator started by designing the bed frames with the SketchUp software, and after that measured, cut, and assembled the pieces to form the loft bed for a small-sized queen mattress.
11. How To Build a Loft Bed With Stairs
This loft bed with stairs was made by an expert woodworker, he didn't leave a description of the tools you'll need, but the making process is quite easy and simple to follow.
12. DIY Loft Bed With Movie Theater
This is the coolest loft bed idea on my list. It was built with a movie theater; a projector, a screen, and other supplies under the bed frame. If you have any trouble understanding the video guide, check the description and get the free plans to build with ease.
13. DIY Loft Bed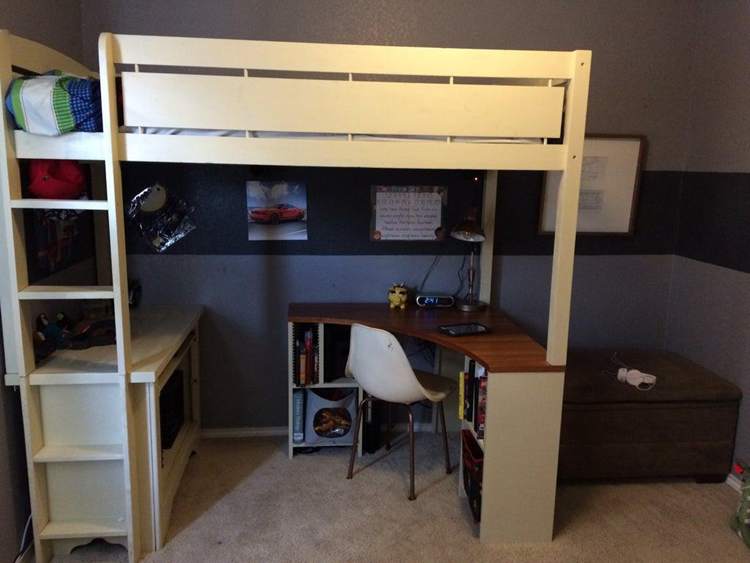 This loft bed comes with a simple office desk design below. You can sleep and work without leaving your room or the area. Aloft bed idea that makes life easier. This project involves 5 easy steps and you're done.
14. DIY Floating Loft Bed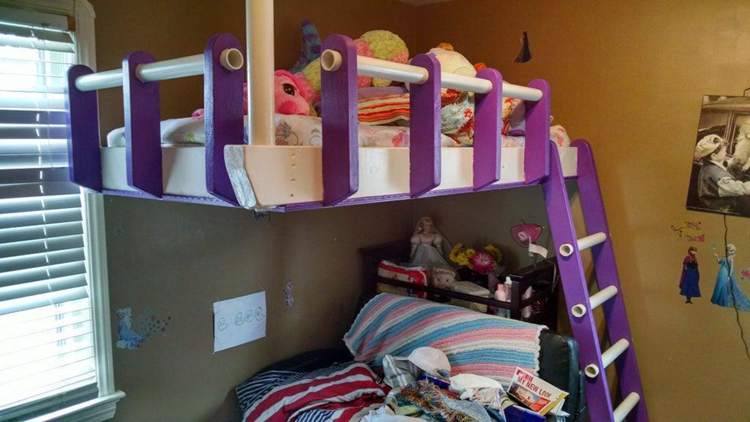 Other loft bed ideas have a frame and support underneath to ensure it is sturdy and balanced. This bed frame doesn't have any support, it's a floating bed that is simple to make if you follow the building instructions properly.
15. DIY Kids Clubhouse & Loft Bed Plans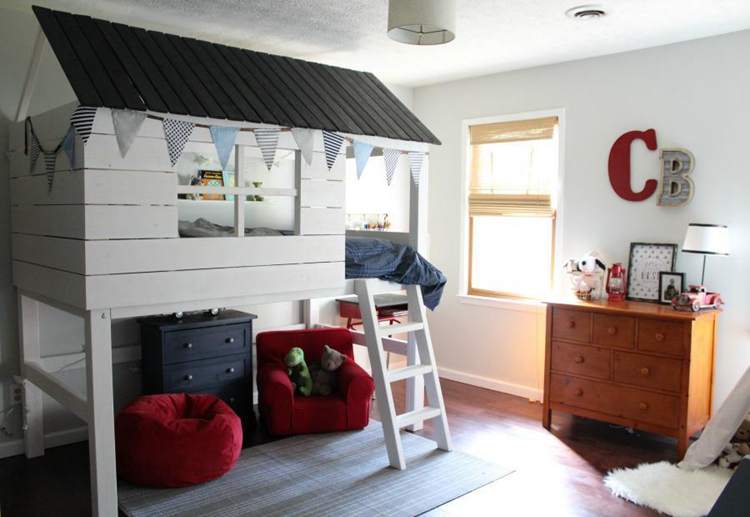 This loft bed idea is meant for your kids, they are the ones that need the clubhouse bed. It's like building a small mini-house with a roof on one side. You'll need some wood boards, bolts, screws, washers, and a few other Kreg tools. It's a simple build that will take two people to accomplish.
16. DIY Fire Station Loft Bed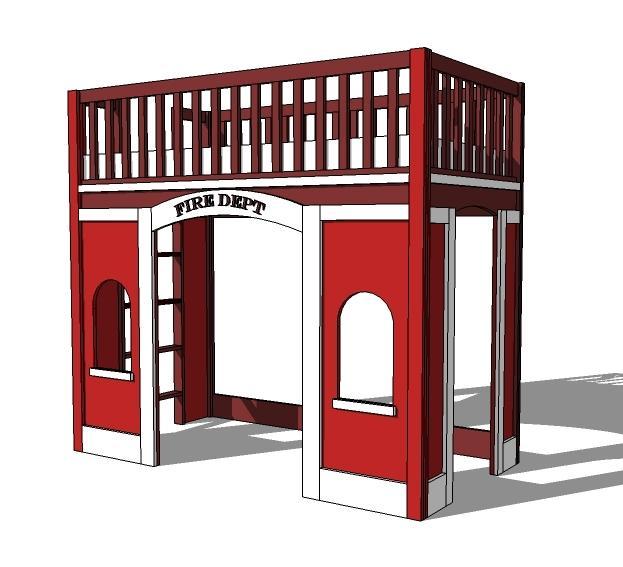 Here is a loft bed with a fire station design, the woodworking difficulty level of this project is fit and great for beginners. The first step requires a sketch of how the entire build should look like. The rest of the 18 steps are tasking but simple to follow.
17. DIY Loft Bed
This video guide started with the creator marking and cutting the wood plank to its specified length. This loft bed is quite easy to build yourself, with a few basic woodworking tools and materials.
18. How To Make A Cheap Loft Bed
The creator started by cutting a few 2x4 to the length of 5 feet, with this, he made the entire process easy as he proceeded. This project cost only $25.59, and it's super easy to build with no special tools required.
19. DIY Loft Bed Stairs
This guide can help you in one way, building loft bed stairs. So, if you have a loft bed at home already and you have no stairs to climb with, with this video guide you're good to go. It's pretty easy, cheap, and comes with storage underneath.
20. $200 Study And Sleep Loft Bed
With $215you can build a sturdy loft bed and because this project seems expensive, it will guarantee that the strength and durability of the loft bed will be top-notch. It's simple to build with a few basic tools like a drill, clamps, a tape measure, and a few others.
21. DIY Lego Loft Bed Plans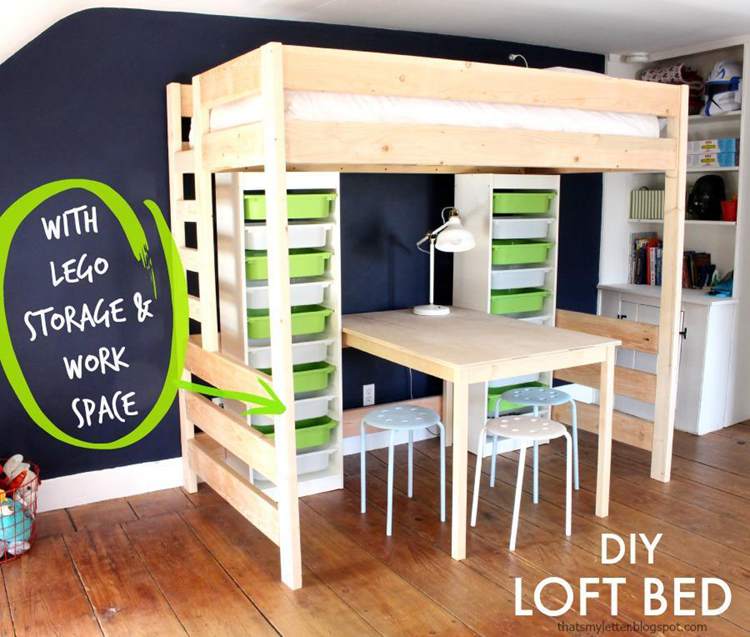 Here is a Lego loft bed idea, it's built with storage underneath, 1 play table, 1 loft bed, and 2 IKEA Trofast units, and a few other supplies. This loft bed also has a workspace, which is perfect.
22. DIY Junior Loft Bed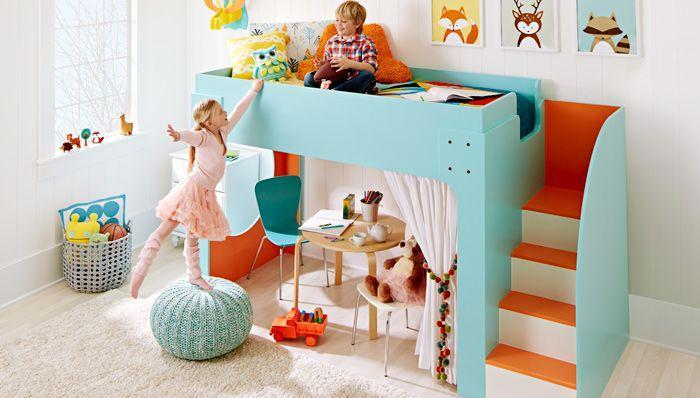 If you are looking for something as unique as this loft bed, then you should probably try this guide. It's quite expensive though, the materials cost less than $500, no expert woodworking skill required, and it took almost two weeks to finish the entire build.
23. DIY Pipe Loft Bed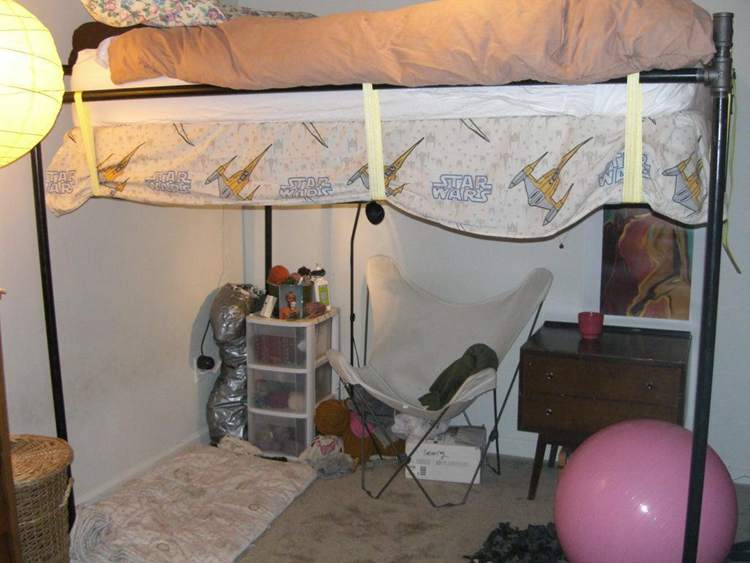 This is an amazing guide that shows you how to use iron pipes to make a loft bed. It might be as sturdy as the wooden style but it's functional and durable. It allows a lot of space under it for storage, and maybe a work table and chair.
24. DIY Castle Loft Bed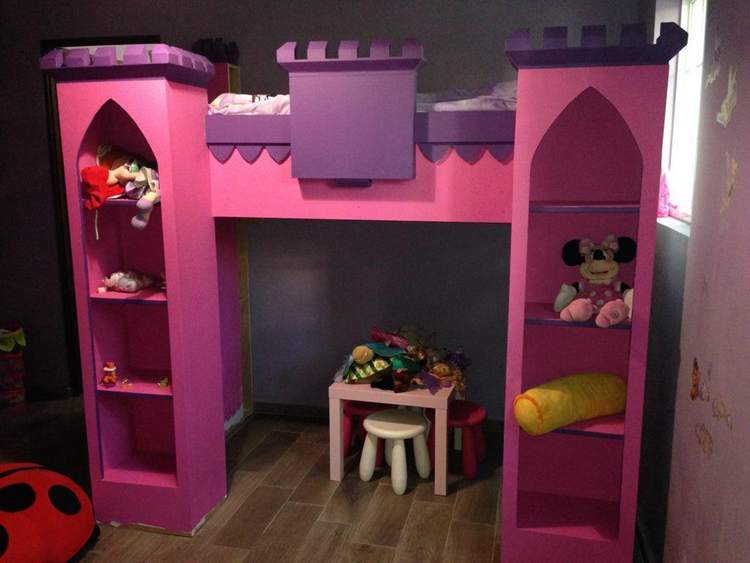 To kick start this guide, you need the blueprints of how the build looks like. Check the guide to learn more. After that, you need to start marking and cutting out the pieces of wood to be used for the construction.
25. DIY Large Loft Bed
This is a large loft bed that can be made with a sum of $350 or less. The building plan came with a workspace, and a bookshelf. It took 10 days to finish this project, and it's strong and durable.
26. Floating Loft Bed Build
If you wish to make a loft bed that isn't too large, then you should try out this guide. The loft bed is a floating one and the creator started by constructing the bed frame. The making process is pretty much basic and easy to follow.
27. DIY Loft Bed
This is not a quick tutorial, the creator made the loft bed from scratch and showed how every step was made, from the first marking and cutting of the wood to the last wood finishing. It's a time-lapse video so pay attention to details.
28. DIY Loft Bed Plans
This is a great loft bed plan that you should try out. The loft bed has a large space underneath for anything you want, a workspace, or storage to store your clothes. The plan is easy to build, with the video guide that shows you how everything was made step-by-step.
29. How To Build A Loft Bed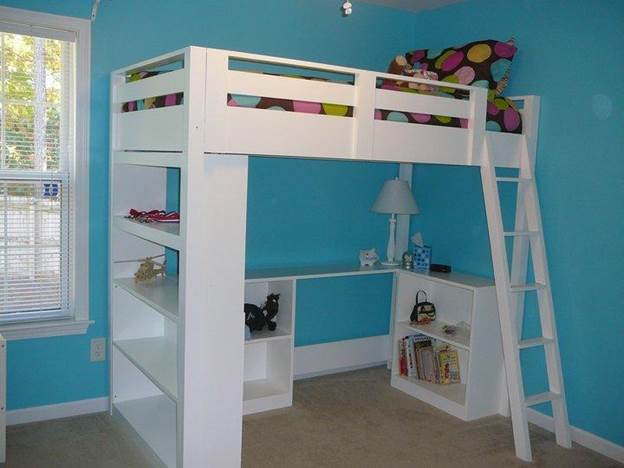 Here is a wonderful loft bed with a sweet workspace underneath. The loft bed itself is quite high, depending on how high the building is, you can check the guide to get free plans and start building now.
30. DIY Micro Bus Bunk Bed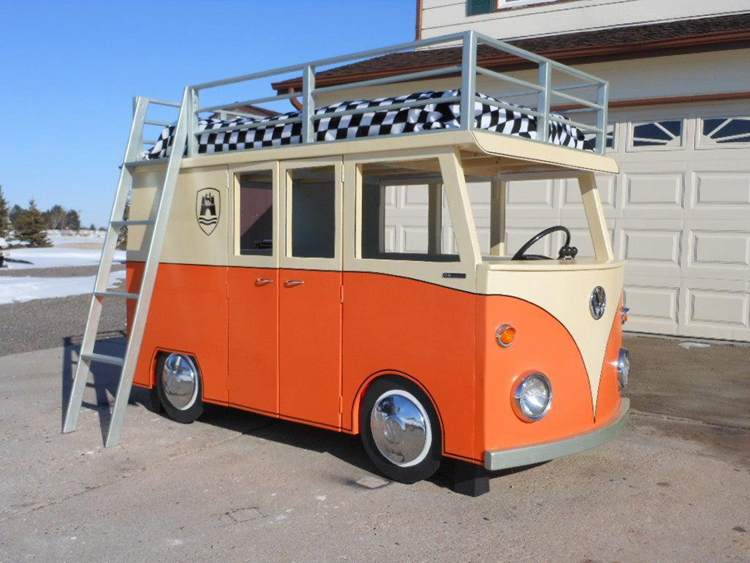 This is a time-consuming project, it's quite easy to build, if you follow the steps, and also check the guide to use the building plans for free. You will be building everything from scratch, including the bus.
31. How To Build A Full-Size Loft Bed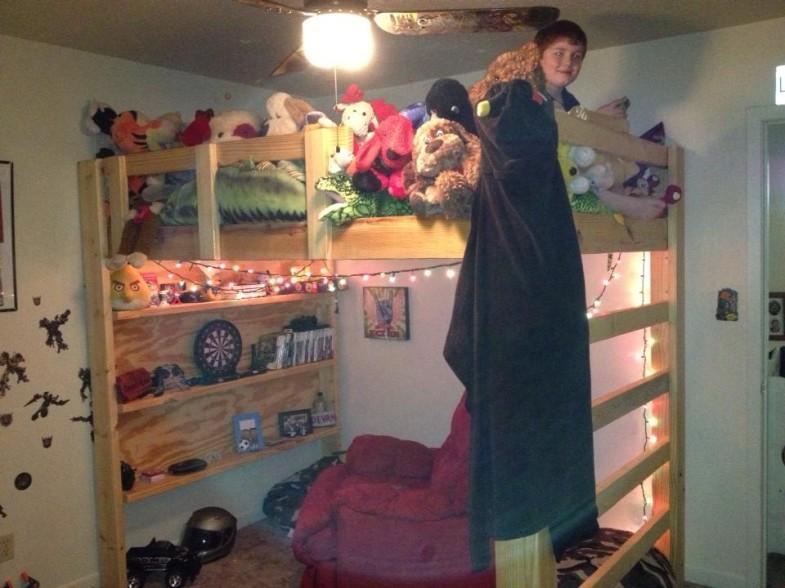 So, without minimizing, or managing space, here is an easy way to build a full-size loft bed. You will need a lot of plywood, wood screws, wood glue, and a few other supplies. Feel free to decorate your DIY loft bed after making it to your taste.
32. DIY Little Cottage Loft Bed
As you can see in this guide, you will need software to design this loft bed, then start picking parts from it to build and gradually get your entire loft bed finished. This project will require an advanced woodworking skill level.
33. DIY Loft Bed
Here is a great way to make a loft bed out of scaffolding, it was made with a workspace and a wardrobe, you can also add a shoe rack in there to make it look more functional.
34. DIY Queen Loft Bed
Here is one or a queen-sized bed, you can get the building plans for $9.99 that includes a few easy steps and some basic woodworking tools to perform.
35. DIY Twin Loft Bed With Storage And Desk
For this project, you will require some advanced woodworking tools and an advanced woodworking skill level. It's quite easy to make for professional woodworkers and also expensive.
Conclusion
Every loft bed idea you pick to build must have a ladder or stairs leading to the bed, some are in-built, while others are attached. Regardless, you can always manipulate the construction process as long as you have the right woodworking knowledge. I wish you all the best in your lofty ideas.