If you own a motorcycle, then you will agree with me that having a motorcycle lift is one of the most essential things to have. In this article, I have listed 11 of the best DIY motorcycle lift plans that you can DIY.
Most of the plans in this article will require time and effort, the end result will be pleasing. Take a good look at all the plans listed below, make a pick and start building.
1. Cheap DIY Motorcycle Lift
Every motorcycle owner dreams of having a motorcycle lift and it's quite disheartening when you go to get one and you're told an outrageous price. Most times the ones they sell are usually too heavy, but now you can build one at home that is lightweight and you can build into your taste for only $200.
The only downside about this motorcycle lift is that it's quite low, in terms of height. You might still need to squat down a bit, check a few things on the bike, and you can't easily see the bottom of the bike until you squat again. Apart from that this bike lift is easy to build and very durable.
2. DIY Motorcycle Hydraulic Lift
This was made out of scrap wood and it holds up pretty good and it's a great hydraulic lift table. The creator added some roller at the bottom to make it easy for you to move the lift table around, in, and out of your garage if you have a garage at home.
The lift is also made in such a way that you can work on the bike wheels with ease, just hold the rear wheel with a strap and lift the front or vice versa. This video guide doesn't show how this was made from scratch but rather shows you how it works. Although it's very cheap, it costs about $20 to make this motorcycle hydraulic lift.
3. DIY Motorcycle Lift
This motorcycle lift is a very simple one to build, although the creator did not give a step-by-step instruction on how to build this, he just showed the materials that were used. This guide is basically for someone with an advanced skill level that can build this effortlessly. If you're a beginner this guide will seem too difficult for you.
The guide and the lift are quite easy to build, just a bit complex because of a lack of more understanding for beginners. It's made of metal pipe strips and other metal connectors.  It looks like a motorcycle lift you would buy online.
4. How To Build A Motorcycle Lift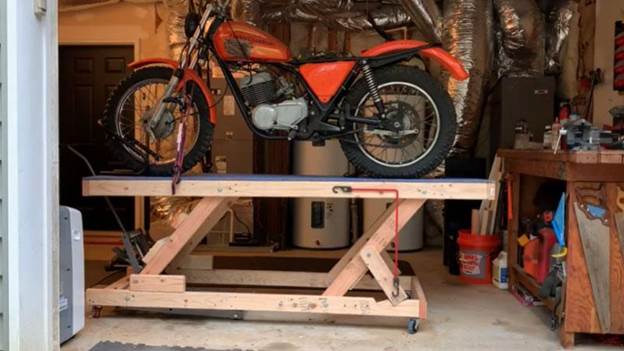 Nothing gives owners of motorcycle bikes greater joy than working on their bikes by themselves, checking and changing oil, checking and replacing their brake pads, cleaning the air filter, topping brake fluid, and several other diagnostics. So, building a motorcycle lift that will assist you to check and maintain your bike regularly and properly should be a thing of joy. That's why I want to introduce a few materials you'll need to build this with ease.
You need a piece of wood, a 4x 1-inch galvanized pipe, small pipe wrench, 1-inch galvanized pipe flange, electric power saw, electric drill with 1 ⅜ paddle bit, and a few other essential tools. The task is effortless though there are two sides to it, the creator made one motorcycle lift with wood for beginners and another for a skilled handyman. So, if you think you're skilled enough to try out the other task, check the link and see what more that needs to be done. With just five simple, concise steps, your motorcycle lift will be ready in no time. It's quite inexpensive for the beginner's task.
5. DIY Motorcycle Work Stand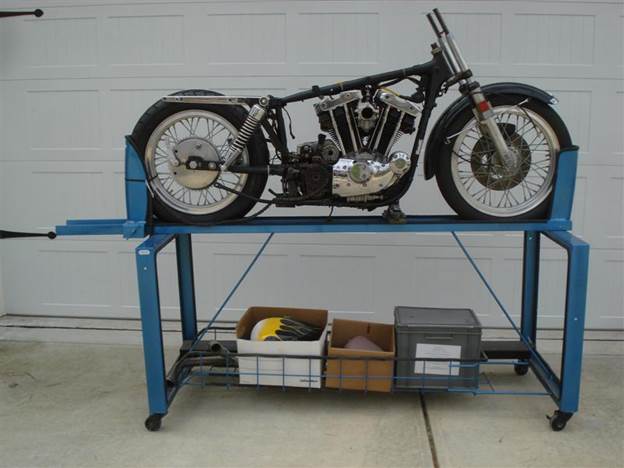 If buying a brand new motorcycle lift is not part of your budget then I suggest you make one at home. It's pretty easy and simple to build. The one that the creator made in this guide is not made of wood if you don't fancy woodwork. But if you prefer more woodworking projects, try the previous guide for more info. This motorcycle lift stand has a shelf underneath that stores your bike parts and also rolls on casters which makes it easily movable from one location to another.
Here are a few things you need to make this at home, a six-inch metal channel, a welding machine, an old miller 250, acetone cleaner, oxide primer, blue enamel spray, a scissors frame jack, and a few other supplies.
This motorcycle lift stand stands up to 34" which is good for people that stand up to 6-foot tall. This guide doesn't have step by step instructions but if you follow the way the creator did it through his explanation, it will be seamlessly easy and you'll be done in no time.
6. DIY Motorcycle Lift Table Using Winch
Here's a DIY guide that will show you how to make a motorcycle lift table using a winch. It can take the weight of any bike of about 200kg. In height, it can go up about 40 inches, and come down low at about 10 inches.
Now, because this lift can carry a lot of weight doesn't mean you should overload it with heavy stuff. It might crack the pulley over time and that will be discomforting to you at that time. The creator started by placing the galvanized metal sheets on a wide working table and started welding the edges together to form the base. Then work the sides and fit in the entire panels and components to make the lift what it should be.
7. $200 Motorcycle LIft DIY
Regular motorcycle lifts cost about $1500, and they usually don't lift the motorcycle's full weight from the two wheels, it usually lifts from the center of the motorcycle, altho it's pretty strong but not very effective.
You don't need to throw away that motorcycle lift you bought if you had something like what I described. You can make a great motorcycle lift from that old one in minutes with just $200. First, you need a lift with a 1500 pound capacity, then a wood board, saw, drill, bolts, screws, and other materials.
8. Homemade Motorcycle Lift
If you have a scooter or a motorcycle at home, then you need a lift for it. It's quite expensive getting a brand new one, but with this video tutorial you can make one at home and it will last you for a very long time. You'll need two major and important materials to make this a $17 scissors jack and a scrap wood. If you don't have a scissors jack, use it. Floor Jack to improvise. You won't be constructing a new lift from scratch. The creator had a wood board and just added a jack under the wood and lifted it while the bike was on top.
9. DIY Scissor Lift For Motorcycle
It's possible to build this without a lathe and a milling machine. That's exactly what the creator did in this video tutorial. This is also a rollable scissors lift, it is strong and durable. The first thing to do is to go to your favorite steel store and buy some steel shafts and metric steel rods. Make your measurements, cuts, and welding. This is a simple time-lapse video that gives you step-by-step instructions on how to build this without making necessary mistakes.
10. Homemade Motorcycle Lift For $35
To make this motorcycle lift at home, you need a few supplies like several pieces of black pipe and iron fittings. The next building step is to start assembling as welding the base. You can make this for just $35. The steps in building this are effortlessly easy and simple.
The $35 covers the materials that you'll get, if you already have an old motorcycle lift at home, it might serve you well if you just recycle it and use it for the new motorcycle lift you're about to make if you're interested in this guide. This lift is super strong and durable due to the quality of the materials you'll buy.
11. DIY Wooden Motorcycle Lift
Here a portable movable motorcycle lift that you can make for just $170 in purchasing the material for the task. Here are a few things you'll need, casters, locking caster, husky ratchet straps, nuts, washers, a harbor freight motorcycle lift, harbor freight motorcycle wheel chock, and wood. The steps are easy to follow and it's super fun to build.
Although the downside is that this video did not in any way show you a step-by-step guide on how this is made from scratch but with the material list and an idea of what a motorcycle lift should be you can make this with ease. This means that this guide is not suitable for a beginner. The concept is easy but without a proper guide on how to make it from scratch, a beginner might get lost in the process and make a lot of mistakes that will cost not just time but money.
Conclusion
Have you found a plan you want to build? We would love to know which of the plans you picked and why, feel free to tell us in the comments section. If you are having issues building any of the plans above, you can seek help from a professional for assistance.
Thanks for stopping by, I hope this article has been helpful to you. Check out our DIY projects page for more cool do-it-yourself projects.