In need of some DIY traction boards? This DIY is a must-see for you. Today, you're going to learn how to make a traction board for yourself, made by you. This DIY aims to show you several materials and tools that are easy to find and can be employed to produce one of the most durable and most extraordinary traction boards you'll ever see.
A traction board is simply a recovery tool, super straightforward, and can be used to effectively get you unstuck from mud, sand, and even snow. You don't have to wait long for a second car anymore, with a traction board constantly at the trunk of your car or truck. So, without further ado, let's check out the guides below.
1. DIY Wooden Traction Boards
Here is the first traction board on this DIY guide, and it's made from wood. Now, it's not just any kind of board; you'll need to use a Douglas fir wooden board, some hex bolts, nuts, washers, a paracord rope, and some spray paint. This video guide is easy to follow, the steps that will explain the bolt placement and wood cutting dimensions are simple to follow, and it's also less time-consuming.
2. DIY Wood Traction Board
Today on this video guide, you'll be learning how to make some budget-friendly traction boards out of wood. The creator used some 2x8 lumber for his traction board. The creator did not use washers or bolts; he simply cut out some parts of the board to create a gap at several places and placed it underneath the car tires to create traction. The board wasn't perfect at first, and you need to watch the video guide until the end to understand the making process.
3. DIY Recovery Boards
Instead of buying a pretty expensive recovery board made out of nylon or aluminum that might not last as long as you need it to, why don't you try out this simple, easy-going recovery board made out of wood in this video guide? All you need is a super-strong wood board, some bolts, nuts, washers, and a few tools to drill holes and screw bolts in. This traction board is durable and pretty practical.
4. DIY Traction Aid
I believe this is one of the most remarkable and most effective traction boards that aid the free movement of your truck that gets stuck in mud, snow, or sand. This traction board is not like any board you've seen before.
The creator made this so that you'll have to strap the boards through the rims on the tire. Once you get stuck in the mud and have that traction aid strapped in, you can quickly get unstuck in seconds. You'll need a welding kit, a cutting tool for aluminum, and a strap. Check the video guide to learn more.
5. DIY Homemade Traction Mats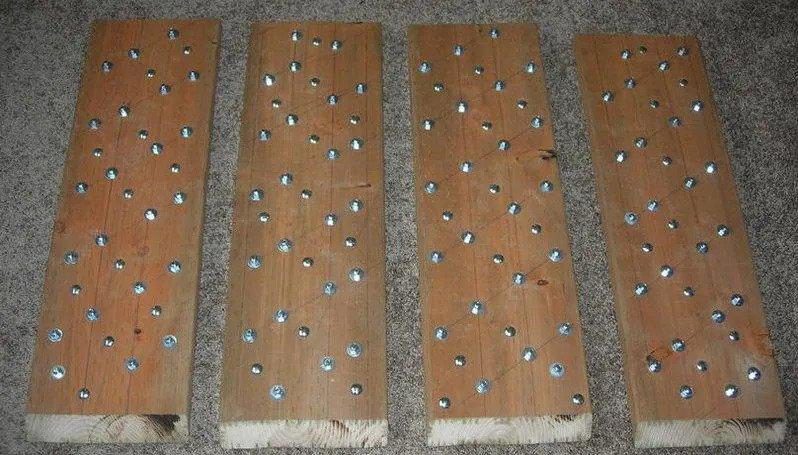 You can make this yourself; it's way cheaper than buying a manufactured traction mat online or from a local store. The making process is quick and easy. All you need are a few supplies like a large piece of ¾ inch wood, screws, rubber mat, adhesive, nuts, bolts, washers, clamps, drill bits, and a wrench for the size of the bolt you'll use. You can make any size of this traction mat you want once you get the making steps accurately. Road Way Ready
6. DIY Traction Boards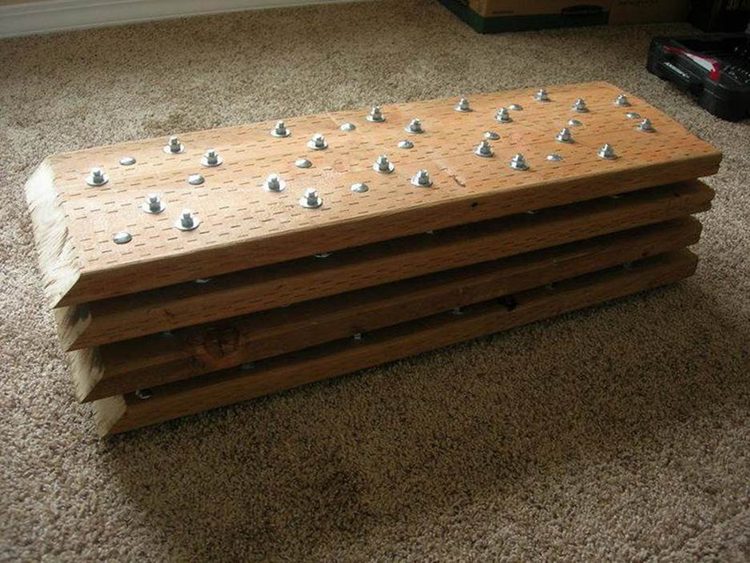 These traction boards are easy to build, all you need are the suitable materials and tools for the building process, and you're good to go. Timber boards are always goods to work with because of their durability, so you'll need some.
You'll also need nuts, washers, and bolts to make the pointy edges for traction. These boards are one of the most durable and sturdy boards on this DIY guide; you should give this guide a try. The making process is also cheap, so you don't have to worry about spending too much. 4x4 south America
7. How To Make Cheap Recovery Trax 4x4
Here is another cheap method that can be employed to make a recovery tray or traction board with ease. This recovery tray was made from plastic crates; it's not as durable and long-lasting as the wooden ones, regardless it has proven to be quite effective for the creator of this guide to an extent.
This recovery tray can be your go-to because it's cheap and easy to make. All you need are plastic crates; then, you'll trim them down to a flat surface, strap them, and lay them under the wheel of your car. If you are using a truck, you should consider getting a wooden board.
8. DIY Recovery Tracks
These traction boards are made for heavy-weight trucks because they're strong and can take the car's weight without breaking. The creator bought some traction boards rather than make some; he only built a rack to hang the boards in his truck and modified the traction boards with bolts, nuts, and washers for better grips. So, if you have some traction boards and have no idea where to keep them, you can check this video guide and learn more.
9. DIY Recovery Tracks Mount
The creator of this video guide bought a recovery board and had some adjustments made to them. He added some bolts, nuts supported by washers, and short steel pipes. All these ensure that the board is heavy and stronger than ever to last as long as possible. The building process is quick and easy to follow.
Conclusion
Always remember to take your traction board with you whenever you're going on a drive in a muddy, sand-filled, or snowy area. It'll help you get unstuck in seconds. I also hope this DIY guide has helped you understand how to make a traction board at home by yourself. Thanks for stopping by; cheers!