Are you concerned about the pain in your earring hole? Are you anxious that it may be more severe than you think? We are here to guide you through this troublesome time!
No doubt, almost every person who has had a piercing has gone through this phase at some point.
We have put together this article to ease your worries and help you understand the problems related to your piercings. Several causes are associated with the pain in your earring hole, and we will take you through the top 8 reasons why your earring hole hurts.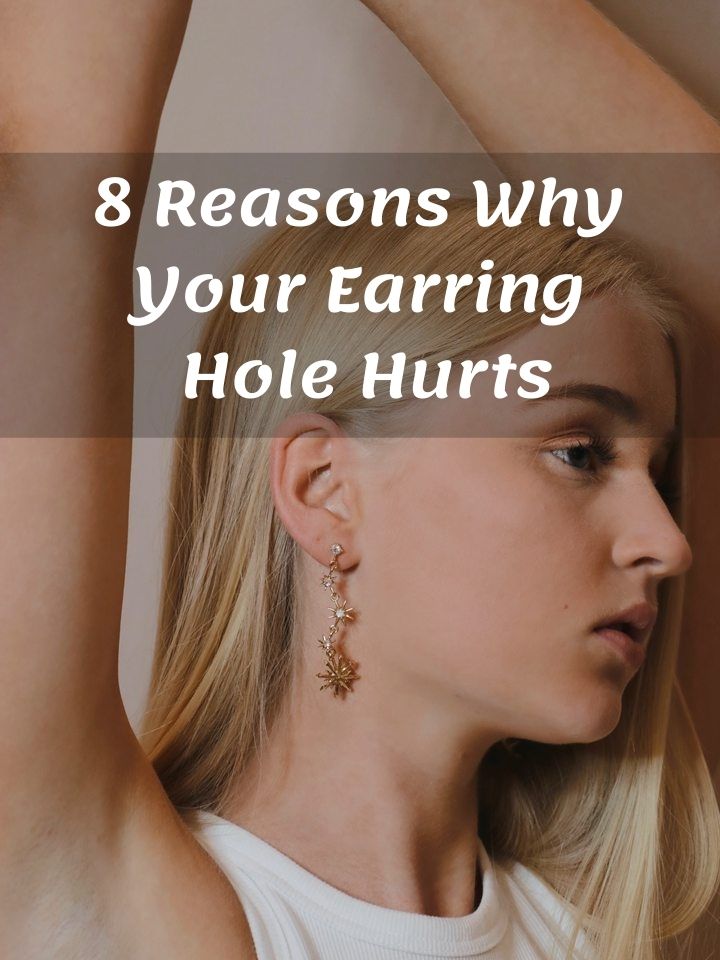 1. New Piercing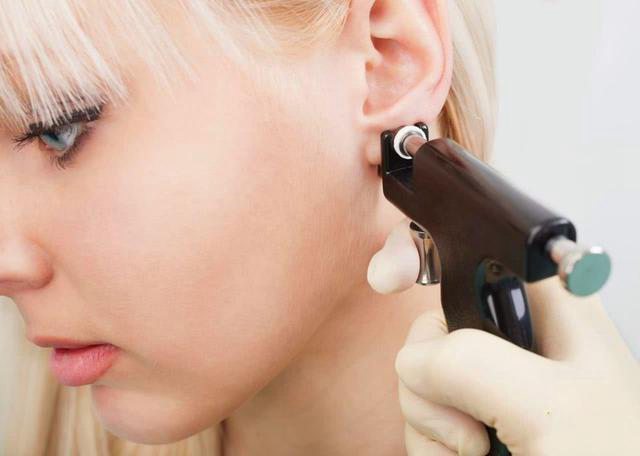 You don't have to worry about your sore ear if you recently got a piercing.
It's common to have painful and tender ears from 2 to 4 weeks after getting your ears pierced.
If the pain lasts longer than 4-5 weeks, that is when you need to be alarmed. It can be a sign of infection. You should see a doctor if this situation arises.
That's not all! If you constantly take out the earrings from the piercing to clean them, you're extending the healing time of the piercing.
Cartilage piercings take longer to heal than the ones on ear lobes. Your cartilage piercing will heal in about 3 to 6 months.
2. Abandoned Piercings
Another reason for your painful earring hole can be forcing jewellery through an abandoned piercing.
Think about it, if you haven't had any earrings on for a long time and you recently tried to push them through your piercing, they'll definitely be sore.
The tissues around the inner part of your earring hole will get damaged and swell up.
3. Nickel Allergy
According to Nickel Institute, 12% to 15% of women and 1% to 2% of men are allergic to Nickel. Even in these percentages, only a small number of people are hypersensitive to Nickel, meaning that these people quickly react to lower amounts of Nickel than other people with the same allergy.
When getting your ears pierced, the professionals there will put in high-grade studs. That's because they don't want you to have an allergic reaction.
Nickel is the leading cause of metal allergies, mainly due to the high vulnerability to this metal. Jewellery made of stainless steel and sometimes even gold contains Nickel in it. Constant exposure to the metal can increase the risk of having an allergic reaction.
Your earrings have constant contact with your ears. With an open wound (a piercing), it is not unusual to have such reactions. What you can do here is get earrings made of medical-grade plastic or medical-grade titanium. They are free of Nickel and safe to use.
If you have been using Nickel-based jewellery, you might be worried about getting an allergic reaction. In that case, the following symptoms may accompany your ear hole pain:
Normal to severe itching
Redness around the piercing
Dry patches on the skin
Blisters
Bumps
Rashes
If you see any of these symptoms, reach out for medical help. To prevent allergic reactions in the future, get an allergy test kit to check for Nickel in your jewellery.
4.Infection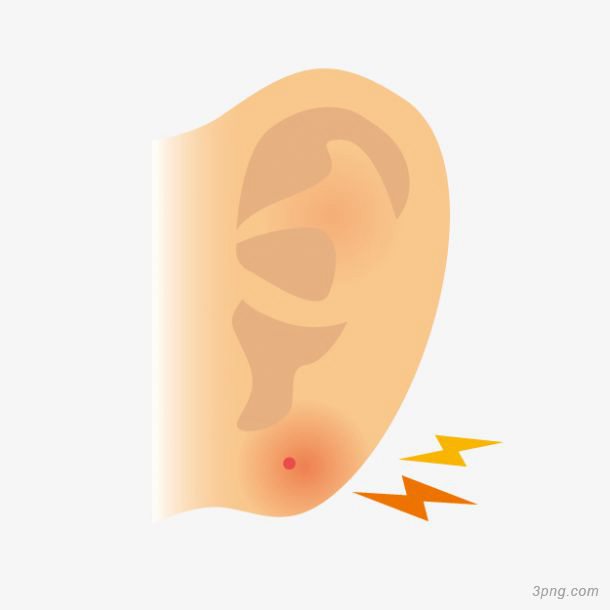 Poorly managed piercings cause infections. It means that you might not be cleaning your new piercings the way you should. An ear piercing is an open wound, and if you let bacteria anywhere near it, it is likely to get infected.
The symptoms of infection include:
redness around the ear hole
yellow coloured discharge
bleeding
Itchiness
soreness
tenderness
In extreme cases, you may even have a fever.
Methods to avoid an infection
Clean your earring hole 3 to 4 times every day. Use a sea salt solution to disinfect the area. You can use the saline solution with cotton swabs, cotton balls or cotton pads. Thoroughly wash your hands with antibacterial soap and warm water before you start cleaning.
Avoid touching your earring holes at all costs. You should only handle them while cleaning the earring holes.
Don't let your hair, shirt or pillow cover get caught in your earring or else it will pull the ear. This can result in trauma, and your earring hole can get infected. Plus, think of all the germs!
Remember not to use someone else's earrings as they will cause a spread of germs. Don't give anyone your own earrings either!
5. Tearing Of  The Earring Hole
All big hoop lovers need to be very careful with their heavy earrings. If you are one of them, you may damage your earring hole by getting your earring stuck in something. You'll tear your earring hole trying to pull it away.
Only surgeons can treat these injuries, so you really should be cautious. While this can be a reason for pain in your earring hole, a trauma such as this will be noticeable.
Reach out to a doctor immediately if something like this goes down. After all, you don't want to restrict blood flow in your ear.
This goes without saying; you should stay from heavy earrings, ESPECIALLY if you just got piercings. It won't just be excruciating to experience the constant pulling of an open wound, but you'll also tear right through the thin skin and end up with more than just an infection.
6. Lumps In The Ears
Lumps in the ears usually form when there is new skin developing in your earring hole. You wear earrings for several weeks after getting the initial piercing. During that time, skin starts to grow around the inner area of your piercing.
Once you take your earrings out, these cells solidify and form a lump. The lump usually goes away over a couple of months or even years. This experience is pain-free for most people, but it is possible to feel a sting every time you wear earrings.
It happens because the sharp end of the earring has to force itself through the lump to get to the other side. If you are dealing with a somewhat similar situation, you should contact a doctor for professional advice.
7. Tight Earrings
Earrings that are way too tight can cause pain as well. They can result in a build-up of fluids inside your ear hole along with severe pinching. This may also happen unintentionally when you are asleep. If you sleep on your side, your earring post can get pressed against your earring hole.
Be careful with headphones as well. Your earrings can get buried under them when you put them on. The uncomfortable pressure will restrict the blood flow, and you may see your ear swell up and get infected.
What you need to do is keep your earring locks further away from the back of your ear.
If you have a new piercing, don't risk damaging your skin by clasping your earring tighter than you need to. In some cases, your earrings will get stuck in place when the wound from the piercing starts to heal.
8. Keloids
Keloid is a rubbery scar that can develop around your piercing. It is a raised scar, usually pink in colour, and can be painful or itchy. However, some people don't experience the pain.
It forms when cells in the skin respond to an injury with the overgrowth of fibrous tissue. They can take from 3 months up to a year to grow on your ear. Even if they originate from the area surrounding the earring hole, they can spread further.
Keloids are challenging to remove, but you can get rid of them by surgery or laser treatment. Cryotherapy is used on smaller keloids. It is a procedure where the doctor first freezes the keloid, then softens it and shrinks it in size. However, the risk of another scar forming after the removal of the first one is always high.
You shouldn't confuse them with piercing bumps. According to medical news today, Keloids grow bigger over months, sometimes years. They get darker in colour, and there is no fluid in them. On the other hand, piercing bumps stay the same in size, are pink in colour and release pus.
Final Words
To sum this up, your pain can be due to one of the reasons we have mentioned above.
You need to take a better look at your earring hole to check for other symptoms that might tell you what's happening there. You can look for discharge, blood, redness, swelling or lumps on your piercing.
Secondly, you should avoid heavy or dirty earrings, Nickel jewellery and tight earring posts. You have to keep your piercing clean without pulling or damaging it.
Lastly, you have to see a professional if your pain does not go away or you have other symptoms that point towards an infection.
Don't forget to leave a comment down below and let us know if this article was helpful!