These tiny kitchen ideas will make your kitchen look as good as any grand and spacious kitchen out there!
So what if you have a small house? Smaller houses are much more cozy and easy to style.
In essence, it is all about playing around with the right tools and accessories to bring together your kitchen in its best form.
Stay tuned, because we are about to explore some amazing tiny house kitchen ideas that will change your inner interior designer forever!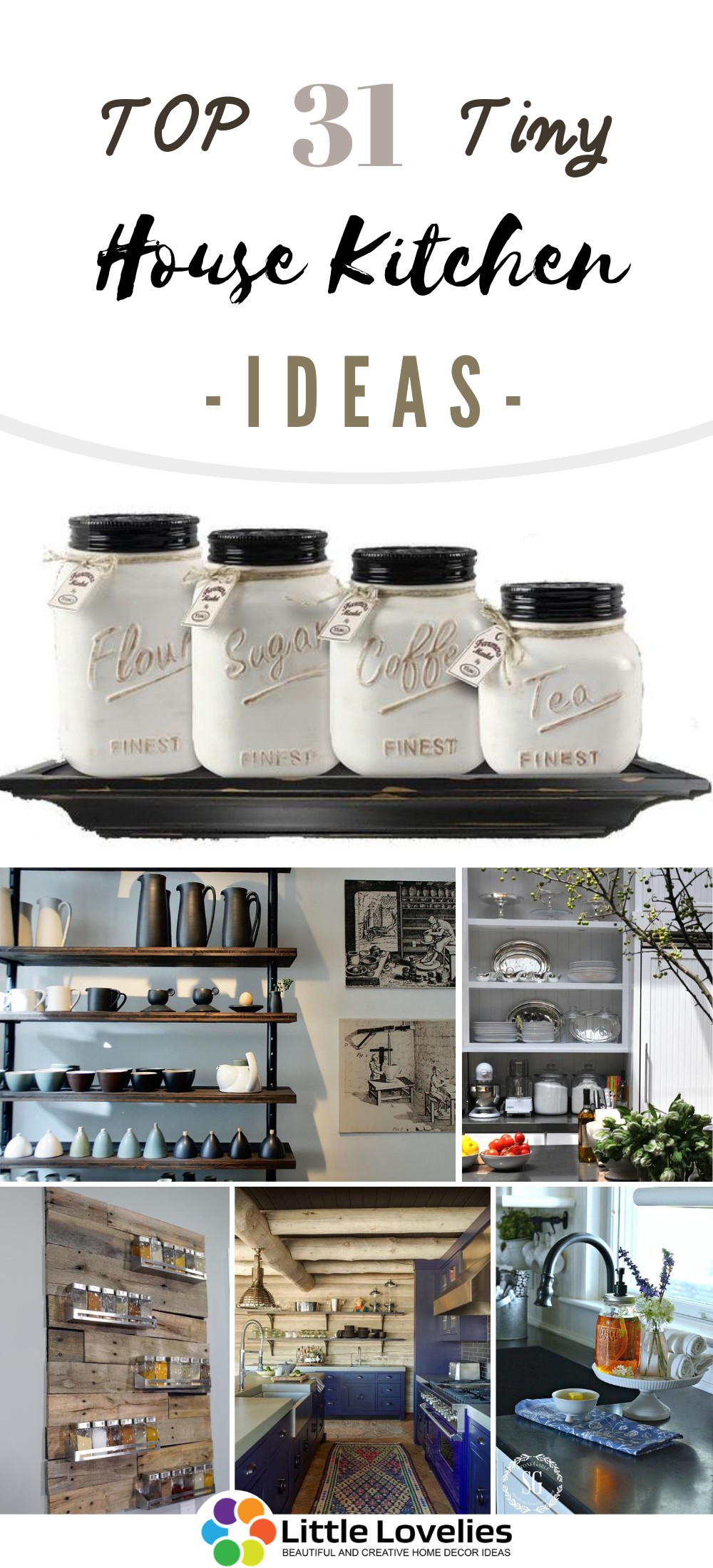 1. Less Is More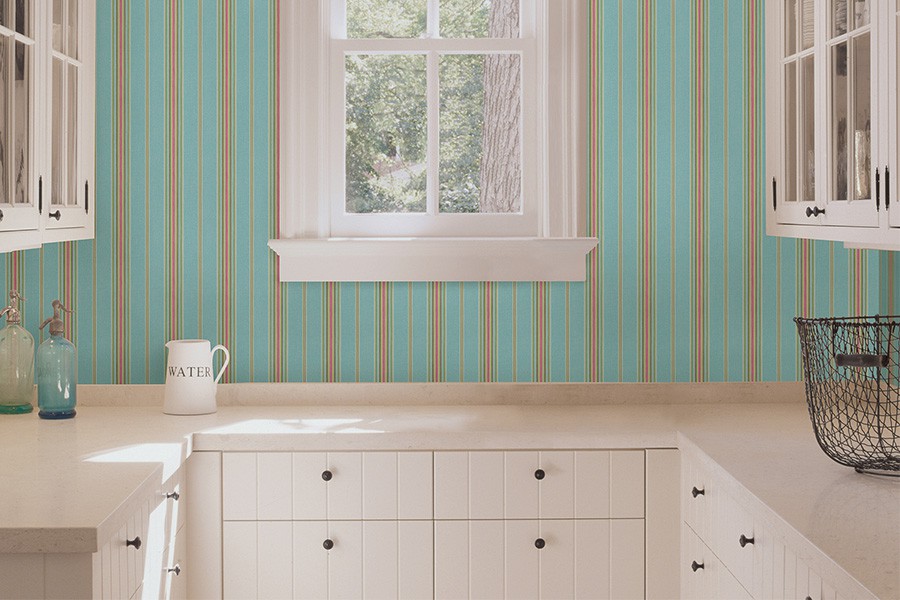 This cozy small kitchen has a huge personality! Those sleek and smooth countertops give this kitchen dimension and body while providing adequate space for your daily cooking rituals! Grab a compact kitchen countertop from our finest collection!
2. Welcome Home!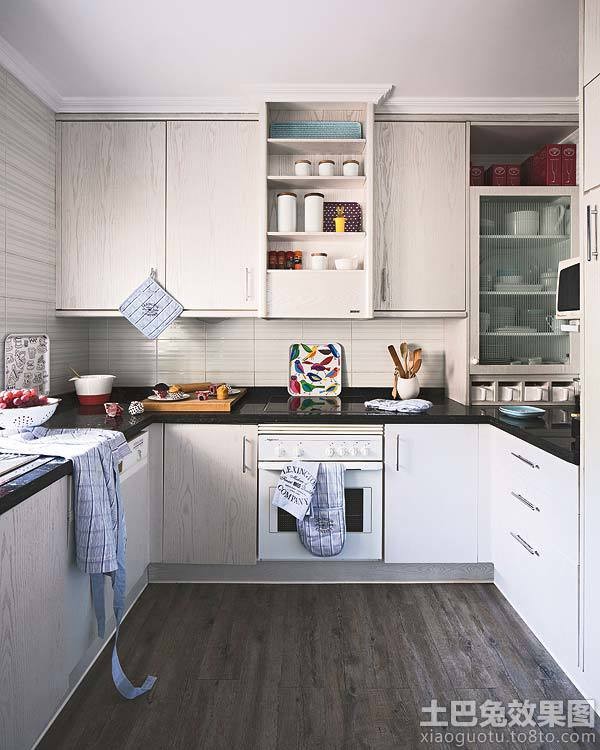 This homey kitchen has been designed with an elegant balance of style and convenience. The colorful cutlery and appealing crockery items make this kitchen look welcoming and whole! Get exquisite cutlery and crockery for your home today!
3. Black & Gold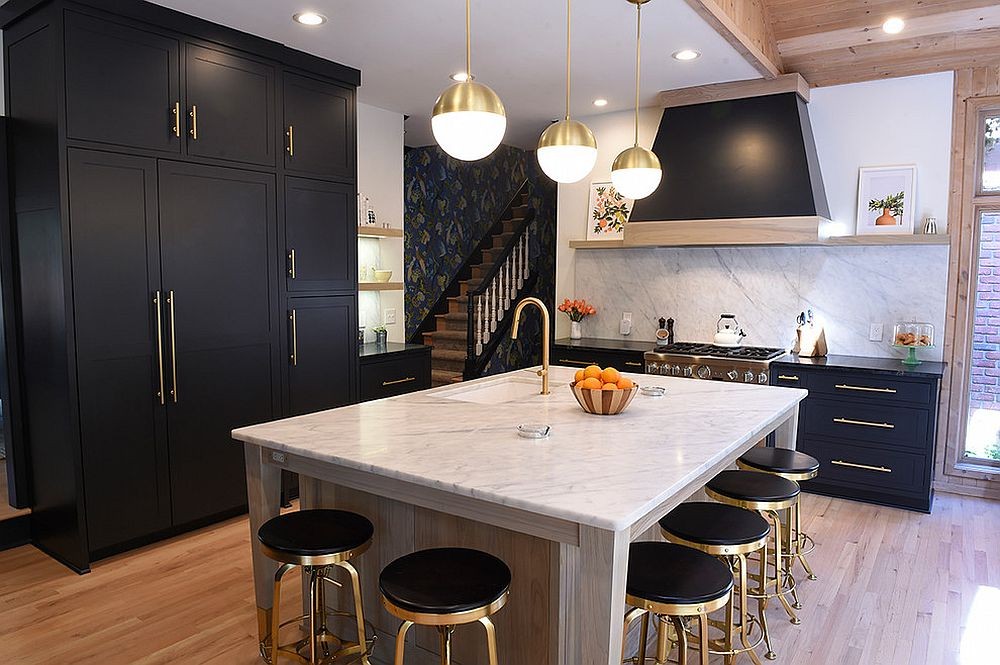 Instead of stacking up your already small kitchen with a dining table, try one of these gorgeous bar stools instead. The fine metal craft with excellent contrasts and hues makes this chair so wholesome and unique. Grab your set of bar stools for your lovely kitchen!
4. Kaleidoscopic Patterns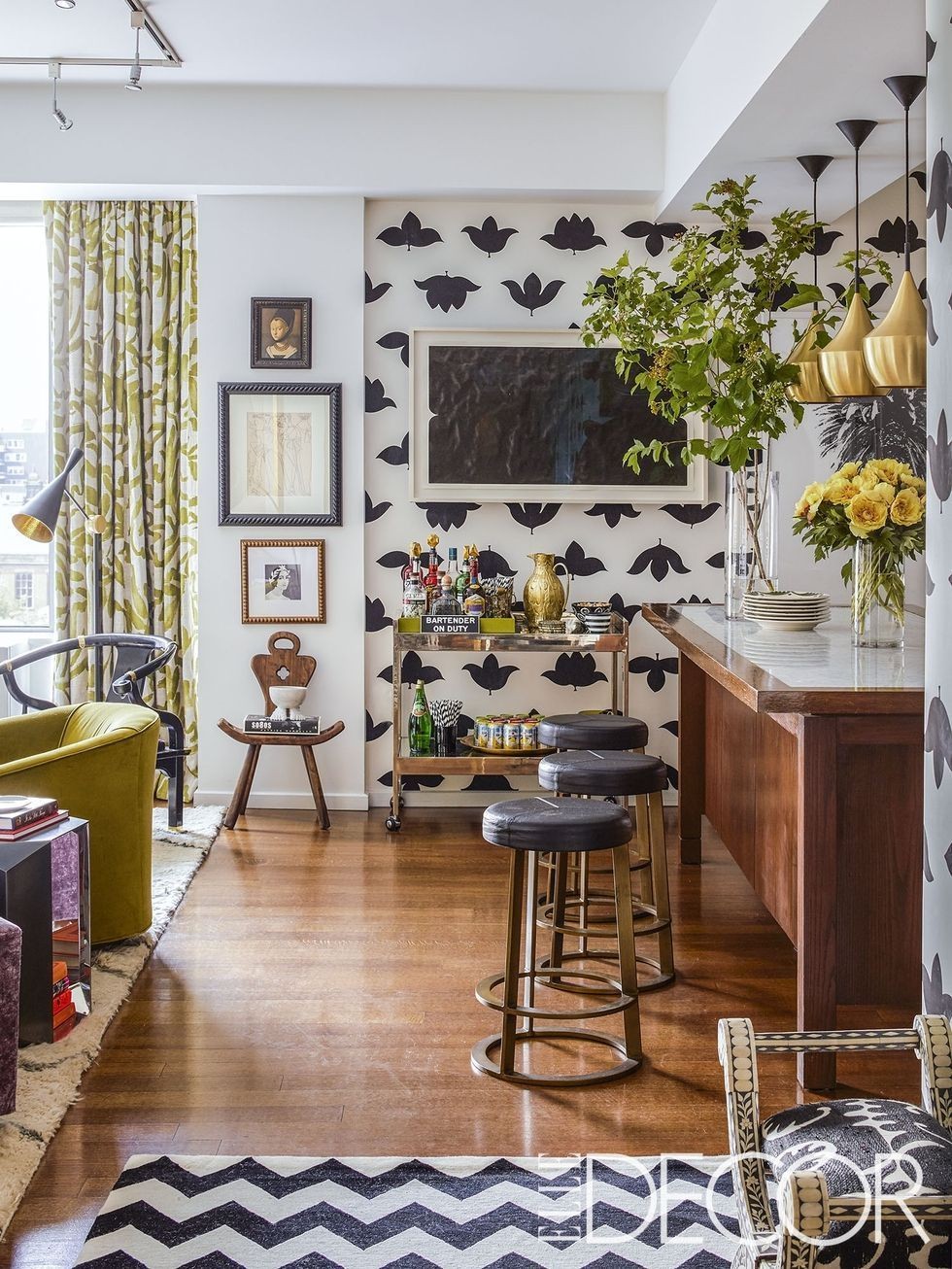 This kitchen would not have looked so vibrant without that trendy wallpaper. Decorating your kitchen with fun and abstract wallpapers will make it a piece of art! You really can not go wrong with the wallpaper designs that we have in store for you!
5. Enlighten Me!
This small kitchen looks ravishing due to the cool-toned lighting. Small kitchens require lighting that is neither too overwhelming nor too striking, and this lighting scheme serves the perfect example!
6. Wooden Charms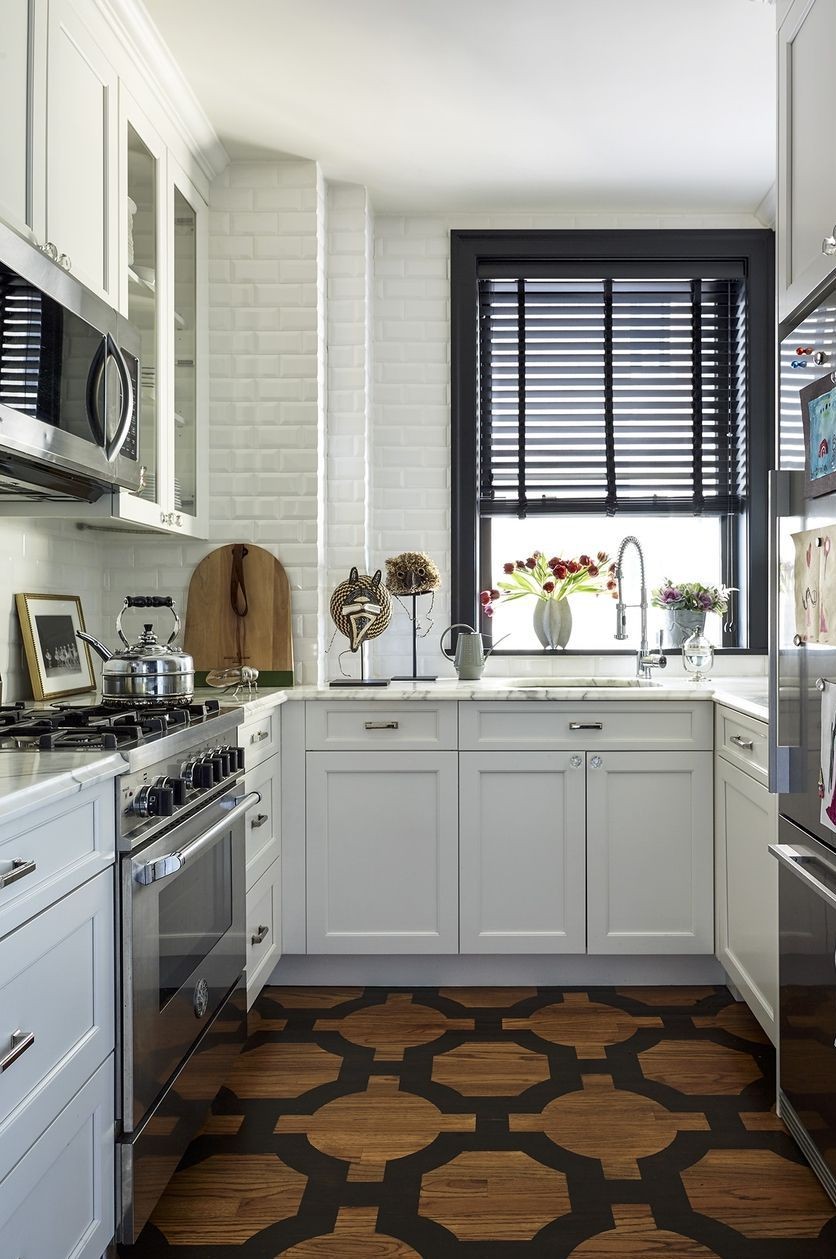 While the exquisite blend of monochromes gives this small kitchen a luxurious touch, the abstract pattern vinyl wood flooring does not cease from impressing us all the way. A chic flooring for your kitchen will simply make it a class apart!
7. Pastels For Life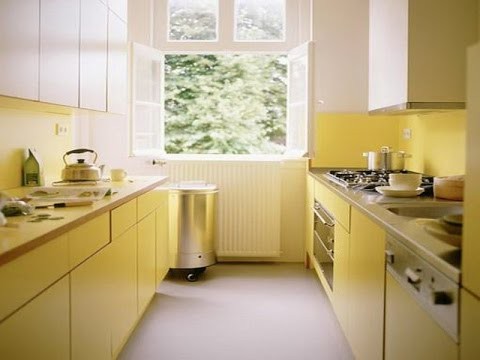 This exciting kitchen is thrown into massive flavors of pastel mustards and yellows! The colors make this kitchen groovy and can make anybody's day bright. So do not shy away from grabbing a vibrant paint pot for your kitchen!
8. Black Is Bold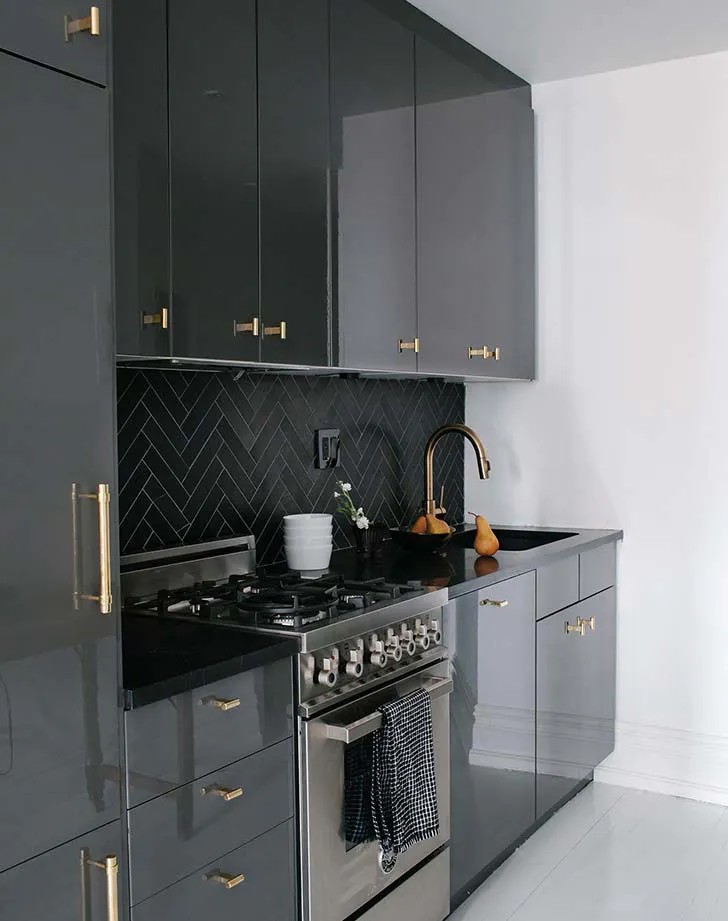 This kitchen is small, but speaks volumes! This is due to the clever choice of contrasting colors. The black zig-zag pattern tiles add even more to the personality of this bold monochrome kitchen. Make sure to pick out a fun and groovy kitchen tileset for your kitchen!
9. Floral Fantasies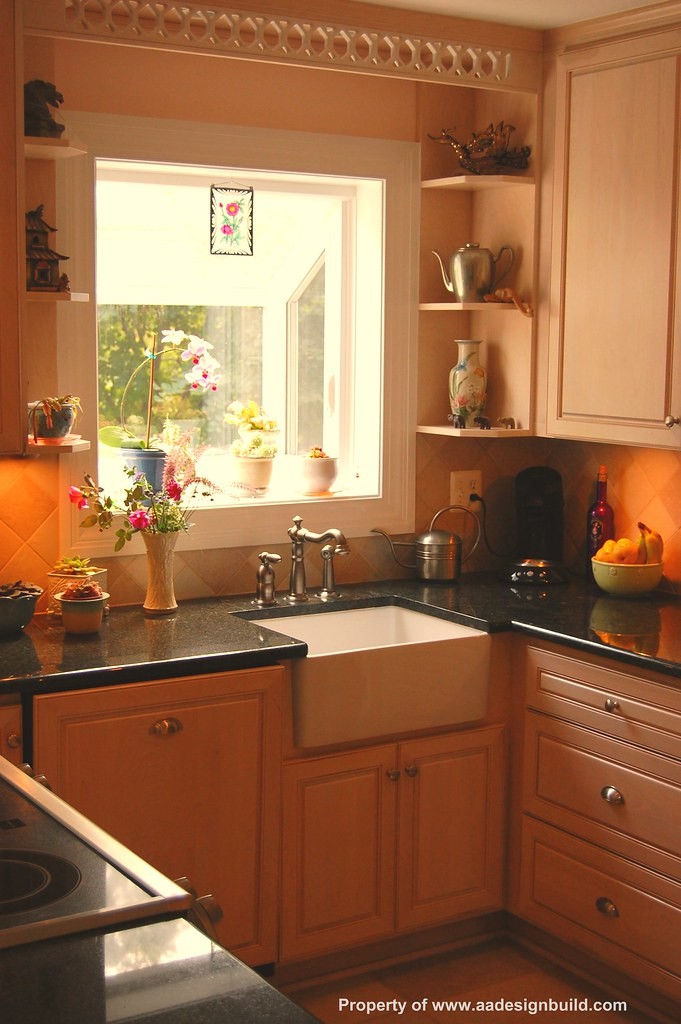 Stacking beautiful and popping pieces of faux flowers will give your kitchen a fresh and lovely vibe. Sticking close to nature is always soothing to the eye, even if it is a mere imitation! Check out our vibrant range of faux plants and flowers today!
10. Think Outside The Box
A kitchen too small can also be a kitchen too fun! This box-style small kitchen has a lot of storage, thanks to those floating shelves. If you have a small kitchen, make sure to save space and nail in some of these stylish floating shelves.
11. Luscious & Velvety
Small kitchens like this one give you wonderful opportunities to play around with rugs and floor carpets. This burnt orange rug is mediating a lot of balance to this warm burgundy toned kitchen. Select your favorite rug today!
12. Creamy With A Hint Of Matte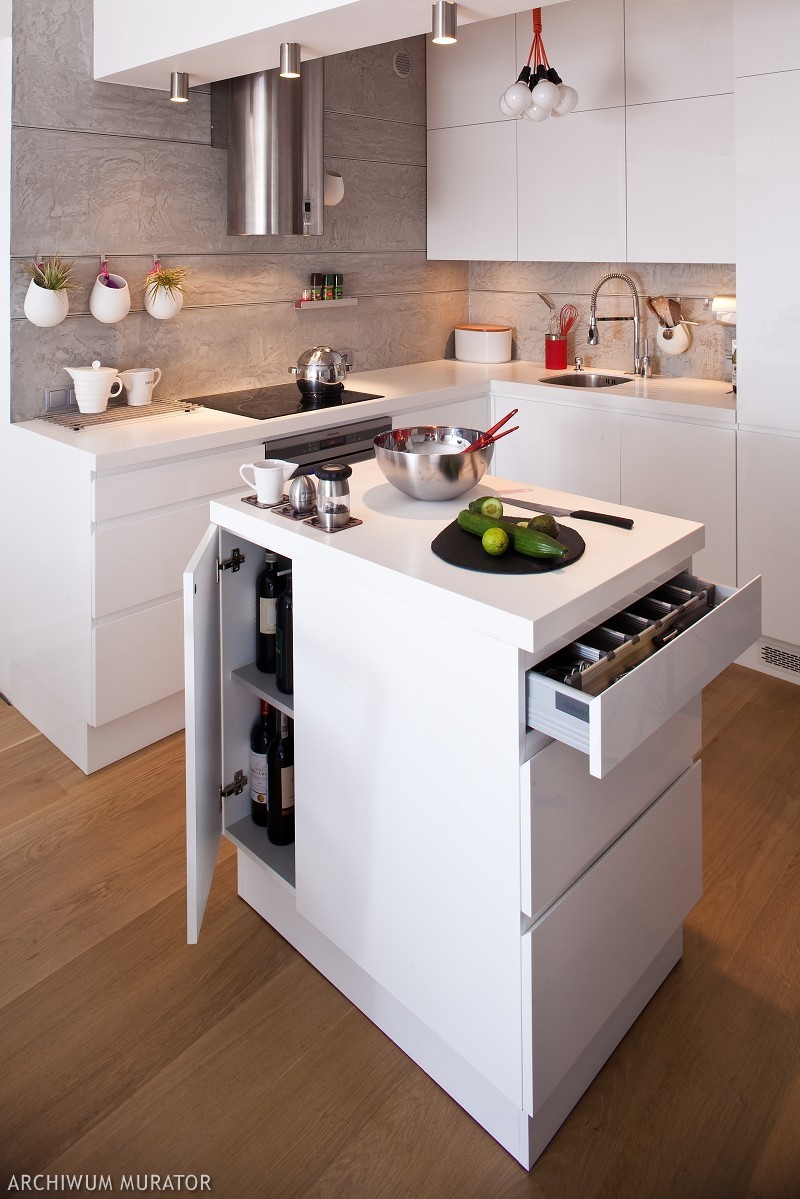 Kitchen islands make an excellent working place for small kitchens, especially if they are this compact and deliciously painted. Those smooth surfaces and gliding drawers can save a lot of space while making room for a lot of utensils.
13. Chop Chop!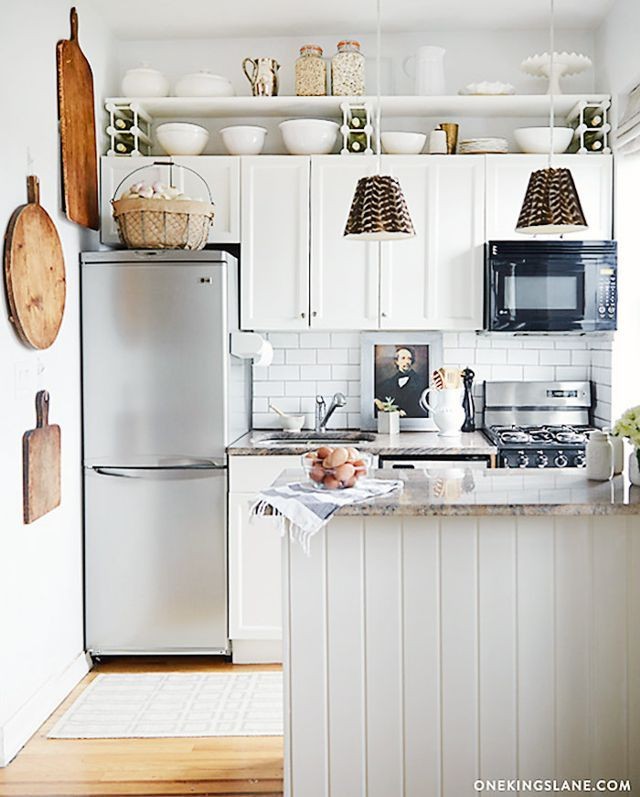 Chopping boards in all shapes and sizes always come in handy. So whether it is that meat that needs dicing or that delicious mango that needs slicing, just grab one of these to work neat and clean. Plus hanging them in the display will also make your kitchen look trendy and distinctive!
14. Hoods With Panels
Every kitchen deserves a bold looking hood. Since hoods do not require ground space, you have the freedom to choose from a large selection of kitchen hoods for your small kitchen. This kitchen is making a bold statement with that aesthetically hood!
15. Caressing Corals
Those neutral-toned coral cabinets manage to uplift the entire mood of this small and cozy kitchen! Kitchen cabinets are a must for every kitchen, and those with such fun and colorful blends can be sought as a bonus!
16. City Of Lights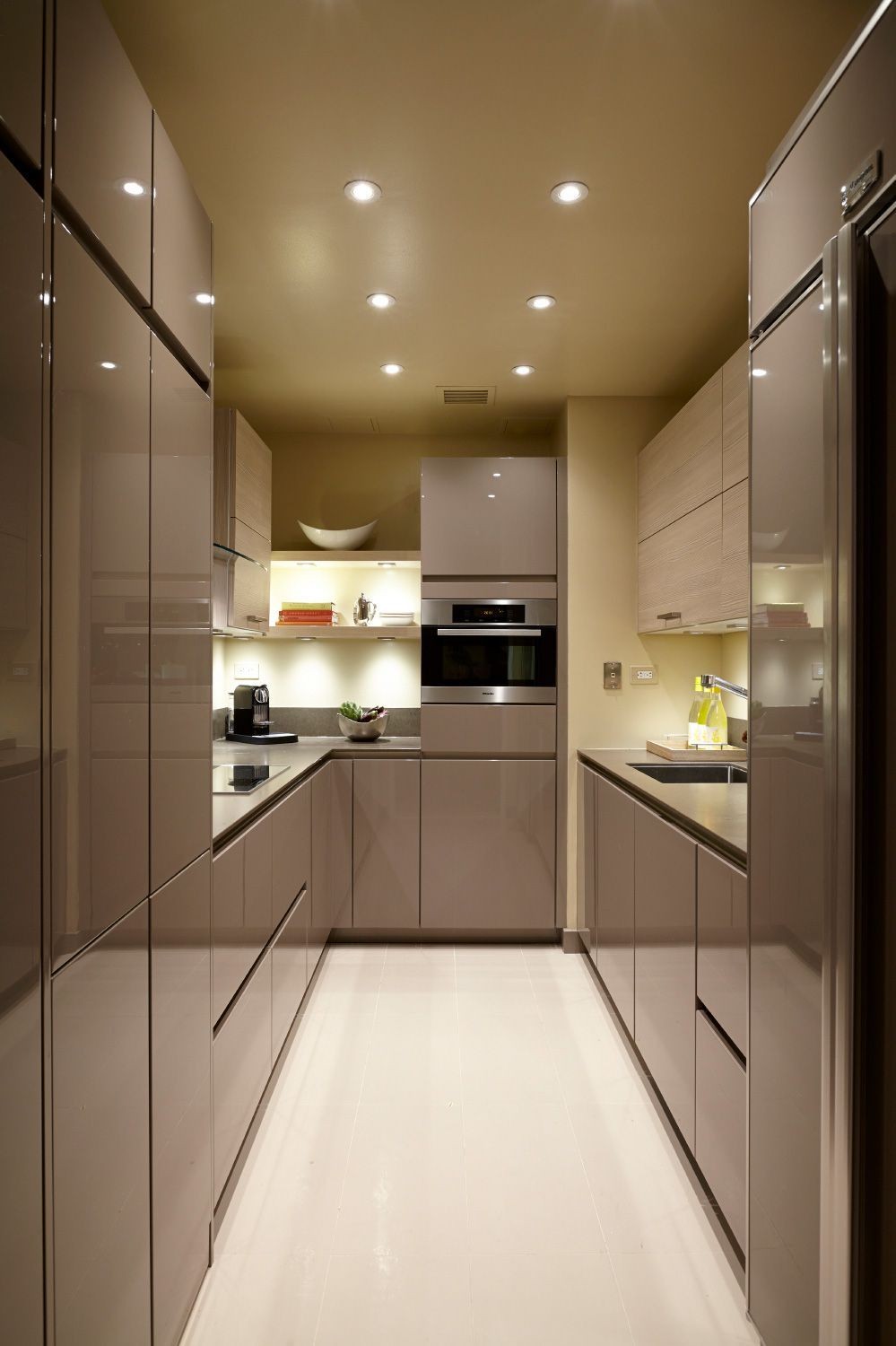 Spotlights always give kitchens a paparazzi-style attitude. And not just that, they perfectly balance the amount of lighting required for a small kitchen. This small kitchen is under a warm glow due to these chic-looking ceiling spotlights!
17. The Basket Hunt
This modern contemporary kitchen is elevated with sheer illuminance and that grid basket. Baskets come in so handy! So make sure to stack up on one of these to put your all-time favorite vegetables on display.
18. Curves, Not Swivels!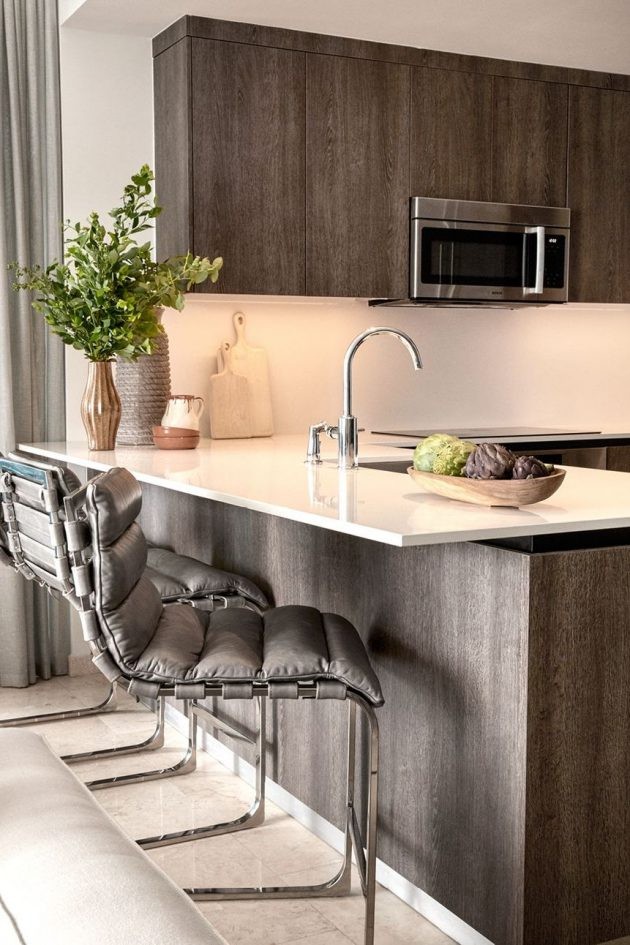 These curvy and groovy chairs beside the island top make the kitchen look twice as much inviting. The fluffy padding will also make it worthwhile to sit on while you munch on that bowl of cereal!
19. The Disco Ball
Smaller kitchens can be upgraded by intricate and chic lighting, like this one here. The sphere hanging light radiates a warm red light through its slices, which gives this kitchen a groovy vibe.
20. Descending Crystals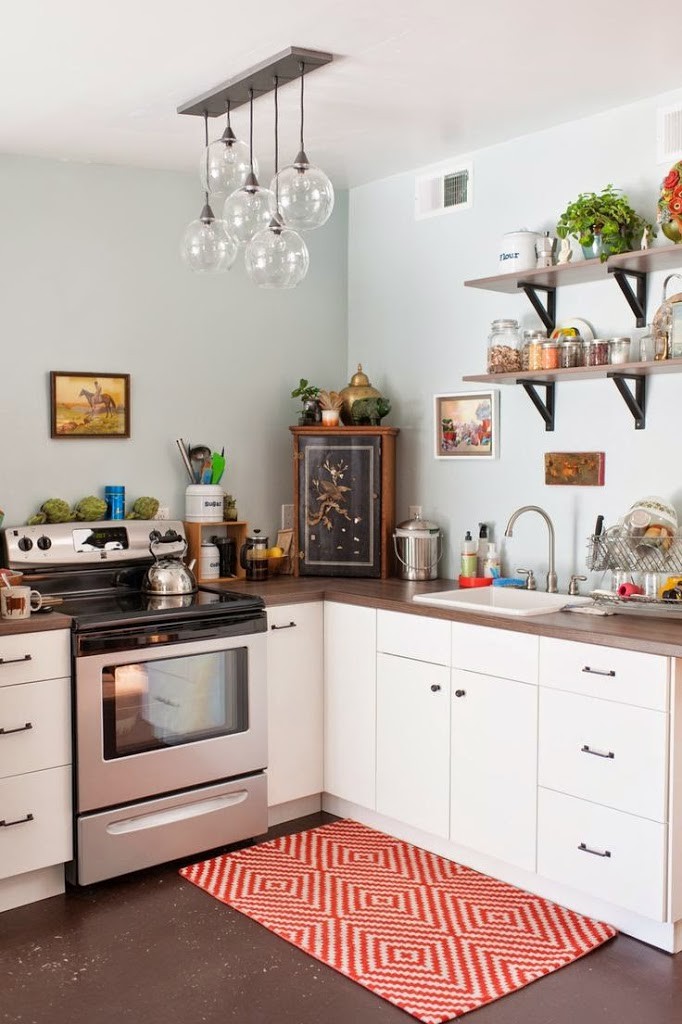 A delicate chandelier for your kitchen can make it look boujee and luxurious. Like this kitchen, these non-parallel crystal ball lights make this kitchen look ravishing. A kitchen as simple as this one can be imparted a touch of grandeur! Grab your kitchen chandelier today!
21. Criss Cross
These dollhouse-style plain white chairs withhold a lot of elegance. They soothe the aura of the entire kitchen whilst maintaining their continuity with the peace-loving white theme. White Barnhouse style chairs with criss-cross patterns are the new trend and can make your kitchen look well-lit!
22. Caramel Latte
A morning with a nice hot cup of freshly brewed coffee can fade those Monday Blues away! Gear up your coffee station with a handy coffee machine so you can get your daily dose of espresso! Check out our exciting coffee machines!
23. Let's Bake!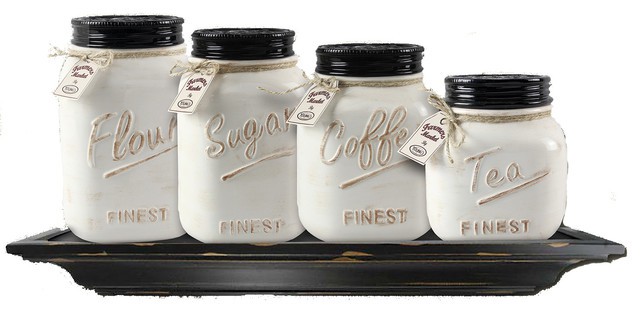 All that flour and tea needs a bit of deluxe storage. Why not choose your pick for our irresistible range of storage jars? Not only will they prove to be of convenience, but will also give those empty shelves some items to show off!
24. Noir Black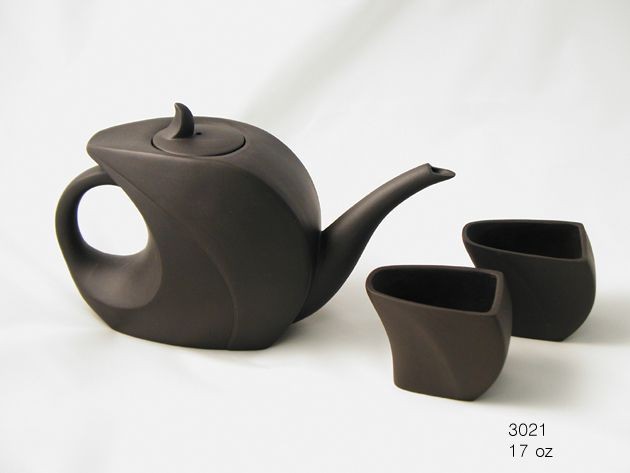 This impressive matte black set is sure to appeal to anyone with a dire love for this superior color. Set your kitchen ablaze with this artisan teacup set, which will make every cup of tea a glamorous motion!
25. Metallic Legacy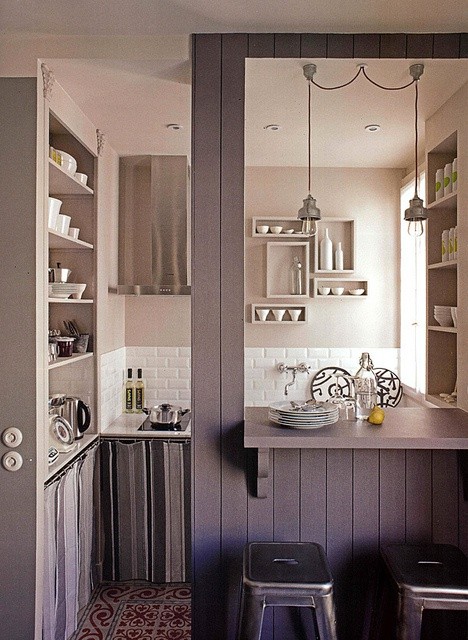 This silver themed kitchen is rendered complete, thanks to the addition of smart hanging lights. The style of these hanging light bulbs with subtle metallic rims make this kitchen look more like a home-style cafe! Lighting can make a huge difference, so take your time to select the right one for your kitchen!
26. Modern Romance
This kitchen is small but designed with such grace and elegance. While the rest of the theme comprises beautifully sculpted marble, the insertion of a silver sink component takes this kitchen a thousand ranks above the rest! This smart interplay between textures can make your kitchen stand out too! Just make sure to check out our vast range of kitchen sinks!
27. Cooking Marathons!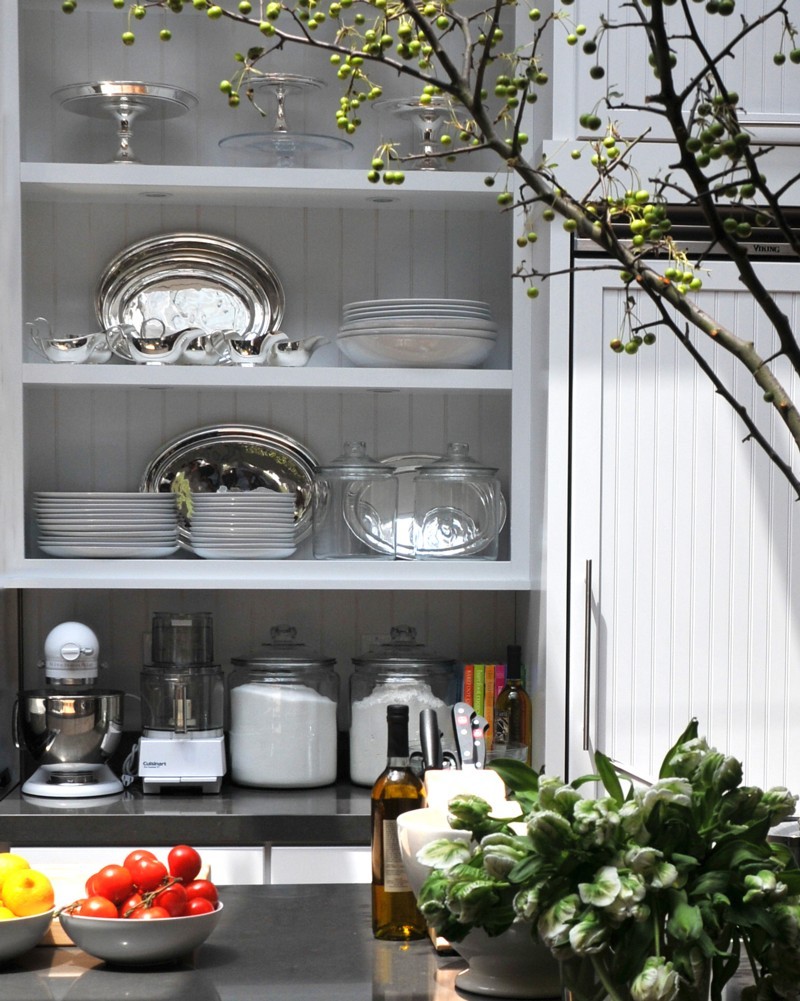 Fast-paced cooking requires modern era equipment, like this sleek looking mixer! Just pour in your raw ingredients without having to move a muscle. The selection of kitchen appliances that contrast with the theme of your kitchen can play an important role. The kitchen appliances in this kitchen surely look like they belong here!
28. A Modern Tea Party!
Having a variety of mugs allows you to be diverse when it comes to hosting parties. And not just that, you can always showcase your mugs, each having a unique style and design! For all those mug and cup fanatics, be sure to check out our exciting collection of mugs and cups to make your shelves worthy!
29. Just One More Slice!
There are so many ways to use a cake stand and make it look ever so elegant. This gorgeous luscious white cake stand could make all your cupcakes and pastries stand out! Not to forget, you can always use it for displaying your most loved items in the kitchen as well. Click that button to see more delightful cake stands!
30. Sugar, Spice & Everything Nice!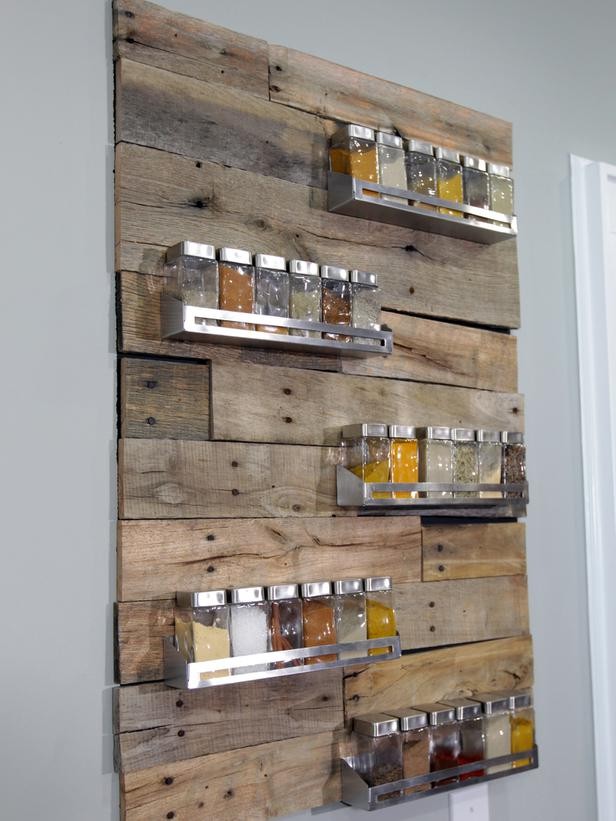 Are you in need of some compact storage for all that cajun seasoning or ground turmeric? Then look no further! An organized spice container will set all your affairs straight and make everyday cooking a breeze. This hanging spice organizer is ever so smartly played with; perfect for kitchens with minimal ground space!
31. Blue Ocean
This kitchen is screaming all vibes of beaches and the glistening blue seas! Playing around with colored furniture is not for the faint of heart, but once handled correctly it can bring your kitchen to life! If you want to give your kitchen a tangy pop of color, make sure to check out our unique colored shelves and cupboards!