Searching for a way to build an amazing off-grid cabin? Here is a DIY project with a few off grid cabin plans that will help you make the ideal cabin you want. Most of the guides on this DIY are easy-going, and simple to build as long as you follow the steps properly.
Also, most of the guides in this DIY project are quite expensive, so it all boils down to your desire to push through and make a cabin regardless of the cost. This DIY also features off-grid cabins of various sizes, even ones with a chimney, and ones with a modern design, and a solar system.
Before you pick any guide on the list below, I will advise that you know what you are looking for first so that you know the guide that will suit your needs once you set your eyes on it, and even though it might be expensive, you can find something similar to build.
So, without further ado, let's dive in and see the incredible guides that await.
1. Off-Grid Cabin DIY
This video guide is the first on this list and it features a well-compiled building plan of an off-grid cabin, the materials to use, the sketches that you'll follow, and calculations for the dimensions of the cutting of the lumber wood. This is a simple DIY project to follow.
2. DIY Simple Off-Grid Cabin
Here is a simple off-grid cabin that you can afford to build, the materials are cheap and easy to purchase, it features only two windows, a single pitch roof, a raised foundation giving space under for logs and other stuff to be stored.
3. Building An Off-Grid Cabin
Do you need an off-grid desolation sound modular cabin?  Here is a guide with the knowledge of the how-to and materials needed. The making is super easy to follow, and you'll just need a few basic woodworking tools. Check the guide to learn more.
4. 24x24 Simple Off-Grid Cabin
This is a 24x24 simple off-grid cabin idea, built with a blueprint of how the entire structure will look from all angles. The entire guide talks about this blueprint and there is a link to get this blueprint and start working on the project.
5. DIY Off-Grid Cabin Under $5000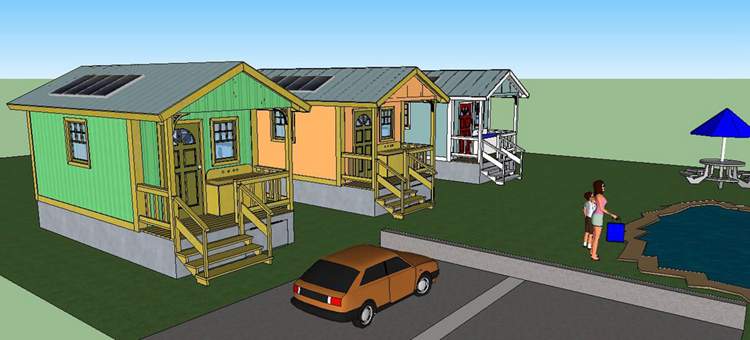 Here is an off-grid homestead cabin of 400 sq ft. It's quite small, it's a 10x20 cottage that was built in a modern style. You will need to find the SketchUp file or rather, use SketchUp software to create this structure from the ground up.
This guide also has a link to where you can not only get the SketchUp software but also get the full view of the design from all angles.
The first building step was the foundation, which of course needs to be sturdy and firm as possible, then the creator moved up to the floor sheathing, then the sidewalls, the rear-end walls, the front entrance walls, the roof frame, the porch frame because this off-grid cabin has a porch as well, and few other features. This project is amazing, and also pretty expensive, it'll cost $5000 for the materials.
6. Off-Grid Portable Cabin Plans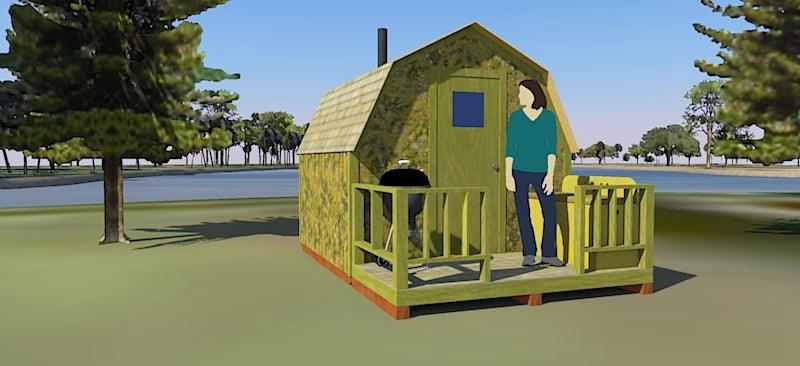 This is a small portable off-grid cabin, it's pretty easy to make and requires simple basic woodworking tools like a circular saw, a bubble level, a drill driver, a razor knife, a jigsaw, and a square. For the materials, you'll be using a barn roof style, OBS boards, plywood for the walls, treated lumber, adhesive, hangers, roll roofing, and a few other supplies for insulation and finishing.
The total cost for this project is $292.27. If you're too busy and in a hurry to read through the entire guide, there is a link in the guide that will take you to a YouTube video guide that explains the entire project in a more concise way.
7. Off-Grid Stealth Cabin Plans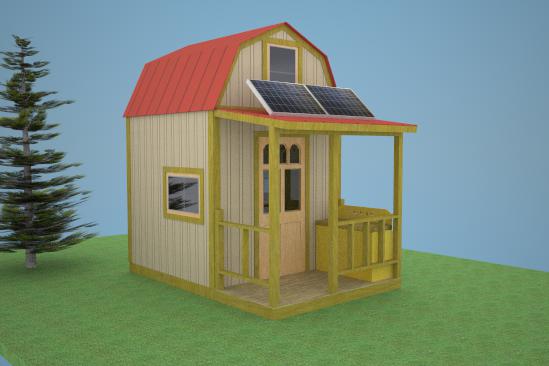 This is an off-grid stealth cabin, it was made with lots of wood, and simple woodworking tools. For the floor framing list, the creator used a 2x6x8 floor joist and an OBS wafer board subflooring. For the walls, he used 2x4x8 studs for the loft and other areas, and a 4x8x7/16 OBS wafer board subflooring.
For the roof, he used 18 2x4x8 studs and added some exterior finishing materials. If you want to learn more about the making process, you're going to have to click that link and check the guide to see, it's pretty easy, so I believe you'll get the hang of it in no time.
8. Thoreau Off-Grid Cabin Design Under $1000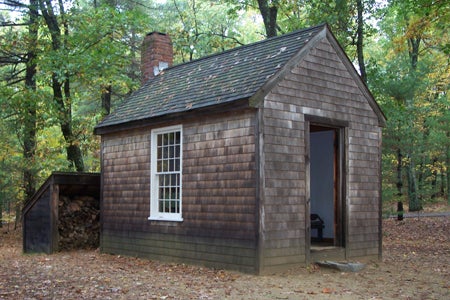 This is a great Thoreau off-grid cabin that was designed for under $1000, it's quite cheaper than the previous guides on this list, and the making process is simple to follow. This is a cool off-grid cabin with a fireplace.
The creator started with the foundation. Obviously, once the foundation is right, the rest of the structure on it is perfect. Next, he moved to the frame for the floor, then the sheathing, the sidewalls, front walls, back walls, the roof frame, and then sheathing the entire structure.
9. Off-Grid Cabin Full Plans
This video guide takes the project one step at a time with a full building plan to help you through the process. Also, this is a simple woodworking project that requires basic woodworking tools which are pretty easy to find and use, regardless of your experience or lack of experience.
10. Off-Grid House Build
Here is another amazing off-grid cabin with an amazing building plan for the exterior design. This guide will also show you how to set up the interior part of the cabin effortlessly.
11. How To Build An Amazing Off-Grid Cabin
This is a simple off-grid cabin in which the creator spent more time building than explaining how it was built. There is a porch in this build, so it's pretty straightforward from there. The creator used oak boards for the sheathing, roofing, and other interior designs, and it worked out just fine.
12. DIY Off-Grid Cabin
Here is another amazing off-grid cabin build, the creator did a great job in explaining how the structure was built by working on it as he was recording. The process is a step-by-step process, with no pressure, and it's pretty easy to follow from start to finish.
13. How To Build An Off-Grid Cabin On A Budget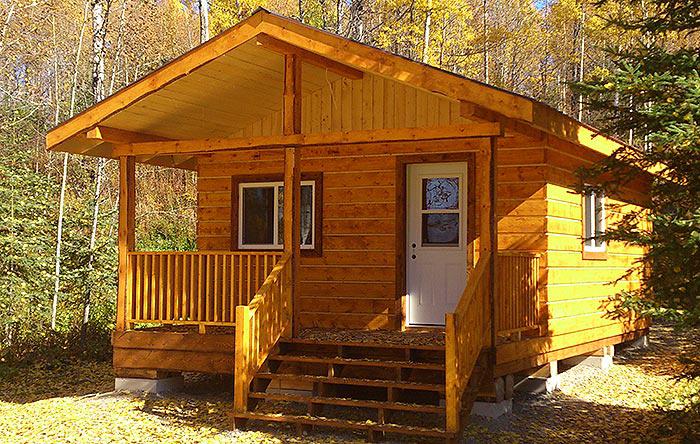 Are you on a budget, searching for a cheap and easy way to build an off-grid cabin, here is a guide that can help you fulfill your expectations? You must always try your best to be creative when using this guide to build an off-grid cabin, due to the availability of the materials and hardware supplies.
The first step is to find the right spot or piece of land to start your construction, then getting the right tools for the job, basic woodworking tools for cutting, and preparation of the lumber for the project. This off-grid cabin is a strong, cost-saving, and durable cabin that you could ever build.
14. Off-Grid Cabin Plans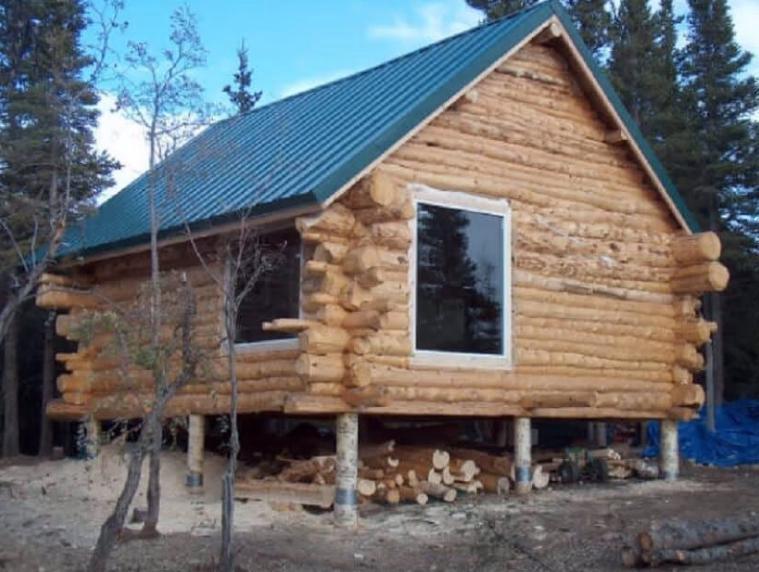 Here is another amazing off-grid cabin idea that you can check out right away. If you decide to use this guide to make the off-grid cabin, hen you need to have a few things in mind to consider, first the budget, the location, building codes if any, design, generating power which balls down to solar energy which the creator used or micro-hydro electricity which is another efficient option.
For the making process, you need to consider the kind and amount of logs to use, laying the foundation, raising the log walls, making and fitting the doors and windows, and building the roof, and gable walls.
The entire project is pretty easy to follow. All you need is a basic knowledge of how woodworking projects are completed, and there is a YouTube video in the guide that will explain better.
15. Building An Off-Grid Cabin Using Pallet Wood
This video tutorial guide is going to show you how you can build an off-grid cabin with lots of pallet wood, nails, hammer, and a few other woodworking tools. You can save money on the pallets and use recycled pallets, it still gets the job done, and it's pretty strong. This is a small off-grid cabin, and it was built in the middle of nowhere, that's the idea anyway, making an off-grid cabin.
The exterior work on this cabin is pretty easy to follow, it's the interior design that can cost you a little more than you budgeted, and of course your time. The creator added a water tank for boiling water, and a pipe cooking oven. He also added some chairs, a folding table, a bookshelf, a raised bed, and lots more.
Conclusion
That's all we have, for now, I believe with these few ideas on this DIY project guide, you will be able to make any kind of off-grid cabin of your choice and have the best off-grid cabin structure out there. Thanks for your time, and patience spent viewing this article, cheers!