These narrow bathroom ideas will make you want to renovate your bathroom into a living beauty!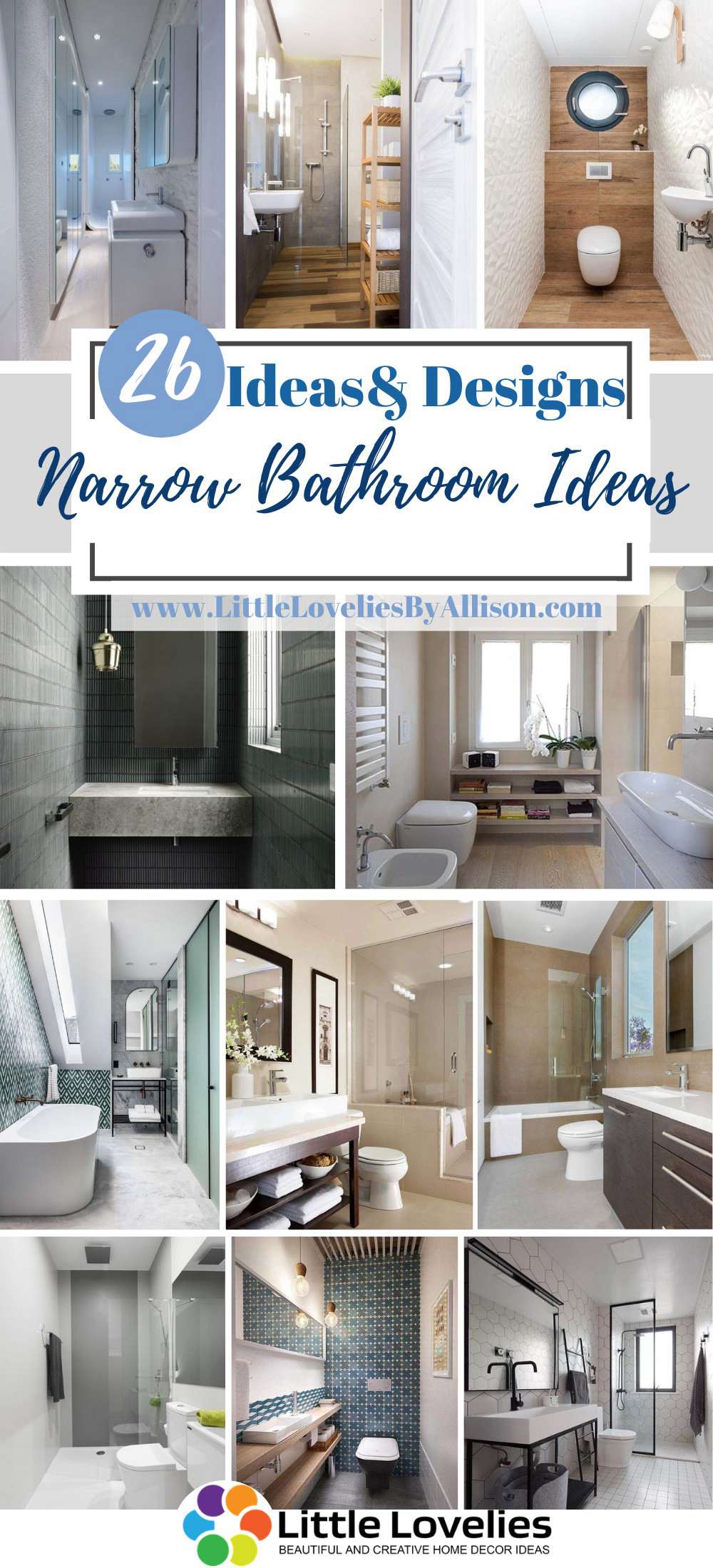 Narrow Bathrooms Can Be Just As Graceful!
Many people choose not to invest in narrow bathrooms just because of the misconception that they can not be converted into a bathroom worthy of praise.
This is totally wrong because narrow bathrooms can be just as impressive as any large or spacious bathroom!
It is all about playing with the right bathroom hardware.
After viewing our collection below, we are sure that you will have the same to say!
1. White And Bright!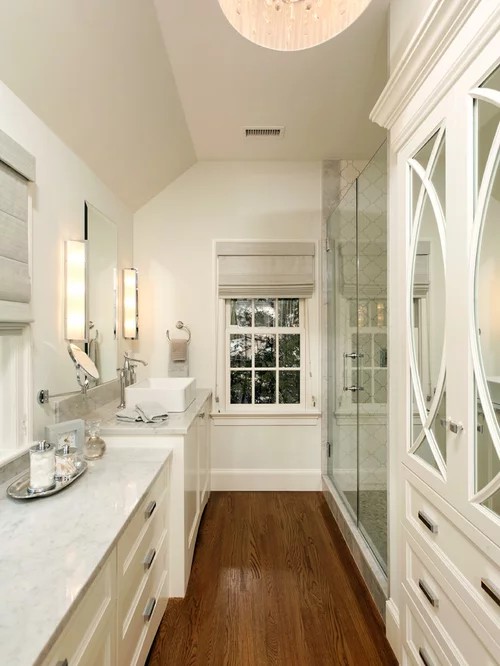 Narrow bathrooms resemble whimsical corridors and there is a lot you can do to them! This white themed bathroom with a wooden flooring looks ever so elegant! The use of french windows and gorgeous yellow-toned lighting has set the bar high in terms of style and grace! The idea of arranging candles on silver trays is another excellent initiative to enhance the style.
2. Chocolate Brown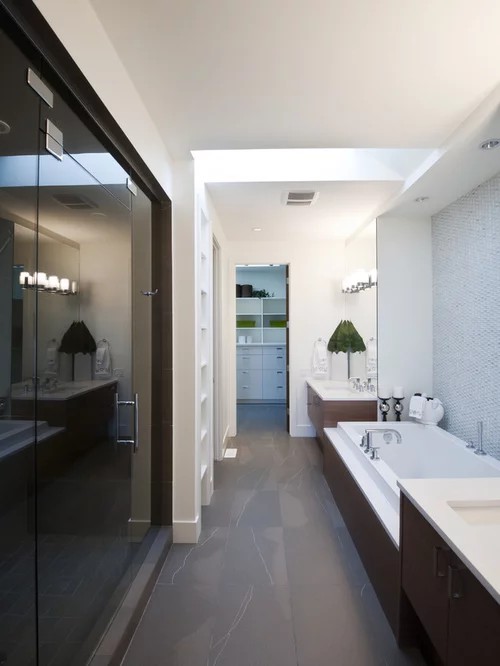 The glass doors reflect subtle hues of brown which gives a unique glow to this narrow bathroom! The bathtub is situated right next to the creamy white wall which gives you the opportunity to set up a variety of decorative items right next to the panel. Also, notice the incorporation of multiple tired shelves and the seductive lighting scheme!
3. Brick Obsessions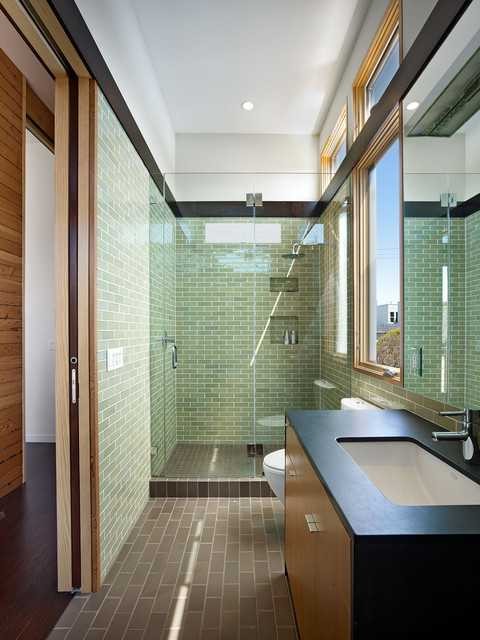 This bathroom has a lot of interesting textures going on! The dark lime tiles and the semi-matte vanity top look absolutely ravishing! Glass doors in the shower area add to the reflective component whereas the window allows irrigation of natural light into the bathroom space!
4. A Royal Affair!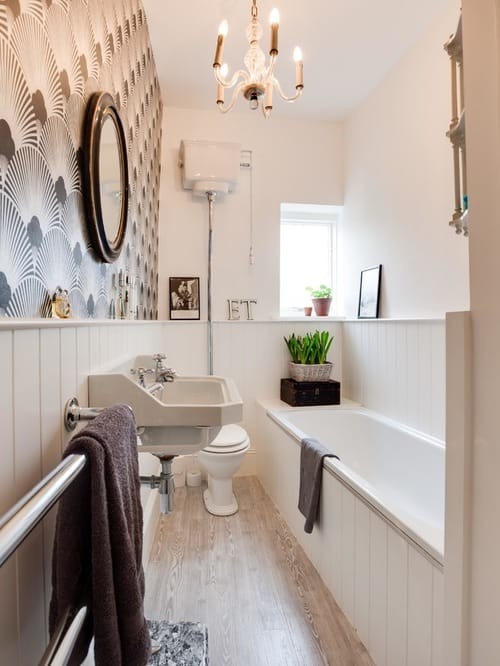 It is rather commendable how wallpapers can make such an impact on the aura of the bathroom. This brown fan-pattern wallpaper is an excellent addition to this narrow bathroom! It is complemented by the chocolate rimmed circular mirror which adds a trendy component! The use of the small candle chandelier does the job of imparting a hint of royalty!
5. Warm Undertones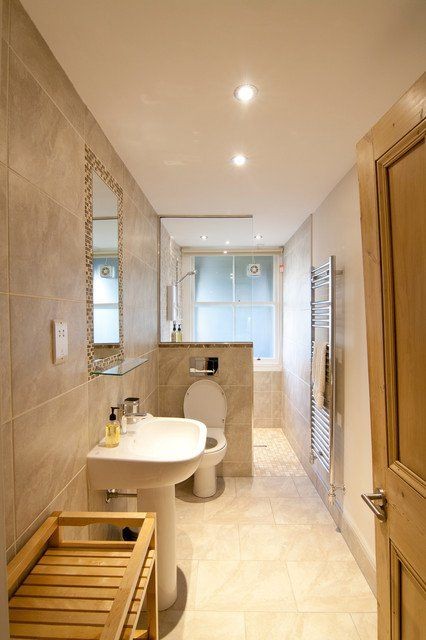 Narrow bathrooms have their advantages; you can easily separate the shower area from the washing area. However, longer bathrooms need even and uniform lighting, and in this case, these yellow spotlights are doing an excellent job! The light brown bathroom trolly may be filled with essential oils or candles to add more to the accessories of this bathroom!
6. Engraved Noir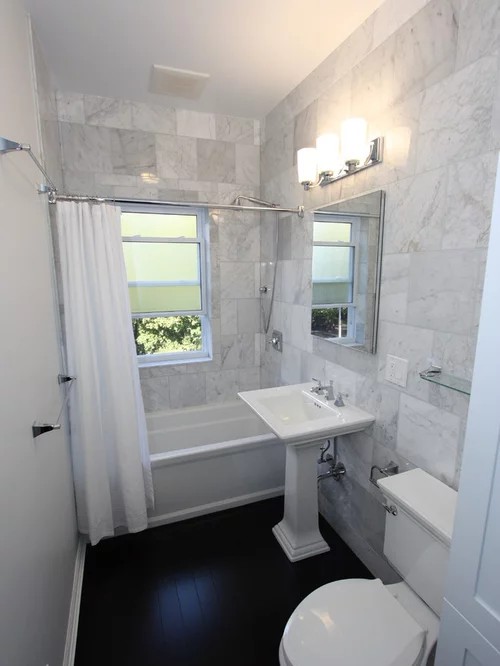 A lot of people do not use the idea of using black tiles or a dark-toned flooring but this noir black cedar panel flooring is demonstrating a lot of grace and personality! It also plays a vital role in preventing the white color scheme from seeming too bright or overwhelming!
7. The Coral Reef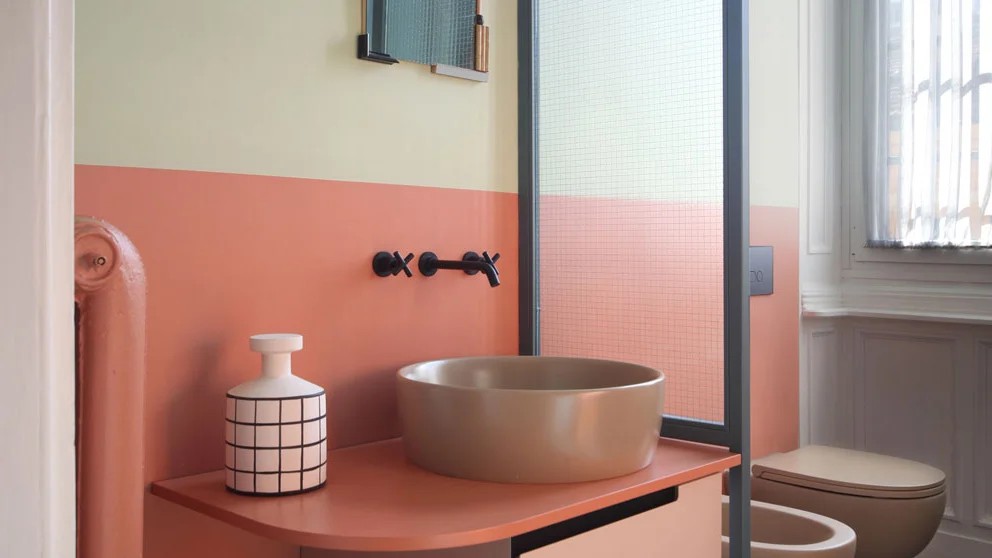 Peachy and coral themed bathrooms are ever so refreshing and pleasant! However, what stands out in this bathroom is the exquisite selection of taps and the tapering circular sink. The initiative to separate the toilet from the washing area by a frosted glass partition adds to a convenient and neat look!
See also: DIY Toilet Paper
8. Modern Romance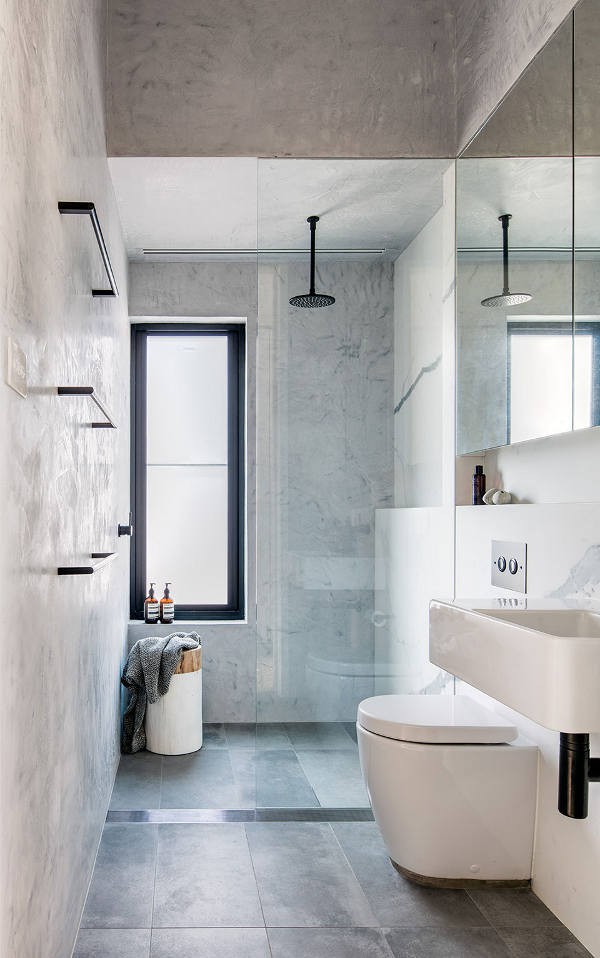 The finest selection of bathroom hardware is exhibited in this bathroom. The use of hanging showerheads adds to the distinctiveness whereas the toilet above ground level adds a luxurious component. The length-wise window with dark tinted borders contrasts with the black components of this bathroom whilst also allowing light to enter with grace!
9. Two-Toned Symphonies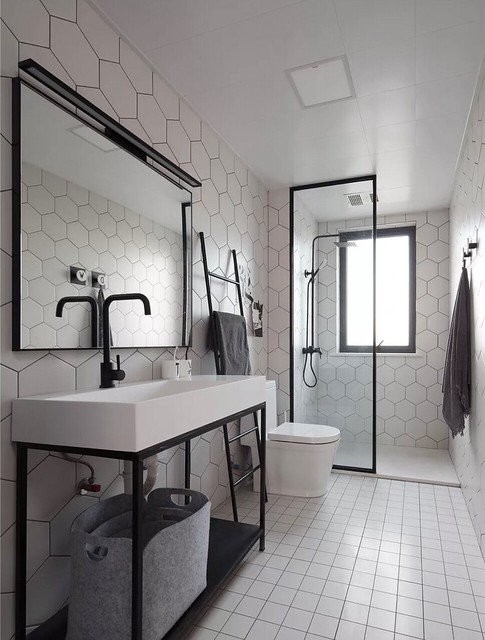 Black and white have always bonded together. This bathroom with hexagonal wall tiles and lots of black-bordered components excels in levels of grace and personality. The modern contemporary faucet looks impactfully grunge whereas the black ladder used as a hanging stand makes this bathroom comply with current trends!
10. Boho Blues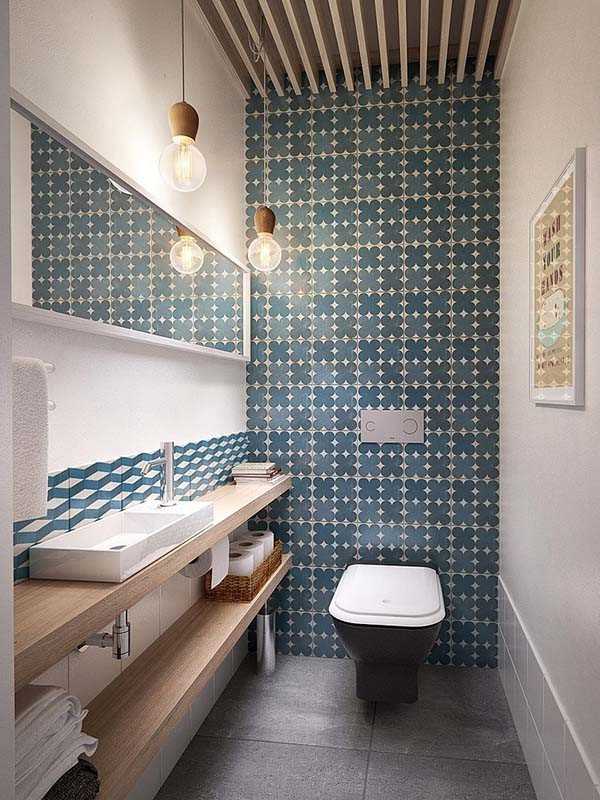 A fun and trendy wallpaper can change the entire environment of a bathroom. The use of this blue abstract themed wallpaper brings this bathroom to life! It also casts a reflection in the mirror which makes this bathroom look more dimensional! The rectangular creamy white sink has an unusual but unique faucet direction!
11. The Sultry Greys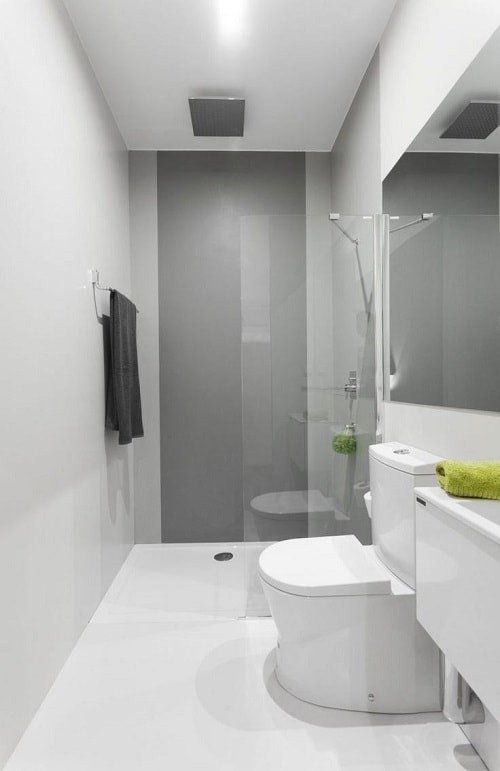 You could paint one wall with some semi-matte grey paint like this one while unharming the remaining white theme. This allows the bathroom to become radiantly illuminated! The almost invincible thin glass partition generates a reflectiveness ever so subtly!
12. Suspended In Air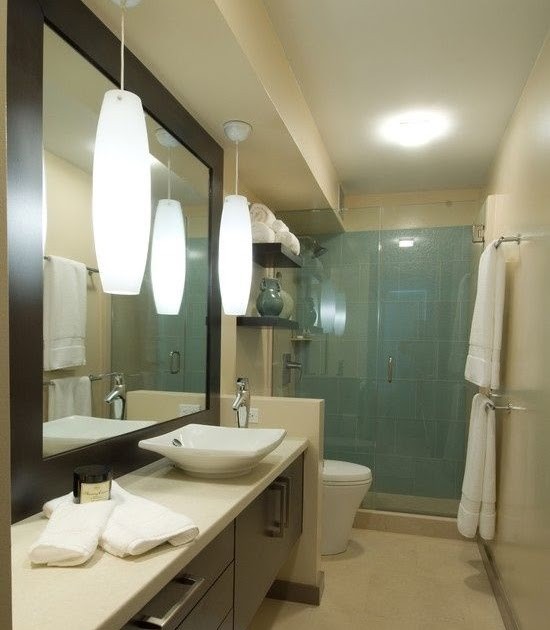 If you happen to have a large vanity mirror, then use some pendant lights to activate the radiance! Narrow bathrooms need a better scattering of light and these low-set hanging lights are the best option! To add to the contemporary component, you can use a square-shaped sink bowl with curved edges!
13. Cake Tiers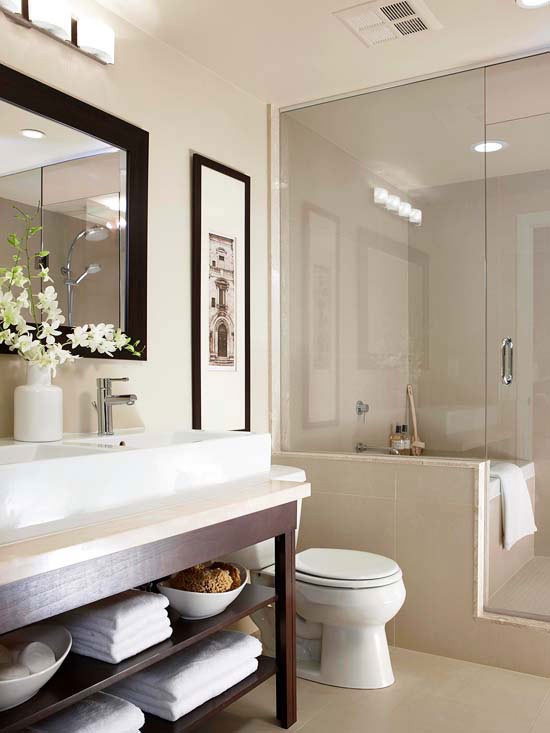 A two-tier vanity shelf can make a lot of difference because it allows you to stack up against your favorite essentials, be it towels or bathing detergents! The use of a floral component, either faux or fresh always leaves a delightful impact on any visitor or user! The darkly bordered wide mirror is playing an excellent role in enhancing the glow of this narrow bathroom!
14. Beautifully Beige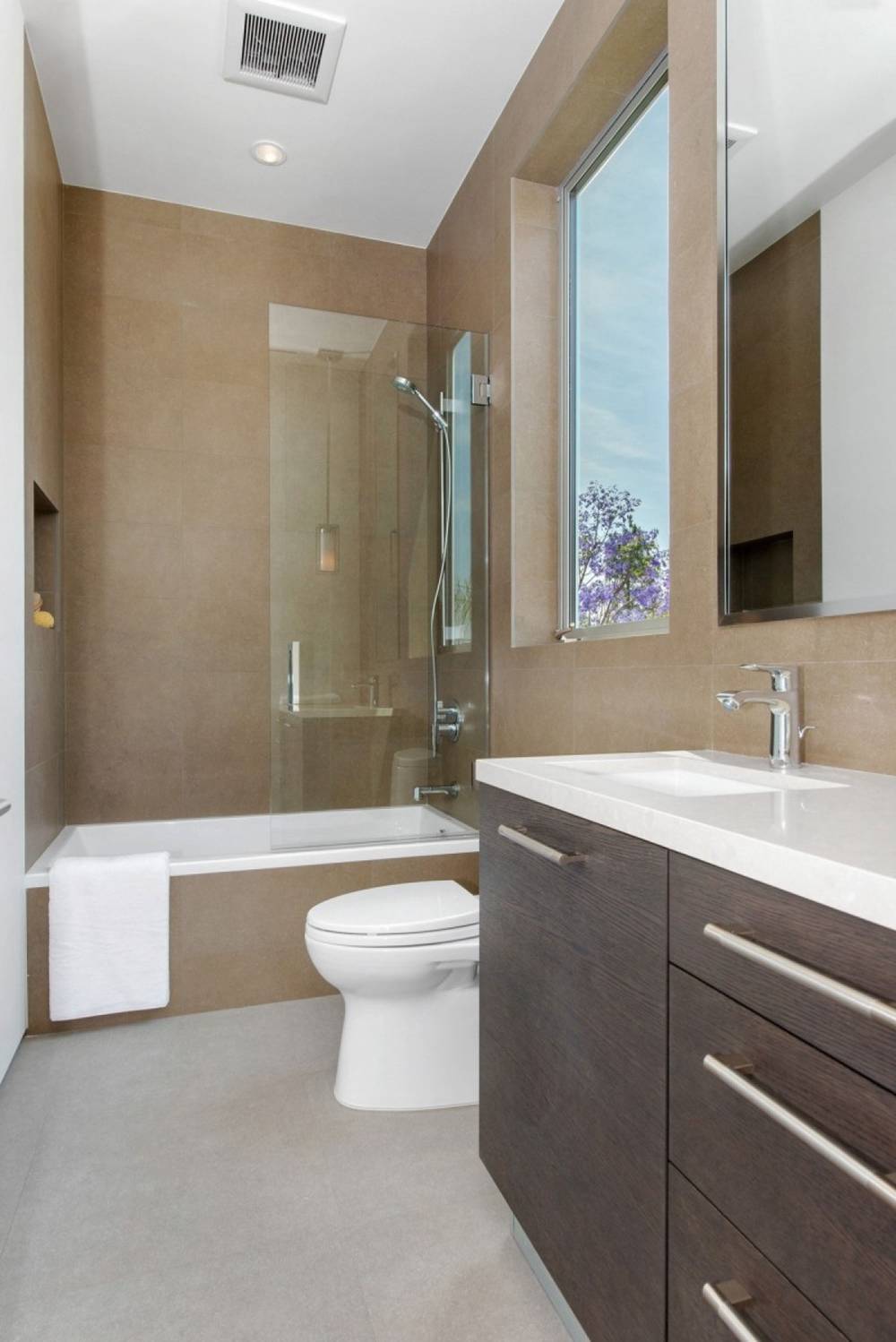 A lot of people prefer beige paint because it can instantly elevate the mood! It is a light color that intermingles with different components of the bathroom seamlessly. The designer has used a dark wood vanity cabinet to insert a darker component against a lighter wall paint.
15. Morning Bird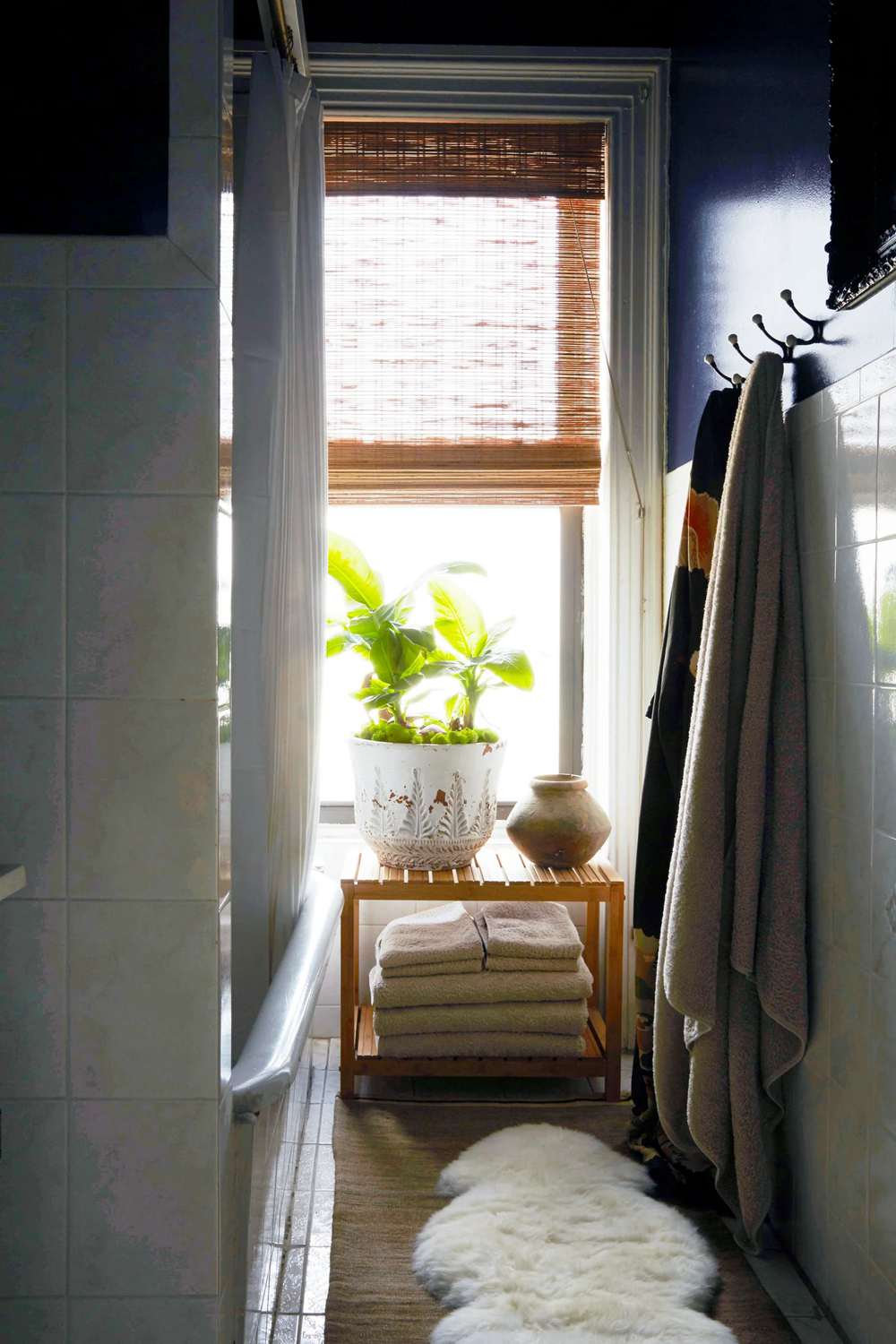 The effect of adding natural plants to any bathroom will always remain unparalleled. The greens of the plant are shedding of radiant hues. The use of a nest table makes it easy to stack towels and bathing essentials!
16. Traditional Aztec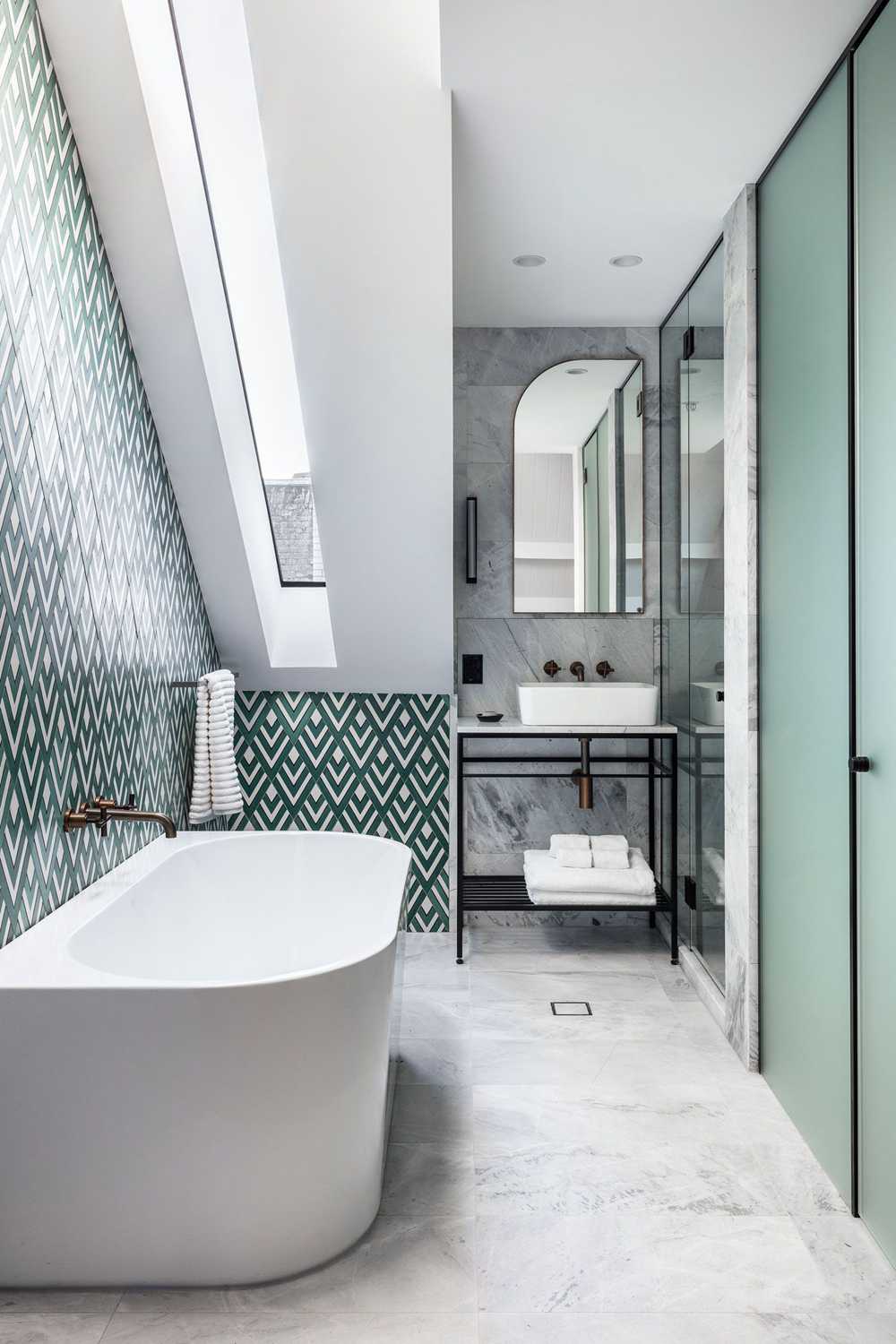 This slanted ceiling incorporates a narrow window ever so cleverly! It floods the bathing area with optimum amount of light! The Aztec print wallpaper accompanying the porcelain bathtub is making an excellent duo. And at last, the vanity area is minimalistic yet has a bold style statement with borderless mirrors and black iron vanity.
17. Rocky Roads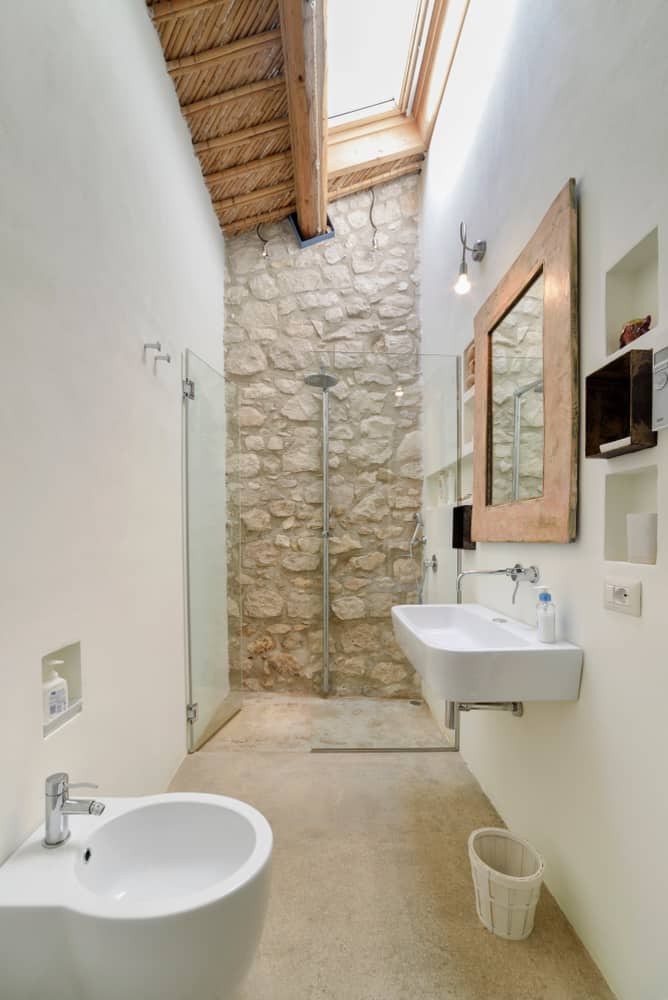 This narrow bathroom resembles a hut located near the ocean or lakeside! With its hay-like roof and stone walls, it releases a flavorful blend of rustic and modern contemporary.
18. Infinite Reflections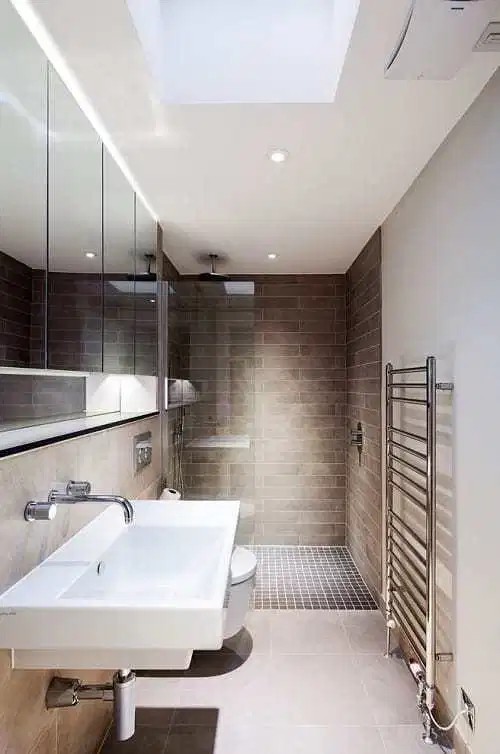 A great way to make good use of narrow bathrooms is to incorporate a length of mirrors until the very end. This gives the bathroom an executive look and the light reflections will add to the radiance and illumination. The heat radiator is sprayed golden yellow which sparks a comforting warm-toned grace! The addition of evenly distanced spotlights is also a great idea!
19. Fast Forward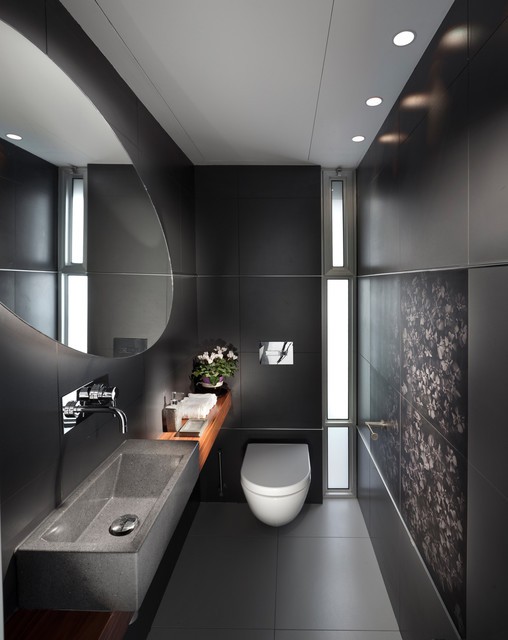 An executive class bathroom with extremely appealing looks! This all-black bathroom theme is elevated by the use of exotic components; the shiny silver faucet design and the tilted oval mirror give it a unique style whereas the use of linear spotlights above the textured wall is exhibiting a lot of grunge metallic vibes! The frosted glass windows allow the neutralization of the darkness with its controlled radiant emissions.
20. Hallways Of Grace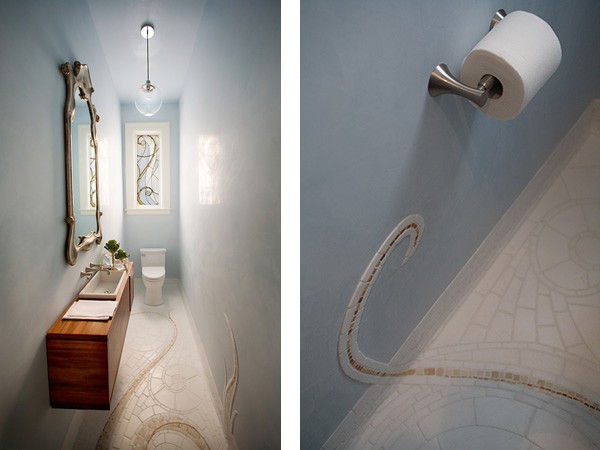 The use of an intricate pattern of floor tiles is what does the job for this very narrow bathroom! The subtle blue hues are ignited by the subtle entrance of natural light whereas the wooden texture vanity and victorian style mirror add a slightly medieval flavor!
21. Counting Blessings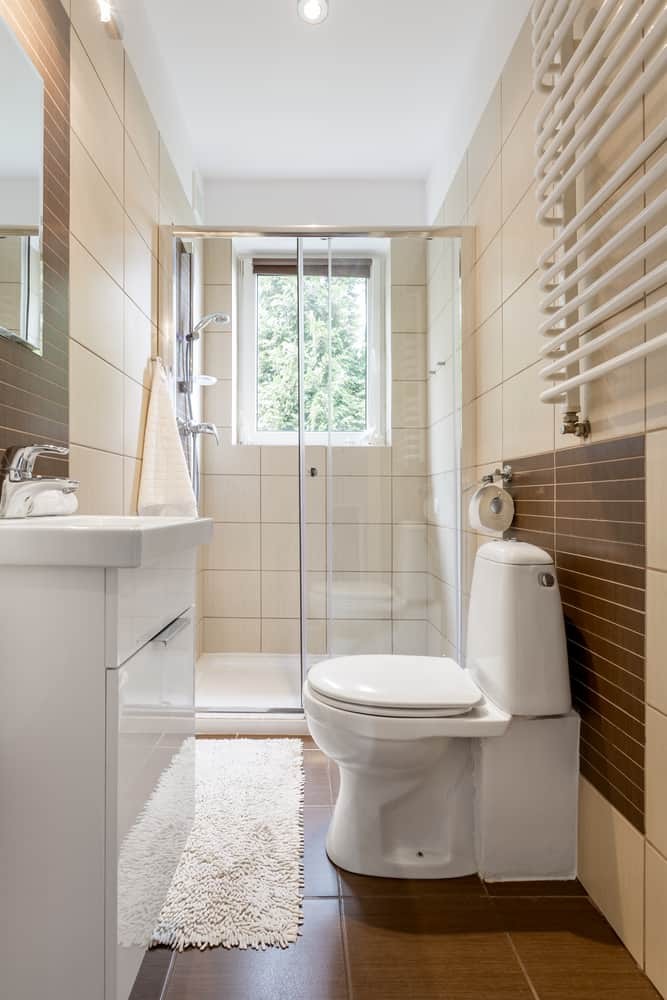 This is a small narrow bathroom but can easily compete with any other large bathroom out there. It has a neat and clean look because the designer has chosen smaller elements of hardware and separated the shower area apart. The use of a fur rug in this narrow bathroom complements with all the white elements. It looks aerated, thanks to the pouring of natural light.
22. The Book Worm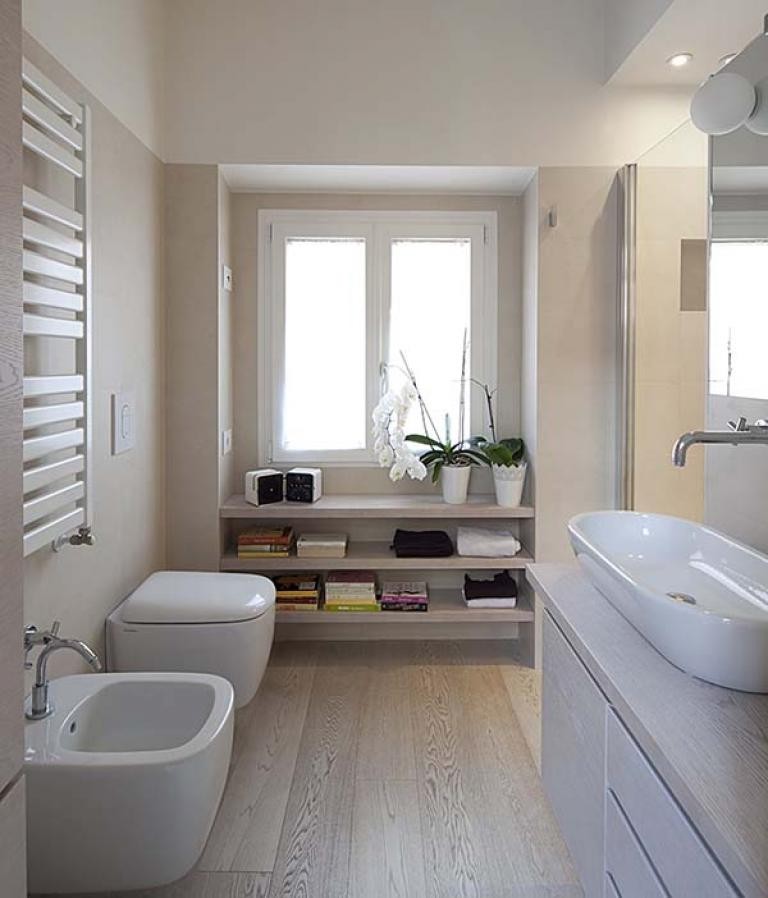 A lot of people prefer reading a book whilst bathing in the tub and hence the narrow end of a bathroom can be used to incorporate a small low-set bookshelf! You can also add plants on the top so that they can help you reconnect with nature during aromatherapy sessions!
23. Sweet Melancholy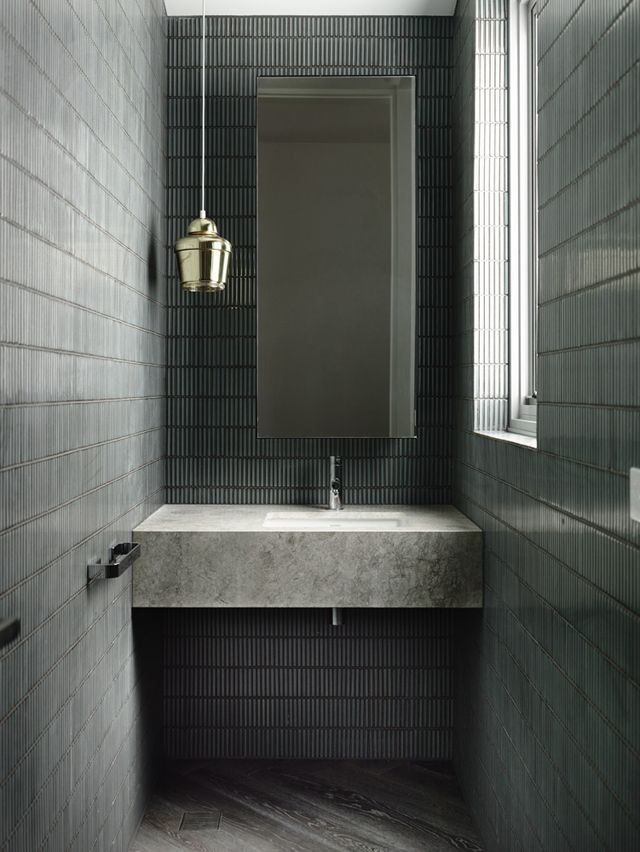 This bathroom has a very dim and grunge theme to it which attracts a lot of people. The hanging pendant light is shiny and gives an intriguing texture to this monochromatic black bathroom. The window also allows a subtle peek into the daylight for an average amount of lighting.
24. Seven Seas Apart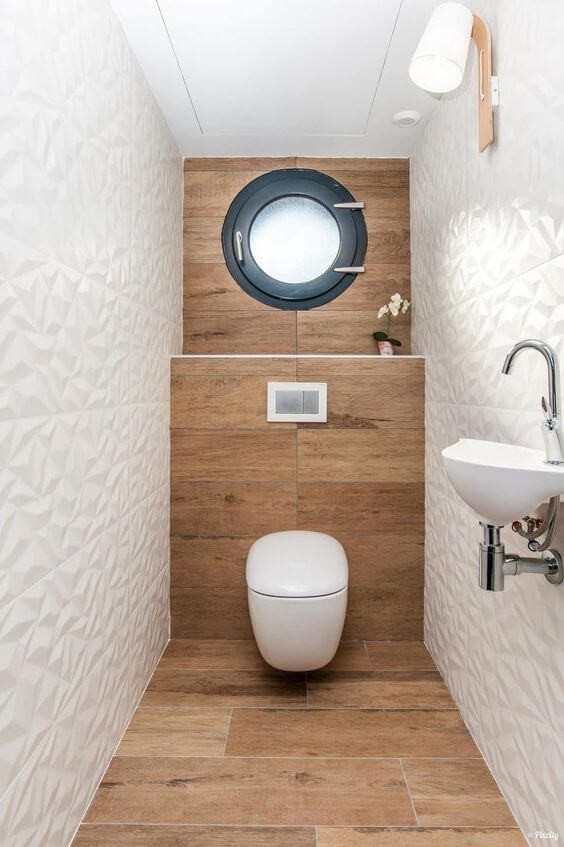 You can even play around with the windows! The designer has chosen a window that is normally used in ships and ferries, which gives this bathroom a sailor boy theme. The use of cedarwood panels sandwiched between the textured glossy white tiles adds more to the texture of this narrow bathroom!
25. Aloha Aloha!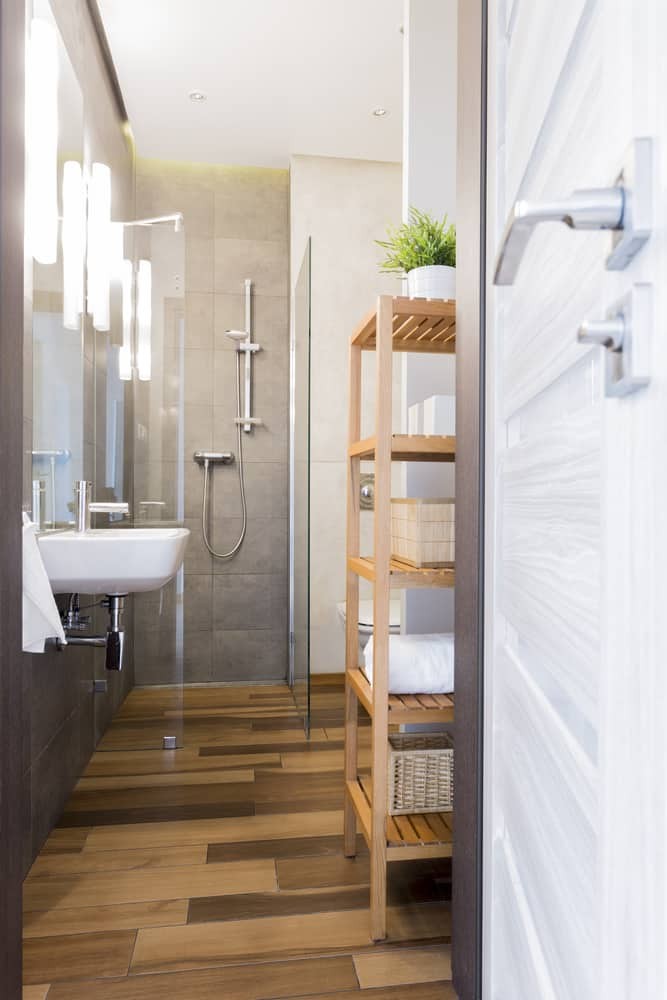 Vinyl or cedar panels are great for bathrooms because they allow you to incorporate luxurious wooden textures, like the one in this bathroom! The use of a five-tiered MDF shelf is such a great idea because you can display some bathroom decor items along with your favorite essentials. The addition of small pots of plants gives it a breathable environment and the bright lights execute welcoming radiance!
26. Glimpse Of The Future!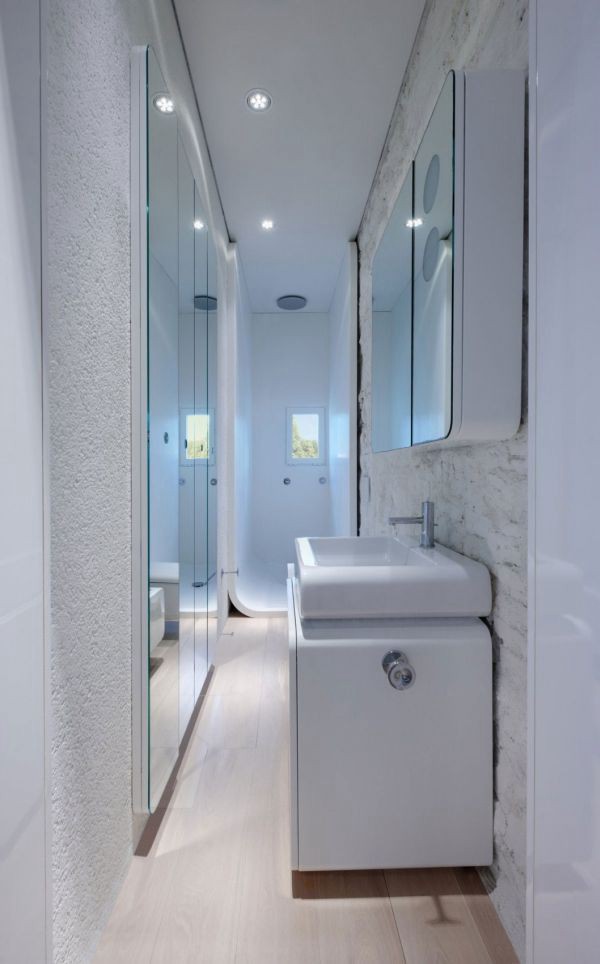 This futuristic and impressive bathroom is all about concealed LED lighting. The U-shaped shower area is tinted by the natural hue of light. The remaining areas have a calm blue chroma because of the double reflections of the mirror. This bathroom is an excellent example of how even narrow bathrooms can be just as gorgeous as larger ones!