Yes, you can always put your necklaces, bracelets, and rings into a jewelry box, but sometimes, you can collect too many items there. As a result, you will get a tangled bunch at the moment you rush. Besides, you can often forget about some beautiful jewelry because it has fallen to the bottom of the box.
To avoid this inconvenience, you can use smart and practical jewelry display ideas I have listed for you, which will give us excellent visibility. Let's see how to solve the problem and add a lot of style and personality to the corner essential for every girl.
1. Recycled egg box for Jewelry Display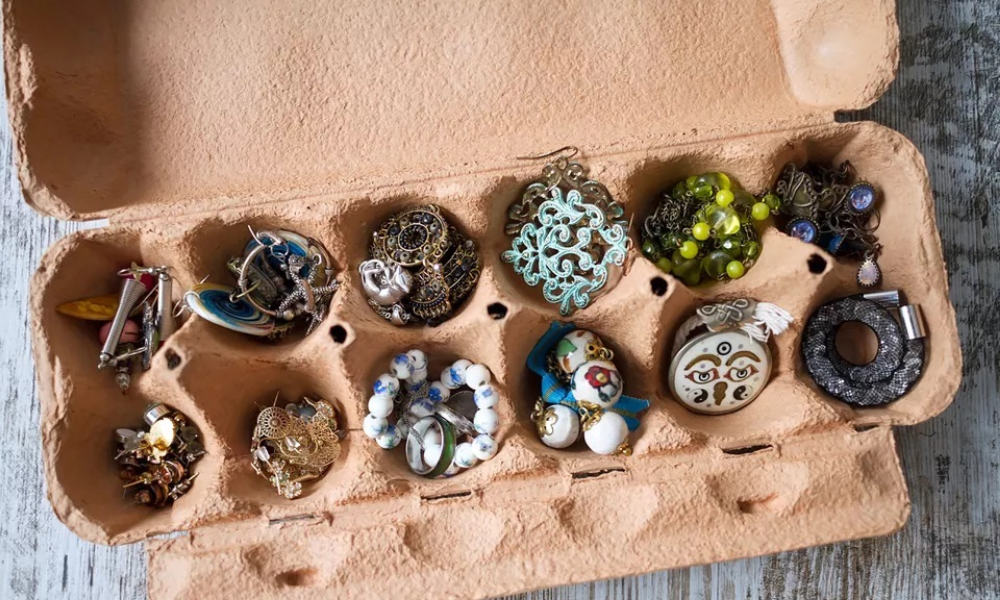 Can you imagine that you can transform an ordinary, recycled egg box into an excellent organizer for your jewelry? Use a spray to paint the box and stow earrings, brooches, and rings inside separate sections. That way, you will know where a particular piece of your treasure is in every moment.
2. Shabby chic frame with lace for Jewelry Display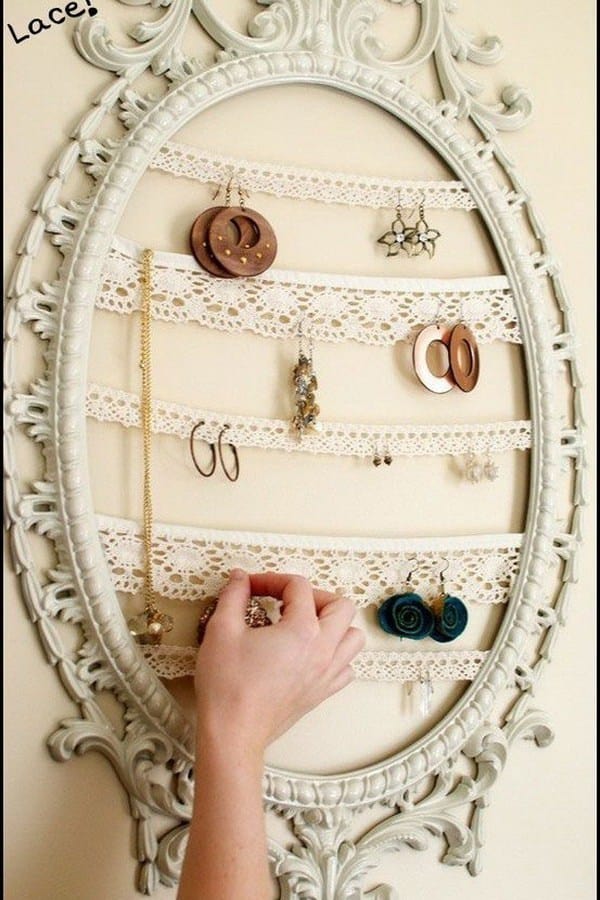 Everything you need to make this inexpensive but highly impressive jewelry display is an old frame. Paint it in shabby chic style, hook the lace straps on each side, and hang your earrings the way our grandmothers did.
It is probably one of the cheapest ways to keep your jewelry. If you prefer wearing a bijouterie, you can place this frame in your living room and use this practical display as a unique decoration.
3. Cement cones for Jewelry Display
You will need a little male help to make cement cones of different sizes. Then, paint them in different colors and use them for depositing rings and bracelets. Except it is practical, it can look charming on your nightstand.
4. Curb chain for Jewelry Display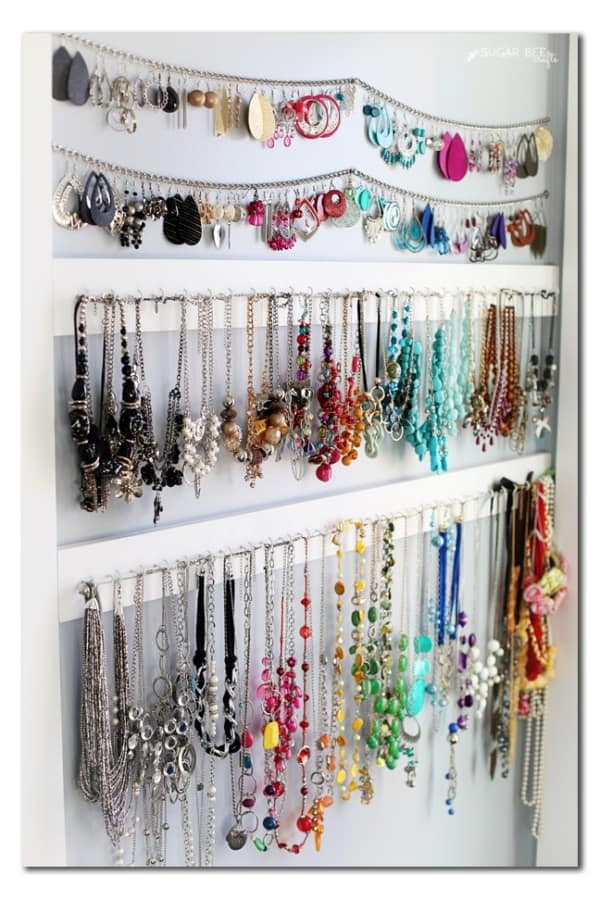 If you have a blank part of the wall in your bedroom, you can use it to make a convenient curb chain for your jewelry. Attach the ends of one or more chains on the wall, depending on your needs. It is an ideal place for hanging most of your earrings, necklaces, and bracelets. You can do the same at the back of the door, as well.
5. Tree branch for Jewelry Display
I adore using a branched tree branch in many ways since it can look exquisite and sophisticated. Use the golden spray and paint the middle-sized branch you can find in the park or forest.
The great thing is that you can hang all pieces of jewelry there, depending on the thickness of particular parts of your 'tree.' Believe it or not, this type of display holder may incorporate into the modern design in an entirely unexpected way.
6. Wine corks for Jewelry Display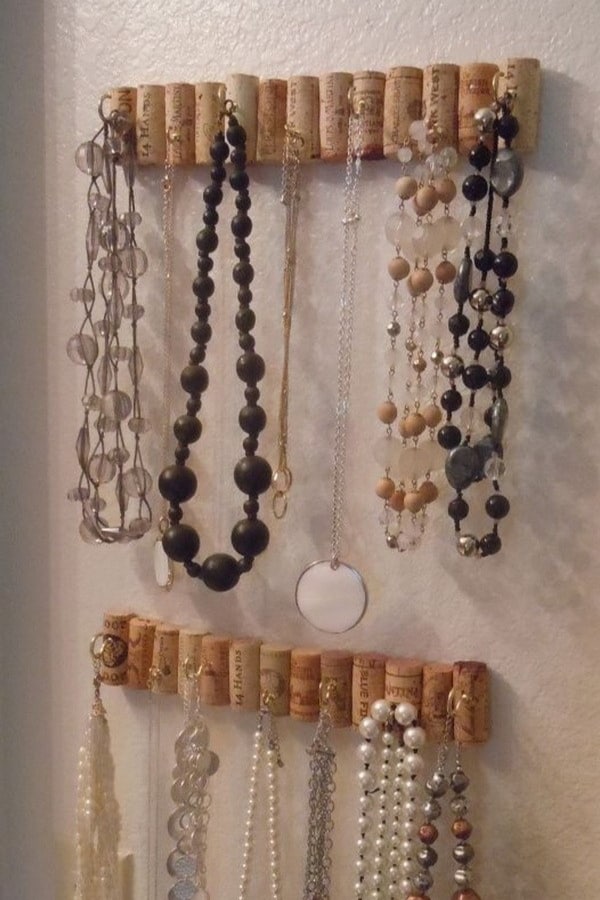 If you have a husband who is a fan of old wines like me, you can find a bunch of wine corks everywhere in the house. Why wouldn't you be practical and use them in an unusual but adorable way? Glue a dozen of wine corks one after another and screw small hooks on their underside for hanging rings and earrings. How lovely!
7. Wine cork frame for Jewelry Display
There is one more way to use unnecessary wine corks as a beautiful jewelry display. You will need an old frame hanged on the wall. Fill the inside of it with corks and insert the earrings into them. It is both an elegant decoration for your living room and a reliable display at the same time.
8. Nails or hooks on the back of a door for Jewelry Display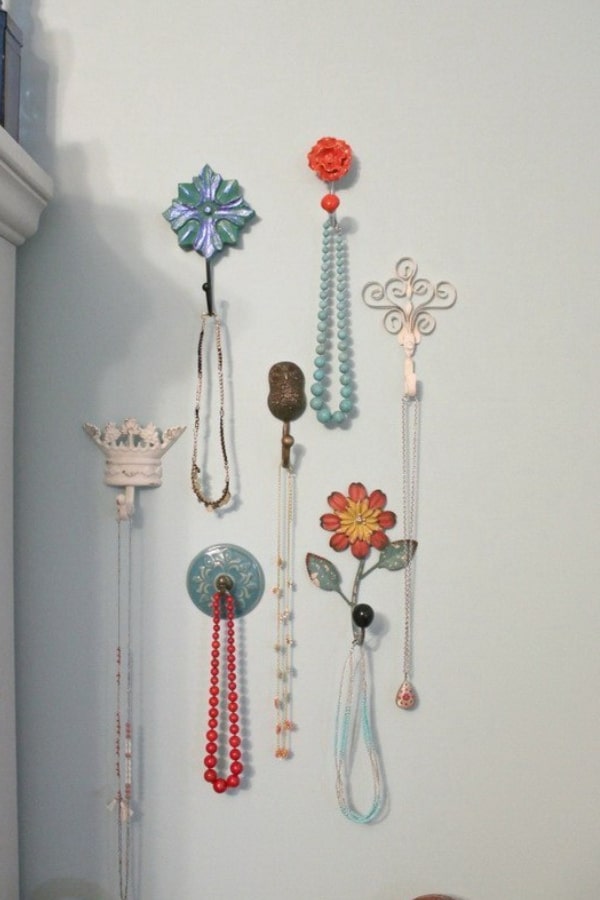 It is a quite simple option for keeping your jewelry in one place. Screw hooks or nail nails to the door and hang pieces of your jewelry there. You can also make a variation of curb chains there, by draping a chain for between hooks to impressive necklaces display.
9. Hooks on a piece of wood for Jewelry Display
If you are a nature lover, you can pick up a few interesting branches in the wood or purchase thinner slats in the local shop. If you are not skillful, you can buy a driftwood jewelry display online and use them to organize your jewelry uniquely. Regardless of your choice, you can use them, screw a few colorful hooks, and hang your preciousness there.
10. Drawer knobs for Jewelry Display
There are two options in front of you. You can use the old drawer knobs or purchase new ones in a local store. Attach them to the plywood, make a lovely frame if you wish, and use them as an attractive place to hang your jewelry.
11. Big wooden buttons for Jewelry Display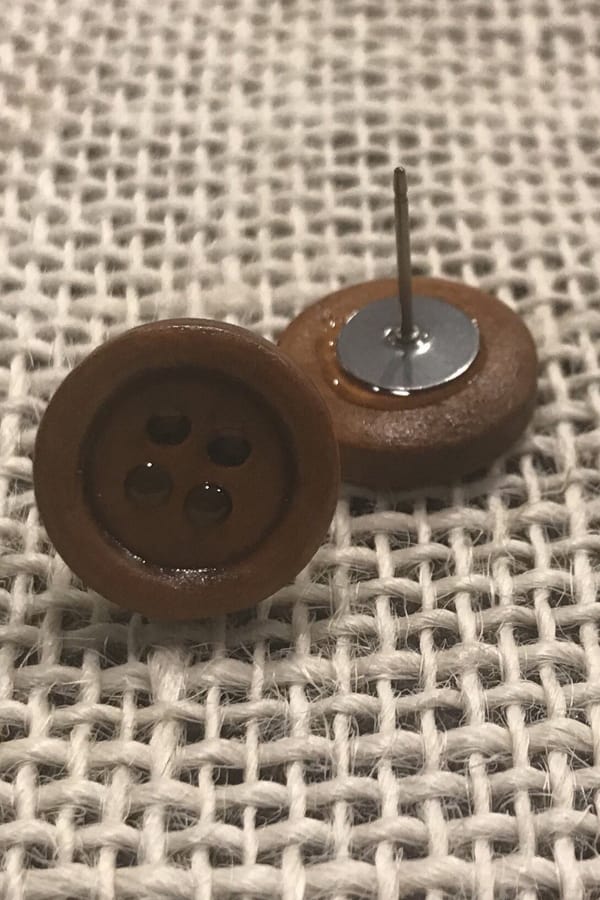 When deciding to toss an old coat, save the big wooden buttons. You can sew them on colorful material and place it into a frame. That way, you will transform something useless into an elegant display for your earrings.
12. Ring holder for Jewelry Display
Like most women on the planet, you probably like rings, but lose them around the house quite often. Therefore, you can use cardboard and make a ring holder in the form of a cactus or a female hand.
If you make a few of them, you can make a few different pieces and put them in the bathroom, next to the kitchen sink, and on a nightstand in your bedroom. It is a pretty cool solution, isn't it?
13. Metal pipe for Jewelry Display
If you are a fan of industrial decoration, you can make a jewelry display from old metal pipes. I find the combination of masculinity connected with a water system and elegant feminine jewelry pretty fascinating.
There is one more benefit of this cheap idea. Your husband or boyfriend won't mind finding your necklaces around if they hang from the pipe in the bedroom.
14. Old advertising box for Jewelry Display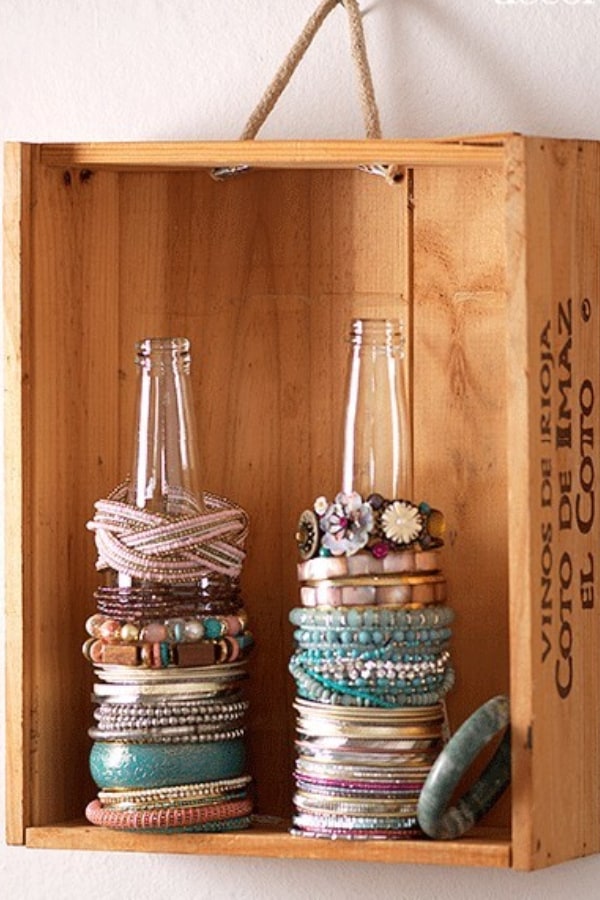 If you have a small, vintage wooden cigar box, or the one of expensive wine, or children's toys, you can use it as an innovative ring display. I have an old Land O'Lakes box and use it for my collection of rings. It is a highly convenient solution, indeed.
15. Wooden clothing hanger for Jewelry Display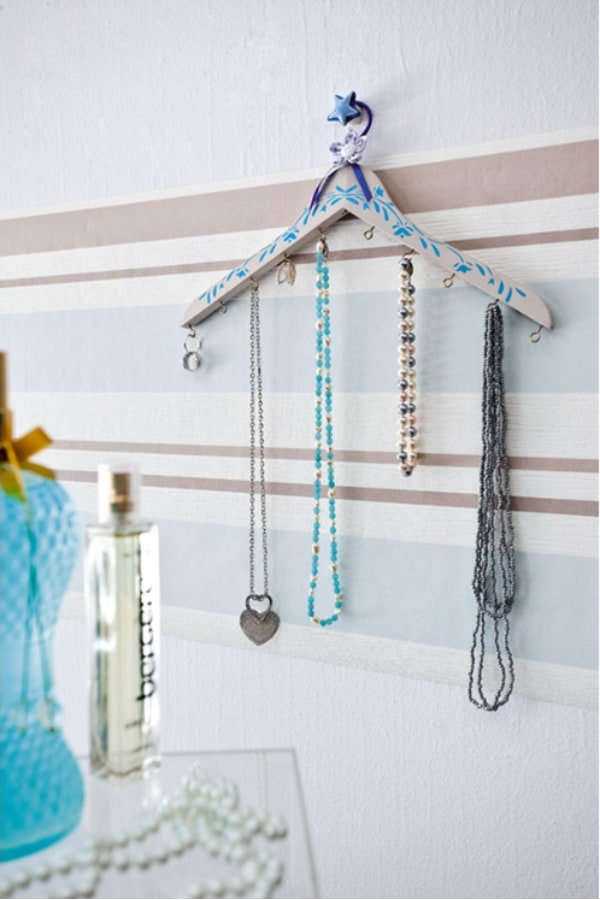 I adore these massive, wooden old coat hangers because I can use them for so many purposes. For example, you can add a few loop screws on its bottom and get an elegant jewelry display and unusual wall decoration, as well. Moreover, you can paint or wrap it with colorful fabric to fit it beautifully into your living room or bedroom style.
16. Old wine bottles for Jewelry Display
Believe it or not, most wine bottles are the adequate size for an impressive bracelet display. The only thing you should do is to pick out a few bottles, paint or wrap them with decorative paper and bows, and place on a shelf. What an attractive idea to recycle old glass, make a practical jewelry display, and decorate your home in an entirely different way!
17. Metal grater for Jewelry Display
Can you imagine that such an ordinary piece from your kitchen can be a perfect display for hanging your earrings? To achieve a more effective result, you can paint it in your favorite color and use it as a unique decoration.
18. Jewelry Display Tower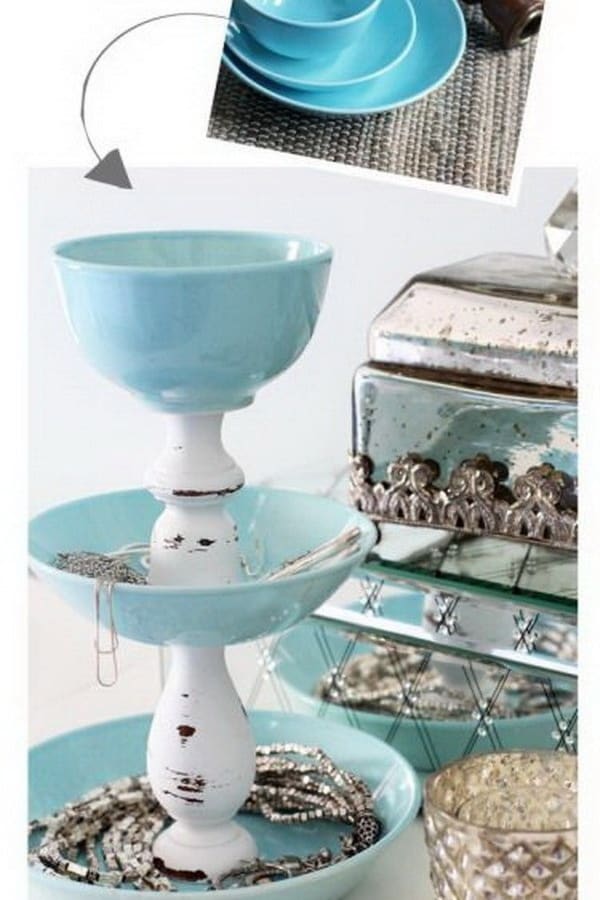 You will need a small bowl, two plates, and two candlesticks to make a real tower for your jewelry. Arrange these old cookware pieces one above the other and use plates and a bowl on the top as a jewelry storage container. It looks quite interesting if you ask me.
19. Staircase spindle for Jewelry Display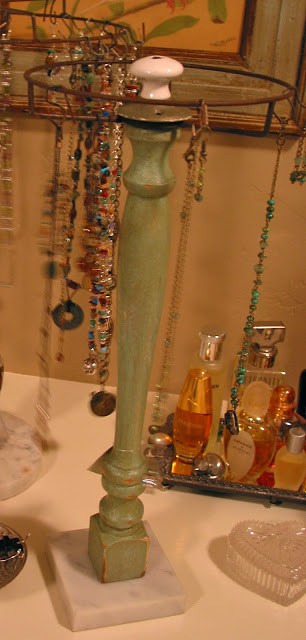 After replacing an old staircase spindle, you can use its parts to make a lovely jewelry holder. Use a round stand for holding the spindle up and a piece of wire for hanging your necklaces and bracelets. Don't forget to paint it in your favorite color, matching the décor in your bedroom.
20. Accordion hat stand for Jewelry Display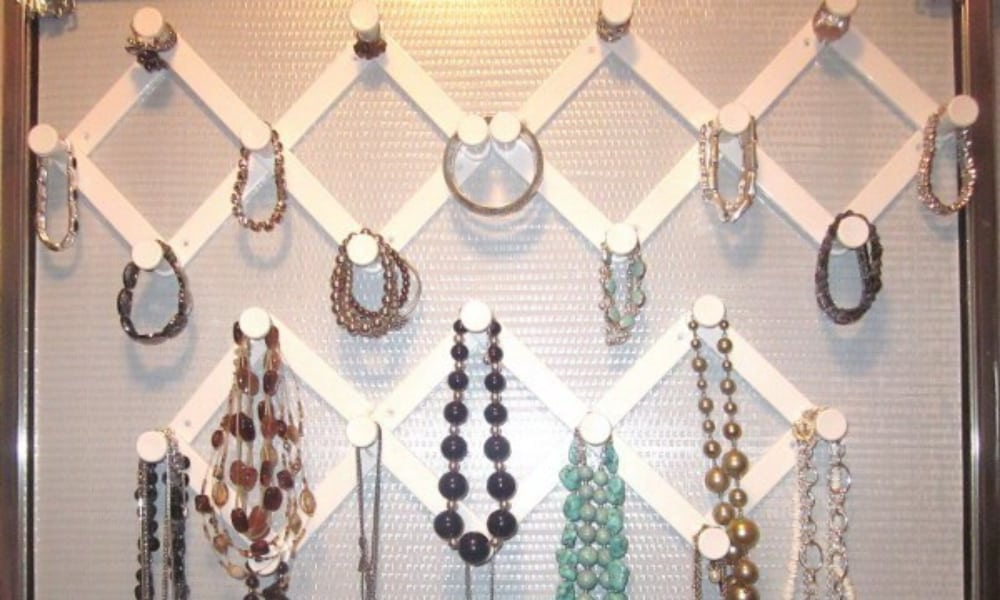 Maybe you can find an old wooden accordion hat stand or rack in your grandpa's house. If not, you can buy one in a local store or order it online. Paint it in some elegant color and hang your jewelry on it. You can combine a few of them if needed.
21. Wooden box
Hang a wooden box on the wall and use it as a vintage jewelry display. If you are skillful enough and have appropriate tools, you can organize a bookshelf, a flowerpot, and a jewelry hook all in one place.
After painting it in golden color, you will transform this handmade box in a top-notch piece of furniture.
Check the idea
22. Thread spools for Jewelry Display
If you have a grandma, who likes to sew, you can use her old thread spools as a reliable jewelry display. You will need a frame and a piece of wood covered with some elegantly designed fabric as a basis.
Attach spools on the wood and use them to hang your necklaces. If you prefer that way, you can paint every piece in a different color and bring real fireworks of colors in your home.
23. Grandpa's suitcase for Jewelry Display
Do you remember these old-fashioned suitcases our grandparents used while traveling? They are solid but often made of cardboard, wood, or stuff, which are unthinkable materials for our generation.
However, you can use one as an efficient and unconventional jewelry display. What do you think about one of my favorite ideas?
24. Antique chair top for Jewelry Display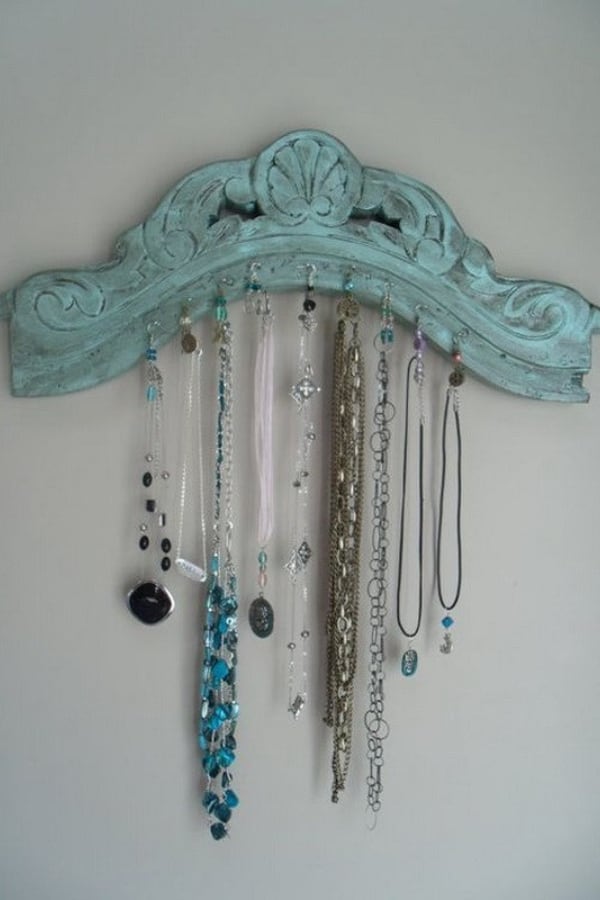 Probably all of us have at least one old chair in the basement. Why wouldn't you use its top as an exclusive jewelry organizer? Cut a chair top, paint it in your favorite color or shabby chic style, and hang it on the wall. It is so beautiful that you can put this decorative display in your living room.
25. Small apothecary jars or glass vials for Jewelry Display
Use jars or colorful vials to make a new unique display. That way of organizing is not suitable for a bunch of jewelry but can be highly practical as a piece you can place in the bathroom. It is a quite convenient way to keep your rings and earrings safe while taking a shower.
26. Vintage glassware for Jewelry Display
If you have a lot of single cups and you don't know what to do with them, you can use them to make a tiered jewelry stand. Arrange different mugs, glasses, and cups on a big plate, and use them as a place for storing your jewelry. I find this arrangement highly elegant and unique.
27. Bust of Styrofoam for Jewelry Display
To make a unique display, you will need just a piece of Styrofoam and an appropriate template of a female bust. If you spray it in gold or red, you will get an elegant and sophisticated place for your jewelry.
It is particularly convenient for bulkier necklaces, which you can't put in an ordinary box. Not to mention that you can make a few models as a unique present for your friends or mom, as well.
28. Sexy corset for Jewelry Display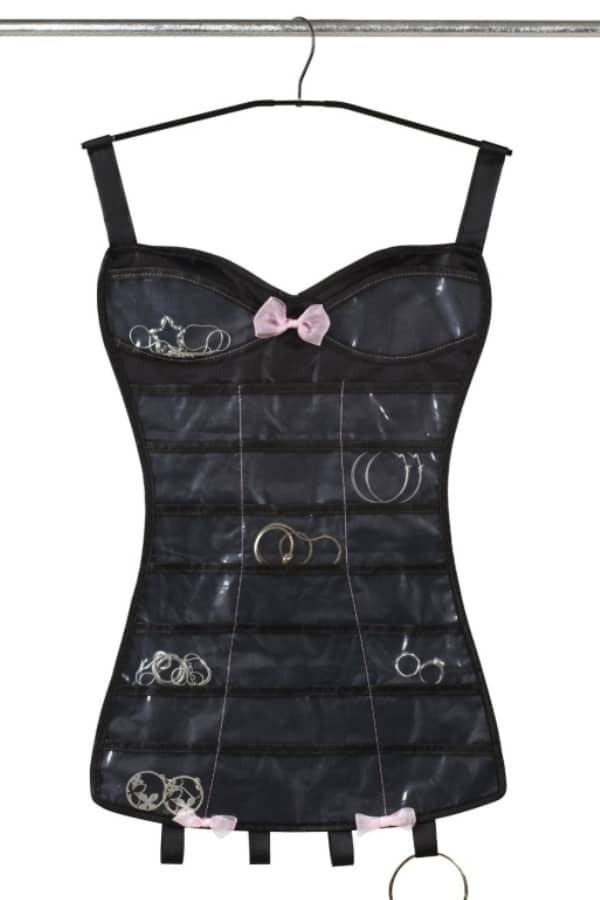 The corset is an indispensable part of women's wardrobe even in the 21st century. If you have lacy one, which doesn't fit you anymore, you can attach it on a piece of wood and use it as an impressive jewelry display, no one has. In fact, you can also use some other parts of your clothes for that purpose, such as jeans or fancy mini skirt.
29. Vintage lamp for Jewelry Display
Look in the attic for some old lamp with an old-fashioned lampshade. If you find any, clean it and use it as a fantastic display for hanging earrings and necklaces. You can find an empty corner in your living room and transform an ugly and shadowy space into a lovely and useful place.
30. Old magazines for Jewelry Display
Can you imagine that old magazines can be useful and used as a bracelet display? Roll them up, string your beautiful pieces of this jewelry around paper rolls, and let them on the table. Another option is to attach the tubes on tiny hooks hanged on the wall in your bedroom. There are a few advantages to this jewelry disposal system. It is inexpensive, decorative, and eco-friendly. WOW!
31. Repurposed vases for Jewelry Display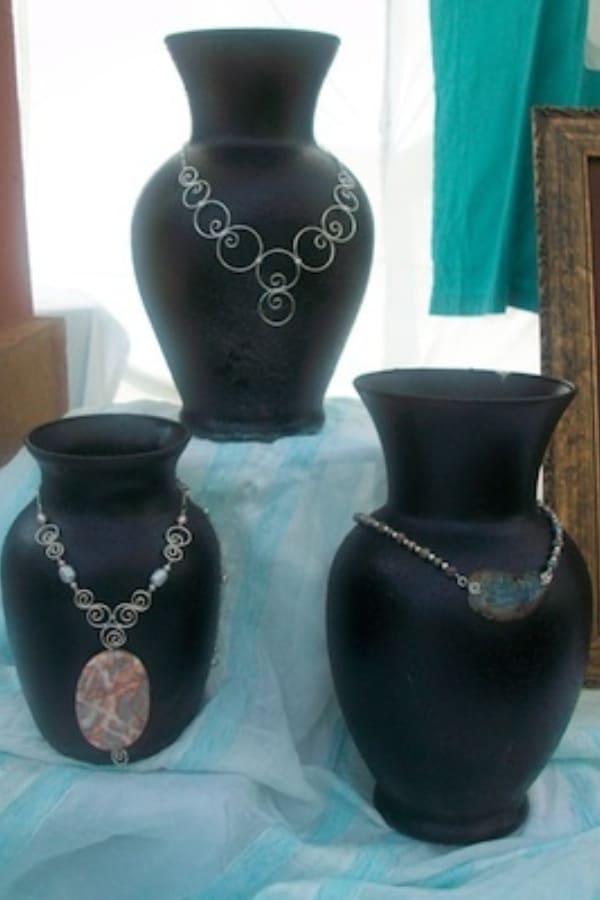 You can use smaller vases as an effective and practical solution for organizing a new, lovely necklace display. It is not a complicated process at all. Find a well-lit spot in the room, arrange vases of different sizes and shapes, and hang your jewelry on them. That way, you will get a beautiful space and an opportunity to find every piece of your jewelry fast when needed.