Fishing can be an expensive hobby if you don't know what you're doing. Missed opportunities, bad equipment choices, and other blunders can cost you plenty. Fishing poles, reels, lines, lures…the list of things you could damage goes on and on.
Out of all the supplies you need for this hobby, few are more important than fishing rods. The length, action, quality of the rod can all affect the kind of experience you have while fishing.
This guide is especially for people who have a damaged fishing rod and are looking at repairing it without having to go to someone for help.
However, you should know that Once your fishing rod is damaged, it can never be exactly the same as before you damaged it. However, with the help of a little know-how and the right tools, you can often repair your fishing rod and make it almost as good as new.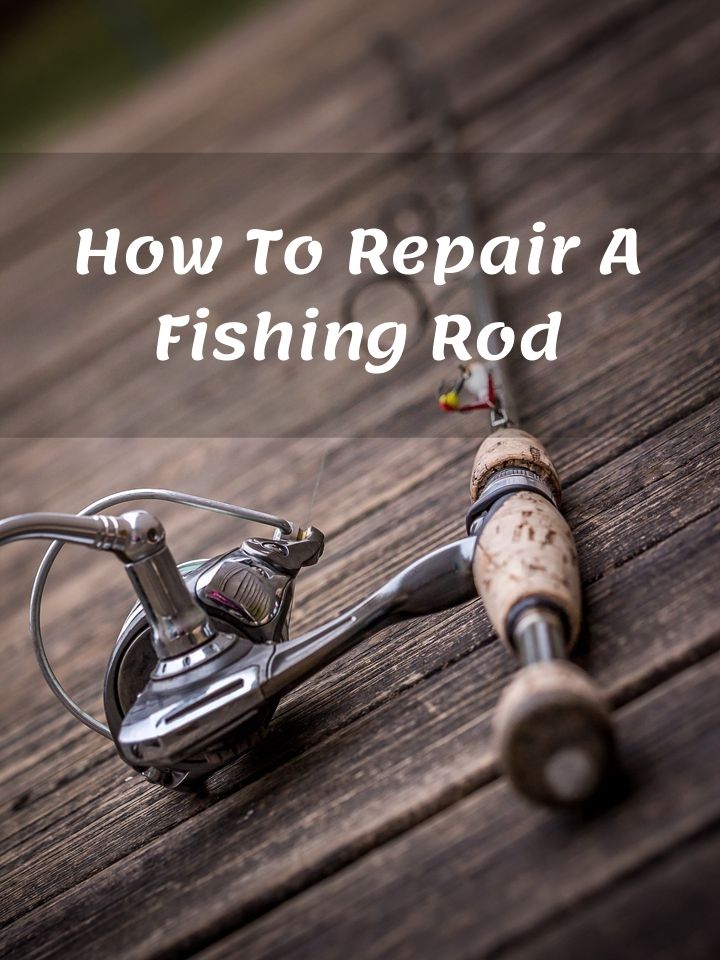 Frequently Asked Questions
Can you repair a snapped fishing rod?
Yes, a snapped fishing rod can be fixed and made to look as good as new, and if done correctly you should be able to use your fishing rod over and over again. A snapped fishing rod isn't the end of the world, I know it hurts, especially when it was your favorite rod, however, with a few tips and tricks your rod should be fine.
Is it worth repairing a fishing rod?
This is totally up to you, if you think your fishing rod is worth saving, then you can give it another chance at life. If the damage to your fishing rod is very bad, then you might have to let it go. However, I will suggest trying your best to repair it.
Can you fish with a broken rod tip?
Some people suggest that you can still catch little biting fishes even with a broken rod tip. However, I think that's just bad advice. With a broken rod tip fishing will never feel the same way it did when the rod was all perfect. So, I would suggest you get it fixed.
Will a repaired fishing rod break?
A fishing rod that has been repaired would most likely break again especially if the repair wasn't done correctly. Of course, you can't possibly compare the strength of a repaired fishing rod to that of a brand new fishing rod. However, after mending, it should last for a pretty long time.
Common Causes Of A Broken Fishing Rod
A fishing rod can generally last forever if you treat it well. That is if you don't break it. Once a fishing pole breaks, you have only two options: Throw it away and buy a new one or repair it. Whether it has happened to you or not, here are some of the common causes of a broken fishing rod and a few tips to help you stop them.
1. Damaged In Transit
We have previously advised you on how to store a fishing rod, doing this properly will take away the risk of your fishing rod breaking. It could be that your fishing rod has slightly broken due to poor storage and you didn't notice. It usually would appear as a small crack that is rarely visible and then snap open when fighting fish.
I remember when I went fishing with my husband in our camper, the mistake we made was storing the fishing rod on top of the camper. I guess the rod might have hit against something while in transit, long story short, the fishing rod snapped while I was using it. I immediately blamed it on the thump I heard while he was trying to reverse.
If you must store your fishing rod above your car, remember to drive carefully. One of the major reasons why a fishing rod will break might be due to damage while in transit.
2. High-Sticking
High sticking is simply when you lift your rod upwards and it's too far up while fighting with the fish. Doing this significantly increases the pressure on your fishing rod and when the rod has reached its limit, it will snap.
To avoid this, you should keep your fishing rod at an angle of 45 and 60 degrees. That way, it would rarely break. Our complete guide on how to cast a fishing rod will give you more details.
3. Quality Of Rod
A good friend of mine Buba Tee said to me,  "Do you want your fishing rod to last? You should go for the expensive ones" I guess he is right! Some fishing rods are cheap because they are made of materials that cause them to wear and tear easily.
An expensive fishing rod on the other hand is made of materials that are durable and prone to last for a long time without wear and tear. There are a couple of things that can affect your fishing rod;
Extreme temperature
High pressure
4. Poor Flexibility
This is a manufacturing defect. You'd only notice this in cheap fishing rods. A fishing rod is uniquely made in a way that it should be able to bend or flex easily. The absence of flexibility will definitely cause it to break when stretched past its limit.
5. Poor Storage
This has to do with storage at home and not while in transit. You should ensure that you store your rods in a storage rack and not just have them laying around in your garage. Keeping your fishing rod carelessly isn't something your rod deserves, especially if you have pets or kids around.
The defect on your fishing rod might be from home and it could just be waiting for a little pressure while fishing to completely snap. In summary (Store your fishing rods rightly)
How To Repair A Fishing Rod - Different Methods Explained
Problems in our fishing equipment can cause a lot of frustration and put us in a foul mood. Here are some basic problems and how to fix them.
How To Repair A Broken Carbon Fiber Fishing Rod
Do you own a damaged carbon fiber fishing rod and wondering what to do? Here is a quick breakdown of the materials needed and how to fix them.
Supplies:
150mm x 1000mm plain weave carbon 90g carbon fiber fabric
3 meter, Hi Shrink composites heat shrink tape
2x laminating brushes, mixing cups and sticks
120, 240, 400, and 800 grit abrasive paper
Polishing Compound
166g Epoxy resin
3x Alcohol Wipes
83g Epoxy hardener
Steps:
Step One: Use abrasive paper to roughen up the area where the repair would be made.
Step Two: Use the alcohol wipes to clean the broken area.
Step Three: Bring together the two broken pieces of the rod and "jig" to hold the pieces together.
Step Four: Mix and apply a thin layer of resin to the broken area and allow for 4 hours
Step Five: Using a pair of scissors, cut and wrap carbon fiber around the pole.
Step Six: Wet the layer of fabric with a new resin mix and allow it to cure.
Step Seven: Wrap up the area with shrink tape and use a heat gun to shrink the tape.
Step Eight:  Allow for 8 hours.
Remove the shrink tape.
How To Repair A Broken Rod Tip
This is one of the most common faults to happen to you. The tip of your fishing rod is quite fragile and can easily break. Fixing this is also very easy. There are a lot of methods that work, but check this one out.
Note: It is a temporary fix
What You Will Need:
The rod
The broken tip
A small drill bit
Gorilla glue
Gloves
Steps:
Step One: Wear hand gloves for protection.
Step Two: Rub the glue on half of the drill bit.
Step Three: Insert only half of the drill bit into the fishing rod.
Step Four: While holding the rod with half the drill bit popping out, rub the other half of the drill bit with more glue and insert it into the broken tip.
Step Five: Make sure the eyes of the fishing rod are lined up.
Step Six: Rub more glue on the outside where you have the breakage.
Step Seven: Allow it to dry and that's it.
How To Fix A Guide On The Fishing Rod
The guides are another important part of the fishing rod, and some guides are quite fragile.  If even one guide breaks, you would have to fix it. Here's a quick tutorial on how to fix a guide on the fishing rod.
Supplies:
Tape
Fishing line
Fishing plier
Epoxy
Steps:
Step One: Cut the tape into a small piece and use it to temporarily hold the guide onto the fishing rod. (Make sure the guide is aligned properly)
Step Two: Use the fishing line to carefully wrap the guide on the fishing rod.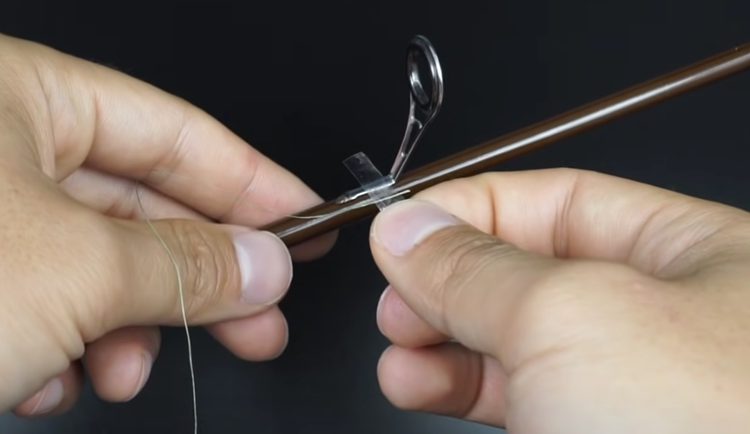 Step Three: After a couple of wraps, knot or tie the fishing line then cut with the plier.
Step Four: Use the fishing line to wrap around the guide and then do the final knot.
Step Fix: Mix part A and B epoxy and apply the mixture onto the fishing line area.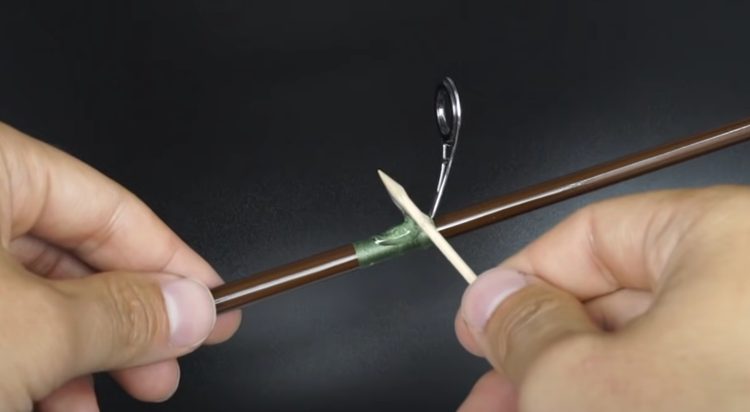 Step Six: Clean up any excess epoxy from the fishing rod.
Final Words
Even if you have tried your best to be careful, your fishing rod can still break, and this is because you are human and we all make mistakes. If the damage is beyond you, feel free to take it to a professional to help fix it.
If this article has been helpful to you, kindly share this article so it can reach someone out there who might be in need of it. Thanks for stopping by.