Powder coating is a great way to protect your metal products from rust and corrosion. However, sometimes you're left with a choice suggesting the need to remove the powder coat. So, how do you remove powder coating?
There are four methods: chemical strippers, laser removal, heat or thermal, and abrasive blasting.
Which one should you use? How do I actually remove the powder coat? Why would I need to remove the powder coat?  Here we will discuss all that in-depth!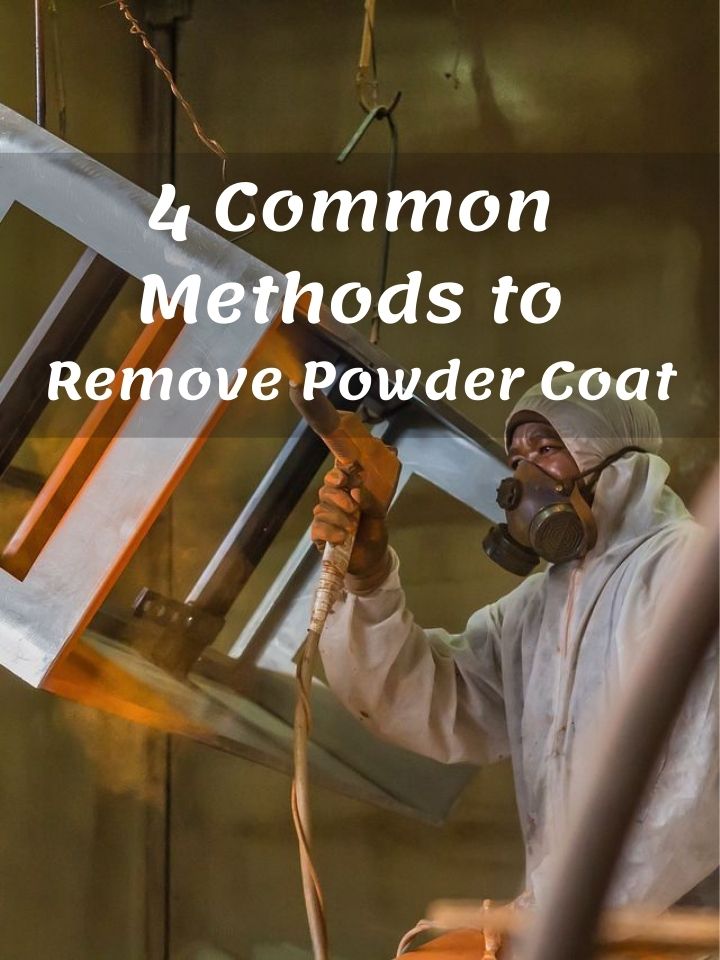 What are the reasons for removing powder coating?
There might be a few reasons why you feel you need to remove powder coating, and these might be some of them;
Cleaning
If you're someone who does a fair amount of powder coating, you need to strip your cleaning hangers regularly. Without a thorough clean, they will accumulate more and more powder coat over time, creating a tick coat.
Refinishing
If you have an old piece of metal that you are looking to refurbish, you'll remove the old powder coat and refinish the material to make it good as new.
Correcting Previous Mistakes
If you're new to the process of powder coating, then the probability of you making a mistake is high. When you make these mistakes and produce a less than desirable finish to your powder coat job, then you'll need to remove the powder coat and redo it.
What are the different methods of removing powder coat?
There are a few methods of removing powder coating;
Chemical Strippers
Heat or Thermal Removal
Abrasive Blasting
Laser Removal
We will discuss the methods, the pros and cons, and how to safely pull off removing powder coating with each option.
Chemical Strippers
Chemical strippers are one of the go-to methods of removing powder coating. There are various chemical strippers for specific applications, which is something to keep in mind when you're purchasing them for your powder coat removal job.
When it comes to the equipment, it can vary depending on the size of the project. For example, larger projects require a dipping tank, while smaller projects can use a bottle to apply the material.
The Best Paint Strippers for Home Projects
BEST OVERALL: Smart Strip Advanced Paint Remover
SAFETY PICK: Safe 'n Easy Citrus Paint & Varnish Remover Gel
FASTEST WORKING: Sunnyside Corporation 65664 Hi-Speed Ready-Strip 
Pros
Chemical strippers remove all powder coating and leave a uniformed surface behind.
Great for smaller projects and as a general use powder coat remover.
Low cost.
Cons
Chemical strippings can be dangerous to work with if not approached with caution.
Strict environmental disposal requirements.
Chemical strippers usually don't leave a profile to apply new coatings.
How to Remove Powder Coat With Chemical Strippers
Step 1: Spot Test
Apply a small amount of chemical stripper and attempt to scrape off the powder coat after leaving it on for a while.
Step 2: Application
Once satisfied with step one, proceed to fully apply the chemical stripper to the material. Let it sit for the same amount of time as your test spot.
Step 3: Scrape Off Coating
Use a chipping brush or bladed scraper to begin removing the powdered coating and solvent off.
Step 4: Wash Part
Rinse the part with detergent and remove all remaining traces of chemicals and coating. Finally, dispose of the removed coating carefully.
Suppose you're looking to pull off a much more aggressive chemical stripping process for a more significant material or part. In that case, you'll need to look at industrial chemical strippers such as Benco B-17.
Heat or Thermal Removal
To achieve powder coat removal using heat or thermal, you'll need to use a bake-off, burn-off, fluidized bed system, or thermochemical.
Whichever way you go, heat is utilized, albeit at different temperatures, to remove powder coating. The chosen method determines the speed at which it removes the powder coating and can be extremely fast or somewhat slower in comparison.
| | | |
| --- | --- | --- |
| Solution | Temperature Required | Powder Coat Removed In... |
| Bake-Off | 640 - 750 degrees Fahrenheit | 3 - 6 Hours |
| Burnt-Off | 1000 - 1200 degrees Fahrenheit | Matter of Minutes |
| Fluidized Bed Stripping System | 800 degrees Fahrenheit | Difficult to Determine |
| Thermochemical | 800 - 900 degrees Fahrenheit | Matter of Minutes |
After the burning process is complete, be sure to rinse the parts of any residual ash. Also, be sure to understand what each method means for the specific part you're removing powder coating from.
It's essential to make sure the hangers and racks you use in this process can handle the intensive heats of the chosen solution. Finally, you'll need to invest in special exhaust systems equipped with afterburners to destroy volatile organic compounds, which are byproducts of these solutions.
Pros
A fast and efficient method of removing powder coat.
More minor environmental disposal issues.
Can remove a significant volume of powder coat in far less time than other methods like chemical stripping.
Cons
Expensive due to the cost of the equipment.
Energy and Natural Gas, which provide power to the oven, will also add to the cost.
Location can make finding the amount of gas necessary difficult.
Heat or Thermal don't leave a profile on the material.
Can warp and damage parts, especially if done by someone inexperienced.
Abrasive Blasting
Abrasive blasting involves high-speed propulsion of an abrasive media at the surface, which strips powder from the material's surface. This usually takes place in a sandblast or room or cabinet.
If you're working with large materials, you'll need to consider a larger room that can use aggressive blast media such as steel grit or aluminum.
If you want to know more about blast rooms, read this helpful article.
Abrasive blasting can include the following mediums;
Water
Sand
Slag
Plastic media
Garnet
Dry Ice
CO2 pellets
Steel grit
Aluminum oxide
Lighter abrasives work better with more lightweight powder coating, and thicker coatings require more aggression.
Pros
It can be used for small parts and in batch work.
It can be portable.
You can use a portable sandblast pot to remove powder coating anywhere.
It will leave a profile on the surface.
Cons
Not as fast as the heat or thermal method.
It can be expensive, especially when a blast room is considered.
Depending on your situation, the great need for compressed air could be an issue.
Laser Removal
The powder coat removal process with lasers uses the lasers to burn off the powder coating on metals. It is similar in that respect to ovens. However, lasers are far more targeted and focused.
Advancements in science have made the use of lasers possible. As a result, we have a much more effective way to remove powder coating from materials in a more precise and focused manner.
Pros
Lasers can be used on nearly any material as they don't mess with the substrate underneath the powder coating.
Lasers are precise. They're able to work with tiny areas and larger areas with effectiveness.
Great for the environment with little to no impact.
Cons
It can cost a fair amount of money to own. The price is justified in a production setting, but not on a single or rare use occasion.
Similar to other methods, Lasers don't leave profiles on metal surfaces. As a result, you'll need to take extra steps to re-apply paint and a new powder coating.
Deciding Which Method is For You
So many options, so how do you decide which options best suit your project's needs? So, we're going to answer a few quick questions regarding the choice of methods.
What is the Fastest Method?
If you need to work fast or find yourself doing powder coat removal often, the fastest method is heat or thermal.
What is the Cheapest Method?
If you are someone who regularly removes powder coats, then abrasive blasting is the option for you. On the other hand, if you only powder coat once in a while, like 1-2 times a year, then go the chemical stripping route.
What is the Most Environmentally Friendly Option
Anything without chemicals will be better for the environment. However, if you're looking for near-perfect environmentally friendly methods for powder coat removal, the best option is Lasers.
What is the Best Option for Delicate Parts?
If your item can't withstand the heat or thermal, then consider using the laser method instead. This will ensure your materials don't break, bend, or disintegrate.
What is the Best Option for Steel Parts?
Steel is strong enough to withstand abrasives which work incredibly well on the material.
What is the Best Option for Wheels and Rims?
A combo of chemical stripping and sandblasting are excellent methods for powder coat removal for wheels and rims.
What is the Best Method for Greasy or Dirty Parts?
Thermal stripping is best when working with greasy or dirty parts that spend a lot of time coming into contact with oil and grease.
Final thoughts
Now you know all the answers to the critical questions surrounding powder coat removal. You know what might justify removal, what method might be best for you, and how to successfully pull off the task of removing powder coating with that method.
Be sure to let us know how it goes for you, and don't forget to share this with a friend who's asking these questions about how to remove powder coats.