Are your earlobes getting saggier with age? Or are you struggling with gauged earring holes? We are here to help you reshape your ears!
Not everyone has the funds and time to get their earring holes surgically reduced. That is why we have prepared this article for you on how to reduce ear hole size naturally. Read the article till the end to get everything you need to know!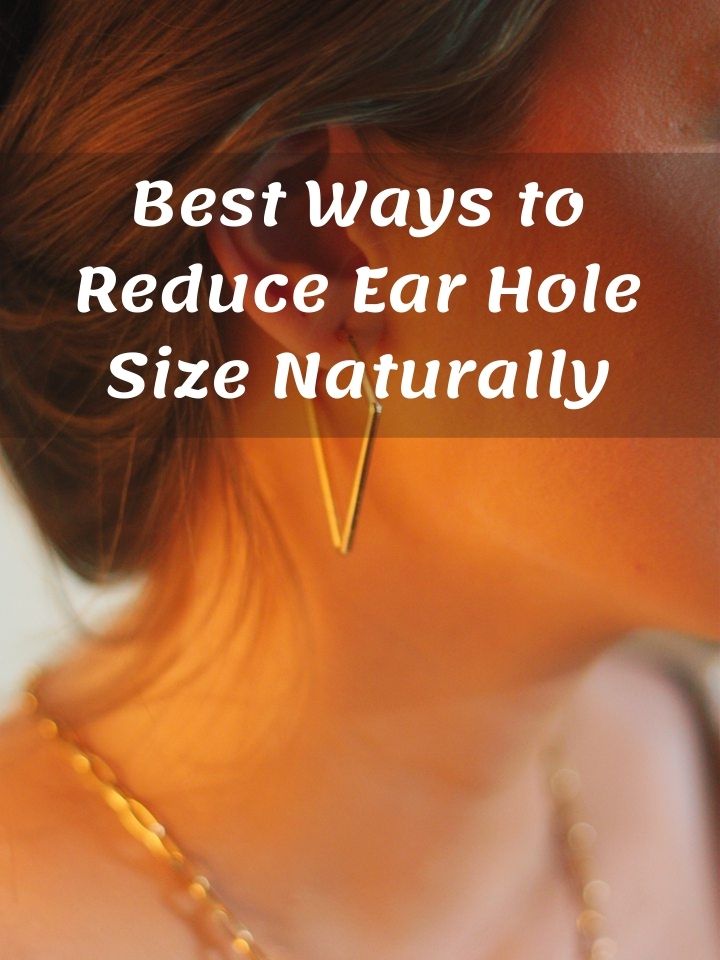 How do ear holes get big in the first place?
Well, there are four ways your ear hole could have increased in size:
Putting heavy earrings in a new piercing
Ear holes getting saggier with age and time
Using gauge earrings
Ears getting pulled
We will be addressing each of them in detail below. There are different methods to shrink your ear hole size for each of the reasons above.
· Heavy Earrings in New Piercings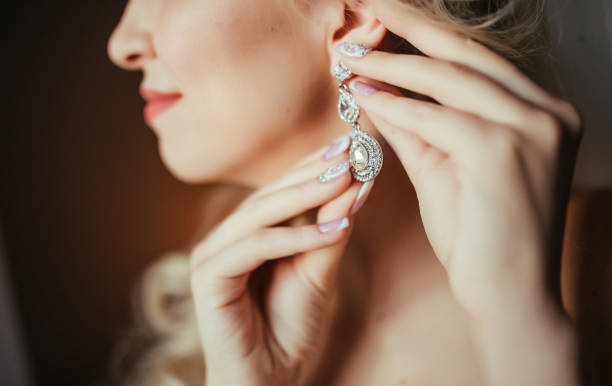 Piercings are open wounds that heal when scar tissues form around the inner side of the piercing.
Essentially, it takes about 6 months up to a year for your piercing to fully heal from the damage.
When you wear heavy earrings, it causes the thin lining of your piercing to stretch.
Side note: If your piercing has tears after using heavy earrings, you may not be able to reduce them in size. In this case, please see a doctor as you may get an infection.
Follow these steps to reduce them in size:
Avoid jewellery
Remove your earrings and avoid putting any jewellery in your ear hole.
Do this until your earring hole shrinks to the size you want.
Ensure proper cleaning
Remember to clean your ear hole daily with soap and warm water.
To fasten up the process, make a solution using half a teaspoon of salt and one cup of water.
Dampen a cotton ball by dipping it in the solution.
Use it to gently dab the solution on your earring hole.
Once you are done, discard the cotton ball and apply antibiotic ointment on your piercing.
Alternatively, you can rub jojoba oil or vitamin-E oil on your earring hole daily or use it along with the treatment above. These oils will help you reduce scar tissue.
Repeat this every day to get your desired result.
Note that removing your earrings from a new piercing may close them completely, especially when they're infected. You can watch the video below to avoid this from happening in the future.
Side note: This works better on infants and children than on adults.
· Ears holes getting saggier with age and time
This one's a bit difficult!
You can try the method mentioned above for new piercings. Still, it is nearly impossible to downsize saggy ear holes if you have had the piercing for a long time.
Using toothpaste and paper tape
Some people insist that you can use toothpaste and paper tape to shrink your piercings drastically but that only happens due to the empty ear holes and not from the toothpaste.
Poking a needle dipped in acid
Some people even go as far as dipping a needle in acid and poking it in their earring hole to damage it intentionally. The scar tissues form a layer inside the hole when it heals, making it smaller than before.
This method works, and you will see people using it on the internet, but it is NOT recommended. Chemical peels are only safe when done by a qualified plastic surgeon, or else you will get an infection.
Using earlobe tape
Even though there is no natural remedy to shrink your earlobe, you can use earlobe patches like this Ear Lift Medical Ear Support Tape.
The board-certified plastic surgeon Dr. Otto Joseph Placik, MD , says:
"The tape for the invisible non-surgical earlobe may work temporarily, but it often "kinks" the earlobe and is not a good long-term solution. Surgery is generally a limited procedure that can be easily performed in the office under local anesthesia and will typically run under $2500."
· Using Gauge Earrings
People prefer to wear gauges for cultural, traditional, or aesthetic reasons. If you're part of this crowd, we have good news for you!
You may be able to shrink your ear hole down. However, it depends on certain factors.
If your ear holes are too large, it won't be easy to downsize them. At this point, your piercing may have stretched out beyond repair.
If you have been wearing gauges larger than 12mm, it is improbable that you will experience any reduction.
Secondly, if you have spent years increasing the size of your earlobe, you won't get to see much shrinkage. Even if they narrow down, they won't reach the size they used to be before you started using plugs.
Thirdly, if you have been switching to a bigger gauge every week instead of waiting for at least a month, your ears may have undergone a blowout. Sizing up your ear holes this way can also leave you with tears and rips that slow down the healing process.
You will be able to tell that your earlobes have experienced a blowout if your piercing looks like it's inside out. Blowouts also cause sharp pain, cuts and infections.
"Personally, I recommend most people wait at least eight to 10 weeks between stretches (or longer!  I waited about six months between each stretch) to ensure that the tissue has recovered enough from the previous stretch to support going bigger without causing any tears to the tissue," says pro piercer Ashley of Venus by Maria Tash.
Lastly, it depends on the elasticity of your ear. Some people have better skin resiliency, and their ear holes will shrink down in no time at all.
Professional Piercing Expert and Public Relations Coordinator for the Association of Professional Piercers (APP), Jef Saunders, says, "No two people are the same when it comes to gauged ears. For some people, there's a gauge size at which point their piercings will not shrink at all, and they need surgery to fix them. For other people, they can have large gauges, take the jewellery out, and the holes almost close completely. Reducing gauged earlobes varies dramatically and can't be predicted."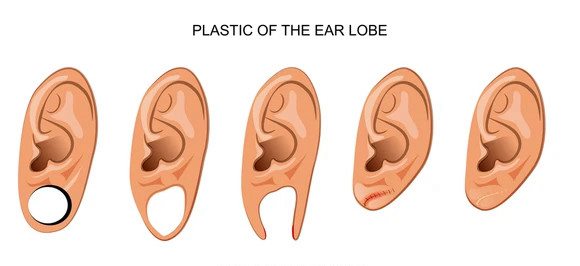 Here's what you can do
Just start by putting in plugs one size smaller than what you're used to.
Do this for a week or until the gauge fits perfectly.
Note that if you go for a size that's too small, the gauge will fall out of your ear.
Keep switching sizes until you reach the most miniature plug.
The smallest one is 17g or 1.14mm.
Alternatively, you can remove the gauges until your ear hole reaches the size you prefer. You can then start wearing gauge earrings of that particular measurement to prevent them from getting any smaller.
· Ears Getting Pulled
Your earlobes can get pulled when wearing heavy earrings. They can get caught in an object and stretch your ear holes out.
 Considering that there are no tears in your earlobe, you can:
Remove your earrings and wait for a few days until they shrink to a smaller size.
Apply an antibiotic cream to your ear hole to speed up the process.
Combine salt and water and make a solution similar to the one we've mentioned above.
Use a cotton ball to soak up the liquid.
Apply it on your earlobes to help them recover faster.
You have to be careful in general as this can also happen when you're wearing studs.
Extra Tips:
Remove your earrings before bed to prevent them from getting snagged.
If you find your hair or loose threads of a shirt entangled in your studs or earrings, make sure you remove them before pulling your head away.
Wear heavy earrings for a short time. It's better to keep them only for special events or wear them every once in a while.
Commit to lightweight studs that won't put extra weight on your earlobes and stretch them out.
You can always use surgery as an option. It is practical and will last a long time. However, no treatment will stick with you for life. Some assume that surgery is a permanent method. Still, according to org, it has to be redone once the ear holes enlarge again. Just talk to a plastic surgeon, and they'll walk you through the safest and most straightforward path to reshape your ear holes.
Final Words
To sum up, the chances of the size of your ear hole getting reduced depends on:
Whether the piercing is new
Whether you use gauge earrings or not
How much time your ear holes have spent stretching out
Whether the stretch was caused by your earrings getting pulled
Each factor requires a separate route to downsize the ear holes. You can try the techniques we have explained, but you will have to turn to surgery for long-term a solution. Leave a comment below and let us know if you have any questions. Don't forget to tell us what worked for you!