Powder coating aluminum is a detailed process that requires three pivotal steps that each have its own components. The three parts of powder coating aluminum are cleaning, pre-treating, and powder coating.
We're going to break down the entire process of powder coating aluminum, including cleaning and pre-treating. We're also going to discuss the benefits of powder coating aluminum and answer a few questions we constantly encounter.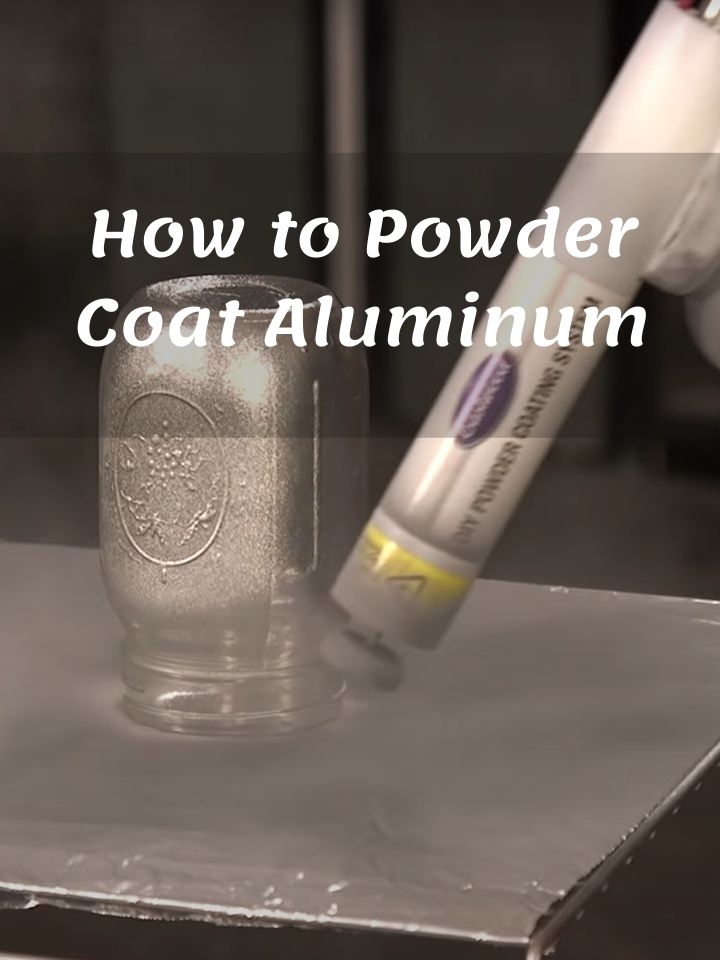 Let's get into it!
What are the Benefits of Powder Coated Aluminum?
Here are a few of the benefits associated with powder coating aluminum and other metal surfaces.
1. Lightness
Powder coating provides an aesthetically pleasing finish that can add character to your metal. For example, suppose you're designing outdoor furniture or visible components of a building. In that case, powder coating will help you achieve a more elegant or fun, finished look.
2. Durability
Thanks to the curing process, your powder coating will be tougher and more durable as a result. In addition, you'll find it won't flake or peel.
3. Cost-Effective
One of the most significant benefits of powder coating aluminum, and other metals, is that it's one of the most cost-effective strengthening methods. The powder coating process allows manufacturers to use cheaper metals while making them stronger and more durable, all while making it a more economical solution.
4. Corrosion Resistance
By powder coating your aluminum or any metal surface, you're providing a layer of protection against various types of corrosion and rust. Natural metals rust over time, this is normal, but with powder coating, you're extending the life span of that metal.
When aluminum is untreated, it can oxidize while still not rusting. However, the oxidization causes a chalky-white substance to become prevalent in place of what would be rust. Therefore, when a metal is used in constructing outdoor items, powder coating is essential to protect it from corrosion.
Cleaning Your Aluminum for Powder Coating
Before you start getting out your powder coating gun and paint, you need to prepare. Preparation includes cleaning down the material you're going to powder coat. There are three readily available methods, each of which has its own level of effectiveness.
1. Wiping
Wiping down the aluminum surface with a solvent and rag combination isn't the most accurate way to clean aluminum before moving on to the pre-treatment process. This is primarily due to the rags becoming saturated with oils over time which makes the process redundant. So if you're going to use this process, be sure to regularly change the rags to avoid making this mistake.
2. Blasting
Blasting isn't an excellent method for cleaning your aluminum and other metal surfaces. Blasting with sand or shot can create more adhesive surfaces for the powder paint. Still, you'll need to follow blasting with either the wiping or washing method before moving on.
3. Washing
You can either use pressure washing, automatic washing, or dipping to clean your aluminum. It's the most effective available method for cleaning your metal surfaces of oil, dirt, etc. Make sure to use a soap that has been specifically formulated for the fabricating process.
With steam cleaning or just plain old hot water and detergent, you can break down oils and get to those hard-to-reach areas cleaning the aluminum surface to the best of your ability.
Pre-Treating The Aluminum Surface
There are multiple ways in which you can go about cleaning your aluminum surface in preparation for powder coating. But first-
1. What Is Pre-Treatment?
Pre-treatment is the process of ensuring that all grease, oils, and any other potential dirt are removed. This is a step that cannot be neglected before powder coating or painting for adhesion strengthening.
There are two basic methods for pretreatment coatings. The first is chrome conversion coatings, which have been around for decades. The second is method is chrome-free coatings, which more recent.
2. Chrome Conversion Coatings
Chrome conversion coatings convert the aluminum surface to an inert form.
Be warned of the hexavalent chromium content, which has been known to cause cancer and can also attack kidneys, liver, eyes, skin, and the respiratory system, according to OSHA. The EPA has urged caution with hexavalent chromium around open water sources to avoid contaminating drinking water. We recommend you take the necessary precautions when using this chemical.
Cleaner/Etchant
Rinse
Chrome Conversion Coating
Rinse
Acidulated Rinse
Chrome-Free Coatings
Chrome-Free Coatings were designed and developed as a direct response to the hazardous chemicals involved in other coating methods. By the early 2000s, chrome-free coatings met industry standards for effectiveness. In addition, they were more comparable in terms of effectiveness to chrome conversion and all without the hexavalent chromium.
Cleaner/Etchant
Rinse
Metal Cleaner/Deoxidizer
Rinse
Chrome-Free Coating
What You Need to Powder Coat Aluminum
To powder coat aluminum, you're going to need the following items.
Powder Paint
Powder paint is the powder version of liquid paint that is used as a thermoplastic or thermoset polymer. It creates a hard finish and is tougher than conventional paint.
Electrostatic Spray Gun
An electrostatic spray gun uses charged molecules and electrostatic fields and, as a result, sprays paint onto a substrate.
A negative charge is given to the coating material, while the substrate has a positive charge. This helps bond and reduce or prevent corrosion more efficiently than with conventional spray methods.
Some people have even gone as far as to make their own Powder Coating Guns.
Curing Oven
Curing ovens are pieces of thermal processing equipment that are designed to accelerate chemical reactions through heat. In the case of powder coating, it bonds the powder paint to the material.
A step-by-step guide to Powder Coating Aluminum
Okay, so you've cleaned your aluminum, you've pre-treated it, you've got everything you need. Now you're ready for the final part of this powder coating process, the powder coating itself!
Step One: Apply Powder to the Aluminum Extrusions
Using an electrostatic spray gun, you use the positive charge, which facilitates the bonding between the powder with the extrusion, which is electrically grounded.
Step Two: Heat the Aluminum Profiles in Your Curing Oven
You then take the extrusions into your curing oven and allow it to bake the extrusions until the coating is uniformly melted.
Step Three: Cool the Aluminum Extrusions
Once you've put it in the curing oven, allowed it time to bake, you're going to take it out and allow it some time to cool.
Please be sure to use heavy-duty gloves as you're working with hot metal, baked at intense heats.
FAQ
Here are some of the questions we find are frequently asked about powder coating aluminum and powder coating in general.
What Color Options are Available?
There is a wide variety of available color options available. This is even more apparent when comparing to anodizing. With anodizing, you'll likely be hardpressed to achieve that same aluminum look. Still, you can achieve stunning hues and unique textures.
All in all, you're spoiled for choice, and the options in appearance can be near endless.
How is Powder Coating Environmentally Friendly?
The main reason powder coating is considered environmentally friendly is the lack of solvents and Volatile Organic Compounds (VOCs) found in the powdered paint. This is a stark difference from liquid paint, which produces hazardous waste.
Should I be Powder Coating Aluminum Extrusions?
This depends on the final application as well as the look you're going for. As we've already noted, Powder coating is more environmentally friendly than liquid paint. In addition, it can provide brighter colors and more unique textures. On top of that, there are the benefits previously mentioned as well which in our eyes make it a slam-dunk of a decision.
Final Thoughts
There you have it. Now you know the process of powder coating aluminum from cleaning, to pre-treating, to the actual powder coating itself! As a result, we hope you feel more comfortable and confident and are ready to conquer all the available metal at your disposal.
Be sure to let us know how it goes for you, and don't forget to share this with a friend who's looking at a way to powder coat aluminum themselves.