Do you want to invest in a high-quality Tonneau cover, but you are not sure about the size of your truck bed?
In essence, Tonneau covers need to fit perfectly. Therefore, being aware of your truck bed's measurements allows you to find an accurate size. To find the correct measurements of your truck bed, you need to understand the design of your truck. The most common designs are regular cab, extended cab, flair side, and four-door crew cab.
Once you know your truck's style, you can measure it; the process is not complicated. On the contrary, it's a straightforward step that's easy-to-follow. Since we understand the struggle, we have comprehensively explained how to measure a truck bed for a Tonneau cover. We also added a few factors you can consider to find the perfect Tonneau cover for your truck bed.
Without further ado, let's dive in.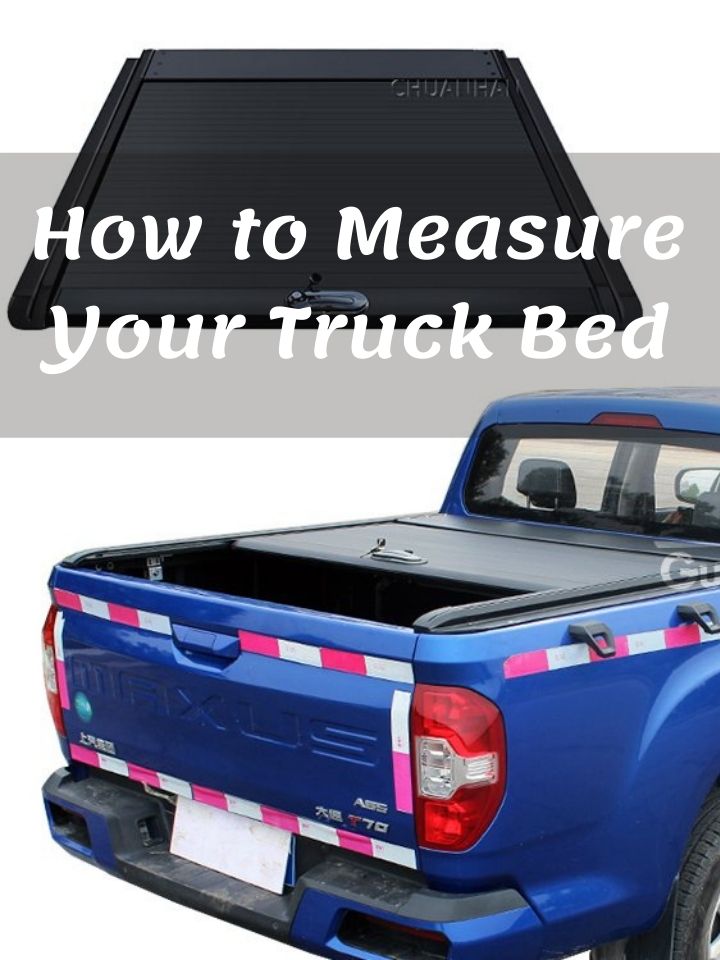 Measuring A Truck Bed For A Tonneau Cover
The process is quite simple. To accurately measure the length of your truck bed, measure the distance between the inner side of your truck bed's tailgate and the inner wall of the bulkhead.
All you need is a measuring tape that's 8 to 10 feet long. Follow these steps to easily measure your truck bed's size to find the accurate Tonneau cover.
Stand behind your truck and open the tailgate to access the truck bed.
Determine the size of the truck bed by placing the measuring tape at the inner wall of the bulkhead.
Extend the measuring tape to the edge of the tailgate.
Record the measurements in inches on your phone or a piece of paper.
If you prefer knowing the size of your truck bed in feet, you can simply divide it by 12.
If the tailgate of your truck bed has a thick liner, you'll have to measure its length and deduct it from the total size.
Note: If you notice that you can't find an accurate number on the measurement size charts of websites that sell Tonneau covers, chances are they rounded off the numbers. Just pick a number closest to the one you recorded.
You can also check your truck bed's size by using the suggestions on the website you are buying the tonneau cover from. For instance, if you want to purchase a specific cover, you can simply indicate your truck's model, make, and year to determine the most suitable Tonneau cover for its truck bed.
How To Pick The Right Tonneau Cover
While knowing the size of your truck bed allows you to purchase a Tonneau cover that fits perfectly on the truck bed, you need to consider various factors to pick the most suitable Tonneau cover.
1. Style and Material
Before investing in a Tonneau cover, you need to determine the style and material you prefer. You can find both soft and hard tonneau covers in the market.
Soft Tonneau covers are the most common, and you can find them in a wide variety, allowing you to pick from several options to find what works best for your truck bed.
What's more? They are affordable, and the installation process is entirely hassle-free and straightforward. Furthermore, you'll be able to choose from the different styles it offers depending on what you'd like.  You'll find these styles:
Soft roll-ups covers
Retractable covers
Expandable covers
Even though these covers are widely used, some people would argue that they offer less security and durability.
On the other hand, hard Tonneau covers are more expensive and offer durability that soft covers can't provide due to the construction material.
Typically, hardcovers are made from fiberglass, hard plastic, and aluminum. Due to the heaviness of the material, they are more challenging to install, and you might need a helping hand.
Also, they are less popular as a result of their high-end prices. When it comes to hard Tonneau covers, you can pick from an array of styles. Here are some of the styles:
Single-piece hinged
Quad fold covers
Tri-fold covers
2. Budget
The trick is to buy a high-quality Tonneau cover at an affordable rate. While a high-quality cover costs thousands of dollars, you can still access cheaper yet effective covers that range from $200-800.
It all boils down to finding a Tonneau cover that will meet both your budget and needs.
3. Access to Your Truck Bed
You have to invest in a Tonneau cover that allows you to easily access your truck bed while hauling or moving since you need as much space as possible for your items to fit perfectly.
4. Warranty
Purchasing a Tonneau cover from a high-quality brand gives you the safety you need. Be careful while buying a cover and ensure they offer a valid warranty covering several years or even a lifetime!
5. Durability
If you use your truck bed regularly, it's advisable to pick a Tonneau bed that will last long, so you don't have to replace it after a couple of months.
Why Do You Need A Tonneau Cover?
Tonneau covers offer a wide range of benefits. Here's why you should invest in a Tonneau cover:
It allows you to save money by improving your truck's gas mileage by 5-10%.
A Tonneau cover will enable you to transport your luggage, cargo, or bulky products safely.
It increases the security of your products since they are hidden.
You'll be able to organize your items each time you haul, avoiding accidents such as spilling, etc.
Final Words
Without a doubt, a truck bed offers vital benefits, making it a worthy investment. To find the best Tonneau cover, you need to know the size of your truck bed. The process is simple, and all you need is a measuring tape and somewhere to record the measurements.
Furthermore, considering various factors is also an essential step towards finding the most suitable Tonneau cover for your Truck bed.
We hope our comprehensive article will help you pick a Tonneau cover that will meet your needs and adhere to your expectations.