If you've been searching for cost-effective and easy ways to make your bed higher, look no further; you are in the right place.
As you go through this piece, not only will you discover that you don't need an expert to make your bed higher, you'll also have fun while doing it. So, since you'll most likely spend one-third of your life sleeping, let's show you how to get the best night's rest with higher beds.
There are different ways you can make your bed higher. A dedicated bed riser is the best way to make your bed higher if you own a fixed bed.You could also choose bed riser alternatives like bookshelves, dressers, cinder blocks, lofting kits, and wooden pallets.In addition to risers, you can also use a wedge or add wheels to the bed frame to make your bed higher.Finally, you can switch from a fixed bed to an adjustable bed; this way, you can personalize the height to suit whoever is sleeping on it at any moment.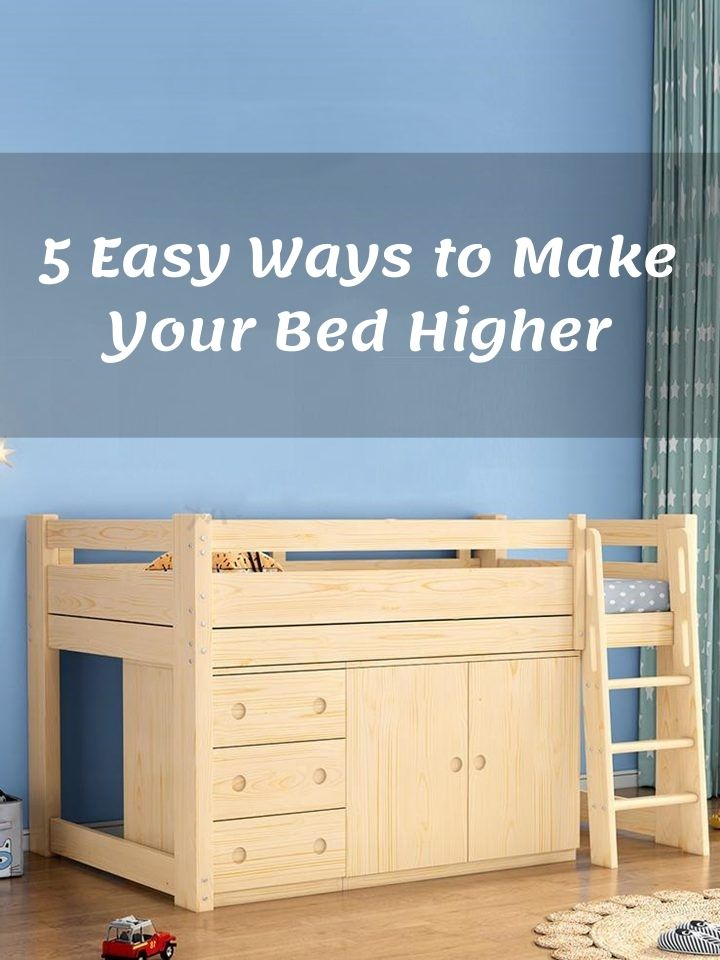 What is the Best Bed Height for You?
Although the generally recommended bed height is 16 to 25 inches from the ground, we firmly believe personal height differences matter when choosing a bed height.
Your bed height will determine how easy or hard it will be for you to get into and out of bed without challenges.As a rule of thumb, to ensure you make a home run with the bed raising process, we advise that before making any adjustments first, sit at the edge of the bed, ensure that your feet touch the ground, and make sure your knees and legs make a 90-degree angle.
This way, you'll know the best bed height for you.
1. Using a Bed Riser to Make your Bed Higher
Bed risers are very simple and readily available materials you can use to increase the height of your bed. These bed support units don't just increase the height of your bed; they also add more space under your bed!
Installing a bed riser is quite easy as all you'll have to do is attach the risers to the feet or wheels of your bed frame. The most popular risers add 2- 12 inches to the height of the bed; they can also support 1300Ibs of load.
Types of Bed Risers
There are different types of bed risers; here, we'll explore these types by looking at the materials used in making them.
1. Plastic Bed Risers
Plastic risers are the cheapest option available today, and they tend to come in different colors, making them the most visually appealing. However, they do have the disadvantage of being fragile. The BTSD-home Bed Risers are, however, a very durable option.
2. Metal Bed Risers
Next, we have metal bed risers, which are stronger, adjustable, and more durable than their plastic counterparts. Their only downside is that they're compatible with only a few types of bedposts.
3. Wooden Bed Risers
Finally, we have wooden bed risers. Risers in this category are quite durable, very strong, not to mention that they add a nice visual appeal to your bed.
4. Do-it-yourself Bed Risers
If you love DIY, believe me, you can easily make your own bed risers by following the video.
Easy steps on how to install a bed riser to your bed frame
Step 1: Remove the mattress from your bed frame
Step 2: Raise a corner of the bed frame and attach a bed raiser to its bedpost.
Step 3: Repeat the process outlined in step 2 for all the corners of the bed frame
Step 4: Put the mattress back on your bed.
Tip: Doing this alone is very difficult and dangerous; don't hesitate to ask for help from a friend or family member.
2. Using a Bed Wedge to Make your Bed Higher
Bed wedges are special bedside adjustors capable of giving your bed a vertical rise that elevates your head and neck. They also offer a unique comfort that you can only get from a bed wedge.
Their one-of-a-kind inclined configuration makes them perfect for people that are suffering from several health conditions. So, whether you are suffering from back pains, respiratory disorders, spinal injuries, or even sleep disorders, a bed wedge can be the one thing you need.
There are various bed wedges you can pick from, from the simple wooden wedge to slider adjusters. The Relax HOMELIFE bed wedge is one of the best options available today.
4 Steps to Install a Bed Wedge
Step 1: First, pull out the mattress from the bed frame
Step 2: Get someone to help you raise the upper parts of the bed frame
Step 3: Next, slide the wedges under the bed frame until it is on the same line with both bedposts
Step 4: Make sure the wedges are tight before placing the mattress back on the bed frame.
3. Using Mattress Toppers to Make Your Bed Higher
Instead of a bed riser or bed wedge, you can raise your bed easily with only a mattress topper.
Mattress toppers are softer than your actual mattress, and they provide better ventilation too. They are also generally more comfortable to sleep in. One disadvantage, however, with using mattress toppers is that they can only raise your bed by a very few inches.
If you are confused about which mattress topper to choose, don't worry; the, Best Price mattress topper is a product you can trust.
4 Easy Steps to Install a Mattress Topper
Step 1: Take out the mattress topper from its airtight packaging and leave it to grow for about 12-24 hours.
Step 2: Put the topper on your bed
Step 3: Make your bed as you would normally do
4. Using Wheels to Make your Bed Higher
Adding wheels to your bed frame doesn't just make your bed taller; they can also make your bed mobile. This method of raising your bed becomes especially useful when you need to move your bed for vacuuming or if you need to rearrange your room.
If you own a metal bed, do not hesitate to get the Khome wheels for your bed.
Tip: Make sure you put a locking mechanism on the wheels to make sure it doesn't move on its own inadvertently.
How to add wheels to your bed frame
Unlike the mattress toppers, adding wheels to your bed frame can be a little difficult, but follow these easy steps, and you should have no issues.
Step 1: First, take out the mattress from the bed frame and reverse its sides
Step 2: Then, drill post or screw holes into the bed frame
Step 3: Next, fill the receiving cylinders into those holes you just drilled
Step 4: Put each poster caster into its equal cylinder and force it until it locks
Step 5: For bed wheels that need to be screwed on, line up each flange and screw them tightly.
5. Switching to an Adjustable Bed to Make your Bed Higher
Adjustable beds make everything so much easy since you can always adjust the height of your bed till you get the perfect height that you need. They give you complete control of your sleep.
While these beds might be expensive, there is no denying that the features they provide are completely worth the price. Many of the best adjustable beds now function like smart devices; they have USB charging ports and even a massage feature.
The iDealBed 3i Custom adjustable bed is one incredible adjustable bed frame that is wireless, programmable and has a zero-gravity feature.
6. Using Foundations to Make your Bed Higher
Lest we forget, you can also raise your bed's height by adding a taller mattress foundation or base under your bed. These foundations don't just increase the height of your bed; they also extend your mattress' lifespan by protecting it from sagging.
Foundations are made up of a wooden or metal box covered with clothes; they have wooden slats on their sides and a flat board as their top. To improve the quality of your sleep, it would be best if you considered getting the ZINUS foundation.
Conclusion
You'll be shocked to find out that there are several other ways to make your bed higher, so don't shy away from trying some of the different ways we've discussed. If you have any questions about how to make your bed higher, don't forget to leave a comment.