When we talk about beauty, fashion, and style, earrings will always be on the top list of fashion items that are very crucial to have as a beautiful lady. Ever thought about making DIY Earrings? We have listed a couple of ideas that you would love.
To some ladies, earrings are very personal and they go the extra mile in making sure what they wear on their ear is simply classic and tells a story they only understand. Are you ready to see the best projects? Let's begin!
1. DIY Clay Earrings
Have you seen earrings made out of clay? They look really exceptional and classy!
Clay is best known for making beautiful designs and artwork. However, adding a bit of creativity to the artwork, that is how this clay earring was birthed.
The process is quite simple;
Get some clay and press it into a soft layer with the clay press machine. Cut out the shape of earrings using a cookie cutter. Punch a small hole at the top of the shape and bake the clay. After baking,  sand the edges of the earrings and add stain to make them look glossy. Then, add hooks and your earring is ready.
2. How To Make Earrings
If we're counting super easy crafts, earrings should be on top of the list. Because it is so simple, requires less time and little materials.
In this video, the instructor made 2 pairs of earrings within 5 minutes.
Here is how she go about one of them;
Get straight pins, some loops, wire cutters, and beads. Slide a seed bead down the straight pin, then another bigger but glass bead. Repeat this process on the same pin to have two seed beads and two glass beads. Cut out excess pins and slid in the loop. Close the end of the pin into a small loop and you're good to go.
3. How To Make Earrings In 10 Minutes
Beads and jump rings are very common when making DIY earrings. However, they are coming out more beautiful and real as people add different styles to them.
Both materials are very easy to work with and make the work faster. Within 10 minutes you can have some pair of earrings using beads and jump rings.
4. DIY Crystal Earrings
Crystal earrings always look sparkling. Four different styles of crystal earrings were discussed in this video.
I would love to have one of those beauties!
The first pair of earrings are super simple and fast. You need 2 spacer beads, a pin, earring hooks, and some crystal chips.
Slide a spacer bead down the pinhead, then the crystal chips. Finish it up with the second spacer bead and make the tip of the pin into a loop. Slide the hook into the loop and close it. H
5. DIY Ear Cuff Earrings
If you're like me that doesn't like piercings of any kind but you want to wear earrings on the cartilage part of your ear. I've got something for you here.
These ear cuff earrings allow you to close the end of the earrings to your ears and it will stick. So you don't have to pierce your ears.
6. DIY Filament Earrings
The color combo on these earrings makes them look superb. It will go well on a casual outing.
Let's see how they make it;
The shape was designed using Tinkercad. Then, printed out as a 3D object. The color pattern on it was made using different colors of filament.
7. DIY Snowflake Earrings
This snowflake eating is very simple but you need a computer and a 3D printer to design and print the snowflakes respectively. Once the design is printed, get some hooks and attach them to the small hole on the earrings.
8. DIY Wizard Earrings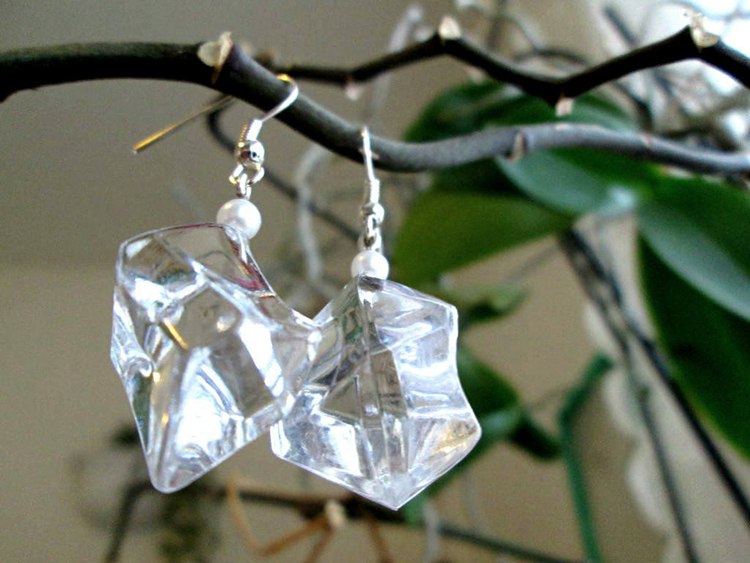 To some people, earrings are very personal and they go the extra mile in making sure what they wear on their ear is simply classic and tells a story they only understand. This is made out of gems, pearls, wire, and earring hooks. Attach wire to the gem. Slide a pearl bead down the wire such that the pearl is sitting on the gem. Cut out extra wire and attach the hook to it.
9. How To Make DIY Bow Hoops Earrings
Fabric earrings are not something new again. They look exceptional. The bow used for these earrings was made from a cool fabric. You need hoop earrings, fabric, needle, thread, scissors, and a sewing machine.
10. DIY Tassel Earrings
These tassel earrings are very beautiful and you can complete them within 5 minutes. What is needed includes a bunch of cord, scissors, and hoop earrings. Cut the cord into small lengths and tie it around the bottom of the hoop earrings. After tying, trim the edges of the cord to make them uniform.
11. Easy DIY Wooden Earrings
You can make simple wooden earrings by watching this video tutorial. To decorate the wooden earrings, the instructor uses patterns, drawings, and paint to design the wood. Once the wood is ready, the next thing is to attach hooks, beads, and wire to where necessary.
12. Cardboard Earrings DIY
Do you know you can make earrings from cardboard? I marveled at the beautiful outcome of these earrings.
Let see how the earrings were made;
Get a cardboard box and cut out the shapes you want for the earrings. For each pair cut two pieces of the shake from cardboard. Glue the pieces together. After this, place the pieces on fabric and cut out the shape. Cover the shape with the fabric. Then, make a hole on it for the hook.
13. DIY Low Budget Earrings
This gorgeous lace earring will look good on you. I like it too, it's beautiful. To make it, you need a thick lace ribbon, earrings hooks, mod podge, and jump rings. The mod podge is to make the lace become the lace to become flexible and still.
14. DIY Beads Earrings
Do you know that making a common earring for yourself is an act of self-love? It reflects how much you care about yourself and what you use.
The steps are very much simple and fast;
Get 3 fishing threads and tie them together with a single knot. Use the free end of each wire to pick beads until you have 3 strings of beads. Then braid the strings to form the above pattern.
Click the link below to see how to braid the pattern.
15. DIY Patina Earrings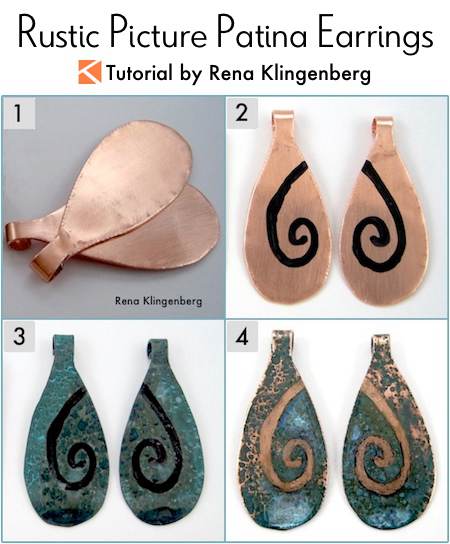 To make this, get a sheet of brass or copper. Trace the shape of the earrings you want on it and cut the shape. With any shape add a long neck to such shape. The neck will work as a jump ring holding the earrings to the hooks. It is very simple and beautiful.
16. DIY Hot Glue Earrings
It is always fun when you're using something you already have and are familiar with to make earrings. These simple and adorable earrings made out of hot glue will sit pretty on your ear when you're going for a date. You can find the expensive one in the store, it looks really cool and exact.
17. DIY Fabric Covered Wooden Earrings
This is a perfect project to make use of your scrap fabric. It is very simple and fun. You can make fabric-covered wooden earrings in two styles; the stub style or the hook style. If you want the stud style you will need an earring post but for hook, you will need wire hooks.
18. DIY Simple Earrings
If you're looking for the simplest earrings, this must be it. Get an empty drug tablet, glitter, glass color, and earring posts. After that, put some glitter in two of the holes on the tablet, pour some glass color on it and pin the earring posts on it. Leave it to dry and your beautiful earrings are ready.
19. Polymer Clay Marble Earrings DIY
To appreciate beautiful things, you needed to own one of these polymer clay marble earrings. But, for you to have one, you need to know how to make it yourself because you need to pour your heart into making it.
Here are some materials you are going to need during the process; some polymer clay pieces of different colors (note the dominant color should be bigger), pieces of white paper, gold sheet, roller, and earring posts.
20. How To Make Flower Earrings
To make these flower earrings, get some wire and roll it with your hand. Remove the ring from your hand and spread out the rings to form a flower. Dip the flower into white glue and leave it to dry. Once it is dried, paint it and start attaching every other thing to it.
21. DIY Beer Cap Earrings
If you wear silver earrings with a matching necklace no one would know it was made out of a beer cap.
Here is how you can make the magic happen;
First, get a beer cap and straighten the edge. Once the cap is flattened, cut it into two halves. Make two holes at the top corner of each piece.
22. DIY Origami Earrings
If you're looking for a gift to give s friend, these origami earrings are the best ones for you. It is very simple and fun to make. It is made from different colors of paper. For each color 4 pieces of paper are required. You need 12 pieces of paper in total.
Other materials needed include Elmer's glue, earring hooks, eye pins, and pliers.
23. Electroformed Turquoise Earrings DIY
Have you heard about a process called electroforming? That is the method used to make these copper-plated turquoise earrings. Due to the electroforming, the process requires lots of material and tools.
Here are some of them; Stones, earring posts, Paintbrush, conductive paint, electroforming container, and E6000 adhesive.
24. DIY Music Earrings
Just anyone can't make music earrings, it is only you. Because only you understand what it means to you. Relate your love for music with your earrings. All you need include gold-colored copper wire, gauge wire, and pliers.
25. How To Make Native American Style Earrings
I love the simplicity of these American-style earrings. It is made from seed beads. The procedure of making it involves patiently threading the seed beads into the fishing line to form the desired shape.
26. DIY Fabric Hoop Earrings
When I said hoop earrings are the easiest to make, I know it
Here is how to make these fabric hoop earrings; Get a strip of fabric, fold it into half vertical and cut it into two. Fold each of the halves and sew along the vertical fold. Then, slide the fabric into the hoop earrings and glue the ends to the hoops on both sides.
27. How To Make Earrings With Beads
The materials needed for this earring include earring hooks, headpins, blue beads, silver chain, wire cutter, wire, and round nose plier.
To begin with, cut the chain into 4 pieces ( 5cm, 2cm, 1.8cm, 1.8cm). Slide the bead into three headpins each, cut off the excess pin and curve the remaining part into a hook. Attach each of the beaded headpins. The next step is to attach the wire hooks.
28. DIY Easy Drop Earrings
To make this drop earring you need 2 big beads, 6 mm wire, and wire hooks. Wrap the wire around the bead until the wire remains small on both ends. Twist both ends together and cut off one end. Curve the other end to form a hook and attach the wire hook to it.
29. DIY Clay Heart Earrings
Another clay earrings. It is unique and lovely. I like it!
All you need to do to make these lovely earrings yours is to get some polymer clay and preheat it. Then, prepare the clay and smooth it on the flat surface. Add a few other clay colors you want on the smooth clay and cut out the shapes.
30. DIY Tassel Earrings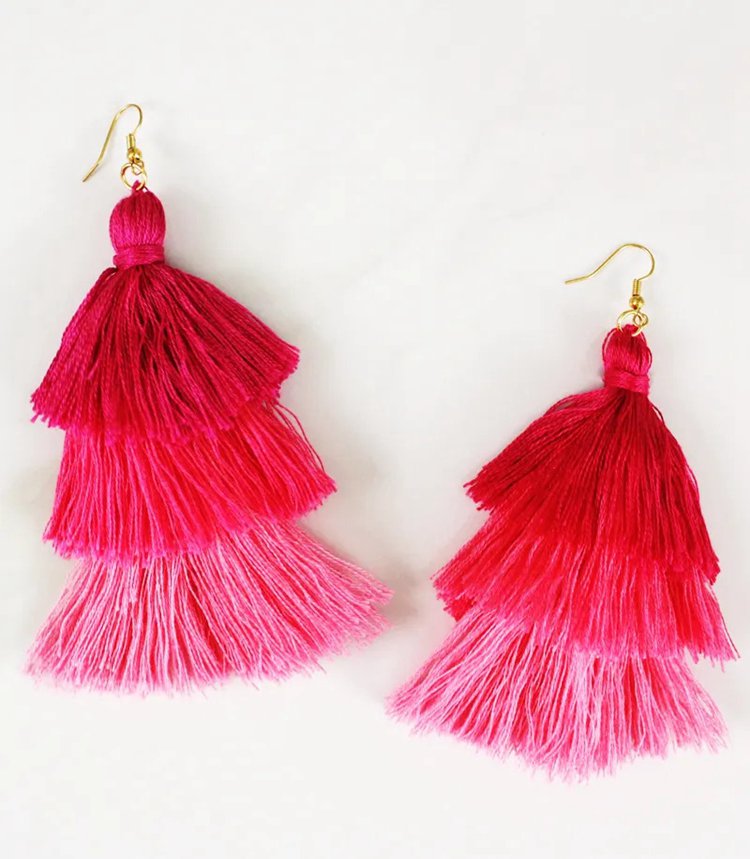 Here are other tassel earrings. It's lovely! It was made simple by attaching mini tassels. 3 mini tassels per earring are cool. After that, attach jump rings to it. Then attach the earring hooks through the jump rings.
31. DIY Bottle Cap Earrings
What do you say about these bottle caps earrings, isn't it superb? You can style the earrings any way you like. In this guide, there are 4 styles. Click the link to pick one and get to work.
32. DIY Star Earrings
Yet another simple cardboard earrings. Cut out the star-shaped cardboard. Then, get paints, pens, and a mod podge to design the earrings. It is very simple and fun.
33. Resin Earrings Tutorial
The first thing you need to do to make these resin earrings is to prepare the resin. While doing this, you need to be very careful with the materials. This video tutorial will take you through how to successfully prepare the resin and the earrings as well.
34. How To Make Pearl Earrings
These pearl earrings are very easy to make. Here are the steps involved; Get two head pins, some seed beads, some pearl beads, 5 headpins, and 3 eye pins.
Slide one seed bead and one pearl bead into one headpin, on the second head pin slide 2 of each bead, and 3 beads each for the third pin. Repeat for 1 and 2 beads each. Cut off excess pins and coil the remaining into hooks.
35. How To Make Macrame Leaf Earrings
Tying the macrame knot is always a challenge for most people who wish to try out the macrame leaf. But not to worry, this video tutorial will help solve the knot puzzle. Check the video through the link above.
36. Simple Dangle Earrings DIY
Dangle earrings! I love how they move beautifully on their ears. One thing about these dangle earrings is that you can make them as long or short as you want.
This particular one is made from 2 12" chains, 42 beads, 42 headpins, needle nose pliers, round nose pliers, wire cutter, and wire hooks.
37. Drop Zipper Earrings
You can use zippers to make a variety of jewelry materials. They are fun to work with and come in different colors. The first thing you need to do is to cut and prepare the zippers. Then, cut the embroidery floss of any kind and wrap it around the teeth of the zipper. You can finish it up with a leather cord end.
38. DIY Celtic Knot Earrings
To make this, get two cherry wood laser cut pendants, copper eye pins, aventurine beads, two antique copper finished hooks. You will need the following tools as well; Flush wire cutters round needle-nose pliers, flat needle-nose pliers  (optional)
39. DIY Screw Earrings
This is made from screw heads! I couldn't believe my eyes until I saw the process of making it. Here is how you can turn some screw heads into beautiful earrings; Get some screws and cut off the head by attaching a cut-off wheel to a tool. After that, get some earring posts and glue them to the screw heads and your earring is ready.
40. DIY Cardboard Earrings
Can you see how these earrings sit with such elegance? That's how much beauty it would add to your ears. It is made from corrugated cardboard and colored paper. To get the pattern of the earrings correctly you should be able to twist the strips of cardboard and colored paper quickly.
41. DIY Earrings From Fabric Scraps
To make this scrap fabric, you need paint, scrap fabrics, a paintbrush, plastic beads, and cardboard. Depending on the thickness you want, fold the fabric and glue each fold with glue. Let the glue dry and paint the fabric. Cut out the shape of the earring with cardboard and trace it on the fabric.
42. DIY Rhinestone Earrings
These rhinestone earrings are very beautiful. You should learn how to make one. You can give it out as a gift as well. Let's see the materials you need to make one; Jump rings, 0.8 mm wire, rhinestone or beads, chain, butterfly earring clasp back, and 0.4 mm wire.
43. DIY Simple Beaded Earrings
If you have any to buy these elegant beaded earrings from the store, you're going to buy them 10 times the price of making them yourself. Here are some materials you need; Miyuki seed beads, pearls, beading thread, earring wire,  and beading needle.
44. Boho Feather Earrings
The materials needed for these boho feather earrings include gel press, vinyl, paint roller, cardboard, pencil, paints, gold chain, hooks, and pearls. The procedure is quite fun and simple. You can learn more by clicking the link below.
45. DIY Multi-Color Tassel Earrings
Pretty earrings will always catch my attention because these multicolor tassel earrings are everything you can call class. The color combo on each earring is a mixture of cool and corresponding colors. To make it, get some mini tassels ( preferred colors) and attach them with a needle and thread. Then, attach a hook to the earring and you're good to go.
46. DIY Peacock Earrings
Adding yet another beautiful pair of earrings to your box of jewelry is always a very good idea. Because you deserve all the beauty. Let's see how you can turn the following materials into pretty earrings; Get 2 peacock feathers, 2 eye pins, 2 small jump rings, 2 crimping tubes, 2 earring hooks, a collection of coordinating beads, jewelry pliers, or wire cutters and pliers
47. DIY Earrings
For this pair of earrings, you need 2 straight pins, 2 eye pins, 2 flat seed beads, 4 Swarovski beads, 6 donut-shaped beads,  2 earring hooks, and a pair of needle-nose pliers.
Take the eye pins and thread the 1 Swarovski bead, 3 donut beads, and another Swarovski bead into each pin. Once that is done, cut off extra pins and curve the remaining into a hook. Attach the earring hooks to the pin hook. Then prepare the second part of the earrings.
48. DIY Pearl Hoop Earrings
Hoop earrings are the easiest to DIY, the reason being that they are a complete earring before. All you're doing is modifying the hoops. For these earrings, all you need to transform the hoops are pearls. You can use two colors of pearls to make it look pretty.
49. DIY Box Stud Earrings
For these box stud earrings, you need a fishing line, pearl beads, needle, and earring posts. Thread the fishing line into the needle and use it to pick the pearl beads. Pick the beads until you form a square shape. Put the earring post through the square and cover it with another bead square. Then, join them together with a fishing line.
50. How To Make Rose Ring Using Wire
These rose earrings were made from craft wire, eye pins, and wire hooks. The procedure is simple and fun.
Find something to roll the craft wire, roll 4 of such with two having hooks on them. Then, attach an eye pin to two of the rings. Attach the eye pins to the hooks on the two other rings. Then, you will be having 2 rings on one earring. Attach them to wire hooks and you're good to go.
Conclusion
Everybody likes beautiful earrings and spends excessive money buying them from shops when they can be easily made at home for half the price of the shop. These 50 DIY earrings are lovely, even though they are not as expensive as the store-bought.