All the gamers out there know what a pain it can be not to have a mouse bungee. In this article, I will explain what a mouse bungee is and why you should have one. A mouse bungee is simply a device that helps suspend your mouse cable, thus giving you the freedom to move your mouse around and as much as you want to.
Buying a bungee isn't overly expensive; however, not everyone can afford a new one; also, why wait for a new mouse bungee to arrive when you can DIY one? This article has put together 13 unique DIY mouse bungee ideas that you can make from home without spending much.
1. Cheap DIY Mouse Bungee
If you are keen on not spending a lot of money on a bungee mouse, I would highly recommend this tutorial. Here, the creator shows you how to make a cheap DIY mouse bungee. For the first method, you will need some cable ties and a pair of scissors. You'll have to use the cable tie to hold the mouse's wire in place; the process is straightforward and shouldn't take up to 20 minutes of your time if you have all the required materials available.
In the tutorial, the creator also shows a second method that requires using any tape and scissors.
2. DIY Mouse Bungee
This video tutorial shows yet another fantastic method of making a DIY mouse bungee. The process isn't like the previous tutorial. Make sure you have enough space on your desk before going with this method. You will need more space because you will be creating a mold that is almost double the size of your mouse.
You will need a hot glue gun refill stick, a paper cutter, M-seal, cardboard, glue, and finally, an eraser for the materials. The making process is pretty much essential, and you should be done making this DIY mouse bungee in no time.
3. How To Make Very Cheap DIY Mouse Bungee
The cable tie method is the easiest and fastest way to convert your ordinary mouse to a bungee mouse. While researching, I found another fantastic tutorial showing how to make a very cheap DIY mouse bungee using zip ties.
I know we have talked about using zip ties before, but check out this creator's method; you might prefer his method to other zip tie methods listed in this article. Also, the whole process shouldn't take more than 20 minutes to complete; that is how easy it is. Check out the video tutorial for the complete guide on how to go about this.
4. DIY Mouse Bungee For 50 Cents
Guys, I found another lovely method; this is the cheapest way to DIY a mouse bungee from home. The best part is, you do not have to spend up to a dollar to get this done. You can get the items used for this tutorial from your home.
The first method involves using a clothespin; you will need to tape it to your table and pass the mouse wire through the clothes peg. This method is easy to follow. The creator also went ahead to show another technique that involves using an old CD tape. I suggest you check it out. It just might be the best for you.
5. DIY Cardboard Mouse Bungee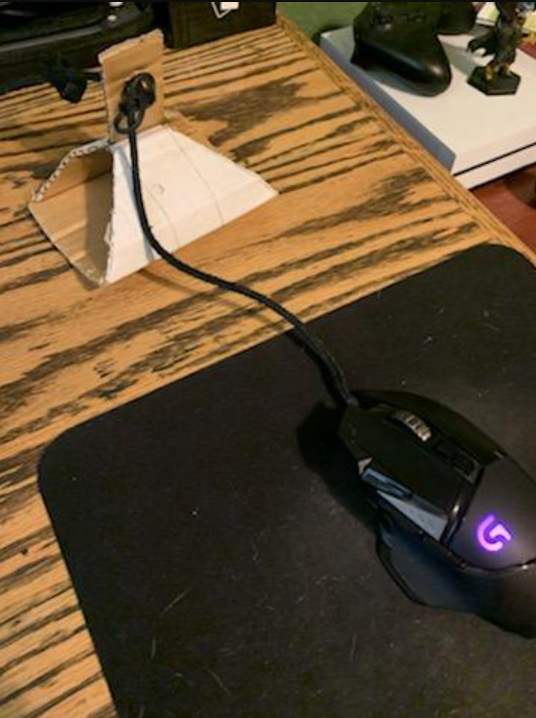 Crafting a DIY mouse bungee has a lot to do with creativity. You can create a fantastic idea without having to follow an already existing pattern just like this creator did. For this project, he used cardboard to create the perfect DIY mouse bungee. The cardboard moves freely on the table and gives you that feel you need.
The making process isn't complex. You will need cardboard, scissors, a ruler, a pencil, and a few other supplies to get this done. Doing this should not take up to 30 minutes.
6. DIY Mouse Bungee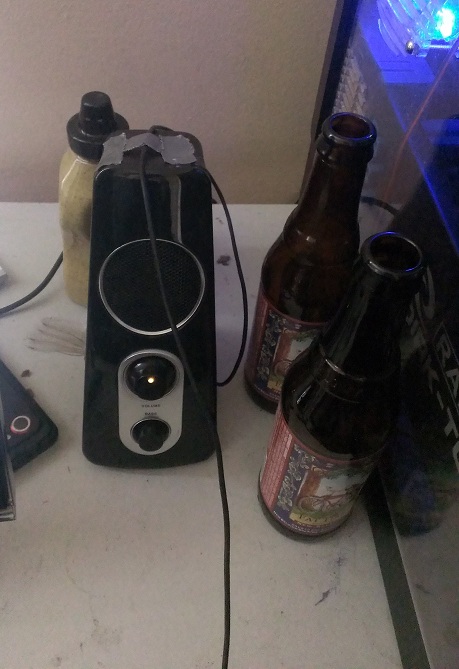 Another great way to create a bungee mouse is by using items you already have in your home. The main idea here is to suspend the mouse cord, so it doesn't interfere with your gaming experience or tangle up while you are about to shoot some narcos.
For this tutorial, the creator used some duct tape and a small speaker. It might not look like gold, but it is way cheaper than buying a mouse bungee. Simply find a device that gives the perfect height, attach the mouse cable to it using duct tape, and you are good to go. Easy right?
7. How To Make A Mouse Bungee For $1
Here's another exciting tutorial for only true gamers. In this guide, the creator will show you how to make a mouse bungee for $1. If you are concerned about other methods looking awkward in your perfectly set gaming space, then you should check out this project. It is eye-catching and could be an additional modern add-on to your room.
For the making process, you will need a bar spring, metal cutting saw, a pair of pliers, a file, measuring tape, and a few other things you'll get to know when you watch the full tutorial. The making process is also an easy one that would not take much of your time.
8. DIY Mouse Bungee 2.0
This DIY mouse bungee 2.0 is nicely done to fit into any space and not look awkward. The making process is easy to follow and involves using materials and tools like paper tape, glue, hot glue gun refill, and other supplies.
The mouse bungee has a circle shape with a pointy rubber at the top; the wire passes through the rubber, giving you the best experience while gaming. I would highly recommend this DIY mouse bungee project.
9. DIY Budget Mouse Bungee
Almost all the DIY mouse bungee projects listed in this article are budget-friendly, just like this one. For this tutorial, the creator used cable clips; you can buy these for cheaps in an online store. Some of you might even have a spare one lying around your home.
For this to work, all you have to do is attach the cable clips to the back of your monitor, or anywhere you deem fit. The main idea here is to make sure the cable of the mouse suspends.
10. How To Make A Mouse Bungee
I love DIYs, especially when I can do unique projects with things I already have at home. This tutorial isn't in English; however, if you are a handyman, you should understand the making process by simply looking at everything the creator does. For the materials, you will need 1 Piece of 10 cm X 14 cm piece of wood, 2 Piece hair/eyebrow removal spring, 3 Piece rubber hairpin, and 1 Piece tape.
11. DIY Mouse Bungee
Here's another tutorial with a whole new approach on how to make a DIY mouse bungee. The steps are pretty much easy to follow. The creator's idea of using a rubber band and a lamp is excellent. However, I would suggest using something else other than a lamp. Due to the way it is connected, the light might likely fall several times. Try using something heavier if you want to try this method.
12. $2 Mouse Bungee
With $2, you can make a working mouse bungee. You will need a pair of scissors and some tape for this method. This tutorial works great, however. You will need to check if your current setup allows you to perform this method.
All you have to do is take your mouse cable to the back of your monitor and tape it on there, so it doesn't touch the table. Doing this is easy but might not work for everyone.
13. Easy DIY Mouse Bungee
In this tutorial, the creator makes use of cable ties and paper tape. The process starts off with carefully wrapping a fair amount of paper tape to the mouse and then sealing it with a cable tie; you will need another cable tie for the midway point of the mouse cable. The complete tutorial can be seen in the video tutorial above.
Conclusion
There you have it, 13 amazing DIY mouse bungee ideas that you can make from home. Feel free to go through the list again and start the making process of your favorite project. If your setup doesn't allow you DIY a mouse bungee, then you might have to save some money for a new one.