They say that it's not about the size or value of the gift; it's the thought that counts. You might have just met at the online dating sites or go out for some time, but handmade gifts are relevant at any point of the relationship – they are a sign of care, appreciation, and uniqueness, reserved only for the two of you. There are countless ideas out there to explore. So, if you are wondering what you can give your boyfriend, it's time to consider the DIY option. You'll have fun getting creative, and they will appreciate the thought you've put into it.
It's not always about spending hundreds of pounds on gifts or purchasing lavish brands. While you've been dating for a while after learning all about each other with online dating and eventually meeting up, now it's the time to put your knowledge of your partner to the test by creating a DIY gift. This is a perfect opportunity to put everything you know about your partner to good use: it's easy when you meet at Flirtmoms, since online dating sites with detailed profiles and search algorithms are incredibly useful for coming up with icebreakers and gifts. Your date says he loves cooking? Craft something personal that will remind him of you when she partakes in his favorite activity and so on! It can be handy a look at these DIY ideas and make your date a gift that'll blow your man's mind.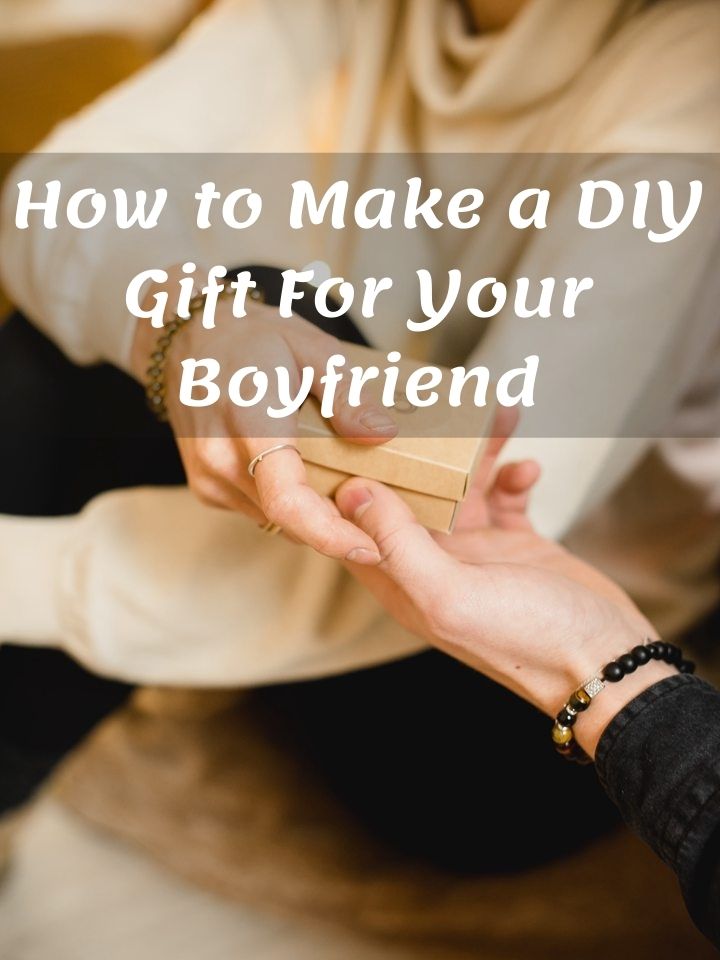 Tie Pouch
Men are quite fond of a pouch, but sometimes they struggle to find one they like. However, you can create your own using neckties, giving you the freedom to make one in any style or color. Whether he has some old ties at the back of his wardrobe or you purchase some cheap ties on sale, this pouch is perfect for carrying toiletries or storing his watch and money.
A Wooden Serving Board
If your man loves cheese and specialty boards, then this serving board idea will win you some points. This gift will be a neat addition to your kitchen, and he'll love getting it out when his friends come around to watch the football. Find yourself a piece of wood that's the ideal shape and size, and sand it down until it is super smooth. You'll need to protect it with oil, too, but once complete, it'll look amazing.
Fishing Lures
Fishing might be a pastime that your partner loves, so why not give him some homemade lures? If he is a beer lover, then you can marry the two together with some bottle cap fishing lures. Just bend them in half, create two holes at either end and then add a hook and a swivel. He is then ready to land that massive catch!
Homemade Beard Oil
Let's be honest, a man with a well-groomed beard really does look the part, and your man is no different. However, an untamed beard looks nothing more than messy and unsightly, but you can change all of that. Beard oil is a useful bathroom regime addition, and you can make your own. Choose an essential oil that you like (and him, of course!) and then add a few drops to some grapeseed oil. When he applies this each day, he will smell delicious, and his beard will look great!
Jack Daniels Soap Dispenser
This great DIY idea is perfect for those men who like something different. Once he has finished his bottle of Jack Daniels, grab the bottle, clean it out and then purchase a dispense pump that fits the top of the bottle. This classic-looking bathroom accessory will look the part and will really transform the space.
Homemade BBQ Rub
Every man loves rolling up his sleeves to show off his BBQ cooking skills. If he loves grilling meat and serving up some delicious treats, then you can make your own BBQ rub. This might take some time to find the right combination of spices, but once you've nailed it, put it all in a mason jar and add a label, giving him his very own homemade BBQ rub.
A Personal Luggage Tag
You can use any kind of material you wish here, but leather works best as it offers more durability. Choose a color or design that you know he'll love, and then add an area for him to add his own personal details. This personal luggage tag will look super smart on his luggage, and it's always a reminder that you made it for him.
A Simple Belt Rack
Your man might have different belts for different occasions, but they probably all end up tangled in his drawer. This idea will save him the hassle of detangling belts, and it will keep them all neat. Simply find a wooden coat hanger and then add some mini hooks underneath. These can then be used to hang his belts on.
A Car Travel Kit
A car travel kit is crucial for any man who loves to get behind the wheel with confidence, knowing that he has his handy kit close by. Find a small storage box that's durable and add a special label. You can then fill the box up with useful accessories such as a notepad and pen, a torch, a hi-vis vest, and many other items that could prove useful while he is out on a journey.
A Dart Board Cork Wall
Are you fed up with your man playing darts and leaving tiny holes in your wall from his inaccurate throwing? All you require here is some plywood of your required size, and you can then secure the corks in a line from top to bottom. It'll look great, but it will also protect your walls at the same time!
Homemade Oil
Much like the BBQ rub, if your man considers himself a chef and someone who loves experimenting in the kitchen, then some homemade oil is always a hit. You will need several bottles and your choice of oil to begin. Then you need to infuse your oils using your chosen ingredients which can range from garlic to chili. Ensure you follow the recipe correctly, and he will have stunning oils that he can use whenever he wants!
Doing things differently is always a hit when it comes to giving gifts. Thinking outside of the box will enable you to put some of our DIY gift ideas to the test. They're meaningful, and they provide your date with something that will always remind him of you.