Is your melting dish starting to get dirty? Is the residue depositing over time? While this residue won't be getting in the way of new wax melts in your dish, it's still a good idea to clean it up for optimal performance. We have some effective methods for cleaning those stubborn wax stains. Read on to know how to clean wax warmer!
Before we get into the article, you should know that wax melts don't burn away completely. They will just dissipate scent until the scent fades away. Once the fragrance is gone, you will have to change the wax melts by removing the melted wax and adding new wax tarts.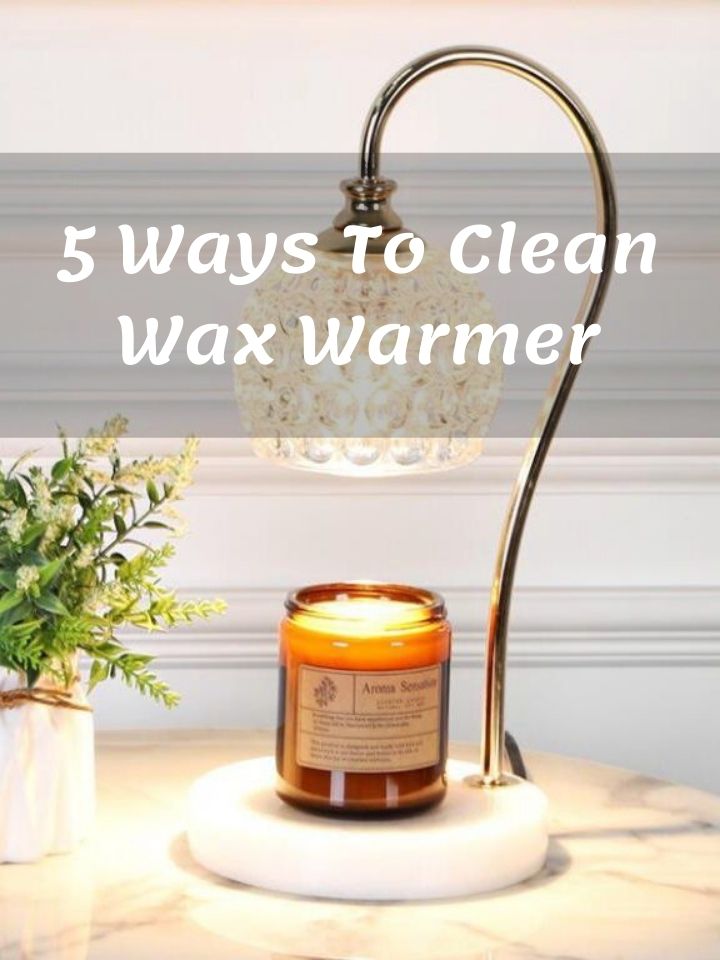 Why Should You Clean Your Wax Warmer?
You should keep your wax warmer clean for the best performance. The oil film that forms over time can limit the heat to the new wax melts, decreasing their melt time.
Another reason is the aesthetic. Surely, you like keeping your wax warmer on display for décor purposes. Nobody finds filth covered wax heaters visually appealing!
When you add new wax cubes, the previous wax can melt and mix with the wax tarts to give an odd combination of scents. The longer you avoid cleaning them, the more chances there'll be of different fragrances getting mixed.
The solidified wax can get harder to wipe off over time. To avoid elbow grease, you should regularly clean your wax warmer.
Methods To Clean Wax Warmer
Here are some techniques you can use to clean your wax warmer.If you are using an electric wax heater, make sure you turn it off and remove the plug before cleaning. Don't burn your fingers from the heat!
1. Wax Cleaner
Some wax warmer companies provide a wax cleaning spray along with the wax heater. If you have one with you, you can use the guideline on the box or go to their website for a thorough explanation of using the product.
2. Counter Clean
Counter clean is the best product you can use to clean off the remaining wax.
Just spray some of the product onto your melting dish or your wax pot and wait a while.
Letting it sit for about 10-20 minutes should be more than enough.
Afterwards, you can wipe away the residue with a paper towel or a piece of cloth.
If the wax doesn't come off, take it a step further. Wash your melting dish in boiling water and use a sponge to wipe off the film.
If you don't have a counter cleaning spray, you can use the alternatives below.
Wax cleaner
White vinegar
Sterilizing solution
Mineral oil
3. Rubbing Alcohol
Rubbing alcohol is another great way to keep your wax warmer looking brand new!
Tip some of it over a cotton ball.
Use the cotton ball to wipe off the sticky film thoroughly.
Check out the video below to see how this method works.
4. Heating The Wax
If the oil film doesn't seem to come off or if rubbing alcohol or any other of the mentioned products is not available, you should try turning your wax warmer on to melt the hardened wax.
Liquid wax is easier to soak up and remove.
Don't start cleaning the hot wax melting dish either! You'll end up burning your fingers.
All you need to do is place a cotton ball in the dish and wait for it to soak up the residue. The damp cotton will be hot so give it a couple of minutes to cool down.  Once it's safe enough to handle, take out the cotton ball and wipe any leftover liquid with a paper towel.
To stay safe, use a pair of oven mitts or tongs before holding the dish to wipe it clean.
If you don't have cotton, you can blot the liquid with a paper towel. When it absorbs the wax, use a fresh paper towel to clean up any remaining wax.
You can also remove the dish from the wax warmer and heat the solidified film using a hairdryer. It's an easier and comparatively cooler way to melt the wax.
Here is another thing you can do:
Once the wax is soft enough, you can use a kitchen roll to wipe the residue right off.
Do this only if you'll be discarding the melted wax because you can't use it again when it's on the paper towel.
You can also use a spoon here, but it's better to stay safe and avoid objects that can damage your wax heater.
It is the best technique to use with warmers that don't have removable lids.
5. Freezing The Wax
If you wish to steer clear of the aggressive heating technique, you can try freezing the wax instead! Pop your wax melting dish in the freezer for about 15 minutes, or place it in the refrigerator for 30 minutes.
Don't do this if your electrical wax warmer doesn't have a removable dish.
Once the residue is frozen, you'll notice that the size of your wax has decreased. That's a bonus of freezing the wax as it makes it much easier to remove.
You should be able to take off the frozen residue with a popsicle stick. If that doesn't work, scrape off the solid piece of wax with a scraper or a similar object.
Be careful when you do this. You might leave scratch marks or cracks on your warmer dish.
How Frequently Should You Clean Your Wax Warmer?To avoid damaging your dish with pointy objects, you can turn the melting pot over a trash can and give it a few taps to remove the solid piece of wax.
It depends on how often you use it, but we recommend that you clean it at least once a week or every time you change your wax for fresh wax cubes.
Remove the wax tarts by pouring the wax in a container, then use one of the cleaning methods above to restore that shine!
Sometimes your wax heater can get discoloured from the outside. According to Owlchemy, it happens when you use a bulb that supplies power higher than 25 watts. You should stick to the bulb that comes with the warmer to avoid your wax warmer from damaging.
Extra Tips
To keep your melting pot clean at all times, line it with tin foil or parchment paper. You can place your wax tarts on the paper and remove that extra layer every time you change the melted wax. That way, you can avoid the hardened residue at the bottom of your pot.
You can also place a paper cup or cupcake liner on top of the dish. Once it's melted and hardened, you can pop it out or reuse it later on.
Pour the melted wax in a container if it still has a scent, or throw it in the trash if it's not of use anymore.
Soy wax is biodegradable and non-toxic. If you use paraffin wax, you should consider switching as soy wax is safe to burn and throw in the trash after use.
You can clean the outside and the bottom of your wax warmer with rubbing alcohol. Dampen a cotton ball with the product and rub it on the wax heater to remove overflowed wax or other dirt marks that may have formed over the week.
What Not to Do
Never clean your electric wax warmer with water.
Never clean your wax warmer while it's still plugged in.
If you're using a tealight wax warmer, blow it out before you handle it. You can avoid a fire hazard and keep your fingers from burning due to the heat.
Never pour the used wax down the drain.
Closing Thoughts
The general idea is that you can use a variety of products to clean your wax warmer. You can use whichever one of these is available to you.
If you are using the heating technique, avoid touching the hot melting dish to prevent burning your fingers.
You can use paper towels or cotton balls to soak up the hot wax and wipe any crumbs away to make your wax heater look brand new.
Switch off your warmer and disconnect it from the socket before cleaning the dish. This applies to wax warmers that don't have a removable melting pot.
If you are freezing the wax, remember to avoid scraping it with a sharp object as it may damage the dish by scratching or cracking it.
Clean your wax warmer once a week or every time you change your old wax melts for a new scent.
Ask away if you have any questions because we'd love to help you out. Let us know which one of these methods worked best for you!